The presidents of Spain's regional soccer federations are calling for the resignation of Luis Rubiales, the suspended president of the National Football Association, in a statement published Monday following an emergency meeting.
Rubiales was suspended by FIFA, the world's governing soccer body, on Saturday after he forcibly kissed a female player during the women's team's World Cup victory celebrations.
"After the recent events and the unacceptable behaviours that have seriously damaged the image of Spanish football, the presidents request that, immediately, Mr. Luis Rubiales submits his resignation as president of the RFEF [Royal Spanish Football Federation]," the RFEF said on behalf of the committee of regional presidents.
All 19 regional presidents are unanimously supporting the interim RFEF president, Pedro Rocha, "to lead a new stage of dialogue and reconciliation with all of the football institutions," the statement read. Rocha replaced Rubiales after his FIFA suspension.
"We will urge the corresponding bodies to carry out a wholesale, immediate and organic restructuring process in strategic positions of the Federation in order to bring in a new management role in Spanish football," the officials added in their statement.
Along with the mounting pressure to resign, Rubiales also faces an investigation that could end in sexual aggression charges from Spanish prosecutors.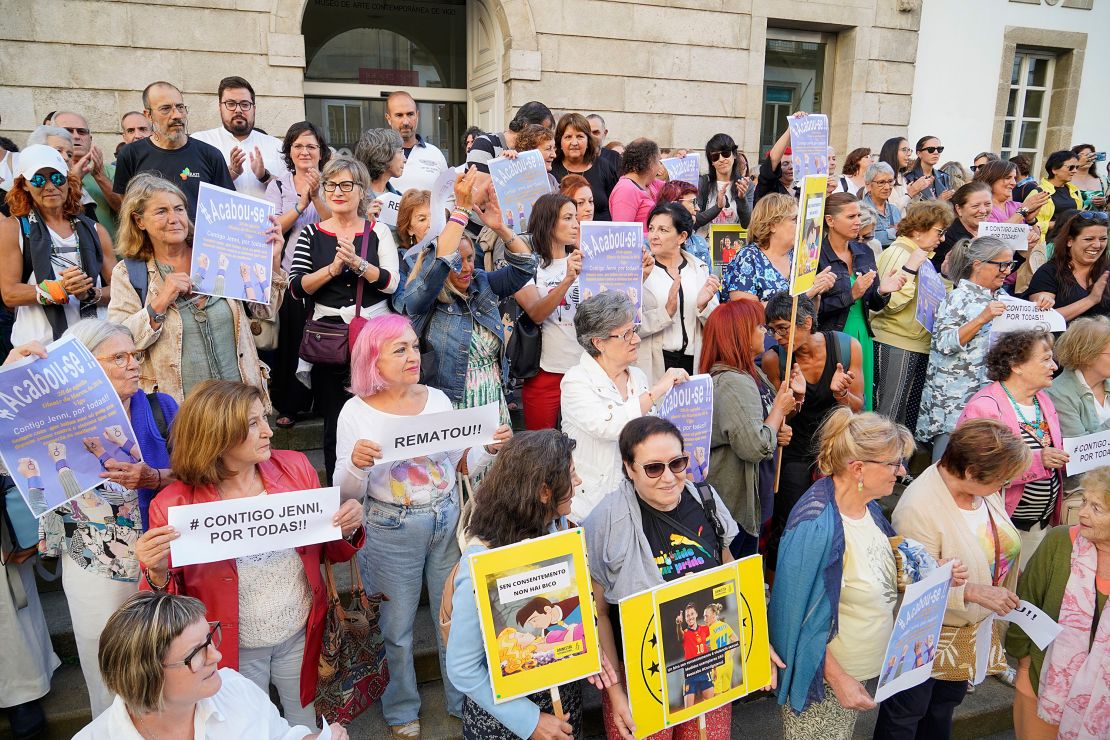 Mother starts 'hunger strike' in church
Earlier, Rubiales' mother locked herself in a church and went on hunger strike to protest the "inhumane, bloodthirsty hunt" of her 46-year-old son, Spanish media reported.
Ángeles Béjar reportedly said Monday that she would remain in the church in Motril, near Granada in southern Spain, "indefinitely, day and night" until justice was served toward Rubiales.
The soccer boss and the RFEF have been embroiled in controversy ever since he kissed 33-year-old attacker Hermoso on the lips after Spain won its first Women's World Cup title with victory against England.
Rubiales said that he made a mistake but called the kiss consensual, while Hermoso said that she did not give her permission to be kissed and felt violated.
"I felt vulnerable and a victim of an impulse-driven, sexist, out of place act without any consent on my part," she said on social media. "Simply put I was not respected."
In a defiant speech on Friday, Rubiales refused to resign from his position and vowed to "fight to the end" – a stance that prompted a wave of heavy criticism from teams, players, politicians, union officials and even the United Nations.
When asked to comment on the incident during a press conference Monday, the United Nations Secretary General's spokesperson, Stephane Dujarric, said: "I mean how difficult is it not to kiss someone on the lips?"
"There's a critical issue of sexism that remains in sports and we hope that Spanish authorities and the Spanish government deal with this in a manner that respects the rights of all female athletes," he added.
Ongoing fallout
On Saturday, FIFA said it was suspending Rubiales from "all football-related activities at national and international level" for 90 days while disciplinary proceedings are underway.
In response to Rubiales' refusal to step down, RFEF vice president Rafael del Amo and 11 members of the Spanish national women's soccer program have resigned.
Hermoso and her World Cup teammates said that they would not play again for Spain until Rubiales has been removed from his position.
The RFEF, however, is standing behind its chief, accusing Hermoso of lying about the incident and threatening legal action against her and others.
The president of Spain's High Council of Sport (CSD), Victor Francos, has expressed worry that the controversy will hurt Spain's bid to co-host the 2030 World Cup alongside Portugal and Morocco.
"I am worried about the World Cup," Francos said in a press conference on Monday. "Two weeks ago we were in a better position for the 2030 World Cup than we are today. But we are a stubborn government."
Francos said he has been in touch with the governing bodies to explain to them that "Spanish sport isn't like what we've been seeing these days and Spanish football isn't what you've seen these days," referring to the Rubiales incident.
Protesters took to the street Monday to demand Rubiales' resignation.
Among them was 27-year-old Ella from Northern Ireland, who told Reuters, "We cannot express our joy as women without having some man interrupt it and spoil it and take it for his own. This was meant to be a celebration of women's sports, the improvements that we have made."
Another protester, Guadaluper Martin told the news agency that the incident was "terribly disgusting."
"First of all, before you could see up close the kiss he gave her without consent, all that hugging and touching was completely out of place. In front of all these international representatives at the World Cup, he was touching and rubbing the players."
CNN's Joshua Berlinger, Benjamin Brown, Aimee Lewis, Kevin Dotson, Richard Roth, Jessica Xing and Amy Cassidy contributed to reporting.