A week after clinching Spain's first Women's World Cup, the country's soccer federation is at war with the very players who brought home the trophy.
The scandal began just moments after La Roja's historic 1-0 victory against England, when the head of the Spanish football federation (RFEF), Luis Rubiales, kissed midfielder Jennifer Hermoso on the lips.
Rubiales, 46, said he made a mistake but that the kiss was consensual. Hermoso, 33, said she did not give her permission and felt violated.
Fast forward eight days and Spain's World Cup winners are refusing to play. The country's football federation is threatening legal action. And Rubiales is vowing to "fight to the end."
The RFEF called regional federations to convene for an "extraordinary and urgent" meeting on Monday to address the current situation after Rubiales was provisionally suspended by FIFA, soccer's world governing body, over the weekend.
Here's what you need to know.
What happened
After sealing their victory on August 20, the Spanish squad lined up to receive their medals and congratulations from major political and football figures.
Gianni Infantino, the president of FIFA, was first in line. Next to him stood Spanish Queen Letizia and Princess Sofia. Rubiales stood to the younger royal's left. He was followed by Australian Prime Minister Anthony Albanese and British Foreign Secretary James Cleverly, among others.
The medal ceremony began, and one-by-one, the champions were honored by the delegation. Infantino handed each player their medals. The royals then embraced them. Rubiales greeted many of them with a big bear hug and a kiss on the cheek, even lifting some into the air.
The beginning of Rubiales and Hermoso's encounter, however, was not caught on the live television feed. After showing one of the Spanish players kissing the Women's World Cup Trophy, the broadcast cut to Rubiales hugging Hermoso. Rubiales' arms are around Hermoso's shoulders, with Hermoso's around the top of Rubiales' back. The pair briefly rock back and forth slightly, and Rubiales appears to say something in Hermoso's ear.
Rubiales puts his hands on the back of Hermoso's head. He kisses her on the lips, then slaps her twice on the back before she continues down the procession.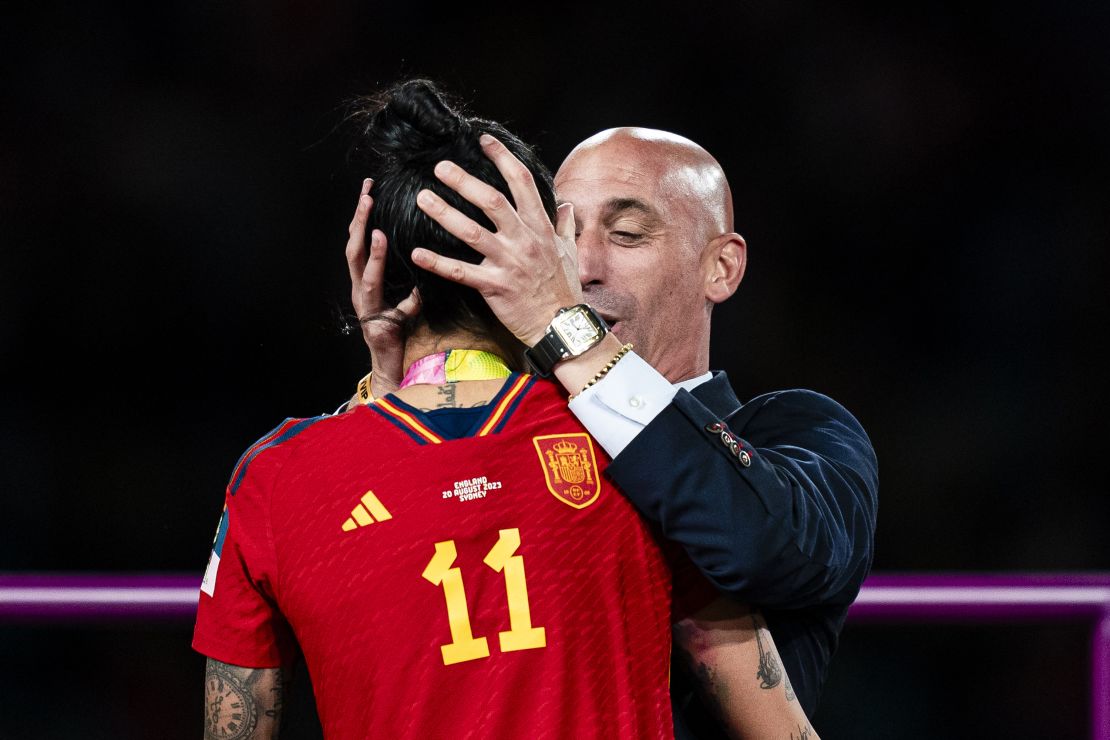 What Rubiales and Hermoso are saying
Hermoso said at no point did she consent to the kiss.
"I felt vulnerable and a victim of an impulse-driven, sexist, out of place act without any consent on my part," she said on social media. "Simply put I was not respected."
Rubiales admitted he made a mistake on Monday, the day after Spain's win, but later defended his actions. In a defiant speech on Friday, he said the kiss was "spontaneous, mutual, euphoric and (done) with consent."
He added that he would not resign and said he would "fight to the end."
What others are saying
Rubiales has been heavily criticized for his actions and could lose his job.
FIFA has opened disciplinary proceedings against Rubiales and provisionally suspended him from all football-related activities. Spanish players' union FUTPRO called for Rubiales to be punished after the kiss, while global players' union FIFPRO called for "immediate disciplinary action" following Rubiales' Friday speech.
The president of Spain's High Council of Sport, the Spanish government agency that oversees sporting activities, said the council would look to suspend Rubiales as quickly as it could while still allowing him proper due process.
In response to Rubiales' decision to stay, the RFEF vice president Rafael del Amo and 11 members of the Spanish national women's soccer program have resigned.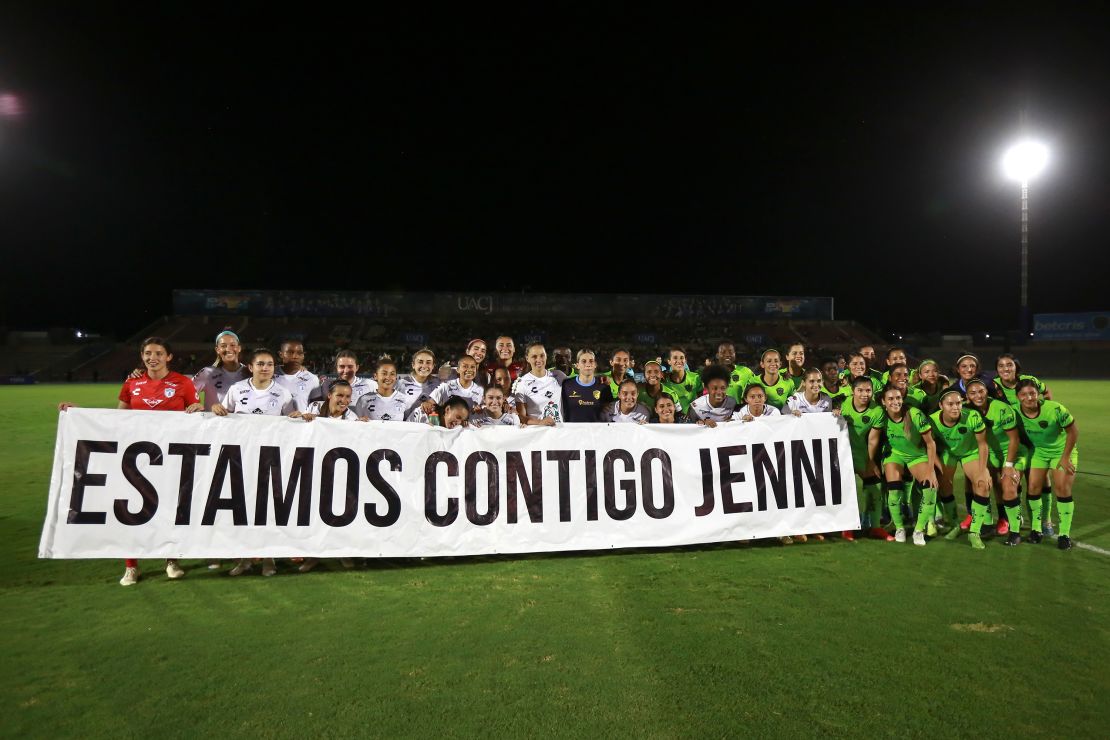 Players have also threatened to boycott competitions should Rubiales stay in his post.
Hermoso and her teammates on Spain's World Cup winning squad said they would not play again for the country until Rubiales has been removed from his position. Their coach, Jorge Vilda – who himself is embroiled in a controversy after video emerged of him appearing to inappropriately touch a female staff member during the World Cup final – called Rubiales' behavior "improper."
On the men's side, striker Borja Iglesia said on social media he would not play for the national team "until things change." Men's World Cup winners Iker Casillas and Andres Iniesta condemned Rubiales, as has current men's team coach Luis de la Fuente. Other teams have showed solidarity.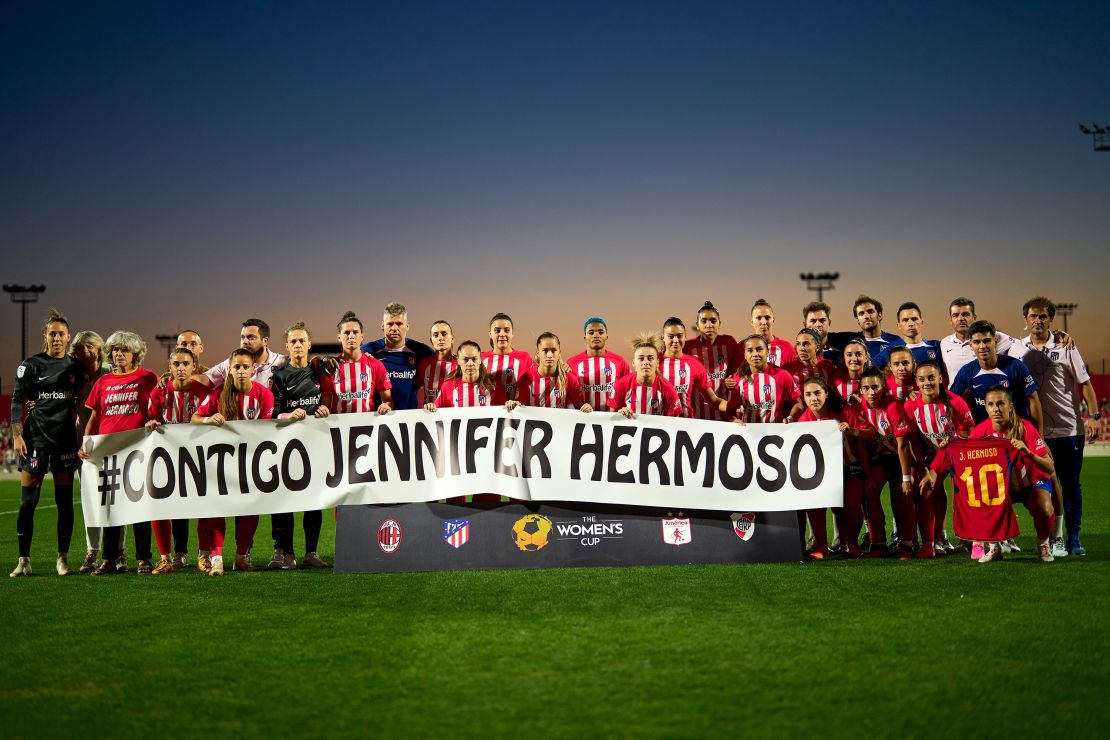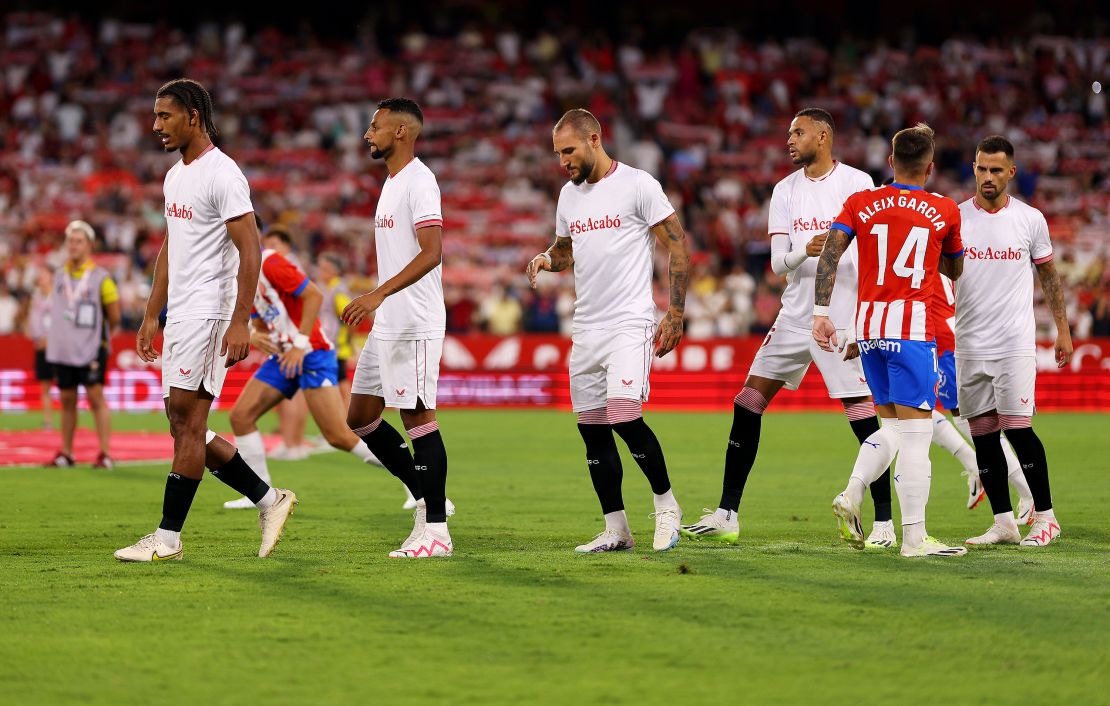 Politicians have weighed in as well.
Spanish Prime Minister Pedro Sanchez said Rubiales' initial apology was "unacceptable" and "not enough," while a deputy prime minister, Yolanda Diaz, called for Rubiales to resign.
The RFEF, however, is standing behind Rubiales. It accused Hermoso of lying about the incident and threatened legal action against her and others.
What comes next
By backing Rubiales, the Spanish football federation has opened a major rift between itself and its three most important partners – FIFA, the Spanish government and the unions that represent Spanish football players.
On Monday, the presidents of Spain's regional soccer federations joined calls for Rubiales' resignation.
"After the recent events and the unacceptable behaviours that have seriously damaged the image of Spanish football, the presidents request that, immediately, Mr. Luis Rubiales submits his resignation as president of the RFEF [Royal Spanish Football Federation]," the RFEF said on behalf of the committee of regional presidents, in a statement published following an emergency meeting,
All 19 regional presidents are unanimously supporting the interim RFEF president, Pedro Rocha, "to lead a new stage of dialogue and reconciliation with all of the football institutions," the statement read. Rocha replaced Rubiales after his FIFA suspension.
Whether Rubiales can survive the pressure for him to step down remains to be seen.
Along with the mounting pressure to resign, Rubiales also faces an investigation that could end in sexual aggression charges from Spanish prosecutors.
The incident has shed a light on the issues of sexism and machismo in Spain, both of which the players' union has vowed to fight back against.
"The union is working so that acts like the ones we have seen never go unpunished, are sanctioned and the pertinent measures are adopted to protect the football players from actions that we believe are unacceptable," the union said Wednesday.
"It is necessary to continue advancing in the fight for equality, a fight that our players have led with determination, taking us to the position in which we find ourselves today."
CNN's Tara Subramaniam, David Close, Patrick Sung, Aimee Lewis, Al Goodman, Kevin Dotson, Alex Stambaugh and Begoña Blanco contributed to this report.