Editor's Note: Sign up to get this weekly column as a newsletter. We're looking back at the strongest, smartest opinion takes of the week from CNN and other outlets.
Caesar Enrico "Rico" Bandello is a hoodlum who rises swiftly in Chicago's mob world, in the 1931 film "Little Caesar." Played by Edward G. Robinson, Rico is tracked down by police and shot.
His dying words:  "Mother of mercy… is this the end of Rico?"
When Congress passed a tough anti-organized crime law in 1970, a key portion was named the Racketeer Influenced and Corrupt Organizations law, or as it is commonly known, RICO.  The law's author has never confirmed the enduring belief that he named it after the movie character.
It was RICO that brash young federal prosecutor Rudolph Giuliani used to craft an all-encompassing indictment against the heads of New York's organized crime families in 1985.
Thirty years later, it was Georgia's version of RICO that Fani Willis, a rising prosecutor in the Fulton County district attorney's office, used to convict 11 people of racketeering in the Atlanta test score cheating scandal. And it was the same law that Willis, now the county's district attorney, used to indict Giuliani last week, along with former President Donald Trump and 17 others, charging them with acting as a racketeering enterprise to overturn the 2020 presidential election results in Georgia.
In the US, prosecutors are given enormous power to apply the law as they see fit, choosing who to charge and what to charge them with. Yes, grand juries have to vote to officially bring charges, but as Sol Wachtler, chief judge of the New York Court of Appeals, told the New York Daily News in 1985, district attorneys have so much influence on grand juries that "by and large" they could get them to "indict a ham sandwich."
RICO laws are an especially powerful weapon prosecutors can use to charge a group of people who act together. Evidence of their misdeeds can secure convictions and allow for strict sentences that otherwise couldn't be imposed.
The 97-page indictment unveiled by Willis last week cites a lot more evidence than could be arrayed against a sandwich served at lunch.
"The indictment paints an incredibly damning picture," wrote former federal prosecutor Jennifer Rodgers, "alleging an organized attempt by the former president and his allies to undermine the fabric of American democracy — something even the most sympathetic defendant will not easily be able to fight. Trump has denied wrongdoing, as have the other defendants who have made public statements to date."
"The indictment describes eight ways in which the enterprise intended to achieve its criminal goals, including: making false statements to state legislators; making false statements to state officials; the fake electors scheme; the harassment and intimidation of election workers like Ruby Freeman and her daughter, Shaye Moss; soliciting the Justice Department to make false statements; soliciting the vice president to unlawfully reject Electoral College votes; the unlawful breach of election equipment in Coffee County; and obstruction of justice to cover up the conspiracy."
Prosecutor power
Dave Aronberg, the state attorney for Palm Beach County, Florida, wrote for CNN Opinion that Trump's criminal cases are bringing new visibility to local prosecutors like Willis and Manhattan District Attorney Alvin Bragg, who have often been overshadowed by their federal counterparts.
"We are the chief law enforcement officers in each jurisdiction, with the weighty power to deprive others of their freedom," Aronberg observed. "Police can arrest someone, but if the prosecutor does not agree, the suspect goes free. Since we have the final say on charges, we also have a higher burden. Law enforcement has the power to make an arrest based on probable cause, but prosecutors have an ethical duty only to file charges when we have a good faith basis to believe we can obtain a conviction beyond a reasonable doubt."
By filing charges locally, Willis created a case that can't be undone if Trump returns to the White House in 2025 and tries to pardon himself.
"Wary that a future Republican president will order the Department of Justice to drop his pending case, (federal special counsel Jack) Smith attempted to expedite the trial schedule by excluding Trump's six co-conspirators from the indictment," Aronberg noted. "District Attorney Willis, in contrast, has no such time pressure. She aggressively indicted Trump and 18 co-defendants for a litany of crimes, including Georgia's powerful racketeering law, which raises the complexity of her case and decreases the likelihood of a speedy trial."
The risk of Trump
In the six months since Trump was first indicted, his lead over his GOP rivals for the presidential nomination has remained dominant, and even grown, as W. James Antle III pointed out.
"But Trump and his supporters shouldn't take climbing poll numbers as a sign of invincibility, no matter how much conventional wisdom presents these prosecutions as a boost for the former president," Antle cautioned. "Nominating a candidate with so many pending criminal charges would be inherently risky. This is true purely as a practical matter, regardless of what Republicans or anyone else think of the merits of the legal cases against him."
Trump will be forced to continue using campaign funds to cover mounting legal expenses. Court appearances will prevent him from campaigning as much as he could otherwise. "The indictments may also force the campaign to address topics that are less favorable for Republicans, such as the nature of the hush money payments to a porn star and the legitimacy of the 2020 election," diverting attention from what Republicans want to focus on: their complaints about the Biden administration.
"Unless the reality of the political danger these indictments pose soon sets in, Republicans could be sleepwalking toward disaster in 2024."
For more:
Jennifer Rodgers: Fani Willis is taking a major gamble on the Trump case
Dean Obeidallah: Trump's indictment bounce may well be a 'sugar high'
First debate
Barring a last-minute surprise, Trump won't be on stage Wednesday for the first Republican primary debate in Milwaukee — and may even try to upstage it by posting an interview with Tucker Carlson.
His closest rival in the polls, Florida Gov. Ron DeSantis should have two goals in mind when it comes to the debate, Lanhee Chen observed: "The first is to reinforce his place as the best alternative to Trump in the Republican nominating contest, and the second is to demonstrate that he is better equipped than Trump to defeat President Joe Biden in the general election next November."
Once thought to be a strong rival to Trump, DeSantis has lost support in recent months. He cut back his campaign staff and replaced his campaign manager, as David Axelrod noted. "But often it's the product, not the packaging, that is the problem. And since DeSantis would, and could, not replace himself, he replaced part of the team around him."
"He has proven himself to be an awkward campaigner, more comfortable lecturing on the perils of 'wokeism' from a platform than mingling and mixing with prospective voters. He has stumbled in interviews, and often parses his answers in nakedly political ways — especially when asked about Trump."
To many GOP voters, Axelrod added, DeSantis comes across as "an ambitious, conventional politician versus Trump, the audaciously authentic and potent avatar of an anti-establishment populist movement. The contrast was especially clear last weekend at the Iowa State Fair, where Trump received rock-star treatment — and DeSantis, by and large, did not."
The third-ranking candidate in some recent polls, Vivek Ramaswamy, "has raised his national profile with an energetic, media-focused guerrilla campaign, and he probably has a moment ahead of him in the GOP race," wrote Rich Lowry for Politico. "Ramaswamy, who has no political experience and no chance of winning the nomination, rightfully has no business running for president…" But Lowry added that "after Donald Trump, he might be the best communicator in the race."
Carrie Sheffield wrote, "It's discouraging to see some of my fellow conservatives attacking rising GOP presidential candidate Vivek Ramaswamy for his Hindu faith. It is wrong and un-American. It violates the spirit, if not the law, of the Constitution. … It is also entirely counterproductive for those who claim to support traditional values and religious liberty."
Maui
The toll continues to mount on Maui, with at least 114 dead and many more still unaccounted for as a result of the wind-driven wildfires.
President Joe Biden is due to visit the island Monday.
"Despite approving the federal disaster declaration, maintaining regular contact with the Hawaii governor and calling the Federal Emergency Management Agency (FEMA), which has mobilized resources from food and water to financial assistance, Biden was criticized for saying, 'No comment' last weekend when reporters asked him about the rising death toll after the president made a stop at a beach in Delaware," wrote Julian Zelizer. The president addressed the disaster in a variety of other public appearances.
"With this trip, Biden needs to demonstrate that the federal government will be making sure Hawaii can recover and rebuild, and that he will work with Congress to address the underlying causes. And Biden should offer hope and moral support to the survivors — a task that shouldn't be difficult, given that he is known for his empathy."
Blind sided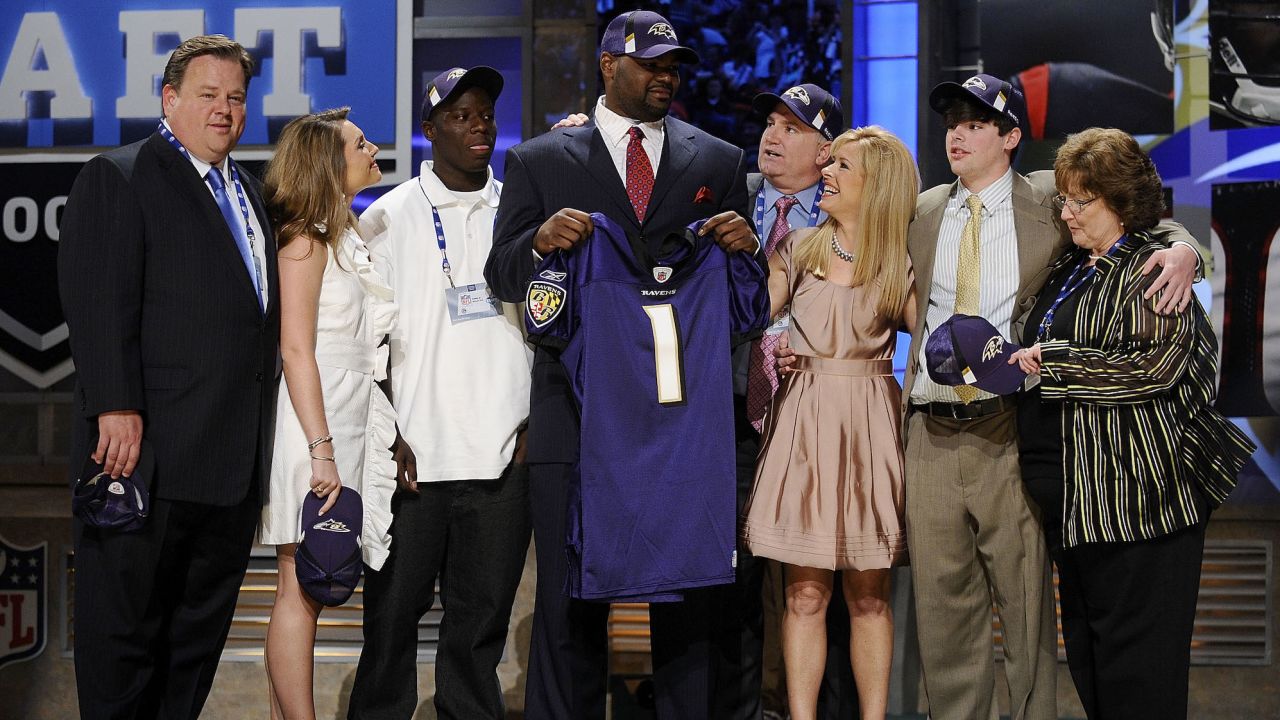 When the film "The Blind Side" debuted in 2009, it was a feel-good hit that would win Sandra Bullock an Academy Award for her portrayal of Leigh Anne Tuohy.
But now, as Jill Filipovic wrote, "it's not exactly a Hollywood happy ending: Michael Oher, the former NFL player whose story was depicted" in the film "says he was conned into agreeing to a conservatorship, believing he was going to be adopted by Sean and Leigh Anne Tuohy — and that he never received fair payment for the movie portrayal of him … Oher has filed a petition in a Tennessee court to end the Tuohys' conservatorship over him…"
"The couple said that they have always been upfront with Oher about the conservatorship and that any profit from 'The Blind Side' has been split with him equally."
Filipovic added, "Oher, who was born to a mother struggling with substance abuse disorder and placed in foster care before his 11th birthday, became a ward of the state, and the Tuohys offered him a place to stay on occasion, according to his petition. When he turned 18, they invited him to live with them, and encouraged him to think of himself as one of their children, leading him to believe he was as good as an adopted son. And according to Oher, the Tuohys told him they would in fact adopt him…"
"There is no doubt there is much more to this story than either this legal action or a Hollywood film can capture. What is clear from Oher's story, though, is that our justice system is largely ill-equipped to address the kinds of profound power imbalances at play in his conservatorship."
Bradley Cooper's 'Maestro'
"Arguably the least interesting thing about Leonard Bernstein — the legendary conductor and composer now being played by Bradley Cooper in an upcoming Netflix biopic called 'Maestro'— was his nose," observed David M. Perry.
Bernstein, who composed "West Side Story" and much else, "labored throughout his life to make classical music accessible to broader audiences and took public stances on important human rights issues of the day. The film focuses on his relationship with his wife, Felicia Montealegre (played by Carey Mulligan), a Costa-Rican American TV star, and the complexities of that marriage given Bernstein's sexual relationships with men."
"It's a good, if fraught, story that's well worthy of a thoughtful adaptation. Unfortunately, Cooper, who also directed and produced the film, apparently decided that in order to play Bernstein properly, he needed to wear a big prosthetic schnozz."
Bernstein's children said Cooper's choice was fine with them, but Perry wrote, "any non-Jewish person putting on a fake nose in order to portray a Jew is colliding with a grim history. Images of Jews with big noses have been associated with some of the most virulent anti-Jewish stereotypes since the later Middle Ages…"
Still, he added, "there's a difference between an unfortunate (in my view) artistic choice and deliberate bigotry. I don't want to watch 'Maestro.' I don't really care whether you do, so long as you respect my feelings."
Press freedom
"SEIZED," was the bold headline of the Marion County Record, with a phrase added in italics: "… but not silenced."
The Kansas weekly paper that had a circulation of about 4,000 became the unlikely focus of national attention last week when police raided its office.
"What happened," wrote Celia Wexler, "can be viewed as one unpleasant incident in a small town: the police raiding a local newspaper and the home of its owners and confiscating the digital equivalent of the paper's printing presses by seizing computers, cell phones and reporting materials containing the names of confidential sources."
"But the proper perspective is a much broader one. This is about a police force essentially shrugging off the law and the Constitution. It's about an intrusion into newsgathering that almost never happens because it so profoundly violates one of our deepest American values – the primacy of the public's right to know."
On Wednesday, a local official said the search warrant was being withdrawn, adding it was based on "insufficient evidence" that any crime had been committed. But that came too late for the paper's co-owner, the 98-year-old Joan Meyer, who died the day after the raid. "Her anger and upset were, her son believes, a factor in her death," Wexler noted.
Don't miss
Ric Ward: My wife died of cancer. Now I ask myself 'what if'
Sigrid Fry-Revere: Why organ donors need our help
Alden Wicker: Hitting the gym or going to yoga? Your workout clothes could be doing more harm than you realize
Jay Michaelson: Yes, Al Gore, giant vacuum cleaners might help save the planet
Lauren Hersh and Rebecca Zipkin: Gilgo Beach murders are a chilling reminder of the deadly dangers of sex trade
David Andelman: Right now, the US is letting Russia win in Africa — again
Michael Coren: My conversion on LGBTQ rights tells an important story
AND…
Written out
Elsie Robinson was a powerful national voice in the first half of the 20th century as the writer of the syndicated "Listen, World!" column for the Hearst newspaper chain.
"Robinson was read by more than 20 million people and made history by being one of the first and only columnists in the country to also draw her own accompanying editorial cartoons," wrote Allison Gilbert. "For more than 30 years, until her death in 1956, Robinson shared her opinions supporting women's rights and immigrants, slammed racism and antisemitism and urged women to realize larger and more satisfying lives."
Gilbert, who co-authored the first biography of Robinson, pointed out that women like her are often written out of history.
"Robinson's letters, and other important career correspondence that I found, are buried in the archival records of the men who employed her, including Hearst, and most of her writing hasn't been digitized. Nearly all of her 9,000 columns and articles exist only in hard copy and on microfilm and can't be found by searching Google."
"In Robinson's era and before, the gatekeepers to the past were nearly always men and it was common for many curators and archivists to assume women's records were unworthy of collection. While gender biases surely played a role, many archives were funded to preserve the work of political leaders, scientists and philanthropists — positions that, depending on the era, largely or altogether excluded women."
The good news: major institutions, like the Smithsonian American Women's History Museum, are in the midst of massive projects to catalogue and recover the stories of pioneering women, including "more than 500 women in science who worked within the Smithsonian itself and whose contributions to research have been ignored or neglected."