On a gray day in late February 2017, Chinese leader Xi Jinping gathered with a handful of close advisers to survey crop fields and polluted wetlands some 100 kilometers (62 miles) south of the capital Beijing.
Just over a month later, the future of those hinterlands would change drastically, as China announced Xi's plan of "1,000-year significance" to transform the area into an eco-friendly, high-tech hub that would serve as the sub-capital of the country and a new model for urban planning.
At the time, the plan to launch the "Xiong'an New Area" raised questions – including over how the new city would cope with the environmental challenges known to plague the low-lying, marshy area, which is prone to flooding and drought.
Six years on, those questions have returned as Beijing and surrounding Hebei province, where Xiong'an is located, grapple with the fallout from record rains and flooding that killed dozens and displaced more than 1.5 million people in late July and early August.
Xiong'an's main urban areas, where offices for dozens of state-owned enterprises are under construction, did not report major flooding.
But the surrounding devastation has underscored concerns about the decision to build a multibillion-dollar city in a flood-prone plain.
It's also raised questions about the extent to which Xi's dream city – and the political pressure to protect it – impacted how officials made decisions about managing the flood waters from a storm which was the region's most severe flooding event since Xiong'an's construction.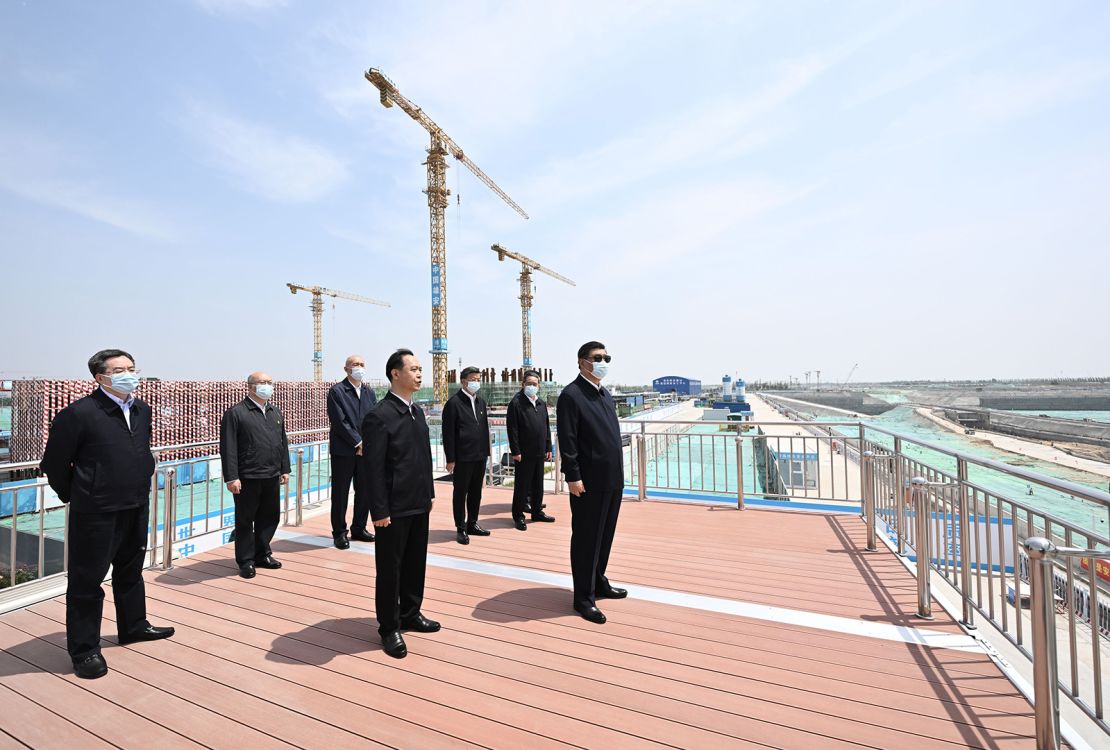 'Absolutely safe'
As heavy rains moved toward the region in late July, China's top flood control officials met to hash out their response plan. Among their priorities was to keep the capital Beijing and Xiong'an "absolutely safe" – a demand repeated numerous times in the days to come.
The mountainous western outskirts of Beijing were hit first, as flash floods unleashed by the heaviest rains in 140 years washed away cars, bridges and roads.
Further downstream, officials had to make difficult decisions about how to manage the churning flood waters that gushed out of the mountains into the rivers snaking through cities, villages and farmlands on the plains of Hebei.
On July 30, the first of the decisions was made to discharge water into the "flood storage zones" – designated areas for the emergency overflow of flood waters, which were home to hundreds of thousands of people.
Zhuozhou, a city south of Beijing, took the worst hit, with streets, homes and neighborhoods inundated in meters of murky water. On social media, some residents claimed they did not receive advance warning, others said the evacuation notices arrived too late or did not explain how serious the situation was.
Flood waters also submerged villages and farmlands in Bazhou, another city in Hebei, where dozens of residents protested outside the city government's offices to demand compensation, according to social media videos.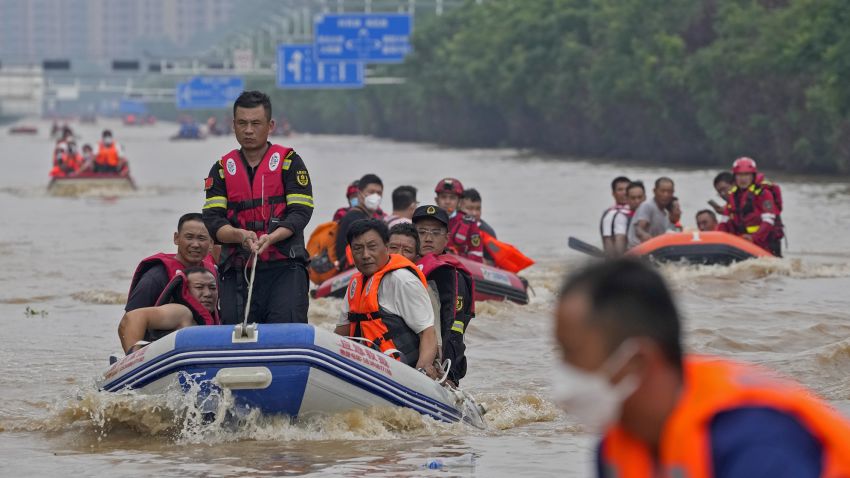 CNN's signal cut in China during flooding report
Some unfurled a red banner that read: "Give me back my home. The flood was caused by flood water discharge, not by heavy rainfall."
CNN has reached out to the Zhuozhou and Bazhou governments for comment. Under Chinese law, residents of flood storage areas are entitled to compensation for 70% of housing damage.
Suggestions by officials that decisions about releasing flood waters into Zhuozhou and elsewhere in Hebei were made to minimize the impact on the capital Beijing, Xiong'an and the port city of Tianjin also caused a backlash.
In particular, Hebei's party chief Ni Yuefeng angered some when he called the province a "moat" for Beijing. Censors later wiped his comments from the Chinese internet.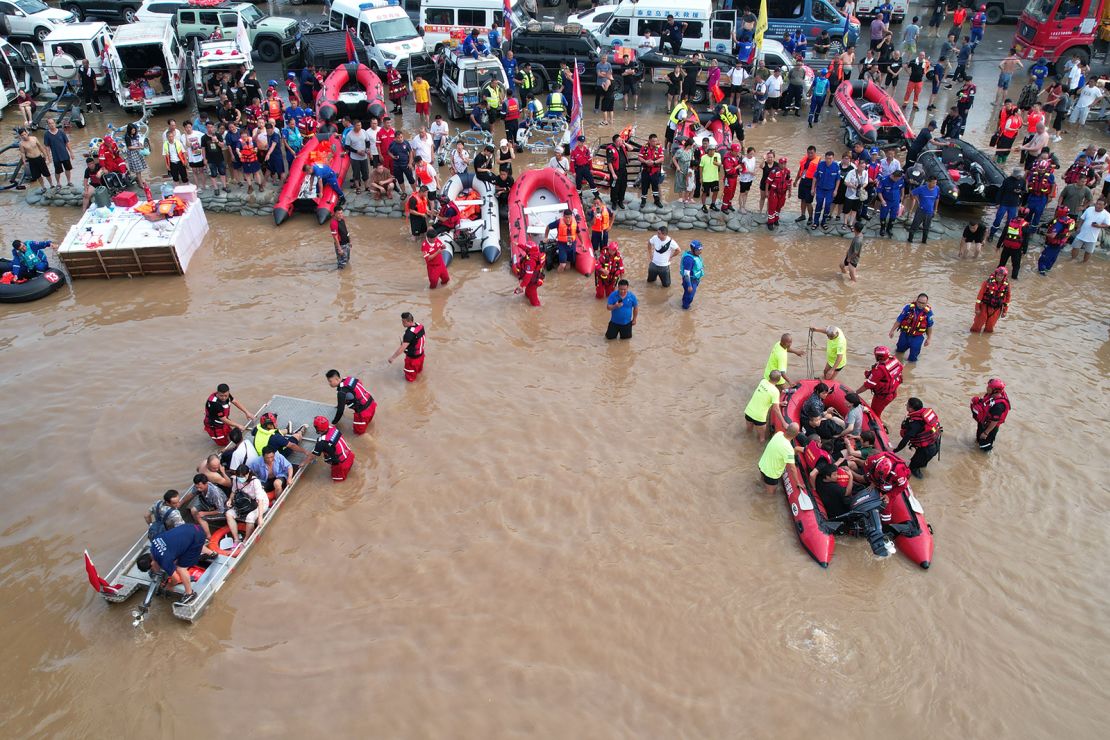 Reducing pressure on Xiong'an
Experts say various factors likely determined how – and where – flood waters were diverted, including the speed and intensity of the waters, reservoir levels and existing guidelines and regulations on flood management. And amid a lack of transparency from officials, it remains unclear exactly why decisions were made.
But in the case of Zhuozhou, which lies 30 miles upstream along the Baigou river from Xiong'an, repeated high-level calls to protect Xi's dream city – and concern for how its defenses would stand up against heavy flood waters – may have played a role, experts say.
Preparing for the storms on July 20, China's Minister of Water Resources Li Guoying ordered officials to make flood diversion plans to "keep the flood waters outside (Xiong'an's) periphery and reduce the flood control pressure on its newly built embankments."
Hongzhang Xu, a postdoctoral research fellow at the Australian National University, said it was "possible that authorities released water in Zhuozhou to pre-emptively ease pressures on Xiong'an, considering its new flood control infrastructure."
Conserving bigger cities by sacrificing smaller ones and rural areas has long been a major flood management strategy in China and elsewhere, he added.
Fan Xiao, a Chinese geologist, said by holding up some of the flood waters in Zhuozhou, authorities were able to reduce the flood peak and delay its arrival downstream. "It mitigates the impact on Xiong'an," he said.
Li Na, a water resources official in Hebei, admitted as much, telling state media "if it had not been for the two areas (in Zhuozhou) controlling flood waters, the pressure on flood control in downstream Xiong'an and Tianjin would be very heavy."
Tianjin, a major port city of nearly 14 million, is where several of the region's rivers release into the sea.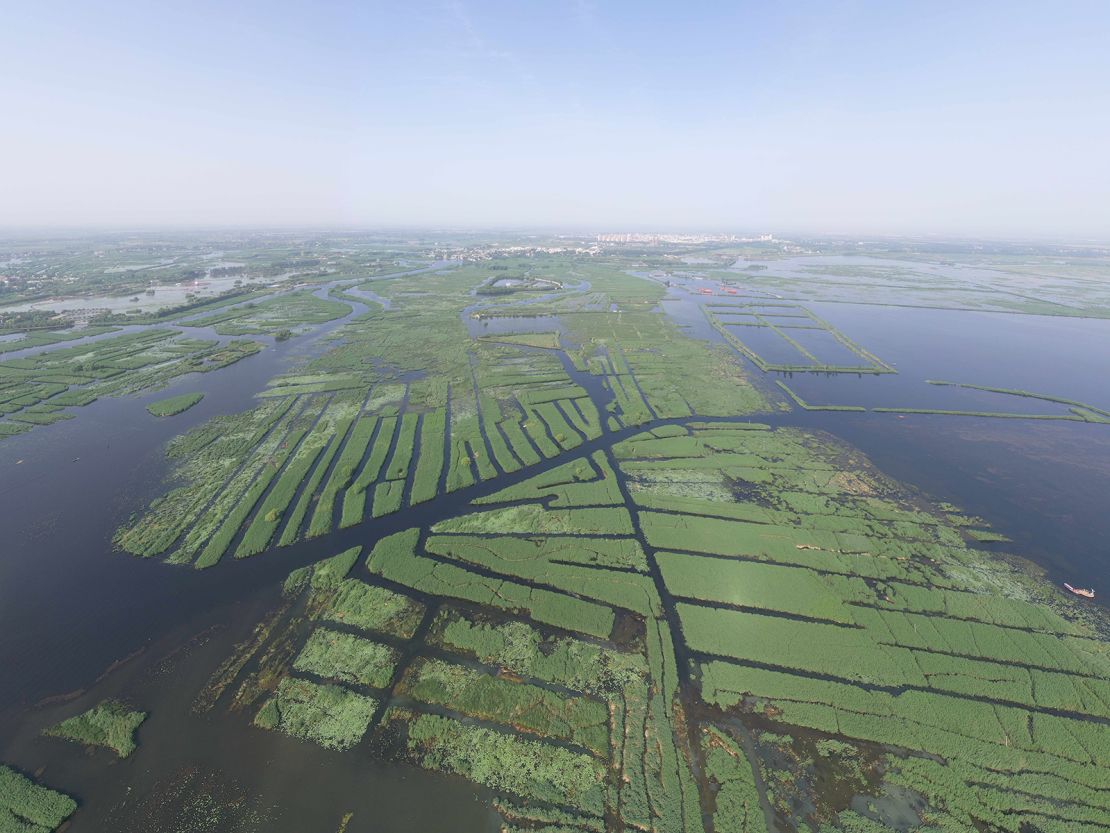 Closer to Xiong'an's center, it's not clear whether the development of the city changed decisions about the diversion of flood waters into Baiyangdian Lake. As northern China's largest freshwater body, the lake serves a key role in the web of rivers and reservoirs that manage water – and flooding – in the region.
In the recent rains, at least three upstream reservoirs released flood waters into rivers flowing into Baiyingdian from the west and the south, according to state media.
But to the north, a canal that connects Baiyangdian with the Baigou River – which flows from Zhuozhou south toward Xiong'an – was shut before the flood peak arrived. Instead, the torrents were guided east through a much broader floodway to the Dongdian flood storage zone near Bazhou, where villages were inundated.
Authorities did not say why the decision was made or specifically whether protecting Xiong'an was a factor.
The floodway leading to Dongdian can contain ten times the water of the canal linking the Baigou River to Baiyangdian, and serves as the main flood relief channel for the Baigou River.
Authorities are meant to make decisions about diverting flood waters into Baiyangdian from the Baigou River based on the lake's own water levels, according to government guidelines. Open-source data show that Baiyangdian's water level was already high in late July and rose further in August.
Xu, the researcher at the Australian National University, said historically, waters from the Baigou river would likely have been diverted to both the Baiyangdian and Dongdian flood storage zones.
In August 1996, when the region was hit by the largest flood in three decades, Baiyangdian Lake took in 30% of the flood waters from the Baigou River, according to Chinese researchers.
CNN has reached out to China's Ministry of Water Resources and the Hebei Provincial Department of Water Resources for comment.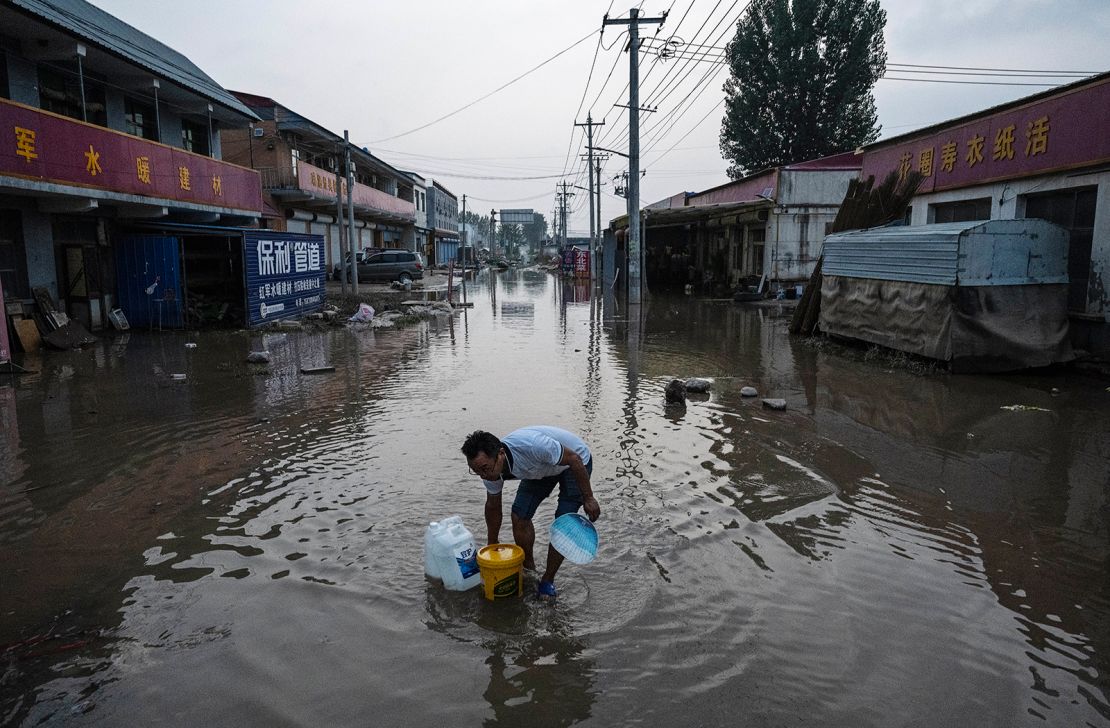 Flood control coordination
China is not alone in relying on imperfect systems of flood control that sometimes prove costly.
Many countries have systems that involve discharging pent up flood waters into otherwise dry land after major storms.
In the US, the Mississippi River has multiple floodways. This at times has led to the flooding of farmlands, including areas with residents. But, unlike in China, where the designation of flood storage zones may not have kept up with urbanization, such systems typically do not flood highly populated areas.
Some 847,000 people were evacuated from the seven flood storage zones Hebei province ultimately opened to handle the recent rains.
There are signs Chinese officials were aware of an issue. Before the floods, a group of water officials from the region in late July acknowledged "increasing conflict" between the use of flood storage zones and rapid development in the region, including the construction of Xiong'an.
But in the wake of China's latest disaster, experts interviewed by CNN have called for a review of the emergency management systems and stronger coordination between officials in the region – including with Xiong'an – to ensure there aren't such high costs the next time.
Experts suggested that a convoluted system of authority and jurisdictions when it comes to making decisions about managing flood emergencies in China impacts how well authorities deal with these crises.
"The Beijing-Tianjin-Hebei region is quite large and most of the time, the management of flood events is not centralized by one authority in (the region) – it is divided into different departments and by different government agencies," said Meili Feng of the School of Geographical Sciences at the University of Nottingham Ningbo in China.
"In the future, it would definitely be good to start thinking about … integrated flood event management at the large river basin scale."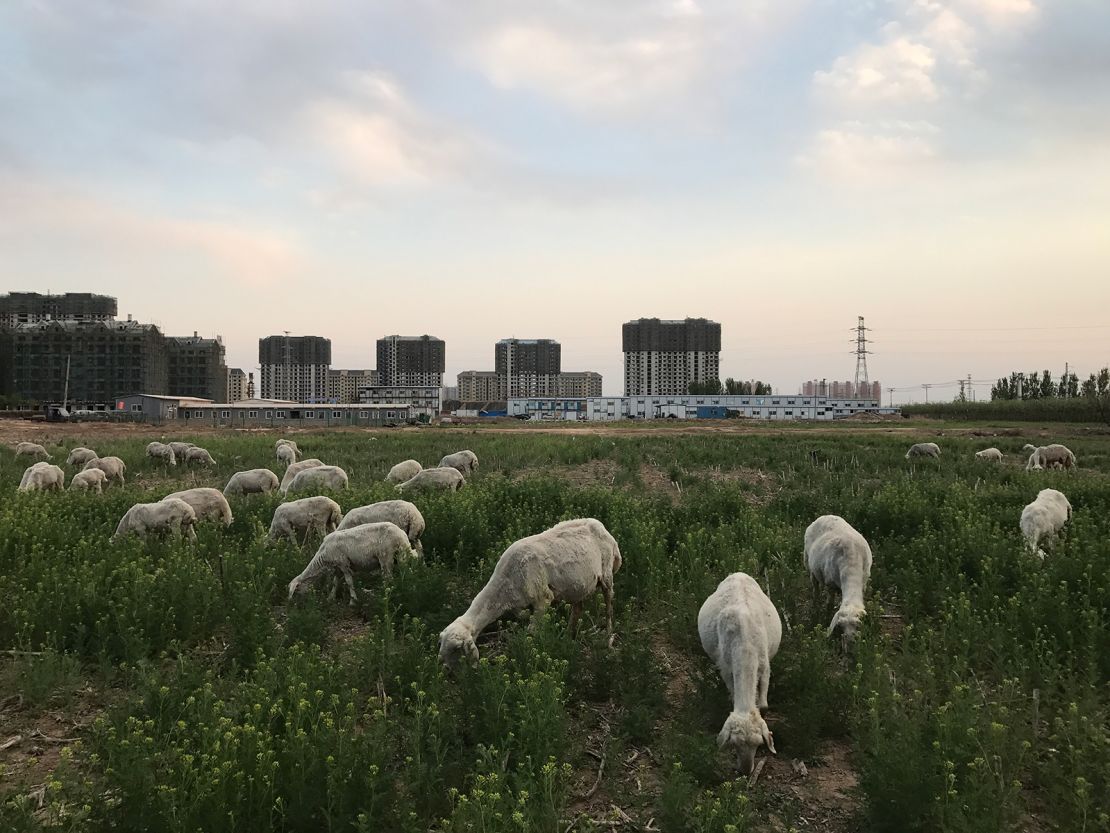 '1,000-year significance'
Xiong'an is widely seen as Xi's answer to the bustling coastal tech hub of Shenzhen, linked to former leader Deng Xiaoping, and the glittering financial center in Shanghai's Pudong New Area spearheaded by another predecessor, Jiang Zemin.
But its relatively low elevation and sprawling wetlands had already raised concern about flood risks in 2017, when the central government announced the plan for the city.
At the time, experts evaluating the area's environment found that if the population reached 5 million up to half of the developed parts of Xiong'an New Area would be at risk in the event of a 100-year-level flood.
"The New Area has an obvious location advantage, rich land resources, while there are some problems involving the shortage of water resources, serious pollution of surface water, high rate of flood disaster risk," they wrote in an assessment published by the Chinese Academy of Sciences.
But prominent engineer and politician Xu Kuangdi, a former mayor of Shanghai who headed an expert group on developing Hebei, Tianjin and Beijing, downplayed flood concerns.
Xu pointed to other reasons for why the location was selected, including traditional Chinese philosophy and the wetlands' national significance as a site of guerilla-style fighting against invading Japanese forces during World War II, according to an account of his comments at the time reported by state media.
Nonetheless, the new city is equipped with defenses largely superior to its neighbors. That includes infrastructure to withstand flooding of an intensity that may be seen only once every 200 years, as well as "sponge city" features like permeable urban surfaces that can absorb water, according to reports and plans available online.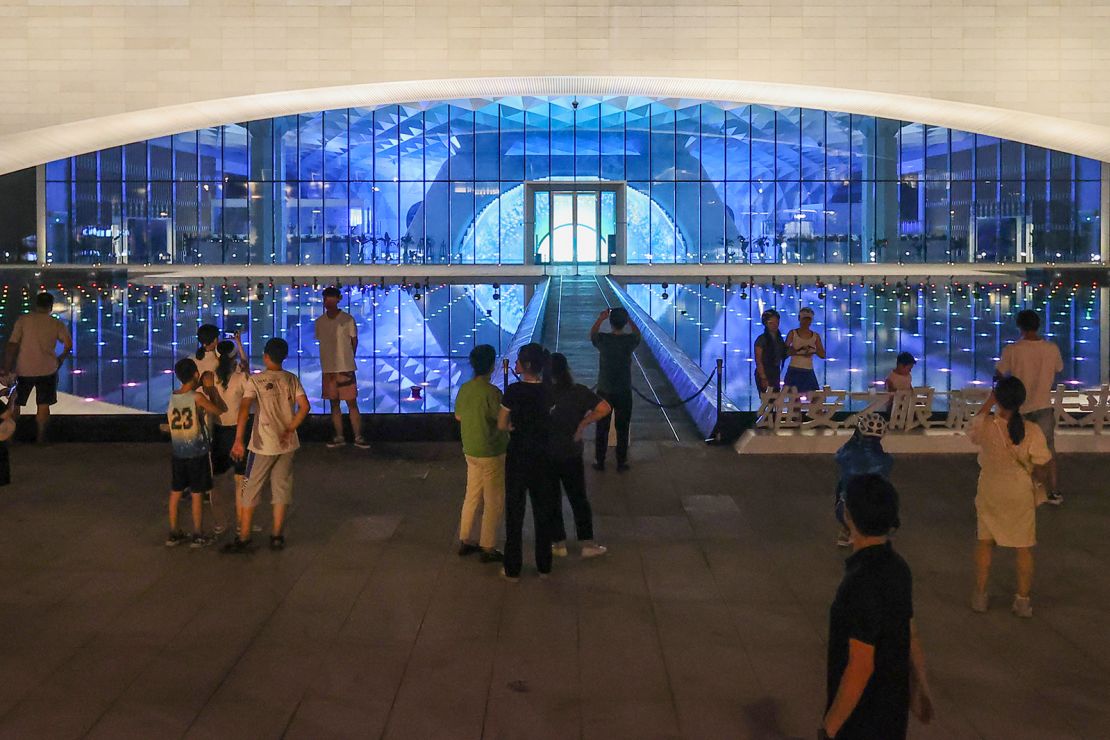 The construction of the city, which aims to be greener than Beijing and support restoration of the Baiyangdian wetlands, has echoes of other ambitious Chinese projects – like the Three Gorges Dam – that have used large-scale engineering to get around natural challenges.
When it comes to Xiong'an, there's thinking in China "that if we can build a city here we can show that we can have both urbanization and an improved natural environment at the same time," said Andrew Stokols, an MIT doctoral candidate who is researching urban planning in the area.
But the flood risks in Xiong'an – and perhaps by extension the surrounding region – are likely only to grow as the area develops to meet Xi's vision of becoming a "modern city" by 2035.
Experts say that a growing population and increasing economic development can exacerbate that risk – as will climate change, which makes extreme weather more frequent, intense and unpredictable.
This time, however, even as villages to the north and east of Xiong'an remained waterlogged, with some residents facing at least weeks before they can return home, Xiong'an New Area's government last week posted an article touting the return to business as usual.
There, colorful photos featured families walking through parks and "raining" sweat at the gym – as well as construction workers back on the job building out the new city.
"Work and life of the people are gradually recovering," the article said.
CNN's Berry Wang contributed reporting.