President Joe Biden on Tuesday said he will travel to Maui soon to visit the devastation left behind by wildfires that ravaged the Hawaiian island last week, leaving scores dead and untold damage.
In his first comments on the disaster since late last week, Biden said he wanted to ensure a possible presidential visit wouldn't impede recovery efforts.
"My wife Jill and I are going to travel to Hawaii as soon as we can, that's what I've been talking to governor about," he said. "I don't want to get in the way – I've been to too many disaster areas, but I want to go and make sure we got everything they need. I want to be sure we don't disrupt the ongoing recovery efforts."
The remarks were Biden's first public comments about the unfolding disaster in Hawaii since last Thursday, when he similarly began a prescheduled speech addressing the devastation. The period of silence had not gone unnoticed by Biden's critics, including former President Donald Trump and other Republicans.
Biden's aides have pointed to the president's frequent phone calls with FEMA leadership, Hawaii's congressional delegation and its governor as evidence of his sustained engagement. So far, Democrats have publicly supported Biden's response. The president has been in regular contact with Hawaii Gov. Josh Green, who has publicly praised the administration's response and the president's "full support." Sen. Mazie Hirono of Hawaii also thanked Biden for his speed approving a federal disaster declaration during an appearance of CNN's "State of the Union" as she described her experience witnessing the wildfires' devastation.
That included a photo Biden tweeted from aboard Air Force One speaking by phone with FEMA Administrator Deanne Criswell and Green, maps and binders spread out before him on his desk.
During his remarks, Biden pledged that the state would have "every asset, every asset they need" for ongoing recovery and rebuild efforts.
The president mourned the loss of life and "generations of native Hawaiian history turned into ruin" while reiterating a robust federal response, even as some on Maui have voiced frustration at the slow pace of aid.
"You always hear this phrase, and I've been to so many disasters in my career, it's almost hollow, but our prayers, our thoughts and prayers are with the people of Hawaii – but not just our prayers, every asset, every asset they need will be there for them. And we'll be there in Maui as long as it takes, as long as it takes, and I mean that sincerely," Biden said.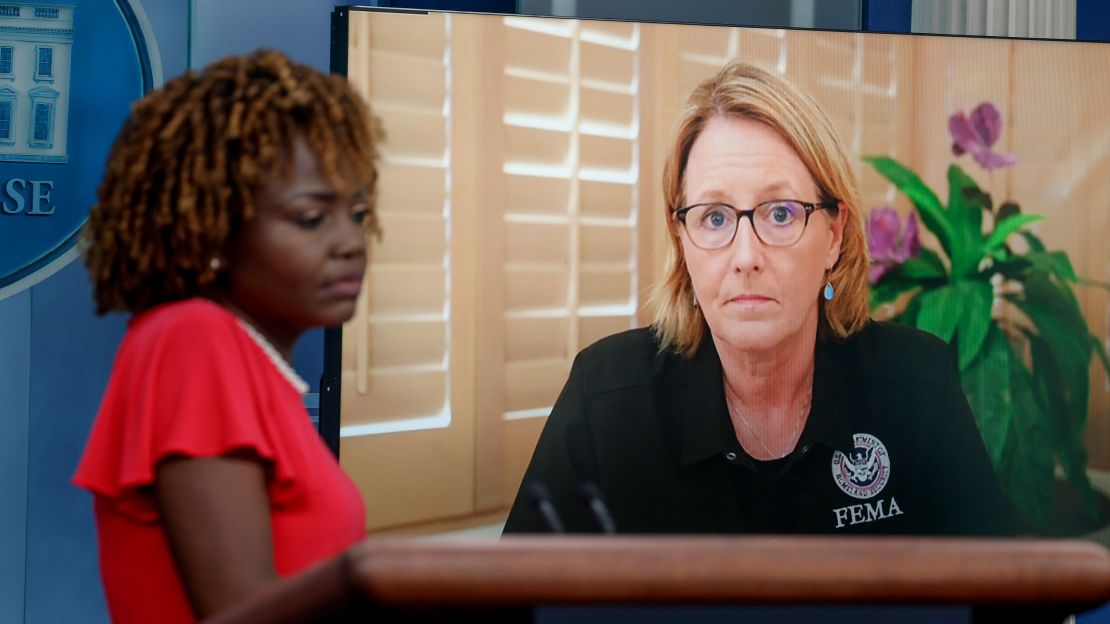 "We've been working with the state to make sure survivors who've lost their homes have a place to call home until we can rebuild," Biden said inside a wind turbine plant.
"I immediately approved the governor's request for expedited major disaster declaration. That's a fancy word of saying whatever you need, you're gonna get," he added.
Biden sought to empathize with families who have lost loved ones as the death toll rises.