Former President Donald Trump and his 18 co-defendants have been accused of breaking a variety of criminal laws in the Georgia 2020 election subversion case, but one crime ties all their alleged misconduct together: the Racketeer Influenced and Corrupt Organizations Act.
The state law – which is commonly referred to as RICO – is similar to the federal version of the statute that targets so-called criminal enterprises. Georgia's law allows prosecutors to pull an array of conduct – including activities that took place outside of the state of Georgia but may have been part of a broad conspiracy – into their indictments.
Those convicted of racketeering charges also face steeper penalties, a point of leverage for prosecutors if they are hoping to flip potential co-conspirators or encourage defendants to take plea deals.
RELATED: Former President Donald Trump's fourth indictment, annotated
"Federal RICO is a very big deal. It's difficult to prove, and it's used pretty sparingly. Georgia RICO is a different animal. It's easier to prove," said Kenneth White, a defense attorney familiar with the federal law. "The point is, it's used very aggressively there."
For Fulton County District Attorney Fani Willis, the law has been her calling card. The Atlanta-area prosecutor has used it in a number of high-profile cases she's previously brought in Georgia against school officials, gangs and musicians, including the rapper Young Thug.
"The reason that I am a fan of RICO is, I think, jurors are very, very intelligent," Willis told reporters in 2022 at a new conference about a gang-related indictment. "They want to know what happened. They want to make an accurate decision about someone's life. And so, RICO is a tool that allows a prosecutor's office and law enforcement to tell the whole story."
The historic 41-count indictment unsealed Monday accuses Trump and the other defendants of being part of a broad conspiracy to attempt to overturn the 2020 election result in the Peach State.
"The enterprise constituted an ongoing organization whose members and associates functioned as a continuing unit for a common purpose of achieving the objectives of the enterprise," the 98-page indictment states.
"The enterprise operated in Fulton County, Georgia, elsewhere in the State of Georgia, in other states, including, but not limited to, Arizona, Michigan, Nevada, New Mexico, Pennsylvania, and Wisconsin, and in the District of Columbia," the indictment adds.
Prosecutors say the criminal actions the charge is built around include: making false statements, filing false documents and forgeries, impersonating officials, computer breaches and attempts to influence witnesses.
Several of the acts alleged to have made up the racketeering conspiracy involved states other than Georgia.
Among the 161 alleged acts that the indictment states were done in furtherance of a conspiracy to reverse Trump's electoral loss were the several episodes of outreach from Trump and his advisers to state legislators in Pennsylvania, Michigan and Arizona. The indictment also highlighted the effort to organize fake electors in Wisconsin, Arizona and other states, in addition to the coordination of an alternative slate of electors in Georgia.
White and other legal experts stressed that Willis' use of RICO against Trump and his co-defendants will allow prosecutors to easily tie alleged conduct into their case.
"I think that there are strategic benefits at trial to having a big overarching statute because it makes it easier to bring in outside conduct without having (an evidentiary) hearing," said Andrew Fleischman, a Georgia criminal defense attorney.
But, he added, RICO cases "do introduce complexities that slow down a case that make it procedurally more difficult to move forward."
Giuliani's RICO connection
Among the 19 defendants charged on Monday is former Trump attorney Rudy Giuliani, who is accused of illegally soliciting Georgia state lawmakers, making false statements to the Georgia House and Senate and the effort to put forward fake electors in Georgia.
Like the others, Giuliani is also charged under the Georgia RICO law. But the offense being brought against him is especially notable given his successful use of the federal RICO statute during efforts to prosecute various mafia figures in the 1980s when he served as US Attorney for the Southern District of New York.
Giuliani has long maintained that he's responsible for changing the way the 1970 federal law is used to combat crime.
"Using it against the (mafia) commission," Giuliani told The New York Times in 1989, "that was an idea that no one had until I developed it and went down to Washington and started talking about it. And I came to the office with it."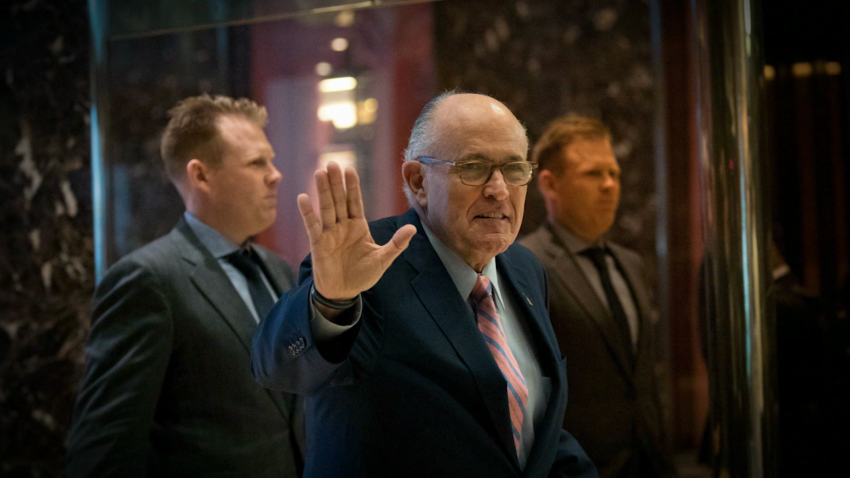 How Giuliani learned to thrive in Trump's world
Willis' history with RICO
Willis' past use of the RICO law had thrust her into the national spotlight long before the conduct described in Monday's indictment allegedly took place.
In 2015, when she was serving as an assistant district attorney in the county, Willis made headlines when she charged teachers, principals and other education officials in an Atlanta Public Schools cheating scandal.
After a 7-month trial, Willis secured convictions for 11 of the 12 defendants charged with racketeering and other crimes related to cheating that was believed to date to early 2001, when scores on statewide skills tests began to rise in the 50,000-student school district.
Last year, Willis brought RICO charges against Young Thug and the rapper Gunna, accusing them and others with conspiracy to violate the law and participation in criminal street gang activity.
Prosecutors in that case say Young Thug, whose real name is Jeffery Lamar Williams, is one of the founders of Young Slime Life (YSL), an alleged criminal street gang that began in Atlanta. The indictment, which spans nearly 100 pages, charges the musician with counts relating to gang activity and drug and firearms violations.
It includes a number of things as evidence for the defendants' alleged crimes, including photos posted on social media as well as lyrics from some of the rapper's popular songs – a tactic that ignited backlash from other artists.
According to that indictment, Williams and others "conspired to associate together and with others for the common purposes of illegally obtaining money and property through a pattern of racketeering activity and conducting and participating in the enterprise through a pattern of racketeering activity."
Williams' attorney has vehemently denied the charges against him, telling CNN last year his client "has committed no crime whatsoever," and that they looked forward to a trial. The trial, which began with jury selection in January, has already taken months, while the rapper remains in jail. Late last month, the judge again denied bond for the rapper, according to court documents.
Willis also charged 26 individuals who are alleged members of a hybrid gang known as the Drug Rich Gang under RICO, charging they took part in a criminal enterprise that included home invasions, kidnappings, armed robberies and shootings.
"I have a message today that you will hear repeated time and time again," Willis said at the time. "If you thought Fulton was a good county to bring your crime to, to bring your violence to, you are wrong, and you are going to suffer consequences."
This story has been updated with additional details.
CNN's Sara Murray, Shawna Mizelle, Christina Maxouris, Jeremy Herb, Tierney Sneed, Amy Simonson, Dave Alsup and Tina Burnside contributed to this report.