A small West Virginia university will close down after financial struggles, leaving many students frantically searching for another option as the start of the new academic year approaches.
On Monday, the board of trustees at Alderson Broaddus University, a private Baptist university in Philippi, West Virginia, voted to close the school, according to a statement from the school's marketing and communications director, Cary Walters.
"As you can imagine, we are currently focused on providing accurate information to our students, faculty and staff regarding next steps and what they can expect in the coming days and weeks," Walters said.
The board's decision comes after the West Virginia Higher Education Policy Commission, the governing body overseeing universities in the state, voted to revoke Alderson Broaddus University's power to confer degrees in an emergency meeting Monday to address the "rapidly deteriorating financial condition" at the school.
"The Commission took this action after receiving and confirming information that Alderson Broaddus University's financial condition renders the institution unable to create a stable, effective, and safe learning environment for its students," the Higher Education Policy Commission said in a statement.
Alderson Broaddus had been beset with financial difficulties for years, tax filings show. In 2022, the university had more than $39 million in liabilities. In 2020, the university reported a net income of -$904,424.
The commission's decision would have gone into effect starting December 31, but it would have prohibited Alderson Broaddus from enrolling new students in the fall 2023 semester.
Dr. Sarah Armstrong Tucker, West Virginia's Chancellor of Higher Education, said the commission's "foremost priority is to help (Alderson Broaddus') students continue their education as seamlessly as possible."
"We have been working with other colleges and universities in the state, and we are grateful to have institutions that are eager to help these students transfer and complete their degrees," Tucker said in the commission's statement. "The Commission takes its role in authorizing private institutions to operate within West Virginia very seriously. This is a role that the Legislature entrusted us with to safeguard students, and that is exactly what we are doing."
Other universities offer support
Several universities in the state have announced their willingness to help Alderson Broaddus students transfer their credits to a new school.
"We will provide these students with fast and free priority application and thorough transcript evaluations. Students accepted to (West Virginia Wesleyan College) will be given guaranteed housing placement, robust financial aid opportunities, and holistic student support," West Virginia Wesleyan College said in a statement.
Fairmont State University said they created a scholarship to help students from Alderson Broaddus.
"Fairmont State has created the Battler Transfer Scholarship, a scholarship for transfer students from Alderson Broaddus to support their transition and degree completion," the school said. "Any incoming first-time freshman who can provide a copy of their admit letter from AB will be provisionally admitted to Fairmont State."
The university said it will also prioritize any applications from Alderson Broaddus students and work with them to "maximize the transfer of courses and keep them on track with their personal degree plans."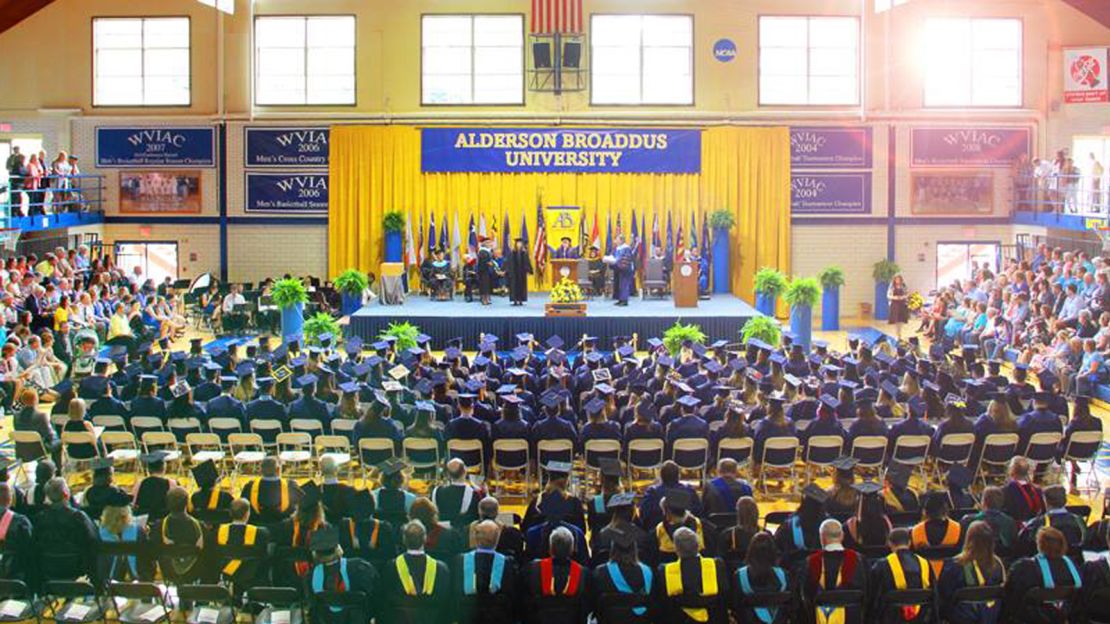 'I'll end up where I'm meant to be'
The sudden closure has led some student-athletes who were recruited to Alderson Broaddus scrambling to find the next opportunity. Many have taken to social media to reach recruiters.
Justin Kearney, a rising junior on Alderson Broaddus' sprint football team told CNN he found out about the school's closure through his teammates on Snapchat.
"Honestly, it hurts, but stuff happens. I love Alderson Broaddus forever and always all the friends, good memories and sports trips, it will always have a place in my heart," Kearney said. "It's been tough. One minute I'm working doing my normal day, next minute I'm posting on Twitter that I'm looking for a new place to call home. It's still so surreal."
Jalin Quintanilla, a freshman on the football team, told CNN the team was supposed to start preparing for fall camp this Friday when the coach confirmed the news of the shutdown after weeks of rumors. He said "it hasn't been easy" this week.
"But I think everything happens for a reason and at the end of the day, I'll end up where I'm meant to be," Quintanilla said.
West Virginia Gov. Jim Justice also voiced his disappointment about the school's closure.
"I hate to hear about Alderson Broaddus, as it holds a special place in the town of Philippi. My thoughts go out to the students, faculty, and alumni of the institution during this challenging time," Justice said in a Monday tweet.
Alderson-Broaddus College was first founded in 1932, when two older Baptist liberal arts colleges merged, according to the university's website. The school gained university status in 2013, becoming Alderson Broaddus University.