Deadly downpours have triggered landslides and floods that swept away cars and destroyed roads in Beijing, as the remnants of Typhoon Doksuri unleashed the heaviest deluge in a decade over parts of northern China.
Two days of rainfall have overwhelmed riverbeds around the western outskirts of the Chinese capital, turning once calm waterways into ferocious torrents that have swept into people's homes and torn down streets, according to video on state television and social media.
At least 11 people have been killed and 27 others reported missing, state broadcaster CCTV reported, while more than 127,000 people have been evacuated from the city. Nine deaths were also reported elsewhere in northern China.
The sprawling megacity, home to nearly 22 million people, saw an entire month's worth of rainfall over 48 hours – an average 175.7 millimeters (nearly 7 inches) – according to CNN Weather.
But in western districts hit hardest – and where most of the fatalities were reported – the downpours were far worse. In Mentougou district, the average rainfall was more than 18 inches, according to data from Beijing's meteorological service, while nearby Fangshan saw 16 inches of rain.
The storm is the deadliest to hit Beijing since 2012 when floods killed 77 people – a toll that authorities initially tried to cover up.
China faces typhoons and heavy rains during the summer months, but the frequency and destruction that the annual rains bring have been exacerbated by climate change, experts warn. At least 300 people were killed in floods in Zhengzhou, central Henan province, in 2021.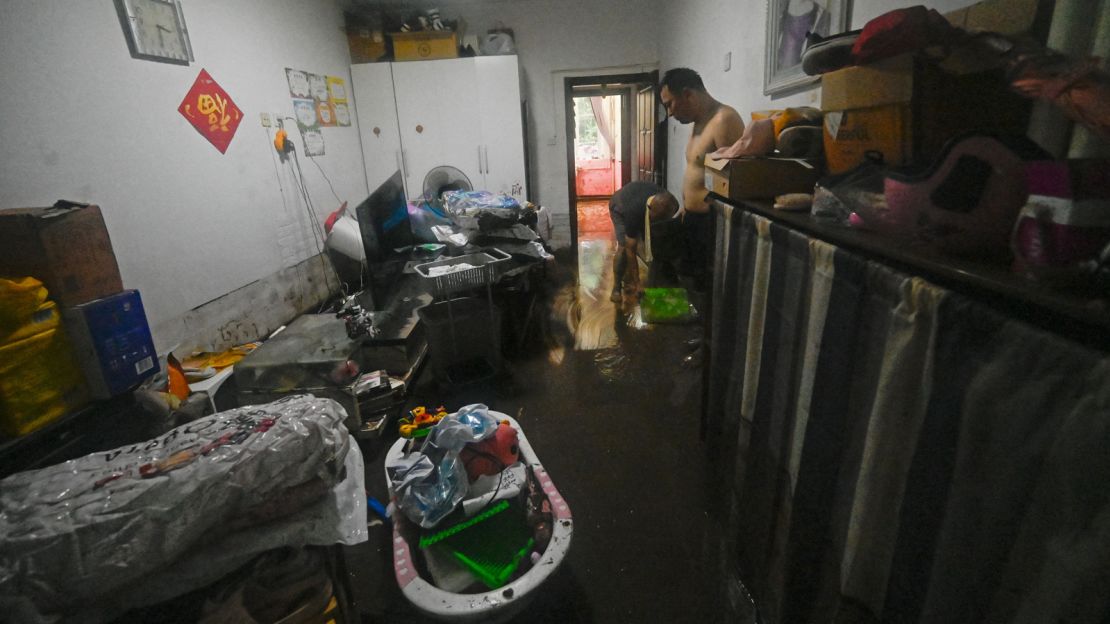 Videos aired by CCTV showed one road bridge in Beijing that had broken in half with a queue of cars on top as several vehicles in the river below were swept away.
Footage of a sinkhole that opened outside a west Beijing mall and flooding at the Beijing Daxing Aiport were seen in videos shared on X, formerly known as Twitter.
Meanwhile, other videos showed rescue workers and residents wading through waist-deep water as they tried to escape the rising floods.
On Tuesday, Chinese leader Xi Jinping ordered search and rescue efforts to be stepped up, state media reported.
"The affected people should be properly resettled, and the damaged infrastructures … repaired as soon as possible so as to restore the normal production and living order," Xi said, according to state-run news agency Xinhua.
Authorities in China have not released any estimates yet on potential financial losses but had warned before the storm landed that torrential rains could damage crops and farmland just weeks before the normal autumn harvest.
Doksuri was one of the strongest typhoons to hit China in recent years. It made landfall in the southeastern coastal province of Fujian, where authorities say more than 2.6 million people were affected.
The typhoon weakened to a storm as it made its way north but unleashed huge amounts of rainfall.
Before hitting Fujian, the typhoon had killed at least 39 people in the Philippines and lashed parts of southern Taiwan.
Train passengers stranded
Among those caught in the chaos were more than 300 people stranded in a residential building in Zhuozhou, in Hebei province neighboring Beijing, according to state-run outlet The Paper.
Video from The Paper showed floodwaters had seeped into the basement of the building and a crater appeared to have formed.
A women quoted in the report said residents had "no drinking water, no electricity, no gas," adding that the floods had reached the second floor of the tower.
Nine people died, six are still missing and a further 847,400 people have been evacuated in Hebei province, state news agency CCTV reported Tuesday.
Elsewhere, hundreds of train passengers were stranded in the outskirts of Beijing, a state-run radio station reported.
Some passengers were stuck for 30 hours without food, a state-affiliated TV station in the southwest province of Guizhou reported, based on interviews with two travelers heading to Mentougou from Zhangjiakou, a Hebei city that hosted some of Beijing's 2022 Winter Olympics events.
"Now the rain is getting heavier and heavier, there seem to be signs of landslides in the front. The train can't go forward or back. Some people on the train are already feeling sick," one passenger told the TV station.
"Supplies can not come in, people are hungry… the car door is locked, we can't go anywhere," the second traveler was quoted as saying.
At least 1,870 passengers and 68 staff had been stranded on two trains and were finally led to safe ground by Monday afternoon, Xinhua reported, citing Beijing's state railway operator.
Another train remained stuck at another station, where staff had to walk through thick mud to deliver food and water to the stranded passengers, the rail operator said.
Even as Doksuri tapers off, there is little relief on the horizon.
Authorities are preparing for incoming Khanun, the sixth typhoon projected to hit China this year, with forecasters expecting storm tides to hit coastal areas of eastern Zhejiang province until Thursday.
CNN's Junko Ogura, Wayne Chang and CNN Weather's Robert Shackelford contributed reporting.