Brisbane, Australia
CNN
—
Half-time and thousands of tiny cellphone lights are swaying in time to Coldplay's "A Sky Full of Stars" on a mild winter night at Brisbane Stadium for Australia's World Cup match against Nigeria.
Sitting across two rows, not far from the pitch, are players from the exiled Afghan women's national team, who know what it's like to represent their country and dream of doing so again – if only they were recognized as a national team by the sport's governing bodies.
Khalida Popal, the team's founder, flew in from Denmark to meet the players, who now live in Australia after fleeing the threat of death by the Taliban on an Australian military plane as United States troops pulled out in August 2021.
"They keep telling me, 'We feel like we are dreaming … it's very difficult to believe that we're actually here,'" said an excited Popal, wearing a bright yellow Australia jersey.
Two years ago, she begged the international community for help to get the team out of Afghanistan, imploring the players to burn their kits, so Taliban fighters wouldn't target them for daring to play competitive sport, which is now banned for women in the country.
Now, she's urging FIFA, the sport's highest authority, to allow the girls and women to run onto the pitch again to represent Afghanistan.
"We have not only the senior women's national team, we have the youth teams around Europe, and even some of them in the US and Canada," she said. "Can these Afghan players from diaspora represent Afghanistan at international games? It's not that difficult. It's not like going on a moon."
Escape from Kabul
Almost two years ago to the day, the players were pushing their way through desperate crowds toward the gate at Kabul airport, clutching documents they hoped would confirm their ticket out.
The final days of the US occupation of Afghanistan were a test of stamina and determination, as armed Taliban fighters menaced locals, firing their weapons into the air as numbers swelled and surged toward checkpoints around the walled airport.
Since the Taliban takeover, girls and women have been banned from school and work and largely confined to their homes, only allowed to venture out with a male guardian.
Human Rights Watch calls it the world's "most serious women's rights crisis."
Last week, the Taliban closed all beauty salons, one of the last refuges of support for women trying to escape violence in their homes. For some 60,000 women, salons were also a source of income as the country's economy spirals, making it difficult to earn enough money to feed hungry children.
"The concern now is that is that this could be the beginning of a broader crackdown that would drive women out of the private sector in the same way that they've already been driven out of jobs in the civil service and in international NGOs and in the United Nations," said Heather Barr, association director of HRW's Women's Rights Division.
"So, the women and girls, they really see the walls continuing to close in on them."
Appeal to FIFA
On Friday, the Afghan women's team were guests at a gender symposium organized by Australia's Department of Foreign Affairs and Trade in Brisbane, attended by Foreign Minister Penny Wong, who addressed them directly from the podium.
"I wish that you were here under different circumstances. And I wish you were participating in this World Cup with your country behind you," she said, as Sarai Bareman, FIFA's chief of women's football, and Fatma Samoura, its first female secretary-general, sat nearby in the audience.
Bareman later told the crowded room that FIFA was working hard to close the gap between men's and women's football after decades of underfunding.
"The men's game has been invested in for decades and decades before the woman's game has been invested in to anywhere near the same level," she said.
"So we are very much about accelerating and closing that gap and making up for the institutional neglect of the times where women's football was incredibly banned in some regions and some continents. It's our obligation to close that gap," she added.
Neither Bareman nor Samoura directly referred to the Taliban ban on Afghan women playing sport, nor the team's request for FIFA recognition, and Bareman declined CNN's request for comment on the issue.
Instead, FIFA forwarded a statement saying it "does not have the right to officially recognize any team unless it is first recognized by the concerned Member Association."
"However, ensuring access to football for both female and male players without discrimination and in safety is a key priority for FIFA," the statement said. "FIFA is therefore continuing to monitor the situation very closely and remains in close contact with the Afghan Football Federation and other stakeholders with the aim to promote access to football in Afghanistan."
Behram Siddiqui, secretary-general of the Afghan Football Federation, told CNN FIFA had contacted the body about the Afghan women's team and the federation had told them it was against its rules for the women to play through a club.
"Neither can we support nor can we oppose the team if they play. Also, if they come through Afghanistan right now, we can't support them as here the government has some restrictions," he said.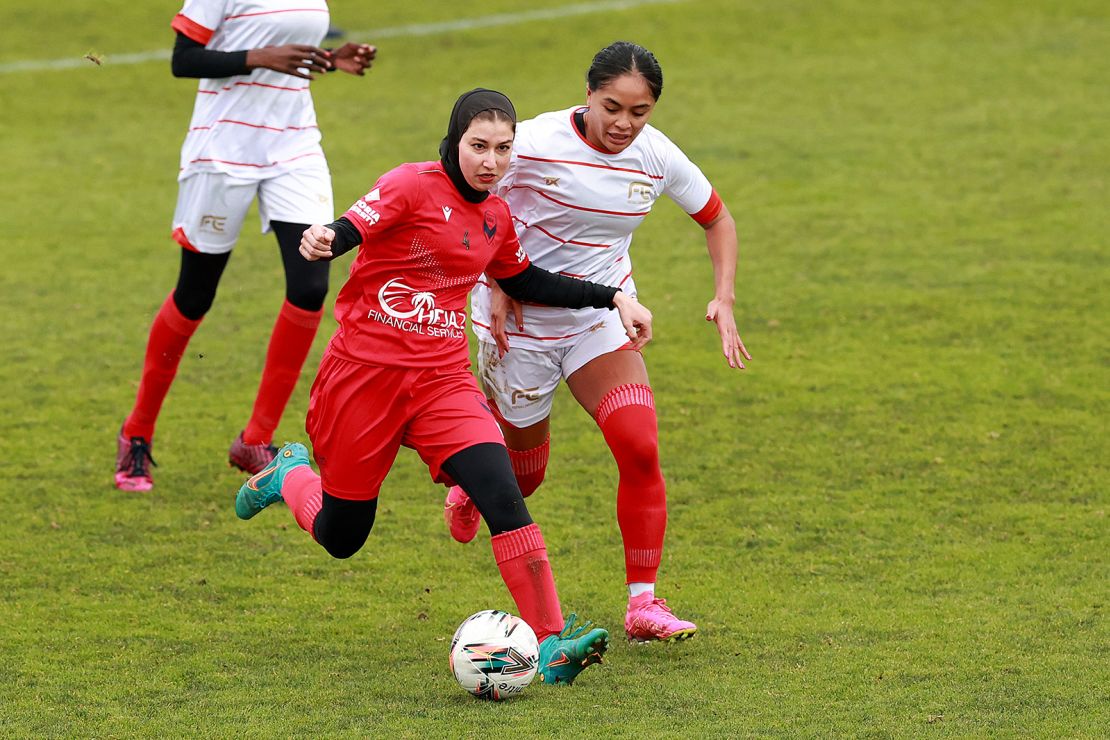 Popal says the team doesn't expect the Afghan Football Federation to stand up for them, because doing so would incur the wrath of Taliban leaders who punish those who call for women's rights.
"If the Afghan Football Federation recognize a team and say: 'Yes, we accept a team to represent Afghanistan,' they can be shot. They can be stoned. They can be killed," she said.
Gender equality is one of the eight social causes being promoted by the 2023 Women's World Cup, through a partnership with UN Women, and on messages displayed on team captains' armbands and on flags and screens around the pitch.
But Craig Foster, human rights activist and former Socceroo, who played an instrumental role in the Afghan team's escape from the Taliban, says FIFA's own statutes require more than a social campaign.
"They've absconded their entire responsibility and put it onto the domestic organization, which is in a team that's run by a terrorist organization. So clearly, that's not going to work," he said.
"Under FIFA gender equality statutes, there can be no discrimination against women in any member federation in the world. And the greatest discrimination is the prohibition against even playing the game."
Still in the game
The Afghan women's team began playing again in their new home of Melbourne last year, after local club Melbourne Victory offered to take them in and assigned them a top coach.
They wear black and red, their national colors, but play in the women's state league – and earlier this month took part in the Hope Cup, a competition for refugees.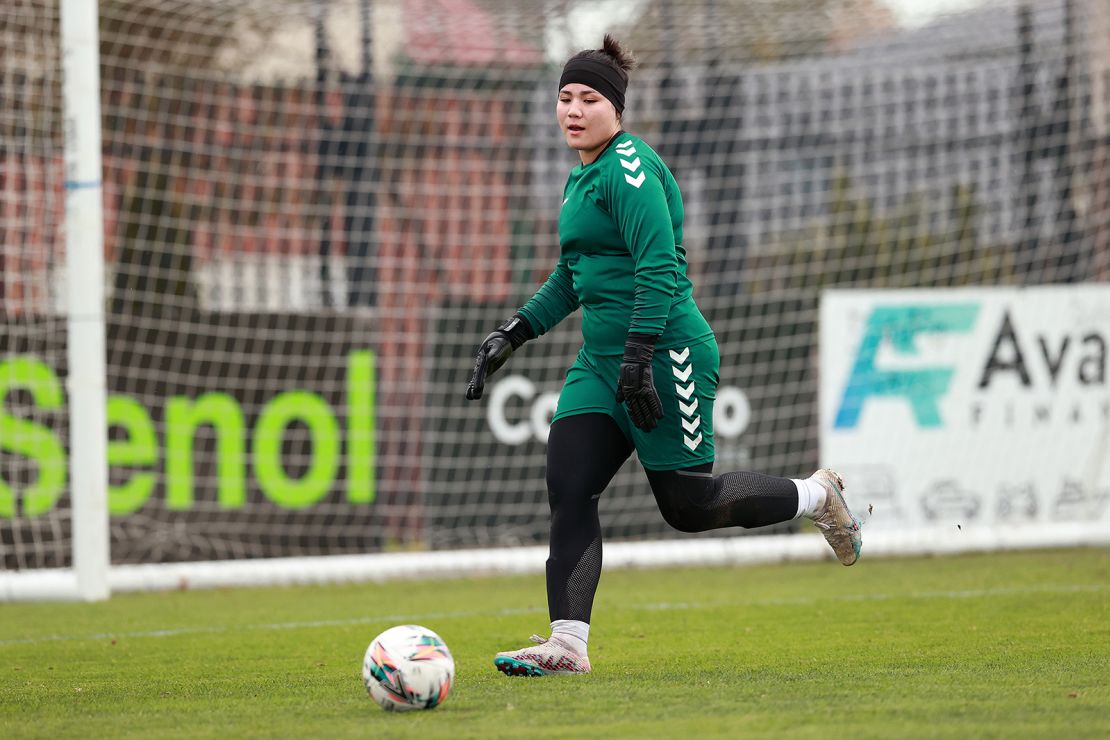 Goalkeeper Fatima Yousifi says the players' minds are never far from their families and friends back home, who fear for their lives and the loss of ambitions in a country where women don't count.
"I'm encouraging them to watch the World Cup, because it's the thing that makes you alive, because you can at least be having the hope that there are still women who are fighting," she said.
John Didulica, director of football at Melbourne Victory, says the Afghan team needs the hope to play for their country as they try to recover from the trauma of leaving everything behind.
"Every time there's an international game, and Afghanistan doesn't feature in the draw, their hearts break," he said.
Didulica says he's not holding his breath for FIFA to intervene to allow the team to play.
"This superficiality is not atypical for international governing bodies. There's a lot of tokenism. There's a lot of symbolism – but there's not a lot of action," he said.
"Melbourne Victory have put two years of action in, and we're going to keep supporting these girls, these players until they achieve their aspiration, which is to once again be the legitimate national team of their nation."
Much to the disappointment of thousands of Matildas fans in the crowd, the home team lost 3-2 to Nigeria on Thursday.
After the match, one of the goalscorers, midfielder Emily van Egmond, said Australia would quickly refocus as they aim to progress to the knockout stages in their game against Canada on Monday.
"We don't dwell on it, we have a quick turnaround, and it's all eyes on Canada now," she said.
When told the Afghan women's team was in the crowd, cheering the Matildas on, she said: "I think that's great they're here tonight supporting us. That's so special to hear that. I hope they continue to fight for what they need and what they want."
Goalkeeper Yousifi, who was hoarse the next day from cheering, said the Afghan team will never give up pushing for change.
"I know Afghanistan will not remain like that forever," she said. "Someday it will change, because we are the change makers. I believe in myself. I believe in my sisters."
Foster, the former soccer player turned refugee advocate, urged other female players around the world and their male allies to push FIFA to have the Afghan team reinstated.
"Let them know that you think it's unacceptable that here in Australia, our Matildas can dream of winning a World Cup on home soil, and yet Afghan women and girls have been prohibited from even kicking a ball," he said.