The Ukrainian fencing champion banned from the world championships in Italy for refusing to shake hands with a Russian opponent has been readmitted to the tournament and given an automatic place at next year's Paris Olympics.
Olga Kharlan, leader of Ukraine's national fencing team, was earlier disqualified at the tournament after she refused to shake hands with the Russian rival Anna Smirnova she defeated. Smirnova then walked away before staging a sit-down protest for about 45 minutes.
An athlete's refusal to shake hands after a contest results in a black card and expulsion, according to International Fencing Federation rules.
The symbolic move, made as her country fights back against Russia's invasion, was risky for Kharlan because her disqualification looked set to also scupper the four-time individual world champion and four-time Olympic medalist's chances of racking up enough points to qualify for Paris next year.
But the International Fencing Federation said on Friday that while it stands "fully behind the penalty', it would allow Kharlan to participate in the women's team sabre competition.
The federation said it has met with Kharlan and spoken with the International Olympic Committee and finds the reinstatement "in keeping with the Olympic Spirit".
"It also sends a message of sensitivity and understanding to our members and all sports federations," it said.
IOC chief's intervention
That turnaround came came after a pointed intervention from the President of the International Olympic Committee, Thomas Bach, himself a former fencer.
In a letter to Kharlan, Bach said: "The war against your country, the suffering of the people of Ukraine, the uncertainty about your participation at the World Fencing Championships in Milan, the difficult inner conflicts that you and many of your fellow Ukrainian athletes may have, and then the events that unfolded yesterday".
"All this is a rollercoaster of emotions and feelings," he wrote.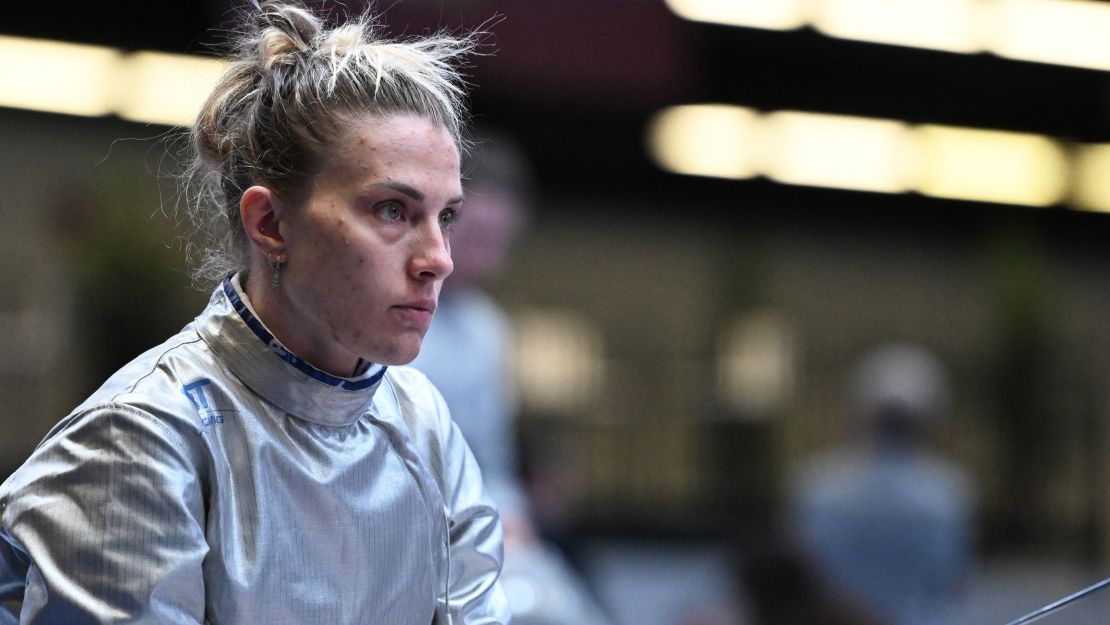 Expressing his "full support" for Kharlan, Bach said the IOC would offer her an automatic place at the Paris Olympics next year because of her "unique situation" and because her disqualification in Milan could cost her sufficient qualifying points for the Olympiad.
The International Fencing Federation said Kharlan had since conceded the appropriateness of the penalty against her, though the fencer has not apologized, despite saying she was thankful to the federation's decision.
Responding to the news, Kharlan also thanked Bach for her qualification at the Olympics.
"This is the moment when you see no hope, feel unbearable pain and despair, and think you are all alone. And then a whole multi-million country of Heroes stands up for you and changes everything in your life," she said.
"I knew what I was risking, but I didn't expect that it would shake up the entire Ukrainian society and that everyone would join the fight with me!"
The fencer champion said she "acted with my heart" shortly after the original news of her disqualification, calling for a change of rules "because the world is changing".
Ukraine's Foreign Minister, Dmytro Kuleba, also weighed in – tweeting: "Congratulations to Ukraine's fencing star Olha Kharlan on having her unfair disqualification reversed and her right to compete restored, including in the Olympics. Truth and dignity prevail when we all stand up for them and fight as one."
Kharlan not alone
Russian President Vladimir Putin ordered tanks and troops into Ukraine in February last year, triggering Europe's largest land war since the Second World War.
Some 16-months later the war grinds on with Ukrainians fighting a battle for survival and trying to push Russian forces out of their country.
Smirnova was competing as a neutral athlete as representatives of Russia are not eligible to take part in most sporting tournament since Moscow's invasion of Ukraine.
The issue of Ukrainians and Russians not shaking hands in sport is not confined to fencing – Ukrainian tennis star Marta Kostyuk, who is from Kyiv, said at the start of the year that she would not shake hands with Russian or Belarusian players while the war rages in her country, along with Ukrainian Lesia Tsurenko.
Kostyuk was booed at the French Open when she refused to meet Belarus' Aryna Sabalenka at the net. Sabalenka condemned the booing and said she understands why Ukrainian players won't shake her hand.
Meanwhile, Ukrainian tennis player Elina Svitolina took to Twitter to support Kharlan, writing: "We are not shaking hands with Russian and Belarusian athletes. That is our position! I call on international sports organisations and federations to respect our decision!"
She added that "All our love and respect goes to @olgakharlan."