When British singer Matty Healy grabbed bandmate Ross MacDonald for an onstage kiss during their Malaysia concert on Friday, following a profanity-laden speech slamming the country's anti-LGBTQ laws, he likely thought it an act of protest and solidarity.
But for many in Malaysia's LGBTQ community, it was quite the opposite.
The 1975's concert, which was the headline performance in Kuala Lumpur's Good Vibes Festival, has sparked a wave of criticism and dismay from the community, who say Healy's stunt may have done more harm than good to a vulnerable group already under threat in Malaysia's repressive, conservative society.
Homosexual acts are illegal in Muslim-majority Malaysia and punishable by fines and up to 20 years in prison. After The 1975's show, the government canceled the rest of the three-day music festival, citing Healy's "controversial conduct and remarks."
LGBTQ activists fear that could be just the start of a larger clampdown – and their anger has been exacerbated by the singer's flippancy. On Saturday, a day after the concert, Healy joked on Instagram that it's "not as easy as it looks" to refrain from kissing MacDonald, and posted an image of his name trending on Twitter, the platform recently rebranded as X.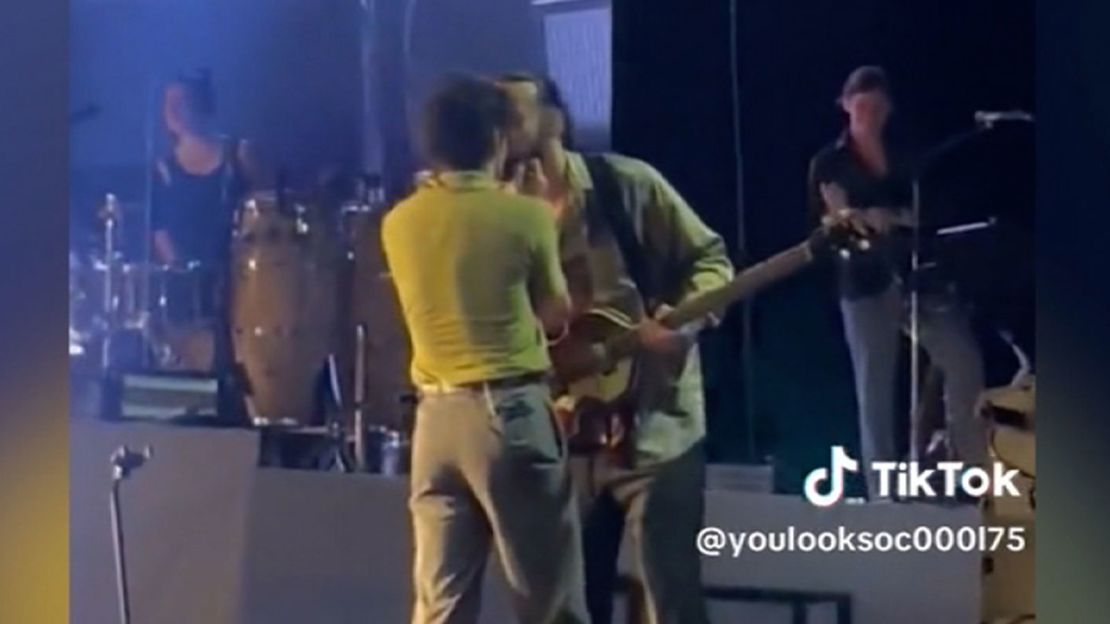 "What Matty Healy did, he thought he was doing something for us, but it's giving white savior complex," said Carmen Rose, a Malaysian drag performer. "He thinks we need saving, he thinks we need fixing, when in reality we have queer organizations here already doing the work."
"If he wanted to advocate for queer rights here, he wouldn't just fly off and leave the mess behind," she added. "I don't think he's doing it for the community, he's just doing it for himself … it was a publicity stunt."
Numerous other queer Malaysians posted similar criticisms online after Healy's show, calling his actions hollow at best.
"He is totally ignorant to the actual experience of the LGBT community in Malaysia and his performative 'display' has put the entire Malaysian queer community in the cross-hairs of an already conservative (government)," one person wrote on X.
The 1975 was scheduled to play in Indonesia and Taiwan next, but have since canceled those shows. The Indonesia festival, We The Fest, shared a statement from the band on its Instagram, which read: "The band never take the decision to cancel a show lightly and had been eagerly looking forward to playing for fans in Jakarta and Taipei but unfortunately, due to current circumstances, it is impossible to proceed with the scheduled shows."
CNN has reached out to The 1975 via its listed talent agency for comment.
LGBTQ concerns
Several LGBTQ activists told CNN the problem wasn't just Healy's kiss, but other parts of the performance including his speech before the kiss, during which he swore at the government while waving a wine bottle in one hand.
"I do not see the point of inviting The 1975 to a country and then telling us who we can have sex with," he said at the start of a three-and-a-half minute speech that at one point raged against online accusations of inappropriate behavior with children.
Within the context of Malaysia's conservative society, Healy's use of profanity and alcohol onstage "builds into the stereotype of how LGBT people are rude, against local norms … are seen as these people who are not within society," said Thilaga Sulathireh, founder of the Malaysian human rights and transgender advocacy group Justice for Sisters.
Rose, the drag performer, echoed this point, criticizing Healy for going "on a rant while intoxicated." Homophobia already runs so deep in Malaysia that Healy's attempt at activism might have simply reinforced the public's negative perceptions toward the community, she said.
"The majority of the country is ultra-conservative. They don't like us already, and this … gives them more ammunition to discriminate against us and ostracize our community," she said. "There might be further crackdowns enhanced on the community."
In Malaysia, a country of nearly 33 million where 60% of the population is Muslim, many gay people are not open about their sexuality. Advocates say Islamic laws have increasingly used to target the Southeast Asian country's LGBTQ community, with a rise in arrests and punishments ranging from caning to jailing.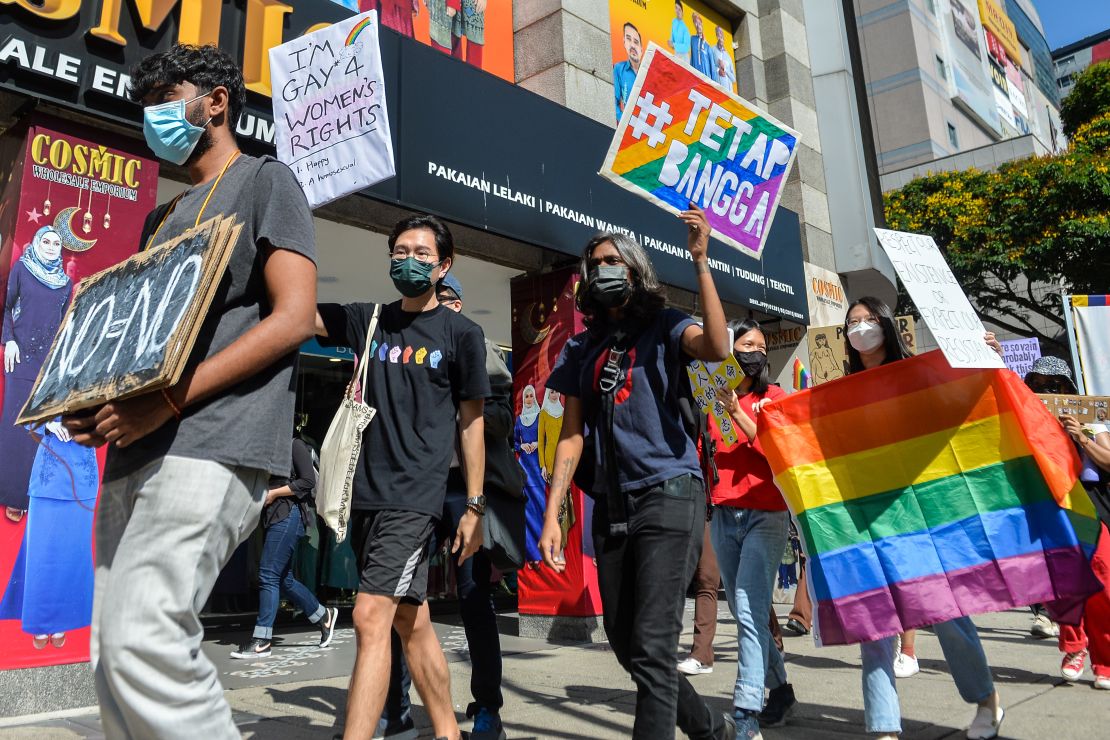 In recent years there have been police raids on suspected LGBTQ events, including a 2018 raid on a private residence on suspicion men inside were attempting gay sex. Five men were sentenced to jail, caning and fines, sparking outrage among human rights activists.
Just last year, Rose had helped organize a Halloween party attended by many members of the LGBTQ community – which was raided by the police, who detained a number of participants, she said.
These crackdowns and tightening restrictions mean that "on a daily basis, LGBT in Malaysia live in a state of high levels of stress and anxiety," said Sulathireh. "There is an increase of self-censorship, there is an increase of desire to seek asylum, and desire to migrate."
This anxiety had already been running high before The 1975's concert; Malaysia is currently holding several state elections, and election seasons always see an uptick in homophobia as politicians look to garner votes through anti-LGBTQ rhetoric, said both Sulathireh and Rose.
Many politicians have been calling for "increased restrictions and regulation of LGBT people," said Sulathireh, who uses they/them pronouns.
They added that while they supported freedom of expression, and it was "fine" for Healy to criticize the Malaysian government, the controversy had come at a bad time – and the musician's "lack of awareness on the context" had made matters worse.
That's not to say international musicians can't speak up about LGBTQ rights in Malaysia. But there's a way to do it responsibly, that elevates local advocates and seeks to minimize harm done, activists said.
"They would have to work with local organizations and educate themselves on the history here, the current context, how it's working here," said Rose. "What they can do is to listen and learn from the locals themselves, because what works in the West does not necessarily work here."
Other criticisms
Apart from the LGBTQ community's concerns, Healy has also come under criticism for triggering the cancelation of the festival – which has impacted other local artists and businesses, and could spell trouble for future foreign performers.
Talitha Tan, a Malaysian singer who was slated to perform at the Good Vibes Festival, slammed Healy for his "reckless ignorance, selfishness & inability to adjust or respect different cultures" in an Instagram post on Saturday. She had been planning to dedicate her performance to her recently deceased mother, she said.
"Malaysia's not perfect. But man, I am shattered," she wrote. "So yeah, (Matty Healy), I am furious at you an