"Barbie," which is gearing up to be summer's must-see movie, has already vastly improved the cultural perception of its eponymous blonde star and made her relevant to a new generation more than 60 years after her toy store debut.
But the film's tagline immediately pegs Ken, her lovesick sidekick with the washboard abs, as a lesser piece of plastic: "(Barbie is) everything. He's just Ken."
While brands are churning out "Barbie" collaborations and cinephiles vie for seats at screenings, Ken's influence is relegated to memes. Even in the real world, Ken is still second fiddle. (Warner Bros., which is behind "Barbie," shares parent company Warner Bros. Discovery with CNN.)
But who is Ken, really, besides Barbie's sometime-boyfriend and nonessential accessory?
Delve into the history of Barbie's male counterpart, from his origins as Kenneth Carson to his tumultuous breakup with Barbie in the mid-2000s to his rebirth, via Ryan Gosling, on the big screen.
March 11, 1961: When Ken met Barbie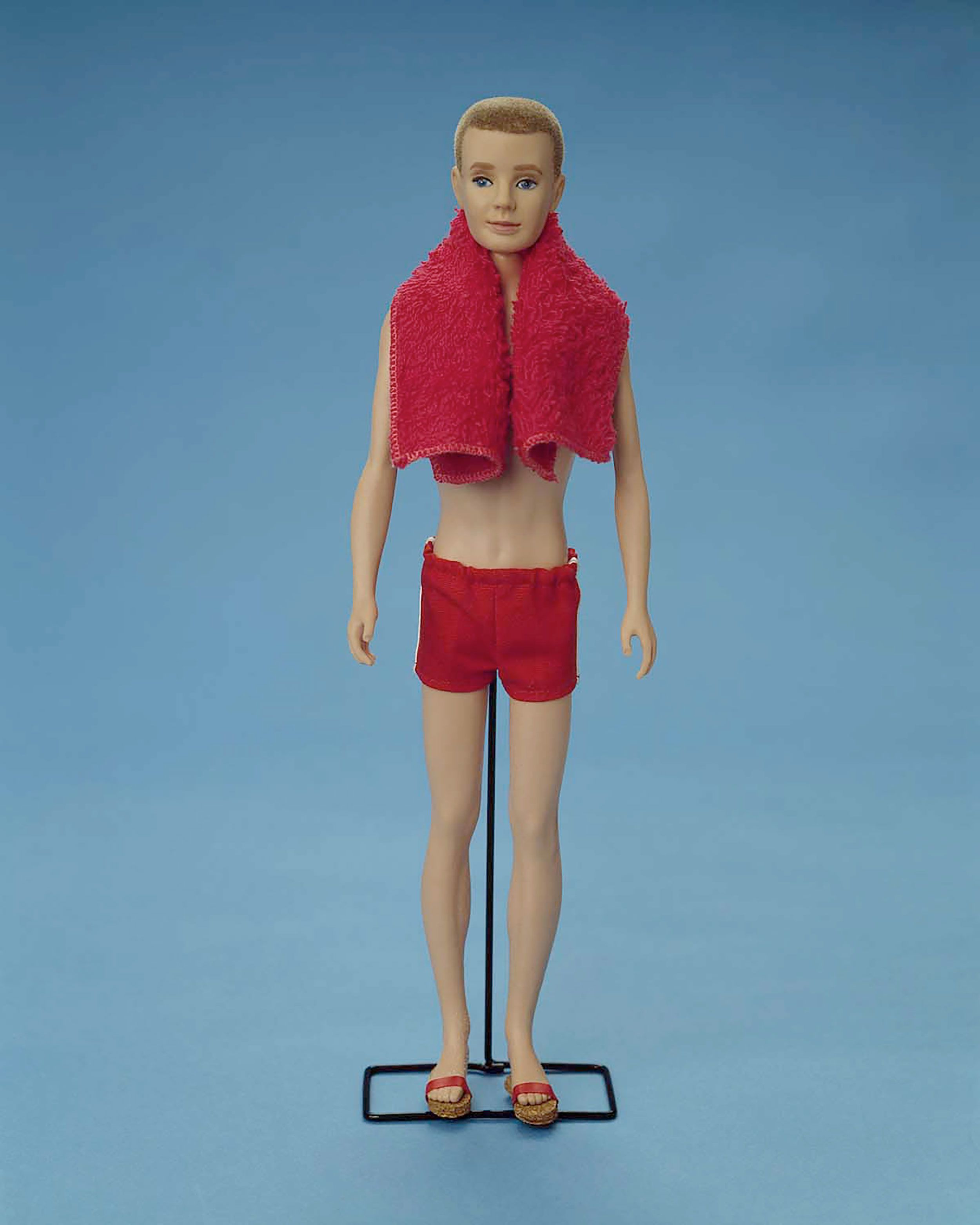 Ken (short for Kenneth Carson) hit the toy aisle as Barbie's buyable boyfriend two years after her 1959 debut. He was available in two styles — blond or brunette hair, made of hard plastic — and came dressed in very short red swim trunks. He cost $3.50 and shared a name with the son of Barbie's creator, Ruth Handler.
The plastic pair met while shooting their first commercial that same year, per Mattel. The black-and-white spot saw Barbie, the "famous teenage fashion model doll," attending a dance in a characteristically chic gown and fur stole with her hair in her signature high ponytail. Ken watched her from afar in a tuxedo. (The dance was ostensibly set in Willows, Wisconsin, their canonical hometown.)
It was love at first sight. "Somehow (Barbie) knew she and Ken would be going together," said the narrator in the original 1961 ad that brought them together. They'd go on to attend fraternity parties (Barbie was a university student), picnics and, of course, countless beach trips. The omniscient narrator even teased a wedding between the two.
But Ken wasn't exactly popular or even considered essential among diehard Barbie collectors. In her book "Forever Barbie: The Unauthorized Biography of a Real Doll," M.G. Lord writes that Ken was a "drip with seriously abridged genitalia who wasn't very important in (Barbie's) life." He'd have an uphill battle to prove his worth to consumers — and to his toy girlfriend.
1970s -1990s: Ken tries to be trendy
Even with an ever-fashionable companion like Barbie, Ken could never quite crack it when it came to personal style, though he certainly tried. He debuted a variety of looks that could only have worked in their respective decades, and even then, he couldn't always pull them off.
Mod Hair Ken: A quintessentially '70s doll with a massive mop of hair, extra-long sideburns and bonus facial hair made for mixing and matching. He came dressed in a white turtleneck and brown-and-white gingham blazer.
Dream Date Ken: This 1982 spin on Ken's 1961 "dance tuxedo" look featured a raven-haired Ken in a muslin dress shirt and light pink cummerbund underneath a black tuxedo jacket with a pink rose pinned to his lapel. He dressed to impress Dream Date Barbie, who arrived for their date in a busy ruffle-heavy dress. This was one of the rare outfits in which he outshone Barbie.
Totally Hair Ken: It looks how it sounds — this '90s Ken came with a long, unkempt mane, real hair gel and a small comb his owners could use to style him however they wanted. (His matching Barbie came with a much more successful crimped hairdo.) Of course he wore something absurd, opting for puffy purple pants and a colorful button-down with a popped collar.
February 1993: Earring Magic Ken becomes an accidental LGBTQ icon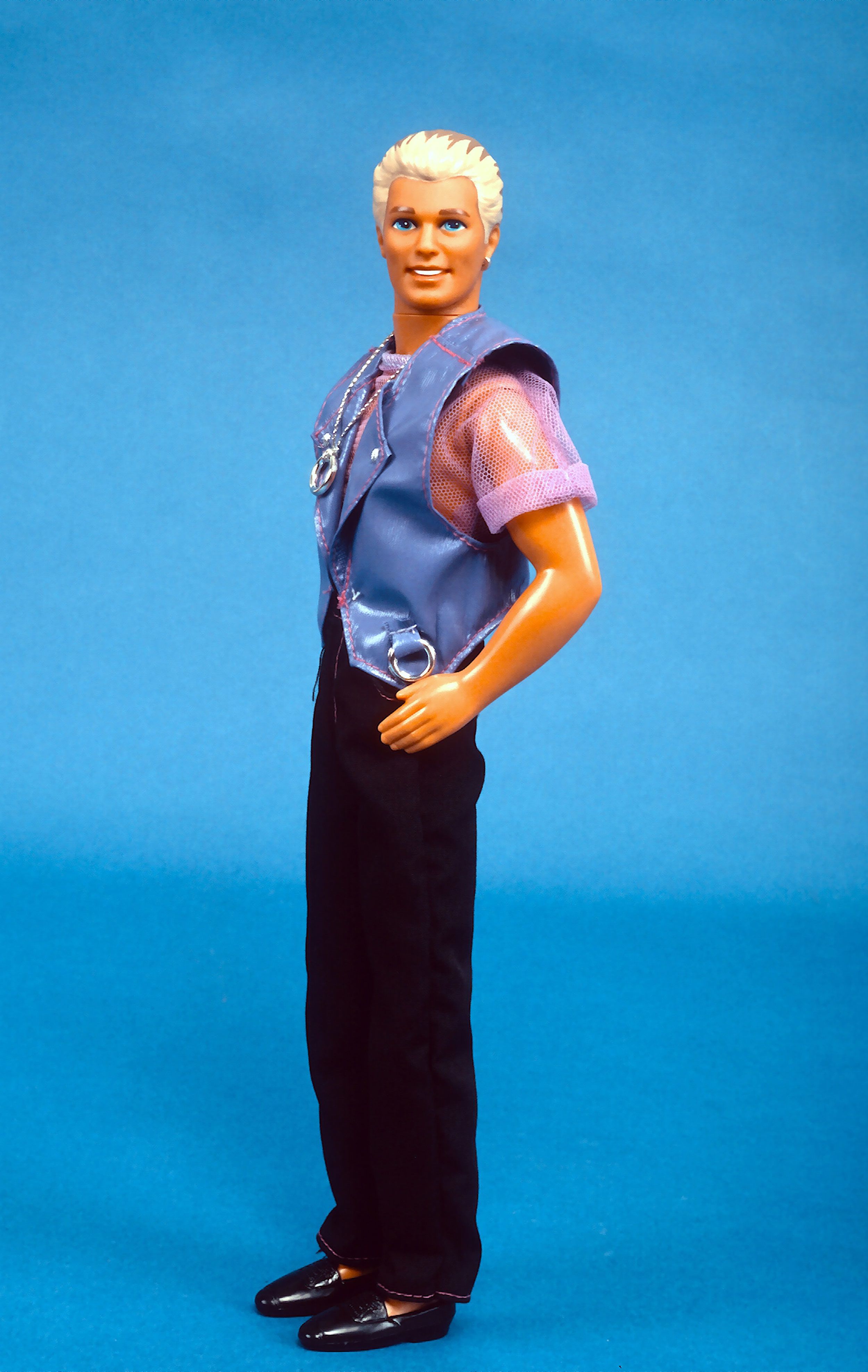 Ken had long been the butt of jokes by those who made assumptions about the doll's sexuality or masculinity based on his wardrobe and relationship to Barbie. In 1993, the doll leaned into the discourse surrounding him by accident with a new, "hipper" look — Earring Magic Ken.
This Ken wore a mesh shirt that revealed his abs underneath a lavender sleeveless vest and a ring pendant around his neck, along with a single earring in his left ear. (The doll debuted at a time when "earrings on men was still considered unconventionally gender bending," per the New York Historical Society.)
What Mattel likely didn't anticipate was how popular the Ken would become among LGBTQ consumers. LGBTQ sex columnist Dan Savage noted that Earring Magic Ken's wardrobe resembled outfits seen at gay raves a few years prior (leave it to Ken to be just behind the times). And to many who'd seen the doll, the ring around his neck resembled a certain sex toy popular among straight and gay men alike.
"Queer Ken is the high water mark of, depending on your point of view, either queer infiltration of popular culture or the thoughtless appropriation of queer culture by heterosexuals," Savage wrote upon Earring Magic Ken's release.
Mattel scrambled to pull the doll from stores, but not before Savage and thousands of other fans bought their own Earring Magic Ken. Even though Mattel denied that he was designed with gay men in mind, he was one of the few mainstream toys at the time that struck a chord with LGBTQ consumers. Ken spent the next decade playing it safe.
February 13, 2004: Barbie and Ken split
It was the celebrity break-up no one saw coming, except maybe toy industry prognosticators.
Barbie and Ken had been together for over 40 years, after all — they'd remained in love even as they moved in and out of dream houses, drove dozens of convertibles and changed careers countless times. But Barbie sales were in decline by 2004 — this was when Bratz, the pouty-lipped, sexily dressed dolls, reigned supreme — and this seemed to take its toll on the relationship between Mattel's central couple.
Days before Valentine's Day, Mattel spokesperson Russell Arons announced that Barbie and her boy-toy had decided to "spend some quality time — apart." (The New York Times reported that the break-up was Barbie's idea.) The shocking declaration came when it did because Barbie "didn't want to go through such a romantic holiday under false pretenses," Arons told the press.
And the same day it announced the dramatic split, Mattel also revealed that it would be producing a line of Cali Girl Barbies, surfer girls who were, notably, single. (Mattel also announced a new love interest for the newly solo Barbie – Blaine, a boogie boarder with chunky blonde highlights.) Ken had officially been friend-zoned.
February 9, 2006: Ken gets a facelift
Desperate to win Barbie back, Ken did some soul-searching. The New York Times reported that the doll trekked across Europe and the Middle East and explored Buddhism and Catholicism to reinvent himself. Upon his return to the US, he dropped the spiritualism and retrained his focus on fashion, turning to celebrity stylist Phillip Bloch for style guidance.
Mattel introduced a "new and improved" Ken doll almost two years to the day after his break-up with Barbie. The new Ken, available once again in blond and brunette, came with cargo pants, a leather jacket and chunky chain necklaces. (Of course, there was also a beach-friendly outfit available.) He also had a notably sharper jawline and a softer gaze to give him a more "unbothered" look. The goal, Bloch said, was to make sure Ken was "looking hot," citing Matthew McConaughey and Orlando Bloom as inspiration.
"Ken has revamped his life – mind, body and soul," Bloch said in a statement to reporters. It would take a bit of time for consumers to buy in.
June 18, 2010: Ken and Barbie reunite for 'Toy Story 3'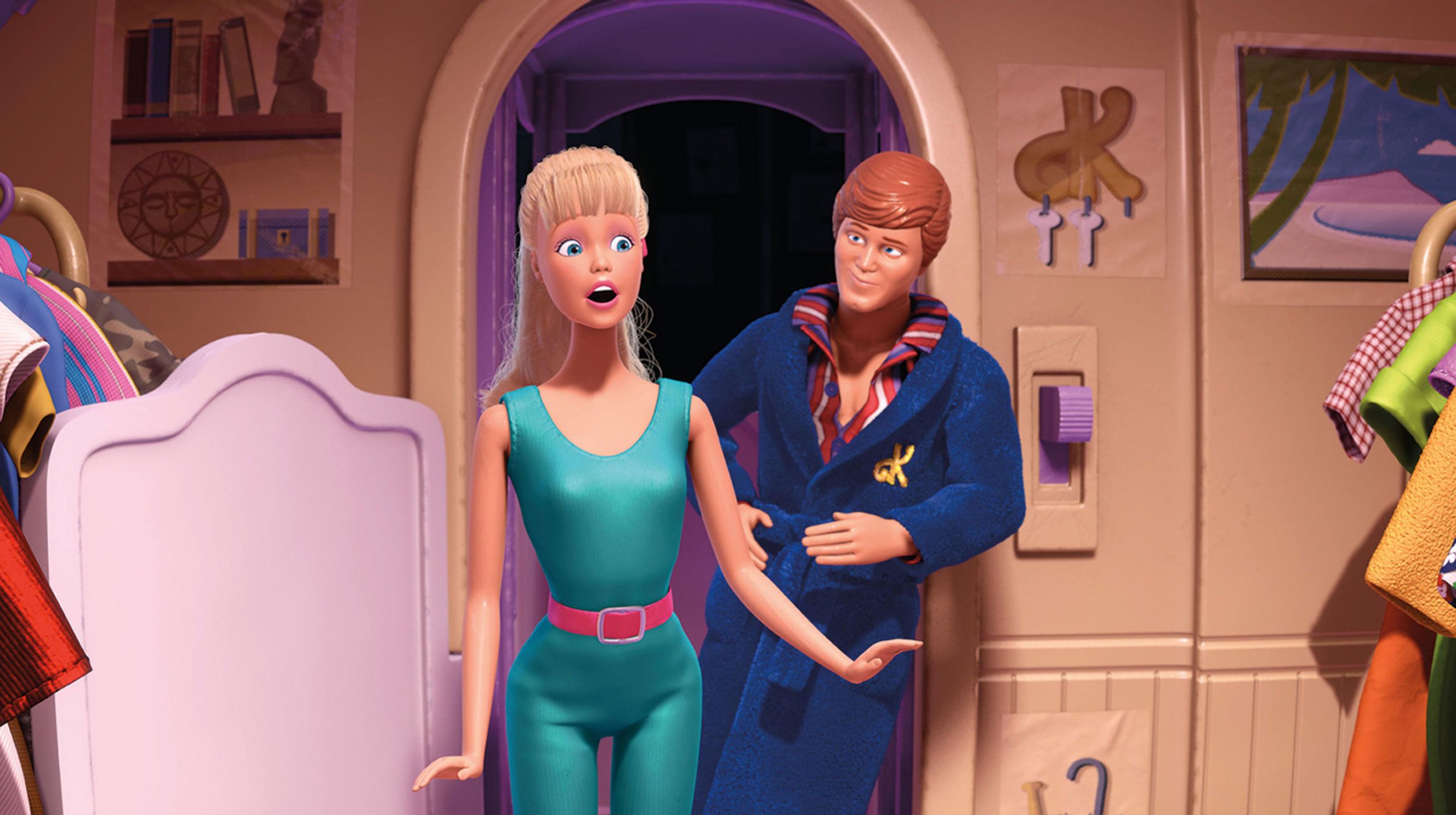 Starring alongside Woody and Buzz Lightyear, the dolls appeared in the acclaimed Pixar sequel, which was nominated for best picture at the Oscars. The animated Barbie and Ken donned looks straight out of the '70s and '80s, with Barbie in her aerobics unitard and leg warmers and Ken in his ascot (Michael Keaton provided his voice).
In the film, their characters hadn't met but immediately fell head-over-arched-heel for each other — and making the film brought Ken and Barbie closer than they had been since before the breakup. And Ken got his groove back — Mattel said starring in the film helped him "(find) his voice in pop culture"