For as much as offshore wind energy has become a hot-button issue, the United States only has seven turbines spinning over its oceans: five off the coast of Rhode Island and two near Virginia.
Those numbers could soon rise, with two larger farms expected to be completed this year off the Massachusetts and New York coasts, and more in the approval pipeline. Yet it's still a fraction of the clean wind energy capacity that has been constructed in Europe and China — and it's nowhere near what President Joe Biden would like to see off US coasts.
Touring a Philadelphia shipyard that's building a massive vessel to support offshore wind projects, Biden on Thursday reiterated his common refrain: "When I think climate, I think jobs." Upon taking office, Biden set an ambitious goal of 30 gigawatts of offshore wind power by 2030 – enough to power 10 million homes.
But years of delays have prevented the fledgling US offshore wind industry from taking off, and it's still hitting snags.
Even as the White House is welcoming it with open arms and the Democrats' climate law is channeling money in its direction, strong economic headwinds are blowing in the opposite direction – inflation and rising interest rates have hit the industry hard.
And then there's the whales: Some citizen groups and conservative media have blamed a rise in whale strandings and deaths this year on the nascent wind farm projects – a connection scientists have so far found no evidence for.
The combination has made it a precarious time for offshore wind, said Jason Grumet, CEO of the American Clean Power Association, the trade group representing US clean energy.
"This is the vulnerable moment where the benefits are on the horizon," Grumet told reporters this spring. "Because we don't have the benefits of it on the table. We don't have massive facilities producing energy, lowering prices in those states."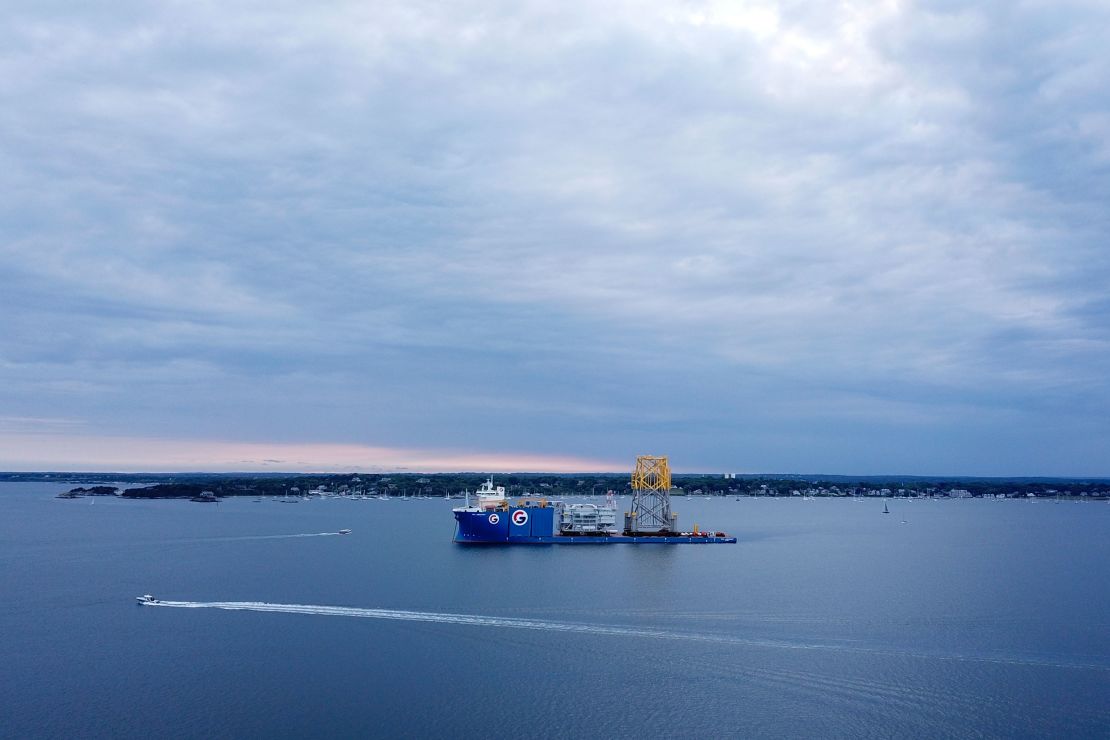 The Biden administration has approved three commercial-scale offshore wind projects and has 16 more currently under review. But some projects are hitting pause themselves. Two Massachusetts projects recently terminated their power purchasing agreements with utilities in the state, citing high building costs. Developers for those projects are expected to rebid next year.
Besides inflation and high interest rates, the biggest issue the industry faces is a bit of a chicken and the egg problem, according to several offshore wind CEOs and energy analysts. Offshore wind construction requires a highly specialized and technical supply chain, ports and massive ships to build and install turbines in the ocean and run big electrical cables back to shore – but it also requires steel in the water to get that supply chain going.
"The real proof comes when projects start getting approved and construction begins," Sam Eaton, CEO of German energy company RWE's US offshore business, told CNN.
Starting from scratch
In the US, companies are not only trying to build offshore wind turbines – they're trying to build an entire industry, and one that's still in "early stages," said offshore wind CEO Clint Plummer, who heads up New York-based company RiseLight and Power, and formerly worked at Danish energy company Ørsted.
Offshore wind got off to a bumpy start in the Obama administration. A multi-year attempt to build the Cape Wind farm off the coast of Cape Cod was eventually killed by wealthy local homeowners, including the unlikely allies of former Massachusetts Sen. Ted Kennedy – a Democrat – and billionaire William Koch. Only the 5-turbine Block Island wind farm in Rhode Island was constructed – a project too small to be considered "commercial" in scale.
Cape Wind was declared dead in 2017, just as former President Donald Trump took office. Trump famously hates wind turbines and offshore wind development languished under his administration. The years of delay within the federal government were reversed when Biden was elected and declared a big goal for offshore wind by the end of the decade.
But the industry has a lot of ground to make up.
This is especially evident compared to onshore wind and solar – which have both been installed at a rapid clip. There are 136 gigawatts of onshore wind capacity, and there will be about 140 gigawatts of solar (including both utility scale and rooftop) installed in the US by the end of this year, according to Sam Huntington, director of S&P Global Commodity Insights' North American power team. Yet offshore wind comprises a tiny 42 megawatts.
"Solar is an absolutely massive domestic industry with lots of know-how. Offshore wind is barely getting off the ground," Huntington told CNN. "You need all this specialized equipment to do it. Europe knows how to do it; China knows how to do it. They've got a big offshore wind industry."
A perfect storm of rising costs
Offshore wind's problems are a perfect storm of rising costs and underdeveloped infrastructure.
Wind turbine prices rose 30% in 2021, a jump that is being felt in projects today – given around a two-year period between when turbines are ordered and when projects are actually built. Since most are built in Europe or Asia and shipped to the US, and most order books are filled out for the next few years, it can take a long time to get the materials, Plummer told CNN.
Even when you have the components, it has to be assembled on the ocean and thick cables must be laid to run the power back to shore. Wind projects also require specialized ships to build and maintain them, and a 100-year-old law known as the Jones Act has strict stipulations on US-made and crewed ships moving cargo like turbines in the US. Construction of these huge vessels – of which experts estimate the US needs four or five – takes about three years, with price tags in the billions, Huntington said.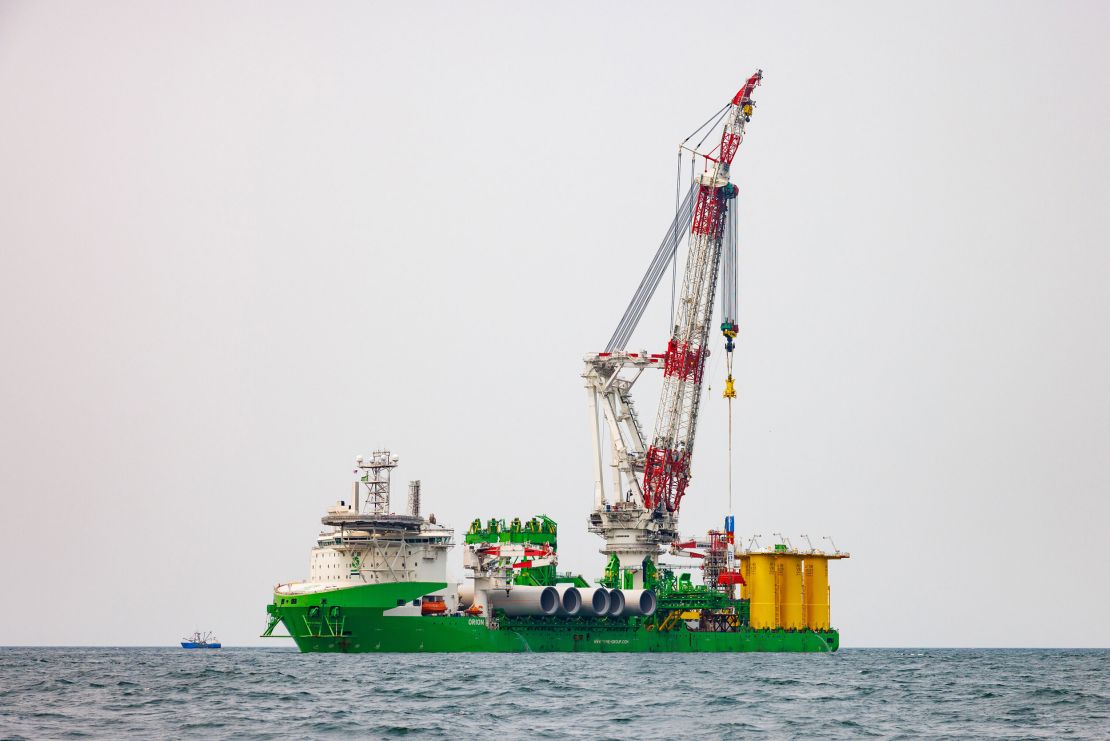 And then there's the placement and connection of the turbines themselves, which Pummer likens to the "world's biggest and most frustrating set of Christmas lights."
All of these issues are creating significant short-term hoops to jump through. But both industry leaders and outside experts predict a robust offshore wind industry longer-term, as more East Coast states in particular are signing agreements with companies to purchase wind power.
"It always looks dire in the short term but the long-term foundation of this industry is still very strong and moving forward," said Sam Salustro, spokesperson for the Business Network for Offshore Wind, a nonprofit devoted to the issue.
Huntington, the energy analyst, agreed the long-term future for the industry looks bright – it can deliver clean power to regions like the Northeast that don't have a lot of onshore wind and solar resources now. And offshore wind can also make up for where onshore wind and solar lag, particularly delivering reliable power in cold winter months.
"It produces a lot in the winter and winter seems like it's where lots of the reliability risk will be longer term," Huntington said.
Dozens of dead whales
Offshore wind has also been in the news this year for a reason developers don't like; more than two dozen whales have died on the Atlantic coast this year – around half of which washed up in the New York and New Jersey area – prompting some environmental groups to question if the deaths were linked to offshore wind development in that region.
So far, many of the whale deaths in New York and New Jersey have been linked to vessel strikes: Populations of fish the whales feed on have increased around major shipping lanes, experts told CNN, bringing whales closer to huge and dangerous vessels.
A spokesperson from the National Oceanic and Atmospheric Administration said that no whale deaths have been attributed to offshore wind development or sonar equipment companies use to map the ocean floor, and the agency doesn't permit wind companies to use sonar equipment with a high enough frequency to kill or gravely injure whales.
"At this point, there is no scientific evidence that noise resulting from offshore wind site characterization surveys could potentially cause mortality of whales," NOAA fisheries spokesperson Lauren Gaches told CNN in an email statement. "There are no known links between recent large whale mortalities and ongoing offshore wind surveys."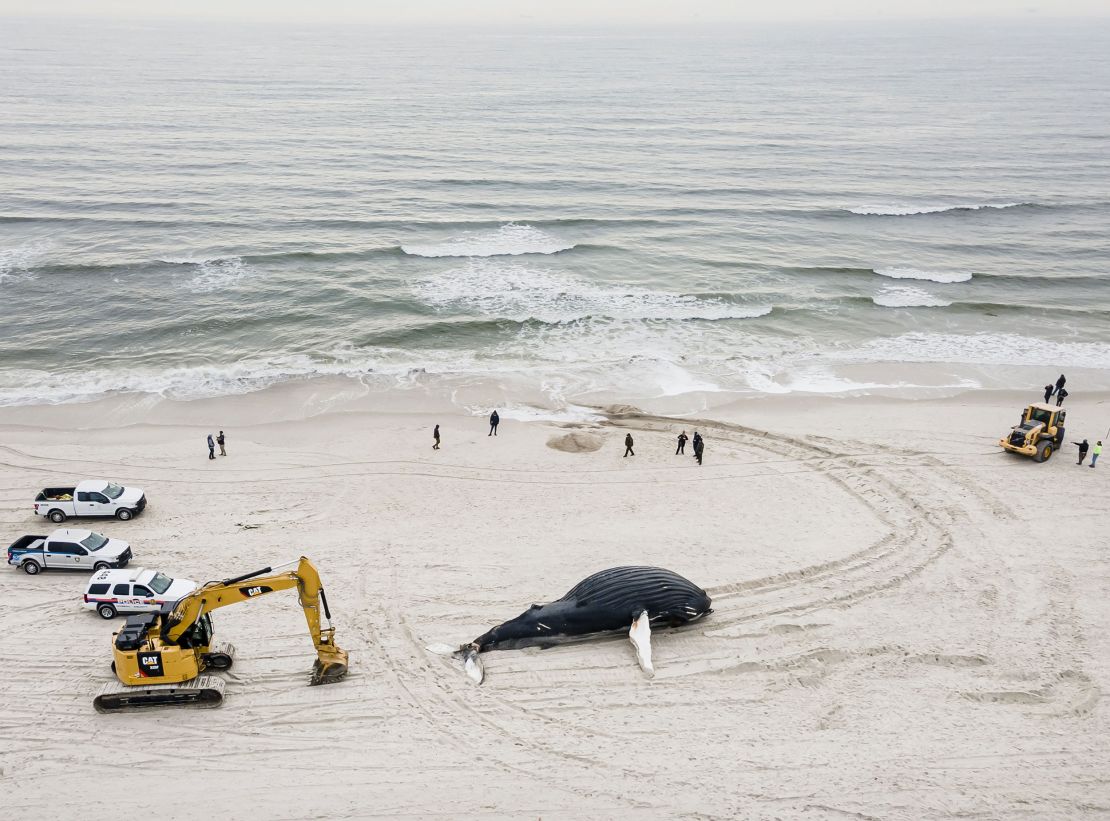 While some of the pro-whale, anti-wind groups are local, others appear to have ties to national right-wing, anti-climate groups, according to an April study from Brown University. A group of House Republicans also recently filed a resolution to immediately cease all offshore wind development until an independent investigation can be conducted.
The opposition to offshore wind over whales and potential legal challenges to the projects is a "really big concern," according to Jason Grumet, CEO of the clean energy trade group the American Clean Power Association.
"It is rare that you see an industry challenged by something that is so profoundly, demonstrably untrue," Grumet said. "We don't have massive commercial activity. We want to have massive commercial activities offshore, but they do not exist."
Grumet and others in the industry say they are taking pains to ensure that there is as little impact to marine mammals as possible as they begin construction of some projects and continue to site others.
Federal officials have noted wind energy projects are prohibited from using levels of sonar so loud they could be fatal to whales or other marine life. And officials have also pointed out that acoustic instruments used by wind projects are typically quieter than the seismic air guns used by offshore oil and gas operations.
Grumet and others doubt those facts will quiet some of the allegations about wind and whales.
"It is delicious for some people in the anti-energy transition to say, 'oh look, environmentalists are killing whales,'" Grumet said.
Whales aside, Plummer said it is on wind companies to do proactive outreach to communities where they want to develop, listen to people's concerns and work to address them – including laying cable onshore in a way that doesn't interrupt beach access.
"There are some communities that have a natural right to be upset about certain aspects of a project," Plummer said. "The fact is there are good well planned offshore wind projects that do a good job of engaging with the communities that their projects will affect."