"They thought we couldn't play so we went into every game with a huge chip on our shoulders and we went after teams. We reached out, grabbed them by the throat and tried to squeeze the air out of them."
Every dynasty has a beginning, that someone or something which sets in motion the line of succession; the visionary with the ambitious plan, aiming for a future others think fanciful; the iron-willed followers bringing it to fruition, leaving unshakable foundations from which others can build.
Anson Dorrance knew he was a pioneer during his eight years as head coach of the US Women's National Team (USWNT). It was obvious, he says. "You're trying to do things that have never been done," he tells CNN Sport.
Any understanding of how and why the USWNT is women's soccer's dominant force, a four-time Women's World Cup winner and favorite to win the next edition currently taking place in Australia and New Zealand, must start with Dorrance, the groundbreaker and the bricklayer.
When Dorrance took charge of the national team in 1986, training camps were rare and winning rarer. Trophies? That would have been an absurd thought – not that there were many tournaments for female soccer players to compete in.
This was the late 1980s, when USWNT players would sew badges onto their oversized hand-me-down kits from the men's national team, buy their own cleats, and receive $10 a day when on national duty. There was no money to be made and only one person had thoughts of world domination.
"For me, this was an adventure. We were going to take the world on at its own game," says Dorrance.
The list is long of what the USWNT didn't have in those early years – facilities, support, history, expectation – but Dorrance had a blueprint for a better, successful future.
In came a crop of young talent, many of whom he worked with at the University of North Carolina where he continues to be head coach.
Out went the 4-4-2 playing formation used by the majority of the men's and women's team of the age for a 3-4-3 system which had an emphasis on pressing – hurrying the opposition into mistakes, pressurizing them when they had the ball.
Perhaps crucially of all, came a change of mentality.
"We went in there with absolute reckless abandon," he says. "We had an amazing opportunity to make a mark in a sport the world invented. That they thought we couldn't play.
"We tried to make every team we played against suffer for 90 minutes, and that was our specialty."
Coaches mould teams in their own personality, says Dorrance. He was aggressive on the pitch, he says, and loved a duel which, unsurprisingly, his players excelled at. The team's playing style was, he says, reflective of the American spirit.
"We took what was sort of unique to the American personality and injected it into our team," he says. "And then we found comparable alpha female warriors that also embraced that."
'I didn't understand what the national team was'
It is strange to think that a player who would become a soccer great, who scored 105 goals in 153 international matches, who was named 'Female player of the 20th Century' by FIFA – the sport's world governing body – didn't understand she was representing her country when she received her first call up to the national team.
"Amateurish" and "half-put together," is how Michelle Akers describes her first 12 months with the USWNT. There was one tour that year and one training camp.
"I didn't understand because the culture in the US was so limited," Akers, a two-time World Cup winner, tells CNN Sport. "I didn't understand even what a national team was."
Akers had received a letter in 1985 asking her to take part in a three-day training camp for an opportunity to play for the USWNT at the four-team Mundialito (Little World Cup) tournament in Italy where the team, she says, went on to have "our asses kicked."
It took Seattle-based Mike Ryan, the USWNT's first coach, to open her eyes. As an Irishman, he knew the significance of playing internationally in the world's most popular sport.
"He was so angry we weren't treating this opportunity with respect, and he was concerned and angry that we weren't shouting out the national anthem, and proud to be playing for America. I was like, 'Oh my gosh.' That was the first time I got it," she says.
"'Oh, I get it that we're the US team, we're the USA.' I knew that, but because of how it was framed in the beginning – it wasn't framed, first of all – and there was no recognition … I didn't get it until an Irish guy who totally got it made sure we got it."
That soccer wasn't an established part of America's culture may have been to the team's disadvantage initially, but it gave the country's female soccer players, says Akers, a "blank slate of opportunity."
And then came Dorrance. "For some crazy reason he had it in his head that this team would be the best in the world," says Akers.
The game changer
"No person in the United States shall, on the basis of sex, be excluded from participation in, be denied the benefits of, or be subjected to discrimination under any education program or activity receiving Federal financial assistance."
Those 37 words have often been repeated since the civil rights law Title IX was passed in 1972, and the impact on America – its society, its education system, its attitudes towards women's sports – has been transformative.
From a sporting perspective, Title IX effectively meant colleges would have to offer female athletes scholarships if they were offered to male athletes too. Soccer became a pathway to higher education, consequently increasing participation in the game. The more players, the greater the competition. The bigger the battle, the better the quality.
Title IX became Federal law a year after a ban on women's soccer was lifted in England. It was still illegal for women to play soccer in Brazil. While the rest of the world was changing its attitude towards women's soccer at a snail's pace, Title IX gave the US a boost, a head start.
By the time the world's traditional soccer powerhouses had started to invest in women's soccer, which is only relatively recently, the well-oiled wheels of the US production line had been churning out athletic talent for decades.
The USWNT, says Dorrance, and reigning Olympic champion Canada benefit from the American collegiate system.
"Our genetic pool is rich with athletes," he says, adding that the support system around "human development" at colleges also forms a part of the USWNT's culture.
In the 2021-22 school year, soccer was the third most popular girls' program with 374,773 participants, according to the High School Athletics Participation Survey. In 1978, there were 17,970 girls participating in soccer across 597 schools, according to that year's survey.
In 1982, the year the National Collegiate Athletic Association (NCAA) started sponsoring women's sports, across all three NCAA divisions 1,855 participated in women's soccer on 80 teams. Forward to 2022 and, 40 years later, more than 30,000 compete across all three divisions.
"Obviously I'm promoting what I'm currently doing for a living," Dorrance admits. "There's an extraordinary amount of players coming into collegiate training environments where the standards are high, where basically the coaches have an understanding of the game and coach it well.
"But also, the facilities are good and the whole structure around the collegiate game is good because of medical support and all the different elements that make a huge difference and taking a player to her potential."
Akers was one of the first crop of players to benefit from Title IX.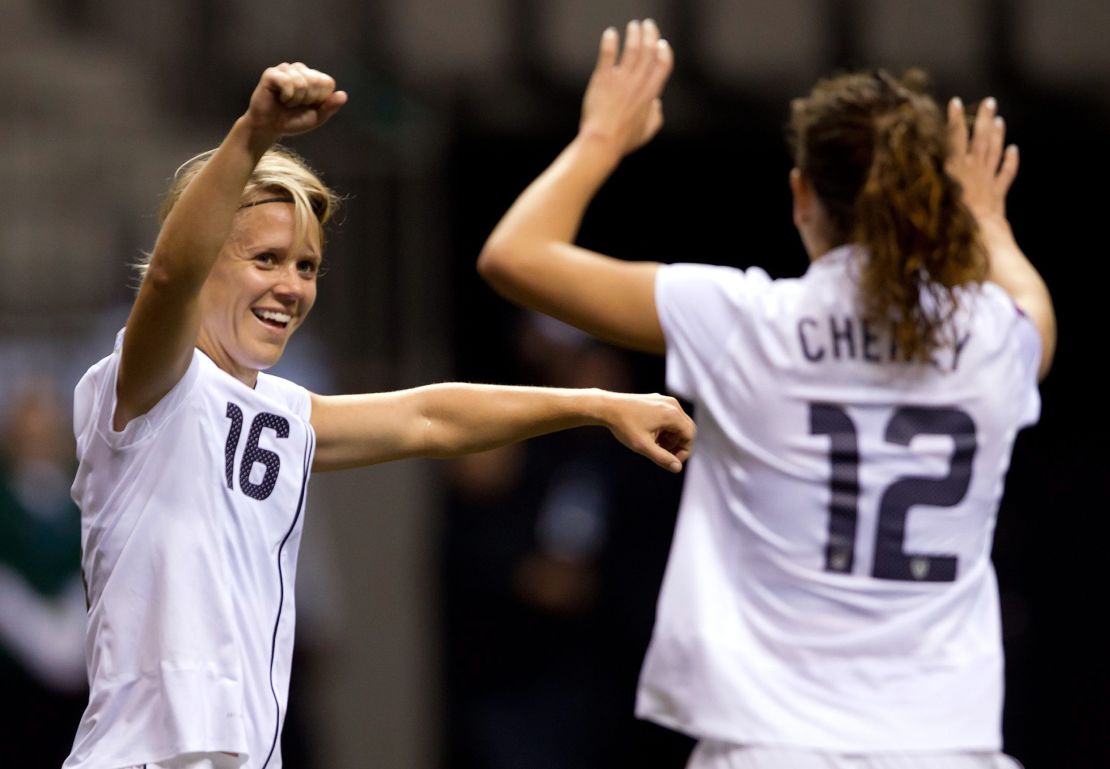 "It was a game changer," says Akers, who played collegiately for Central Florida. "Having it in college was very much a part of our development as players in the US."
By the time Lori Lindsey, who won Olympic gold in 2012 with the US, was going through high school, her parents saw soccer as a means to a better education.
"I don't know if they were thinking this is a viable opportunity in terms of making a living. But they were certainly like, this is a pathway to get free education in terms of college, to get a scholarship," she tells CNN Sport.
The first world title
Akers was one of only two players from the Mundialito tournament in Italy to make the first squad selected by Dorrance as he opted for youth, players who could form the team's core for years to come.
Five years later, the first Women's World Cup was held in China – not that it was initially labelled a World Cup as world governing body FIFA worried it might not be a success.
But Dorrance and his team were ready – winning every game and beating Norway in the final 2-1 to become world champions. Akers scored 10 goals in that tournament.
Not that many people in the US knew about what their compatriots had achieved thousands of miles away in China.
There was no ticker-tape parade for the 1991 world champion. Two people greeted the team at the airport when they touched down in New York having flown home "the wrong way" around the world, says Dorrance, because it was cheaper to fly with the other teams on their way home rather than fly directly from China to the US.
According to Dorrance, only USA Today dedicated serious media coverage to the USWNT's exploits during the tournament.
"We weren't covered, which is okay. We weren't playing for glory or money or anything else. We were playing for the love of the sport and the love of each other. That's a pretty good incentive."
Striking for 'better conditions'
Recognition didn't come quickly after that 1991 world title. In her book, the "National Team," Caitlin Murray writes that the squad received a $500 bonus for winning the World Cup. "The players were thrilled because there wasn't any money in women's soccer, and they knew it," writes Murray.
Dorrance, who would leave his role in 1994, says the emphasis was still on the men's national team after 1991, though the women were supported enough by the federation to "be competitive," he says.
A third-placed finish followed at the 1995 Women's World Cup, and then came the Atlanta Olympics a year later.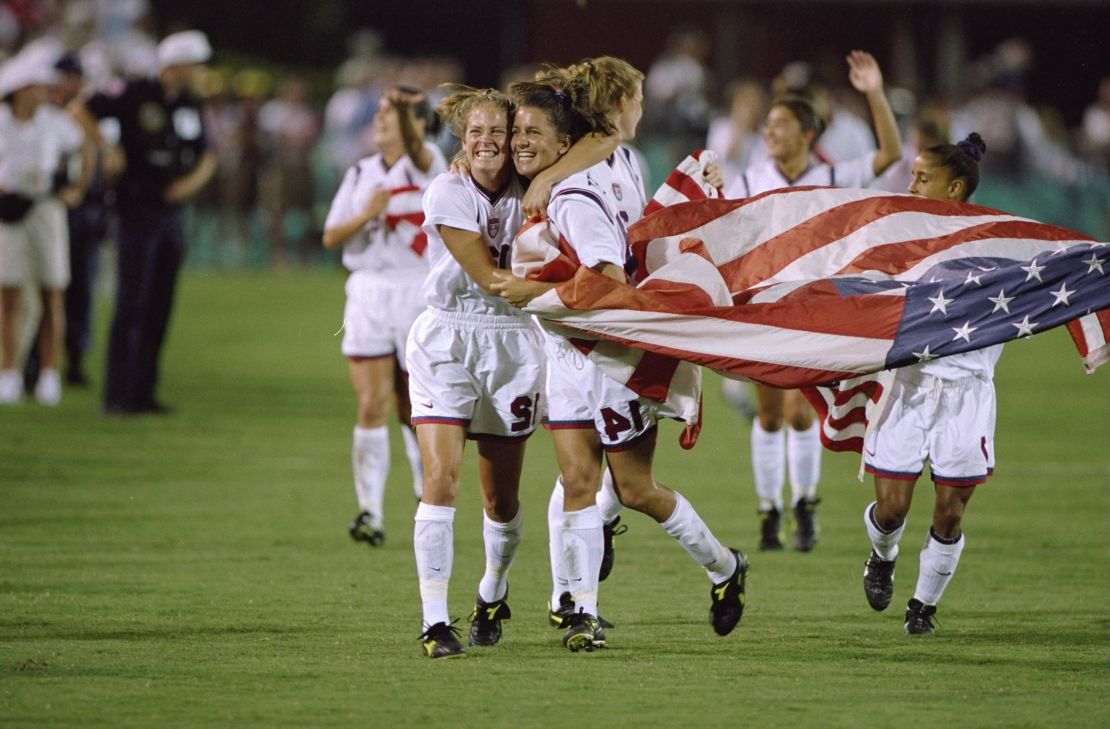 US Soccer had said it would pay the women a bonus if they won gold, while the men were promised a bonus for a medal, writes Murray, so the team talked to tennis great Billie Jean King and nine veteran players decided to reject the contract offer from the federation. An Olympic boycott was on the cards.
In January 1996 a compromise was reached and, of course, the team went on to win gold before a sell-out 76,489 crowd.
"My team went on strike for better conditions," says Akers. "It wasn't even cash. We weren't even saying equal pay. We were saying better conditions. We need a massage therapist, basic resources for professional athletes we didn't have so we had to go on strike for those things and then they gave in to those."
Winning on the pitch, fighting for equity and equality off it. For the last few decades, the USWNT has been the dominant team in the women's game, but also its leading voice.
Like writing in a stick of rock, the belief that each player should leave the team and the sport in a better place runs through the heart of each generation, thanks to Akers and those early pioneers.
Immediately after winning the 2019 Women's World Cup, the team issued a statement which brought their battle for equal pay with US Soccer to the forefront of the conversation once again. They could've soaked up the adulation, revelled in winning, but instead they focused on bringing about lasting change.
An equal pay deal was agreed in May 2022, ending six years of legal wrangling that began when a claim of wage discrimination was filed in 2016 by five of the team's stars, and then a gender discrimination lawsuit filed by the whole team in 2019.
"We've understood the importance of using that platform to continue to help others worldwide," says former midfielder Lindsay.
A summer of change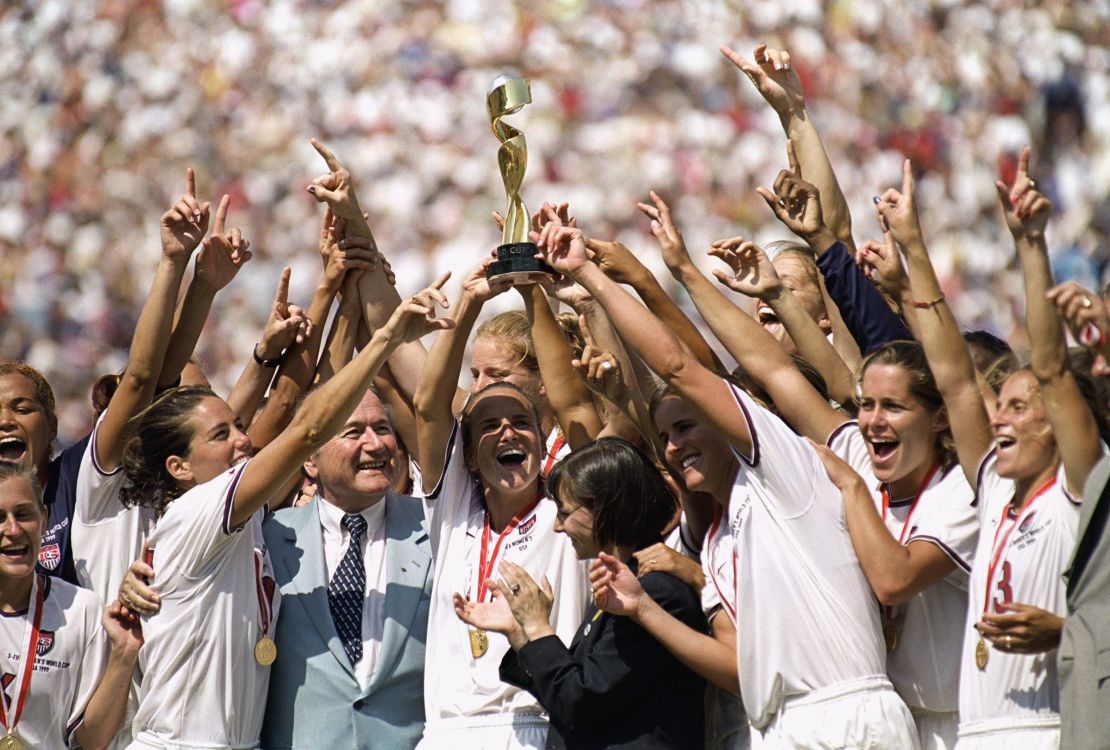 The sell-out crowds, that penalty shootout, Brandi Chastain's top-off celebration, the euphoric celebrations.
Women's soccer in the US changed in the summer of 1999, particularly on a sweltering Californian afternoon at the Rose Bowl when an estimated 40 million people in the US alone watched the USWNT win the World Cup on home soil.
But even as reigning Olympic champion, the USWNT still had to do what women have had to do throughout the ages: fight and prove the naysayers wrong.
"Leading up to it, the media constantly in the press conferences were like, 'This isn't going to work. You guys can't do this, no one cares. Everyone hates soccer, especially women's soccer'," says Akers.
Given there were no major sponsors, the tournament relied heavily on ticket sales for revenue so the players stepped in and stepped up. Failure was not an option, says Akers.
"It was the sort of relentless boots-on-the ground technique you might expect from an upstart campaign for political office," writes Murray in her book.
"We had to win and make the event successful in order to further women's soccer in our country," says Akers.
"We're still experiencing how females have to be twice as good and do twice as much to not receive equal. We still have a long way to go, but there is still so much to celebrate at the same time."
The total attendance for the tournament was 1,194,215, according to FIFA, smashing the previous best of 510,000 set in China eight years previously. The average attendance of 37,319 remains a Women's World Cup high to this day.
A major women's sporting event had been a success. A legacy had been created by the players who continue to be household names: Akers, Chastain, Mia Hamm, Kristine Lilly, Julie Foudy et al.
The success of 1999 would lead to the world's first professional women's soccer league, the Women's United Soccer Association (WUSA). Though it lasted for only three seasons, it was a start. Female soccer players were being paid to play, which continues to be the case in the US in the National Women's Soccer League (NWSL), arguably the world's most competitive women's league.
"They set the precedent of where this team, where the sport in the US was going to go," says Lyndsey of the team affectionally known as the "99ers."
The 'secret sauce'
Megan Rapinoe doesn't play card games with her teammates on the national team. "It's too crazy, everyone is too competitive," she tells CNN Sport.
Such commitment and dedication to winning may not be ideal for leisurely pastimes, but that spirit has been the heartbeat of the national team over the generations.
"The new players come in and they want to achieve more, they're constantly pushing things forward," she adds.
"It's like, one team, it's the USWNT, but it's been hundreds of players all long. Even now, it's a lot of players' first World Cup, some people have multiple, but the goal is just always winning. That's all that matters.
"That's our secret sauce, it's the insatiable desire to win and everything else comes after that."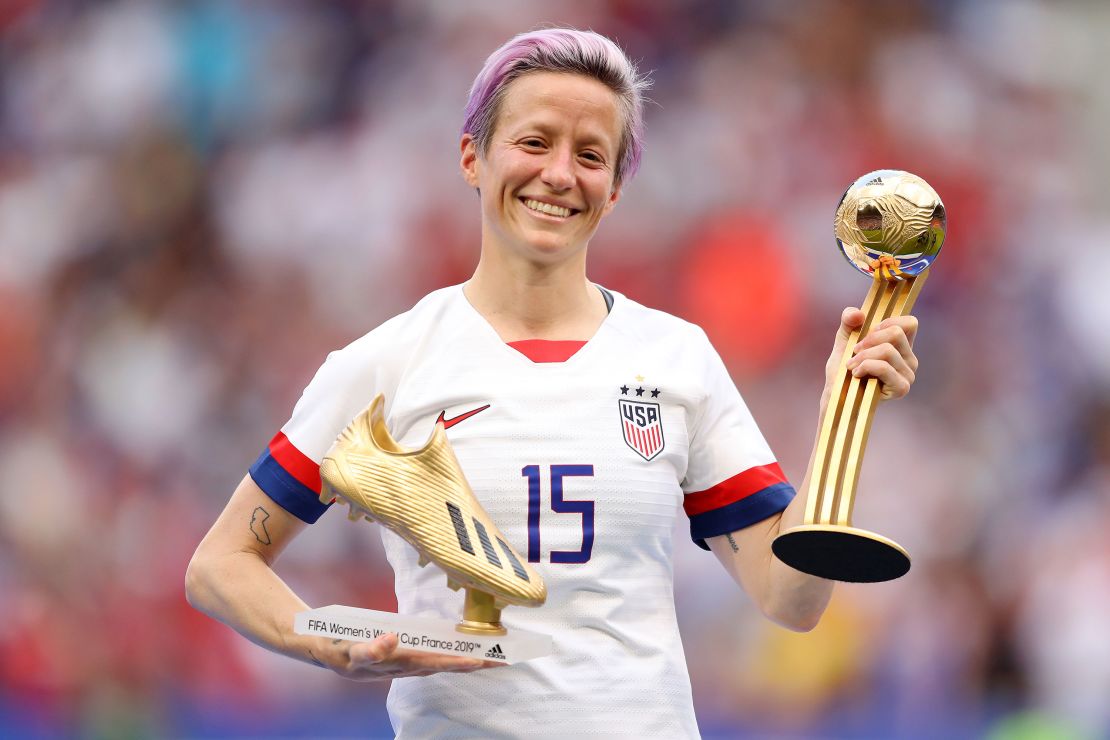 Lindsey speaks of an "energy" within the national team. "There's an understanding of being the best and leaving the sport better, but also a lot of that comes from within the competition," she says. "Go in there, compete, win your spot.  
"Maybe our competitive spirit separates us still but that's hard to say because so many teams are showing up, but we welcome that. That's what makes the sport better."
New generation, same expectations
And to the 'three-peat,' the quest for an unprecedented third successive world title.
After winning bronze at the Tokyo Olympics, and because of injuries to some more experienced players, a particular blow being the absence of captain Becky Sauerbrunn, the USWNT is giving the new generation a chance at this month's World Cup in Australia and New Zealand.
Fourteen players will be playing at a World Cup for the first time. A risk some would say, but as Rapinoe tells CNN Sport: "These players are so talented, so good."
For Hamm and the teenagers Dorrance picked in 1986, see the likes of 18-year-old Alyssa Thompson or 23-year-old Naomi Girma in 2023.
"Youth is massively important," says Rapinoe. "I think it's essential to being successful in the game. At this point the game is so quick, so transitional, so fast.
"The inexperience I think, at times, can just be a good thing. You can just go out and play, be who they are and express themselves," she adds. "Obviously just the talent at such a young age - they are so much better than we were at that age."
Favorites again, the USWNT faces arguably its toughest test yet to win a World Cup. This is a tournament that promises to more competitive than previous editions with other federations also now investing in their women's teams, particularly reigning European champion England, the second favorite.
But, for now, the USWNT still remains top of the crop, the world No.1, a team now so steeped in American culture after decades of success that the likes of Taylor Swift happily features in a World Cup squad announcement.
"There's no guarantee the best team in the world will win again," says Dorrance.
"But will the United States certainly be considered as one of the best teams? Absolutely. Could we win it again? Absolutely. Is there any reason to feel that we're necessarily going to win it again? Absolutely not."