Auckland, New Zealand
CNN
—
American soccer fans have flocked to Australia and New Zealand to cheer on the US Women's National Team (USWNT) as they attempt a historic "threepeat", but not many can say they have been in the crowds as often as Jessica Malone.
New Zealand is now the 19th country Philadelphia resident, geologist and Women's World Cup superfan Malone has visited for a soccer game. It's also her fourth World Cup.
Browsing the merchandise stand at a fanzone in the New Zealand city of Auckland, which hosted the opening match a day earlier, Malone described her hobby as "ground hopping," or "going to as many games all over the world as possible."
Sporting a hat emblazoned with the badges of each federation in the tournament, Malone said traveling for soccer has enabled her to learn more about the rest of the world beyond the US.
"Coming from the US where we're pretty America-centric, it really allowed me to learn a lot about the rest of the world and about other countries and other nations and the history of colonialism and all that stuff," she told CNN. "I've always just looked forward to learning more and more about the rest of the world through the sport".
But, Malone says, she's often one of few women at these matches.
"This is a hobby that's very popular among European men because they can get to so many games," she said. "It hasn't been normalized that women might want to go watch men's or women's or travel for sport. So it's always interesting seeing people's reactions."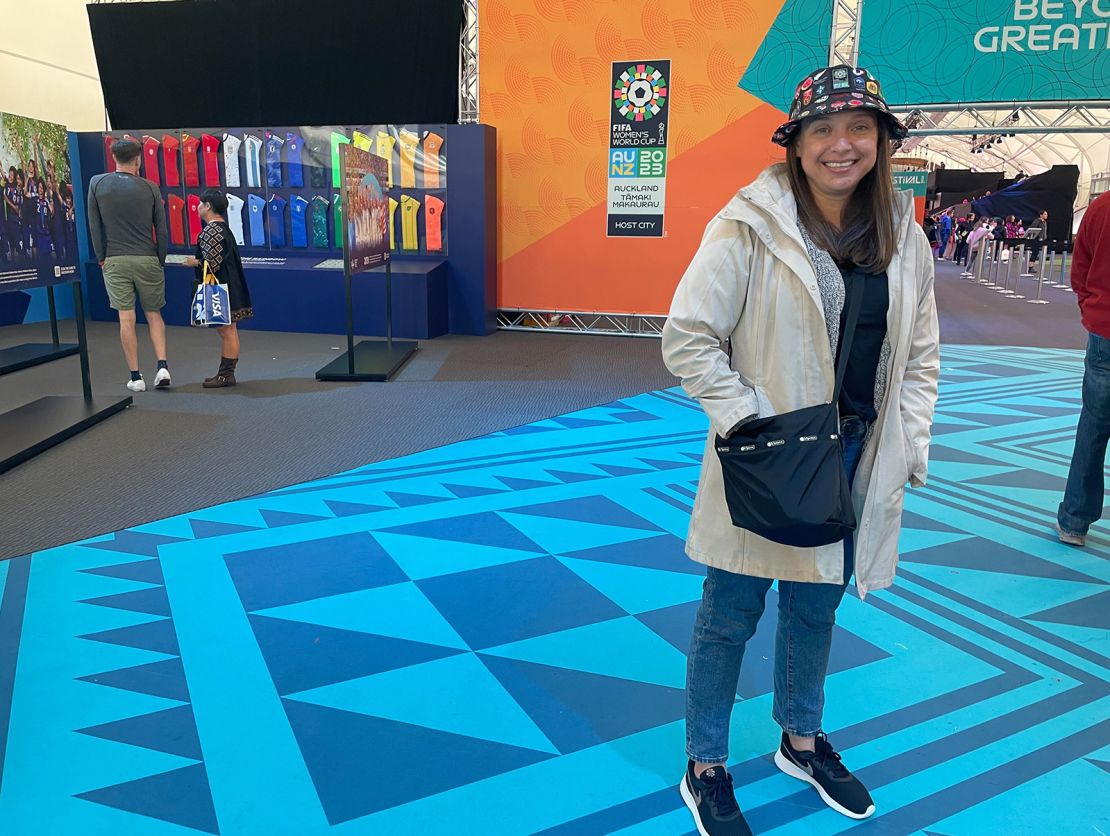 Malone says she loves attending women's soccer tournaments because it isn't seen as "weird" for her to go.
"When I was in Russia [for the 2018 men's World Cup], I traveled by myself and got asked a lot why I was there, which is a funny question," she told CNN. "It's just a totally different vibe at women's tournaments because everyone knows like, oh, obviously you're here for this."
In Auckland, Malone said she's "here rooting for all women."
Her first experience of the Women's World Cup was the 1999 tournament held in the US, which she calls a "very formative event" in her life.
She also attended the 2018 men's World Cup in Russia and the 2019 Women's World Cup in France.
Her love of the "beautiful game" started with the 1998 men's World Cup, which she recalls watching with her family as a kid.
"I made my family name our dog 'Zizou' after that tournament," Malone told CNN, referencing star player Zinedine Zidane, who helped guide the French men to World Cup glory that year.
Inspired, she attended the Women's World Cup the following year.
"Since then, I've always known this was my sport," she said.
'Awesome place to visit'
Expectations are always high for the USWNT when the Women's World Cup comes around, and this year is no different as the all-conquering team bids for an historic third consecutive title, dubbed a "threepeat".
And plenty of other Americans have made the trip to Auckland where the US team will take on Vietnam on Saturday morning (Friday evening US time) in the city's famed Eden Park stadium.
The Moreland family, from Bethesda, Maryland, first saw the USWNT compete at the 2015 World Cup in Canada.
Eight years later, they said they're excited to see how the team plays, given the dynamic between veteran players and many who are competing in their first World Cup.
"We love that the USA team has some of the old school teammates and the new roster. So we're really looking forward to seeing that transition," Laurenne Moreland told CNN, whose two daughters are also attending.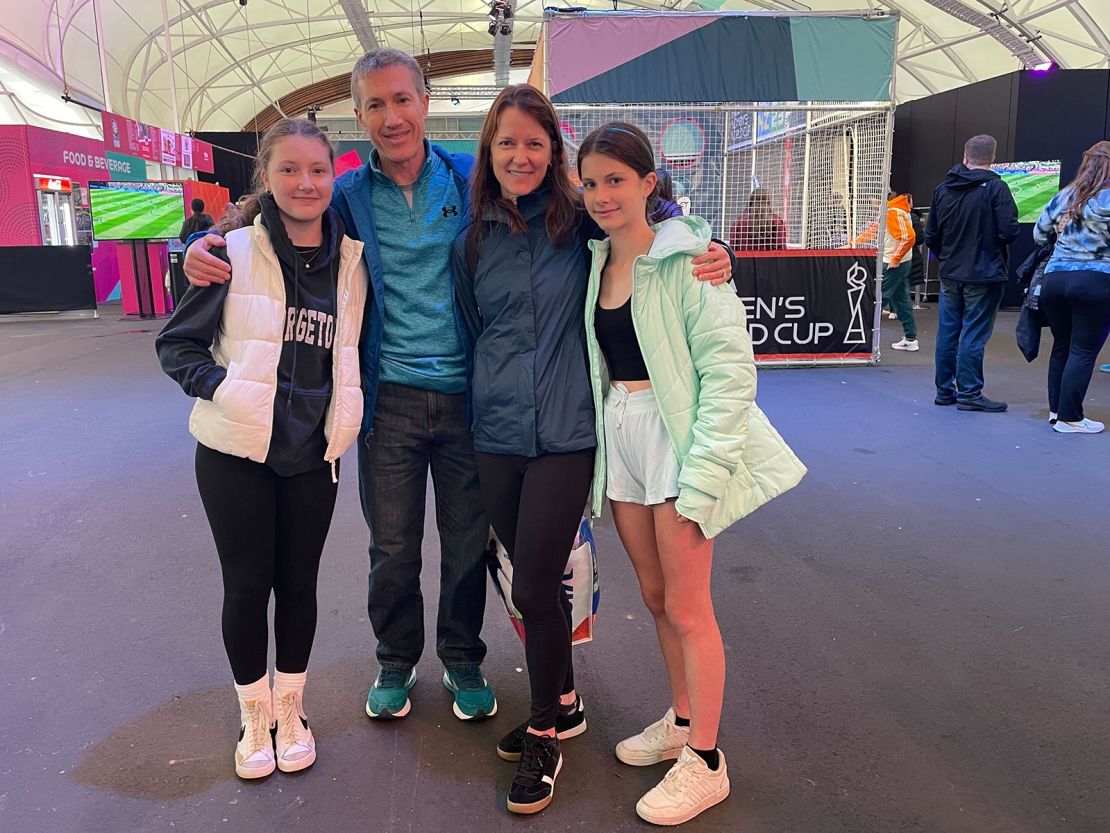 At the FIFA Fan Festival in Auckland, Adam from Austin, Texas, who asked to only be referenced by his first name, told CNN he's "looking forward to seeing the [US] women win."He's here with his wife and two daughters, including 12-year-old Cate, who thinks she's seen at least 50 professional soccer games in her lifetime.
Her mom Stephanie says soccer really wasn't on the family's radar until Cate started playing eight years ago.
Now, the family is at their second Women's World Cup. In 2019, they attended the US Women's National Team's famous 13-0 victory against Thailand in Reims, France.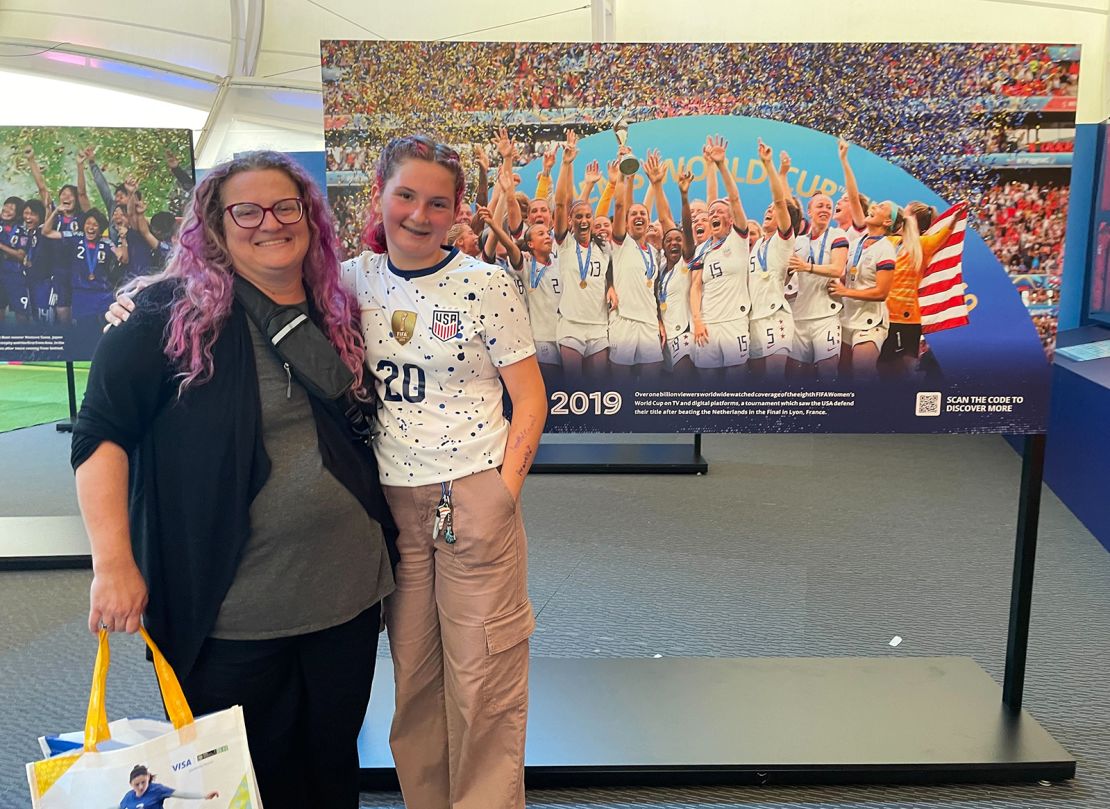 "You would see Cate sort of just light up each time and then when we started thinking, OK, where's it gonna be four years from now? And Australia and New Zealand's just an awesome place to visit and a really fun adventure for our family," Stephanie said.
Elanor Espey and her mom Katrina from Sacramento, were also in France during the Women's World Cup in 2019 and watched games from the fan zone in Paris.
Elanor Espey told CNN she's looking forward to seeing "how the teams have developed in the past four years since the last World Cup."
"It's a lot more competitive this year, which is how it should be, because you know, in the Men's World Cup, everybody is like anyone can win and I love that it's getting to a point in women's soccer where that's happening too," she said.
An earlier write misidentified the type of hat Malone was wearing.