England international Jordan Henderson's next stop looks to be Saudi Arabia.
For the last 12 years, the midfielder has been a stalwart for Liverpool. He's been the club's captain, helping Jürgen Klopp's team win a number of trophies, notably the English Premier League and the Champions League.
On Thursday, the BBC reported that Liverpool had agreed to Henderson joining Saudi Arabian club Al-Ettifaq in a £12 million ($15.4 million) transfer. Liverpool and Al-Ettifaq did not immediately respond to CNN's request for comment on Henderson's widely reported impending transfer.
If Henderson's transfer is finalized, the 33-year-old would be the latest European soccer star – following notables including Ballon d'Or winner Karim Benzema, N'Golo Kanté, Kalidou Koulibaly, Edouard Mendy and Roberto Firmino – to make the switch to the Saudi Professional League (SPL).
Except Henderson's transfer has attracted more scrutiny than those other players who have moved to Saudi Arabia. That's because the soon to be former Liverpool captain and a player who has 77 caps for England, has used his public profile to voice his support of LGBTQ rights.
In the past Henderson has publicly endorsed the Stonewall-backed Rainbow Laces campaign, including during England's run in the Euros in 2021, and has spoken about the need to stand "shoulder to shoulder" with those experiencing exclusion.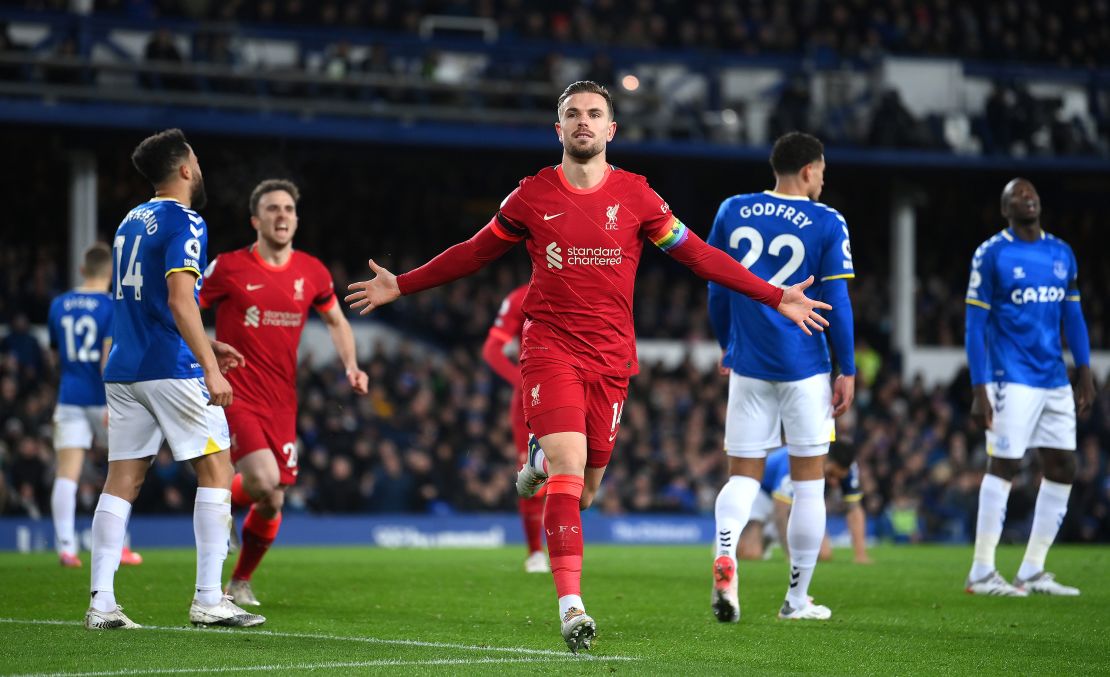 Speaking on homophobia in the sport in a lengthy statement in 2021, Henderson said: "My view on this is very much the same as on any other form of discrimination in the game, whether it relates to race, religious intolerance, disability or any other. I have never personally experienced any of these injustices in my life until now, so I can never and would never claim to have an understanding like those who suffer from the ignorance of others.
"But I do believe when you see something that is clearly wrong and makes another human being feel excluded you should stand shoulder-to-shoulder with them. You also have a responsibility to educate yourself better around the challenges they experience," he added.
Henderson's stance earned him praise and admiration: he was among those shortlisted in the 'Football Ally' category at the 2021 British LGBT Awards.
But now, as his move to Dammam based Al-Ettifaq looms, groups who once applauded his support are left exasperated.
"Champions fight when times are tough"
Same-sex sexual activity is an offense in Saudi Arabia, according to Human Rights Watch.
According to the Human Dignity Trust, which campaigns for the rights of LGBT people around the world, trans people can also face prosecution in Saudi, with "substantial evidence of the law being enforced" and "consistent reports of discrimination and violence" against LGBTQ people.
"Our joy for Mr Henderson when he scored against Ukraine in the EUROs was, in part, due to his kindness and his "lucky" rainbow laces. A banner was created to commemorate the low bar he had achieved in being outspoken on our right to support England and show visibility on the pitch," 3LionsPride, a fan group for LGBTQ England supporters, wrote on Twitter.
"If the rumours are true, then that banner will be consigned to the depths of history, another tangible source of our disappointment in the struggle for acceptance within the game.
The group decried "the fickle nature of allyship."
"Once again, our existence and the concept of 'allyship' towards us is feeble in comparison to a vast pay check. The ability to say the right words when they are easy and abandon them when money talks or times get tough is exactly why the term 'ally' is outdated and ineffective.
"Do better. Be a champion of equality, of our rights and inclusion. Champions fight when times are tough, they earn that title with determination. Actions speak far louder than some kind words," 3LionsPride added.
Kop Outs, a group for LGBT+ Liverpool fans, also criticized the potential move.
"Kop Outs have valued the allyship shown by @JHenderson We are appalled and concerned that anyone might consider working for a #sportswashing operation for a regime where women & LGBT+ people are oppressed & that regularly tops the world death sentence table?" the organization said on Twitter.
"Sportswashing" is the phenomenon of improving tarnished reputations through sport, and something Saudi Arabia has regularly been accused of. The country regularly receives criticism for its treatment of LGBTQ people, women and migrant workers, as well as its human rights record.
CNN Sport has reached out to Henderson's agent for comment on his transfer and the criticism he has faced as well as Saudi Arabia's media ministry.
Robbie de Santos, Director of Communications and External Affairs at Stonewall, said in a statement that the organization was "grateful to Jordan Henderson for using his platform to stand up for LGBTQ+ inclusion in sports and fitness, including by wearing our Rainbow Laces. In the ten years since our campaign started, public attitudes towards LGBTQ+ people in sport have improved considerably, and this is thanks in no small part to bold allyship from athletes such as Henderson."
De Santos added: "We can't deny the reality of lives for the LGBTQ+ community in Saudi Arabia, and we hope that Henderson continues his work to build towards a world where sport is everybody's game."