A tornado in North Carolina severely damaged a Pfizer plant, damaged several other structures, shut down a major interstate and injured at least 16 people Wednesday afternoon.
The tornado was on the ground for 16.5 miles, lasting about 30 minutes, and produced peak winds of 150 mph, an EF-3 tornado, the National Weather Service said. The tornado tore through Dortches, Nash County – around 45 miles northeast of Raleigh – and ended nine miles east-northeast of Battleboro in Edgecombe County. The maximum path width was about 600 yards.
It was the first EF-3 tornado in central North Carolina during the month of July, the weather service said. The EF scale runs from 0 to 5 and rates tornadoes after they've hit by assessing damage to determine wind speed.
More than a dozen people were treated for minor injuries in Nash County as a result of the storm, a county spokesperson said.
Three people were injured in neighboring Edgecombe County – two with life-threatening injuries – when the storm passed through, the sheriff's office said.
The North Carolina Department of Insurance (NCDOI) said its commissioner, Mike Causey, will tour storm damage on Thursday and "offer assistance to storm victims" in Nash County in the aftermath of the tornado.
Pfizer plant suffered severe damage
Some structures in the tornado's path were flattened. Pfizer's Rocky Mount facility suffered severe damage – video from helicopters showed the roof crumpled like paper and building debris scattered into the surrounding parking lot. There were no reports of injuries at the plant, according to a statement from the company.
"We are assessing the situation to determine the impact on production. Our thoughts are with our colleagues, our patients, and the community as we rebuild from this weather incident," the statement said.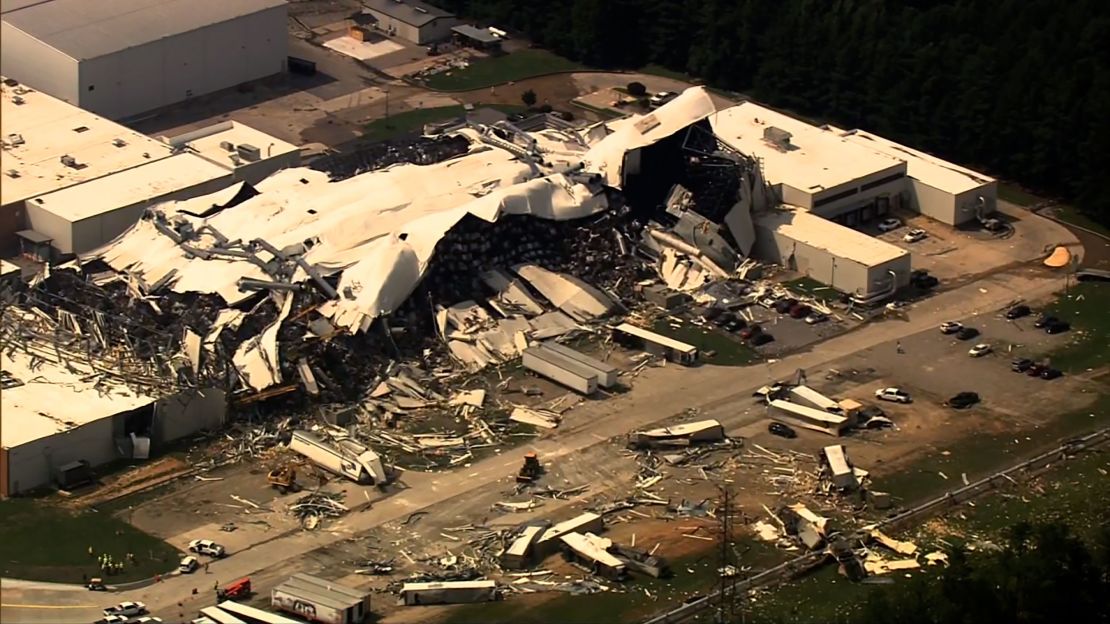 That plant is one of the largest facilities manufacturing sterile injectable drugs in the world, with more than 1.4 million square feet of manufacturing space on 250 acres in the eastern part of the state, Pfizer says.
The site is responsible for supplying more than a quarter of sterile injectable medicines used in US hospitals. And supply chain experts feared the damage could exacerbate the country's already historic level of drug shortages, with more than 300 medicines in short supply as of the end of June, according to a database from the University of Utah Drug Information Service.
Products made at the plant include anesthesia, pain-blockers known as analgesics, anti-infectives, neuromuscular blockers and others, according to a Pfizer fact sheet.
The drug giant acquired the plant in its 2015 acquisition of Hospira. In 2012, quality issues at the plant led to shortages of anesthesia and other products.
"We don't know yet if Pfizer will be able to transfer any of their manufacturing to some of their newer plants that they have built, or if things will stop and we'll have severe shortages, and just wait for the plant to be rebuilt," Erin Fox, a drug shortages expert at University of Utah Health, told CNN in an email.
Couple survives tornado hit
A couple in Nash County survived a harrowing disaster when their home was ripped from its foundation and flung across the yard with them inside, scattering their appliances, furniture and other belongings over the property, CNN affiliate WTVD reported.
Homeowner Mike Poythress, who just purchased the home last year, told the station he put his significant other, Deborah Moore, in the bathtub and grabbed his dog. They were tossed when the home went flying, the bathtub landing nearly 30 yards away. Moore was "pretty banged up" and remains at a hospital, where she is expected to recover, he said.
"I was holding on to her nightgown, and my dog, and this is the results. We came out of it, but nothing we owned did," Poythress told WTVD.
"I don't have anything to rebuild with," he said. "This is it. Everything I had was put into this home – the furnishings, the appliances, the house itself."
Nash County Sheriff Keith Stone urged people to stay off roads because of downed power lines, a gas leak and other severe damage across the area.
"It's still a dangerous situation. We're trying to get as much of this cleaned up before nightfall," Stone told CNN affiliate WRAL.
The tornado toppled trees onto Interstate 95, the North Carolina Department of Transportation said, shutting the highway down in both directions for at least an hour before reopening.
Gov. Roy Cooper acknowledged the damage on Twitter and said that first responders were on scene helping clear roads and provide other aid.
An initial survey by the National Weather Service found EF-2 damage in Dortches late Wednesday afternoon, but the storm damage survey later revealed EF-3 damage north of Rocky Mount with winds estimated at 150 mph. Teams still were surveying the area.
CNN's Jamiel Lynch, Rebekah Riess, Meg Tirrell, Tina Burnside, Dianne Gallagher, Nadia Kounang, Monica Garrett, Taylor Ward and Sara Smart contributed to this report.