World Cups are so often defined by their upsets, the surprise results that stun crowds and cause delirious celebrations.
The first match of the 2023 Women's World Cup duly delivered such scenes as co-hosts New Zealand shocked Norway 1-0 in Auckland, thanks to a stunning Hannah Wilkinson goal just after half-time.
For so long, winning a World Cup game had proved to be an elusive goal for New Zealand. The Football Ferns' previous five appearances in women's tournaments had yielded not a single victory while the men also have not secured a win in their two World Cup appearances.
It seemed fitting, then, that its first ever victory came on home turf in front of more than 40,000 raucous fans at an almost sold-out Eden Park, as New Zealand held on for the win despite Ria Percival's penalty miss late in the game after a VAR decision.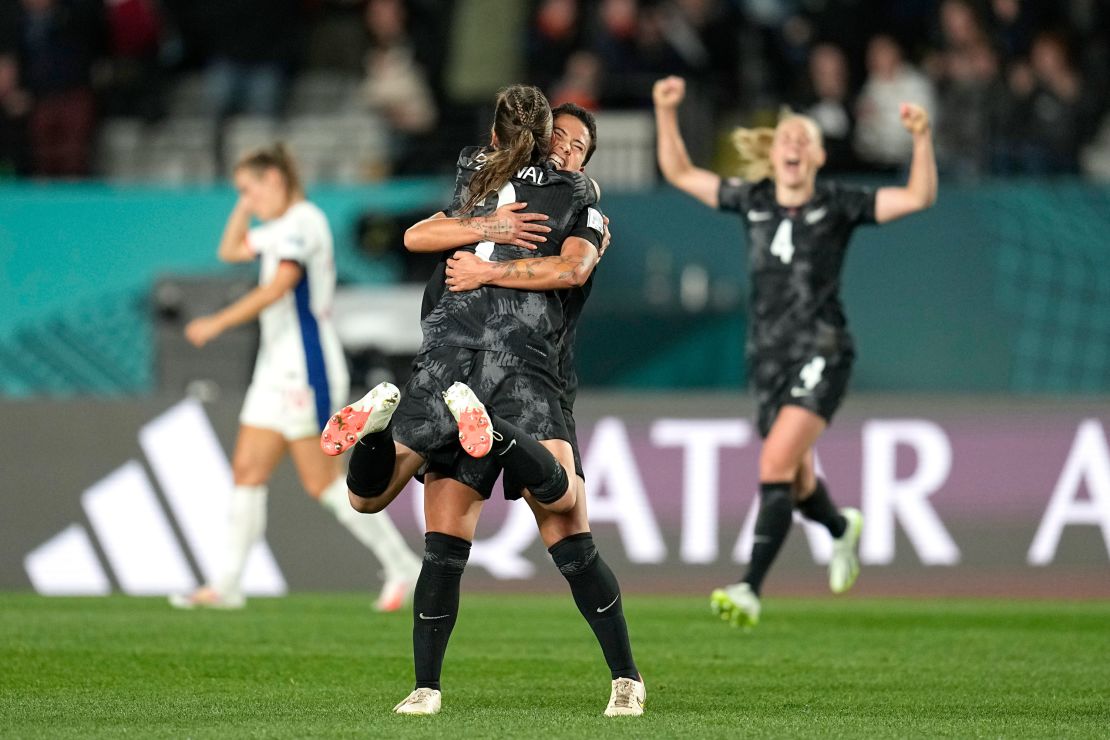 "I'm so, so proud, we've been fighting for this for so long. We had a clear goal that we wanted to inspire young girls here and around the world, and I think we did that this evening. Anything is possible," New Zealand's tearful captain Ali Riley told the BBC.
Coach Jitka Klimkova said the win was "well deserved" and "means so much" especially for the three current players who were part of the previous winless World Cup squads, including Riley.
"Seeing them having tears in their eyes and enjoying it in front of their families and friends and fan, incredible moment for me as a coach," Klimkova said. "I will never forget this moment."
The start of this World Cup has also been marked by tragedy as a rare multiple shooting in the center of Auckland rattled the city just hours before the opening match of the tournament.
New Zealand Prime Minister Chris Hipkins outlined details of the attack in a hastily called news conference, confirming that three people had died – including the gunman – and several others were injured.
Riley added: "This morning, something really, really tragic happened and we wanted to bring something positive tonight and we thought of the victims and the first responders and they made us so proud and we just wanted to just help bring something amazing today."
Breaking the deadlock
Harnessing the energy of the home crowd, New Zealand began brightly, holding the more favored Norway to a scoreless first half.
The Football Ferns launched the first attack of the game as Wilkinson broke clear of the Norwegian defense before Norway began displaying its own offensive prowess, its star Ada Hegerberg just mistiming an ambitious bicycle kick at her first World Cup in eight years before Frida Maanum, under pressure, skied her attempt on goal.
But immediately after halftime, all of New Zealand's pressure eventually paid off, as Wilkinson scored the first goal of the game, clinically finishing a sweeping team move that sliced open the Gresshoppene defense.
Klimkova told reporters afterwards she believes the team's halftime chat helped the squad secure the win.
"We knew that our performance is very good. We wanted to stay consistent. Consistency of keeping the ball, getting to the final third, being very organized in defense," she said.
"Those messages stayed the same, but we added few priorities: how we can use our spaces a little bit more wisely and more efficiently," she added. "We could see it in the second half and I believe that helped us to get the goal in."
Still the game remained finely poised; Norway struggled to get the ball to its dangerous front three but still created chances as only an outstretched hand from New Zealand's goalkeeper Victoria Esson prevented Tuva Hansen's powerful long-range effort from finding the back of the net on 80 minutes.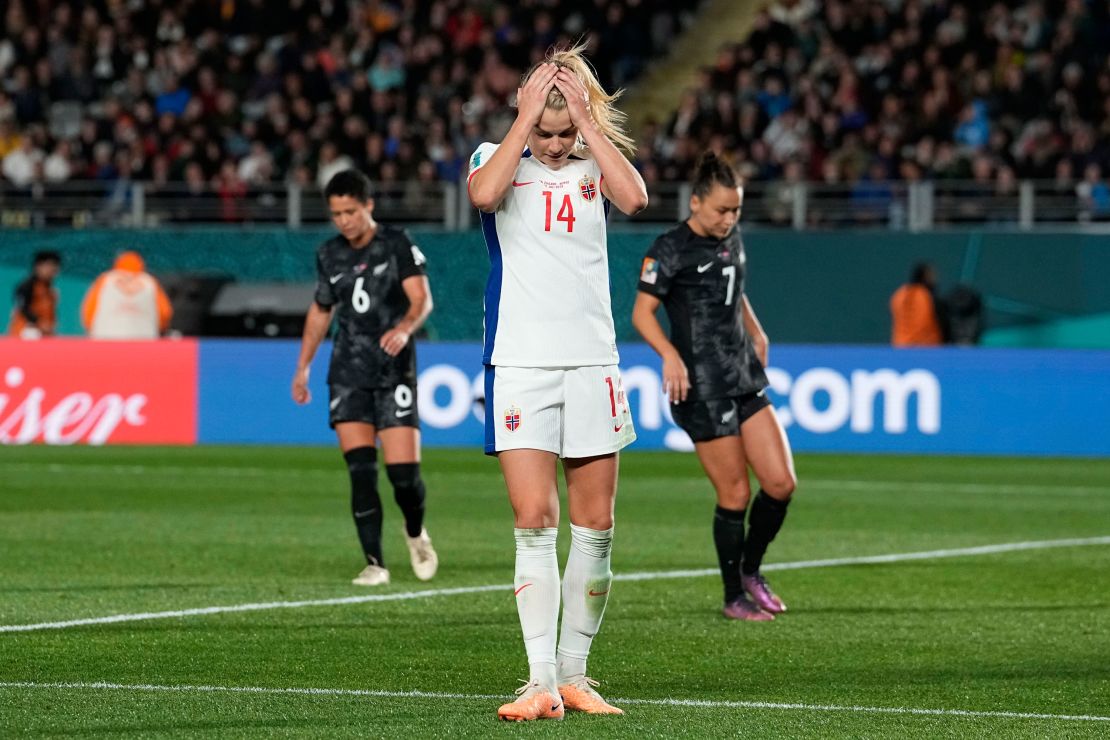 New Zealand had a chance to double its lead and effectively end the contest 10 minutes later when Norway conceded a penalty for handball, but Percival's miss kept the game alive, and the tension coiled around it as nine minutes of injury time were added on and Norway continued to press for a last-gasp equalizer.
The home team had done enough, however, and held on until the final whistle blew, prompting wild celebrations around the stadium as the players ran onto the field and the crowd exploded with joy.
Australia victorious even without Kerr
The tournament's co-host Australia kicked off its own Women's World Cup campaign with a 1-0 victory against Ireland as Steph Catley's penalty proved the difference between the two teams.
The Matildas were without their star striker Sam Kerr – seen as the face of this World Cup – who will miss the opening two matches of this tournament after sustaining a calf injury in training.
Her absence from the team was palpable, as the Matildas lacked a cutting edge during a scoreless opening half in which they were frustrated by Ireland.
Australia eventually took the lead shortly after the interval thanks to a penalty which Catley expertly converted to the delight of the 75,784 fans inside the stadium – a record for an Australia home match.
"It's hard to put into words to be honest," Catley told British broadcaster ITV afterwards. "It's been such a big build-up for us.
"We've had a lot of adrenaline and excitement coming into the game, we had some moments where we had to work through that.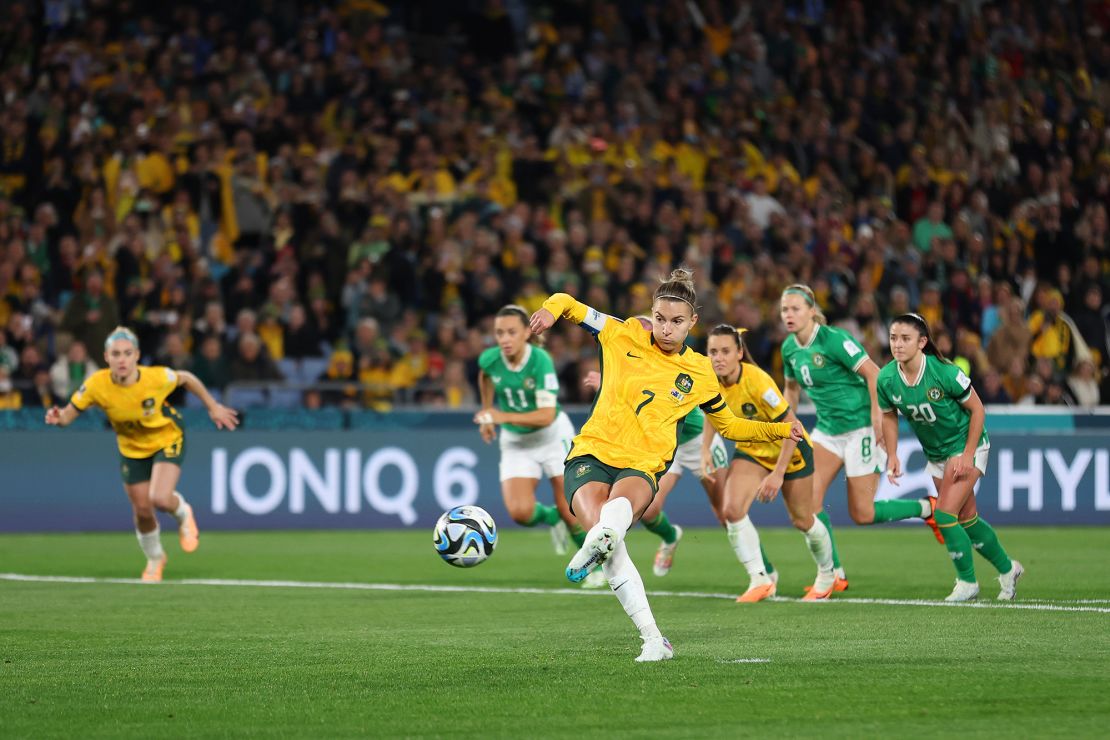 "Obviously, we didn't have Sammy [Kerr]. I've had conversations with [head coach] Tony [Gustavsson] about it, about me potentially needing to take one if the opportunity came up, and I felt confident to do it."
Ireland couldn't find an equalizer despite several promising set-piece opportunities and the Matildas closed out the win.
CNN's Tara Subramaniam contributed to this report.