Despite an underwhelming first month of Ukraine's much-anticipated summer push to liberate territory from Russian forces, Kyiv says its Western backers are not pressuring the country for quick results.
Since the Ukrainian counteroffensive began in June, the fighting has proved tougher than some anticipated, with progress being measured in hundreds of meters as opposed to tens of kilometers.
Ukraine had hoped to use the push to expel a significant amount of Russian forces from Ukrainian soil and turn the tide of the war.
Andriy Yermak, a key adviser to Ukraine President Volodymyr Zelensky, told journalists Friday he accepted the counteroffensive is "not going that fast; it is slow."
The lack of tangible progress, however, did not appear to discourage NATO members at the organization's annual summit this week in Lithuania, Yermak said.
The meeting saw NATO pledge deeper security ties with Ukraine, albeit without specifying any timetable for when Ukraine could realistically join the alliance. Asked by CNN if Ukraine's western allies were looking for quicker gains on the battlefield, Yermak said there was no such pressure from partner countries. Instead, most countries asked what else Ukraine needed to expedite victory.
The United States recently supplied Ukrainian forces with cluster munitions and is now reportedly considering sending Army Tactical Missile Systems (ATACMs), guided missiles with a range of up to 300 kilometers (about 186 miles). France and the United Kingdom have either delivered or pledged to supply Ukraine with long-range missiles.
Ukraine pushing forward near Bakhmut
Officials in Kyiv appear to be encouraged by the results around Bakhmut, the eastern Ukrainian city that has seen some of the most intense fighting of the war.
Ukrainian Army spokesman Serhiy Cherevatyi said on Ukrainian television that Russian forces are putting up a "fierce resistance," but Ukraine has the initiative.
"Our defense forces are pushing the enemy on the southern and northern flanks, storming their positions," he said.
Mapping by Deep State, which updates any changes on the ground daily, and is widely used by analysts, has suggested almost no shifts in the front line around the city for many days, even as Ukrainian forces continue efforts to regain villages like Klishchivka to the southwest and Berhivka to the northwest, where fighting has raged for weeks.
Further to the north, in a 100-odd kilometer (62 mile) stretch of land between the towns of Lyman and Kupiansk, Cherevatyi said Russian forces were "actively attacking."
Lyman is a key city in Donetsk that Russia occupied for almost six months before retreating in October. In recent weeks, the area has become a renewed focus of Russian firepower.
"This direction is the leader in the (Russian) use of artillery, mortars and multiple rocket launchers shelling. The enemy carried out 570 attacks and 11 air raids over the last day," Cherevatyi said.
According to Russian military bloggers, one of the areas where Moscow's forces have been concentrating their efforts is around the village of Novoselivske, about 75 kilometers north of Lyman (47 miles) One site said Russian forces had advanced through forested areas to the south of the village and were digging of a new defensive line close to a nearby railway line.
It is not possible for CNN to verify immediately claims of territorial gains or losses by either side.
State of play in the south
Reports suggest that heavy fighting has also continued along the southern front, where Ukraine is aiming to break Russia's so-called land bridge to the Crimean Peninsula, which it seized from Ukraine in 2014 in violation of international law.
Military analyst Rob Lee says it is difficult to measure which side currently holds the whip hand in the absence of significant territorial gains for one side or the other.
"Both sides are taking attrition right now … but it is not clear which side can sustain it better," he told the Geopolitics Decanted podcast.
"On the Russian side, if they take enough losses and Ukraine can isolate parts of the front, (then Ukrainian forces) may be able to achieve a breakthrough. On the flip side, if Ukraine keeps taking losses and more attrition, the offensive might culminate too soon," Lee said.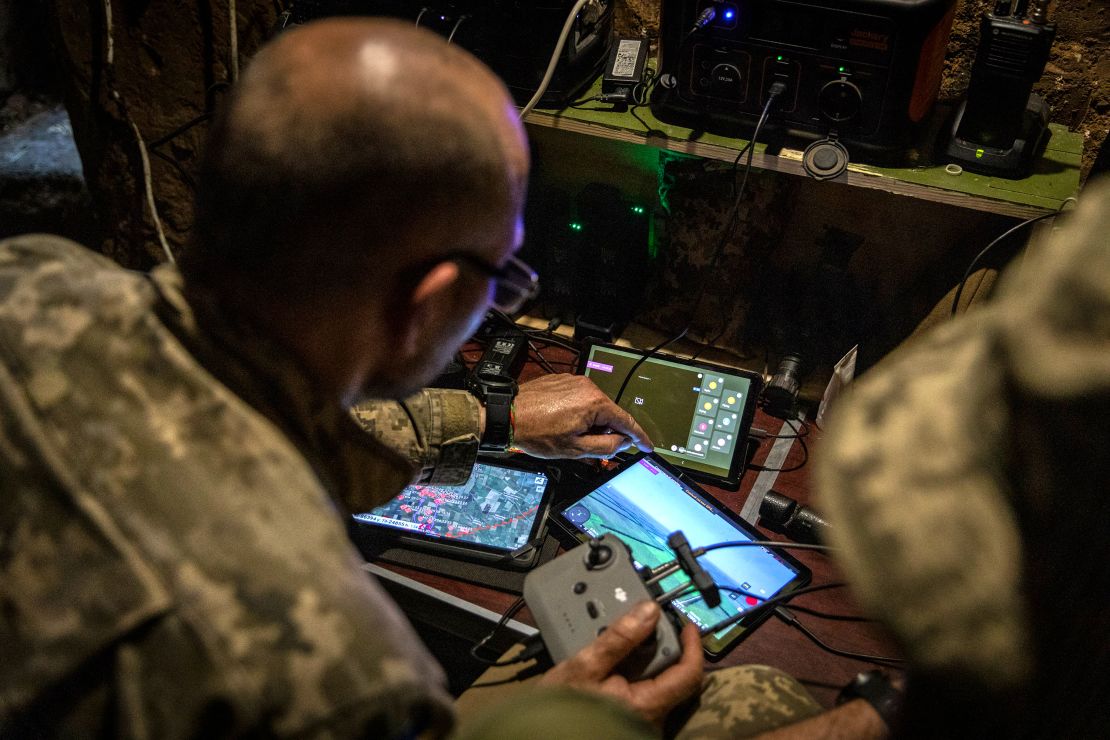 General Oleksandr Tarnavsky, the head of the Ukrainian military's southern command, told Ukrainian television Saturday morning his soldiers were "systematically driving the enemy from their positions." However, Ukraine has so far not liberated a significant number of southern towns and villages from Russian control.
Russian sources have reported both progress and setbacks for the Kremlin. A prominent Russian military blogger reported that Ukrainian forces are pressuring Russian positions near one village, while Russian official said on the messaging app Telegram Saturday morning that he was told that two Ukrainian reconnaissance probes were defeated.
One part of Ukraine's current campaign that does seem to be achieving tangible results is strikes on targets behind front lines. These are aimed at disrupting and degrading Russian supply lines as well as targeting Russian command bases and soldiers' barracks.
In his comments Saturday morning, southern command head Tarnavsky told Ukrainian TV viewers that nine Russian ammunition depots had been destroyed in the last day. He did not say where the depots were located but it is likely they were some distance away from the front lines.
Earlier this week, a Russian general was killed when a Ukrainian missile hit the base of Russia's 58th Combined Arms Army in the occupied port city of Berdiansk.