His nerves may have got the better of him at the French Open last month, but Carlos Alcaraz seems to have found a way to relax his body and mind at Wimbledon.
The top seed reached his first semifinal at the grass court grand slam on Wednesday thanks to a 7-6 (7-3) 6-4 6-4 victory against Denmark's Holger Rune.
The turning point in the tight encounter appeared to come at the end of a tense first set, when Alcaraz roared in relief after triumphing in the tiebreak.
"The first set, it was really tough for me. A lot of nerves," the 20-year-old told reporters after the match. "I couldn't control it at all. I was able to win the first set – the key to turning around a little bit my emotions.
"It helped me a lot, that huge scream after the first set to put out all the nerves and start to enjoy the moment, to enjoy the match. Smiling for me, as I said a few times, is the key of everything."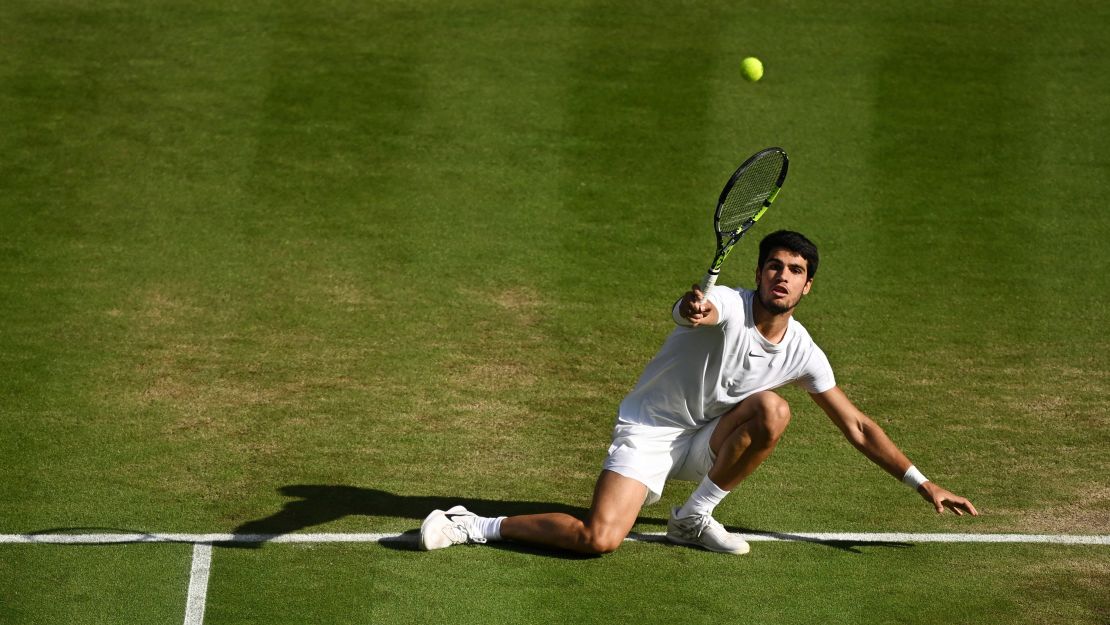 In a battle between two players who grew up playing with and against each other – Rune is just a week older than Alcaraz – it was the Spaniard who was able to deploy his all-court game as the match wore on, combining his vicious forehand with deft touches at the net.
He broke Rune in the penultimate game of the second set and moved further ahead with a break at 2-2 in the third before going on to wrap up the contest.
While a 36-year-old Novak Djokovic continues to dominate men's tennis, this Wimbledon encounter perhaps provided a glimpse into the future.
It was the first time that two players under the age of 21 have contested a quarterfinal at the tournament in the Open Era, while Alcaraz, the defending US Open champion, is the youngest man to reach a Wimbledon semifinal since Djokovic in 2007.
"It's a dream for me to be able to play a semifinal here in Wimbledon," said Alcaraz. "It's a really amazing feeling right now."
Next up for Alcaraz is Russian third seed Daniil Medvedev, who ended the dream run of American Christopher Eubanks on Wednesday.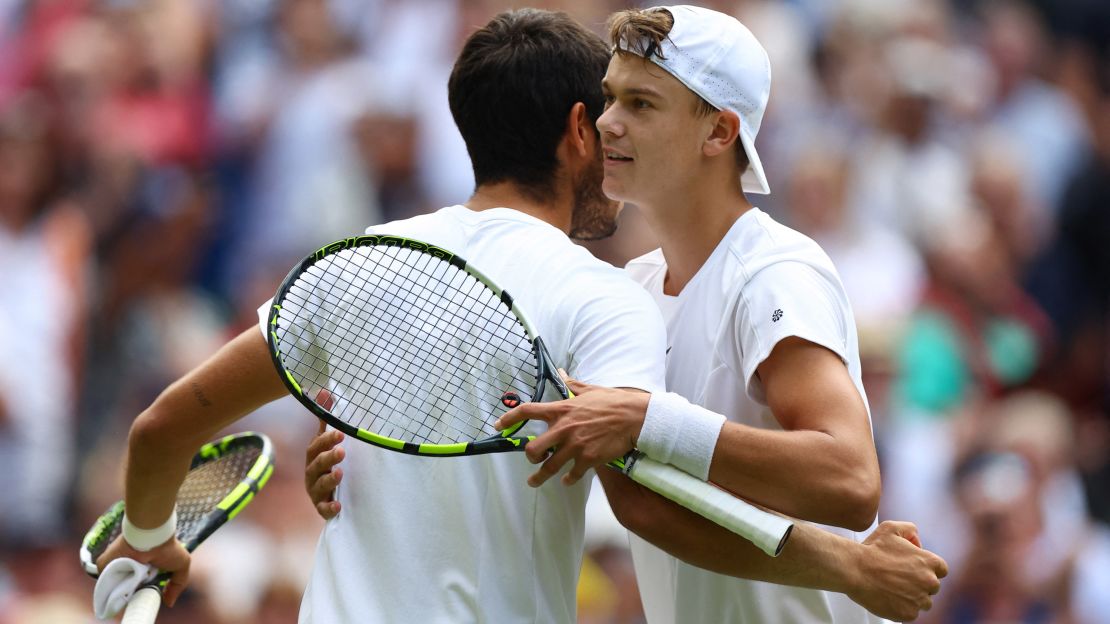 Medvedev knocked Alcaraz out of Wimbledon in straight sets two years ago, but it was the Spaniardwho won their last meeting in the final of Indian Wells in March.
"He's playing great here on grass. He's having a great, great year as well," said Alcaraz of his next opponent.
"I lost the first match we played here on grass, so I have to learn about it. But I'm going to enjoy the semifinal. I think I'm playing great, [I have] a lot of confidence right now. So it's going to be a really good match I think."
The winner of that match will face either seven-time Wimbledon champion Djokovic or first-time semifinalist Jannik Sinner in Sunday's final.
The Serbian star became the topic of conversation on Wednesday when it transpired that Alcaraz's father had been filming Djokovic's practice sessions at Wimbledon. But the world No. 1 rejected the idea that it gave him a competitive advantage.
"My father is a huge fan of tennis. He doesn't only watch my matches. I think he gets into the club at 11 a.m., gets out at 10 p.m., watching matches, watching practice from everyone," Alcaraz said.
"To be able to watch Djokovic in real life – yeah, probably it is true he's filming the sessions … I have a lot of videos from Djokovic on every platform. I think it's not an advantage for me."