At last year's NATO summit in Madrid, the alliance formally invited Sweden and Finland to join its ranks. At this year's summit in Vilnius, Ukrainian President Volodymyr Zelensky was hoping the alliance would extend his country the same favor.
That was not to be. In its final communique, issued Monday evening, NATO claimed that "Ukraine's future is in NATO" – but did not say when that future could start.
Throughout the Russian invasion, Western allies have agonized over whether to approve the next thing Kyiv has asked for: First artillery, then Leopard tanks, then F-16 fighter jets, then cluster munitions. Each time, what seemed to be beyond the pale at first eventually came to be seen by some members as sensible and just.
But NATO membership is far more significant than military hardware, and it may be some time before Kyiv's final wish is granted. So, what exactly did Zelensky want from this summit? Were his demands realistic? And what did he end up getting?
What did Zelensky want?
Zelensky's ambitions were clear: He would demand nothing less than full NATO membership for Ukraine.
At the July 2022 summit, his requests were less vociferous. Zelensky only launched his bid for fast-track membership to join the alliance in September, after Russian President Vladimir Putin announced that he would recognize four Ukrainian regions – Luhansk, Donetsk, Kherson and Zaporizhzhia – as Russian territory.
Swiftly after Putin's claims, Zelensky said that Ukraine was applying for NATO membership "under an accelerated procedure," meaning that the Vilnius summit is the first time the issue has been on the alliance's agenda.
Under NATO's open-door policy, any European country is free to apply, which is why its numbers have swelled from 12 founding members to the 31 it has today – soon to be made 32 by Sweden's accession.
Zelensky appeared before adoring crowds in Vilnius' Lukiskes Square on Monday, on a stage emblazoned with the blue and yellow of Ukraine's flag and a huge sign reading "#UkraineNATO33."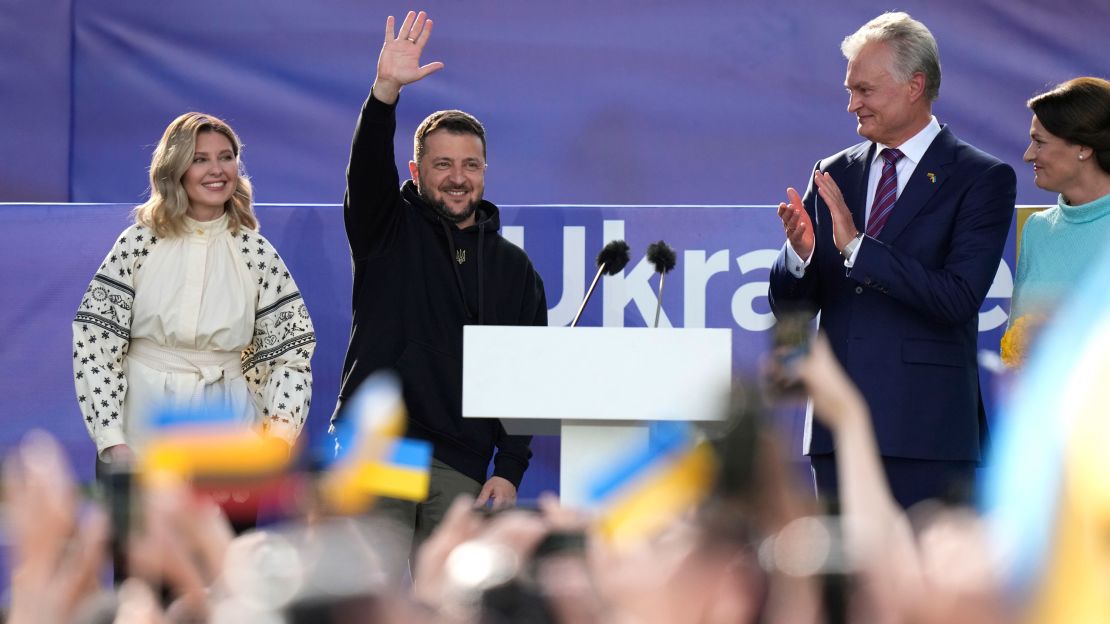 Was full membership realistic?
But while #UkraineNATO33 might have won cheers in Lithuania's capital, the prospect has been more chilling for leaders of the alliance itself.
Let's be clear about what NATO membership means. Article 5 of the Treaty enshrines the principle of collective defense, meaning that an attack on one member is an attack on all.
Article 5 has only been invoked once in NATO's history, after the 9/11 attacks on the United States. If Ukraine were to join today, with Russia's invasion raging on, the Article would be invoked immediately, effectively dragging 31 countries into war with Russia.
US President Joe Biden made it clear before the Vilnius summit began that full membership was not yet realistic. Speaking to CNN's Fareed Zakaria in an exclusive interview Sunday, Biden said there is not "unanimity in NATO about whether or not to bring Ukraine into the NATO family now, at this moment, in the middle of a war."
"We're determined to commit every inch of territory that is NATO territory. It's a commitment that we've all made no matter what. If the war is going on, then we're all in war. We're at war with Russia, if that were the case," said Biden.
UK Defense Secretary Ben Wallace echoed the US stance, saying that "we can't have a new member in the middle of a conflict. That would just import war into the alliance."
However, speaking to CNN from Vilnius on Monday, Wallace said that "whenever this conflict finishes, we should be prepared as quickly as possible to bring Ukraine into NATO."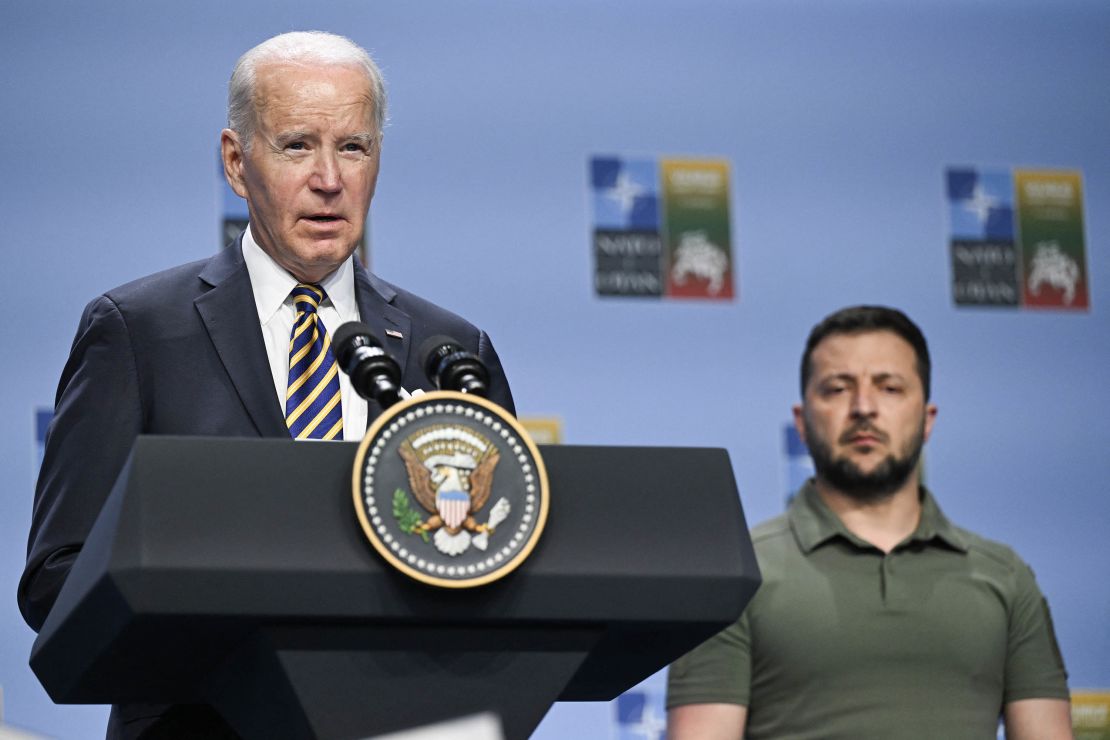 What would Zelensky settle for?
Zelensky and his Foreign Affairs Minister Dmytro Kuleba had in fact conceded months before the NATO summit that Ukraine cannot become a member of the alliance while it is still at war. Speaking at a news conference in Kyiv in February, Zelensky said that, while Ukraine was "not looking for a NATO substitute," he understood that "we will not be a NATO member, while the war is waging. Not because we don't want (that), but because it's impossible."
Going into the summit, his sights were set on a clear path into the alliance without obstacles once the conflict ends – and a clear timeline of when Ukraine would be offered membership. On Tuesday, Zelensky issued a blistering public statement slamming NATO's "absurd" refusal to provide a timeline.
"This means that a window of opportunity is being left to bargain Ukraine's membership in NATO in negotiations with Russia. And for Russia, this means motivation to continue its terror," he said on Twitter.
But NATO's refusal, or inability, to provide a timeline is understandable. In effect, the answer to "When will Ukraine join NATO?" is the same as "When will Ukraine win the war?" NATO has made it clear that the former cannot happen before the latter.
"The most urgent task now is to ensure that Ukraine prevails, because unless Ukraine prevails, there's no membership issue to be discussed at all," said NATO Secretary General Jens Stoltenberg at a news conference Tuesday evening.
What did Zelensky get?
The final communique was not published until around 6:40 p.m. in Vilnius – unusually late for a summit's crowning document.
The late publishing time reflected disagreements between NATO members hoping to cede to Zelensky's demands for a clear timeline, and those urging continued ambiguity, led by the US and Germany. Biden had said earlier that members were working to "agree on the language" surrounding Ukraine's future membership; those negotiations took longer than expected.
"Ukraine's future is in NATO," the communique read. "We will be in a position to extend an invitation to Ukraine to join the alliance when allies agree and conditions are met.
The alliance, however, did make a major concession to Ukraine, by removing a key hurdle in the application process.
"(We) agreed to remove the requirement for a Membership Action Plan. This will change Ukraine's membership path from a two-step process to a one-step process," NATO Secretary General Jens Stoltenberg to