As a series of welcoming cannon blasts rang out from a nearby colonial fort, the Russian navy's training class ship Perekop sailed into Havana on Tuesday.
While in Cuba for a four-day visit, the Perekop's sailors will "carry out a wide range of activities," according to Cuba's state-run Prensa Latina news service, and members of the Cuban public will be given the opportunity to tour the ship.
It is the first official visit by a Russian naval vessel to Cuba in years – and another sign of the reforging of the relationship between the two Cold War-era allies after the collapse of the Soviet Union nearly brought down the Cuban economy with it.
While Russia's invasion of Ukraine has led to its widespread ostracization, the Cuban government increasingly has defended Moscow.
"We are condemning, we are rejecting, the expansion of NATO towards Russia's borders," Cuban President Miguel Diaz-Canel told Russian-controlled network, RT, in a rare interview in May.
He also blasted US economic sanctions on Russia, while heralding Russian "projects of cooperation and collaboration" under development in Cuba.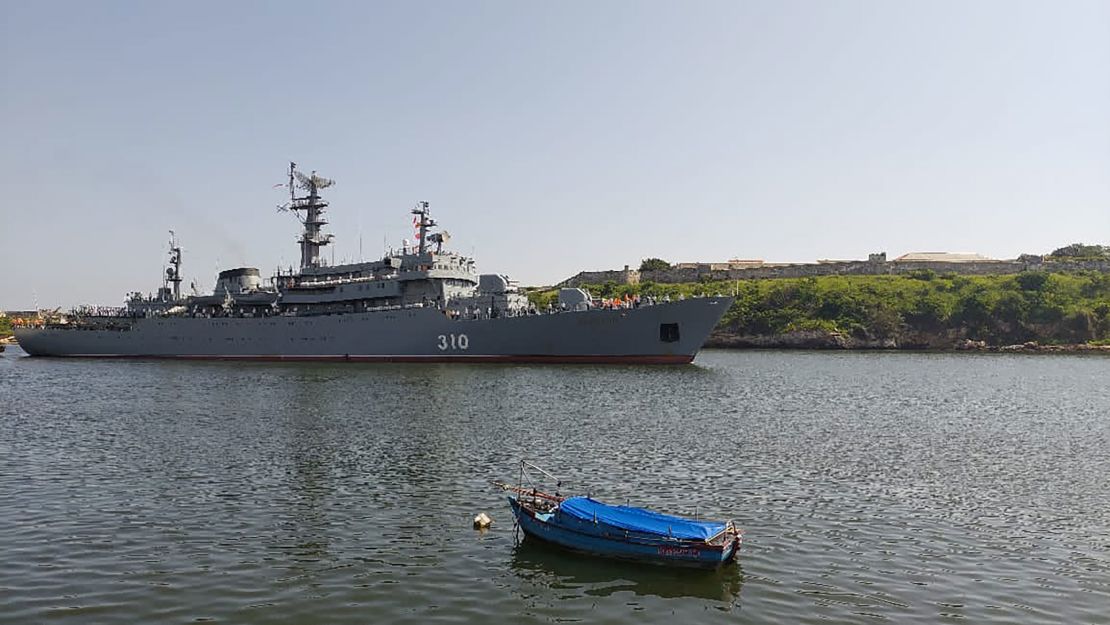 The two countries have also announced a flurry of agreements and exchanged high level delegations. The deals include allowing Russia to lease land in Cuba for up to 30 years, develop beachside tourist facilities near Havana, open a supermarket with Russian products and supply the island with badly needed fuel.
According to Jorge R. Piñon, a senior research fellow at the University of Texas at Austin Energy Institute, from the beginning of the Ukraine war, Russia has sent Cuba more oil than at any time since the fall of the USSR. So far in 2023, Piñon estimated, Russian has delivered approximately $167 million worth of oil.
The oil has been a crucial lifeline for cash-strapped Cuba this year, as shortages led to days-long waits to fill up cars across the island.
Rekindling ties
For much of the Cold War, Cuba and the former Soviet Union cultivated deep ties.
The USSR stationed thousands of diplomats, spies and military advisers on the island and built a towering embassy in Havana meant to symbolize a scimitar in the heart of US imperialism.
A generation of Cubans braved unfamiliar cold weather to study in Soviet countries. A popular TV game show called "9550" – for the number of kilometers separating Cuba from Russia – quizzed Cubans about Soviet life with the grand prize a paid trip to the USSR.
But following the collapse of the Soviet Union, Cuba lost its main trading partner and entered a deep economic depression. Since then, Cubans either regard their once-upon-a-time closeness with Russians with deep nostalgia or with the disdain of a failed marriage.
Now, the rekindled relationship has led some Cuba watchers to lament a missed opportunity for the US.
While former US President Barack Obama restored diplomatic relations with Cuba and eased economic sanctions, his successor, President Donald Trump reversed much of that opening. The current incumbent, President Joe Biden, has for the most part kept Trump-era sanctions in place while demanding that Cuba release prisoners jailed for taking place in widespread protests two years ago.
"It seems that under Trump and followed by Biden, the US has all but ceded the field," said Ric Herrero, executive director of the Cuba Study Group, which promotes greater engagement between the US and Cuba.
"There has been very modest easing of sanctions, mostly citing humanitarian concerns, and opening up travel, remittances and restaffing the embassy and consulate but we have seen a White House that otherwise has been unconcerned with Cuba," Herrero said.
But the US's top diplomat in Havana said the talk of a greater Russian presence in Cuba so far appears to be just lip-service.
"There's a great Spanish expression that 'between said and done there's a wide gap,'" Benjamin Ziff, Chargé d'Affaires at the US Embassy in Havana, told CNN. "We haven't seen, talking with our contacts here, any evidence of increased Russian anything and frankly I think the Cuban government would be making a huge mistake if that they sought to follow that model and not the model 90 miles away that has 300 years of history."
The Russians are not the only ones flexing military might in Cuba. On Tuesday, the Cuban government blasted the US for its nuclear submarine's three-day visit to the US Naval base at Guantánamo Bay, calling it "a provocative escalation."
More than sixty years after the US and the USSR faced-off over Soviet nuclear missiles secretly placed in Cuba, the East and West still appear to be jockeying over who will exert greater influence over the island.
Despite the high cost of the war in Ukraine and economic sanctions, Russian officials say they are committed to Cuba.
"Cuba has been and remains Russia's most important ally in the region," Russian Defense Minister Sergey Shoigu said while meeting with his Cuban counterpart Alvaro Lopez Miera in late June in Moscow.
"We are ready to render assistance to the island of freedom and to lend a shoulder to our Cuban friends," Shoigu said.