Ukrainian Elina Svitolina says Russia's invasion of her country has made her "mentally stronger" on the tennis court as she continues her stunning run at Wimbledon.
Svitolina, who returned to tennis this year following the birth of her daughter in October, reached a grand slam semifinal for the third time in her career on Tuesday, ousting world No. 1 Iga Świątek 7-5 6-7 (5) 6-2.
The former world No. 3 received a wildcard entry for Wimbledon but now has a chance to reach a first-ever major final when she faces the Czech Republic's Markéta Vondroušová on Thursday.
That would cap off a whirlwind period in Svitolina's career, during which she has been at the forefront of tennis' humanitarian relief efforts for Ukraine. The 28-year-old says that the war, combined with the birth of her daughter, has changed her perspective on sport and life.
"I think war made me stronger and also made me mentally stronger," Svitolina told reporters after her victory against Świątek.
"Mentally, I don't take difficult situations as like a disaster," said Svitolina. "There are worse things in life. I'm just more calm.
"I think also, because I'm just starting to play again, I have different pressures. Of course, I want to win. I have this huge motivation to come back to the top, but I think having a child, and war, made me a different person. I look at things a bit differently."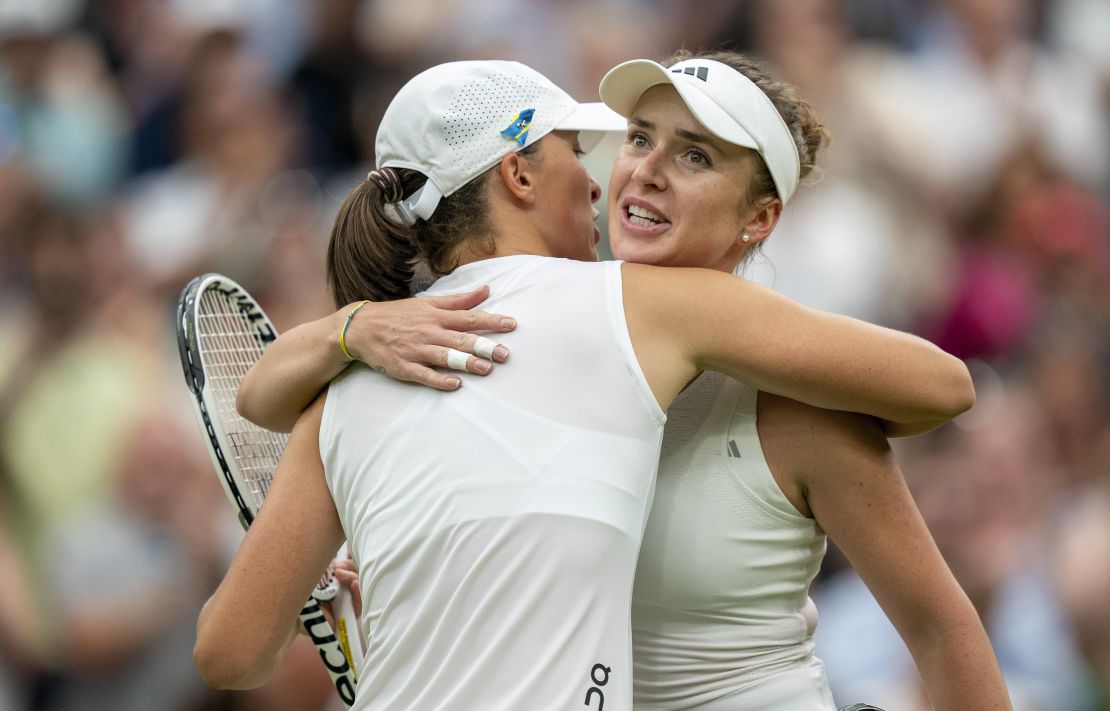 Svitolina reached the quarterfinals of the French Open last month – her first major tournament since returning to tennis – and has now gone one better at Wimbledon.
As part of her remarkable run to the semifinals in southwest London, she has defeated four former grand slam champions: Venus Williams, Sofia Kenin, Victoria Azarenka and now Świątek.
"I think she's incredible with everything," Svitolina's next opponent, the unseeded Vondroušová, told reporters on Tuesday. "She's fighting so much for everything. Now she's just playing amazing tennis also. She's a super woman, I think."
Amid Russia's invasion of her country, Svitolina has served as an ambassador for UNITED24, an organization set up by Ukrainian President Volodymyr Zelensky to raise funds for medical supplies, defense and rebuilding the country's infrastructure.
She has previously donated prize money to relief efforts in Ukraine and in April was part of a charity pro-am event at the Charleston Open.
"I know that lots of people back in Ukraine are watching," Svitolina said on Tuesday when asked about the support she has been receiving. "I got a really massive amount of messages the last round.
"I didn't really check my phone yet today, but I think there will be a lot of messages, a lot of news. I'm happy I can bring a little happiness to their life."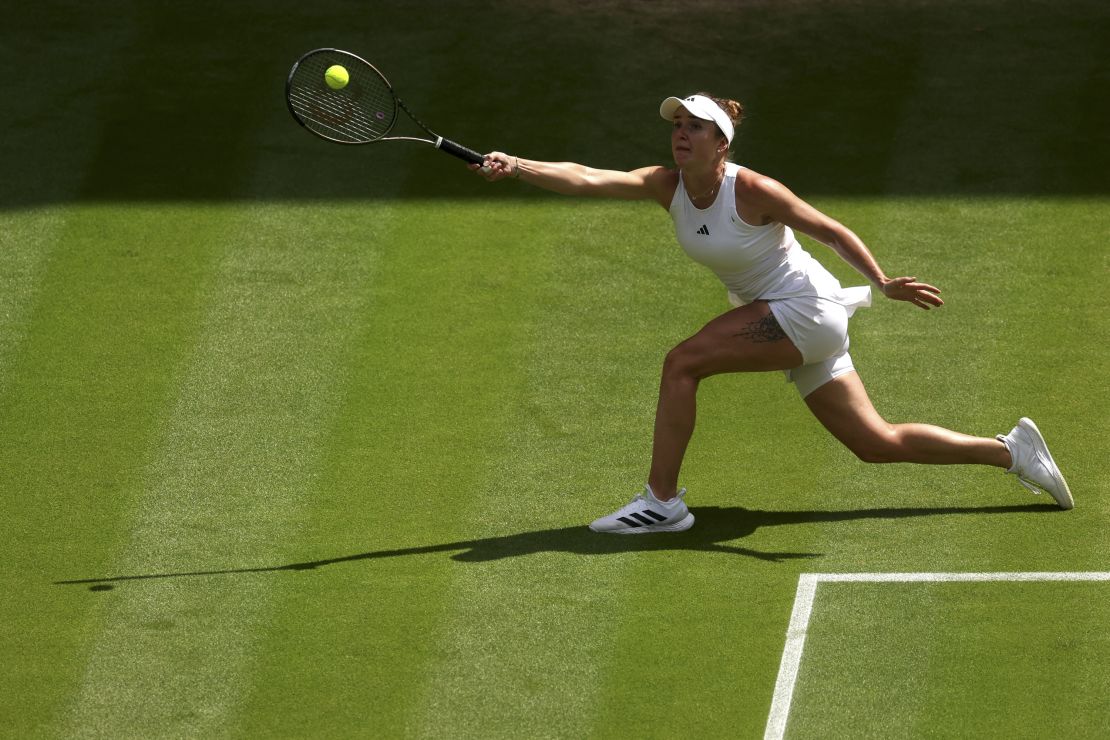 Svitolina has declined to shake hands with Russian and Belarusian opponents after matches while the war is ongoing and has lauded the move by Wimbledon organizers to cover accommodation costs for Ukrainian players competing in this year's tournament.
Russian and Belarusian players were banned from Wimbledon last year but are able to compete as neutral athletes this time around. On Tuesday, Russian player Andrey Rublev said that he had felt "really great" support from the crowd during his return this year.
"To be from the country where I am, to have this support, it's special," he told reporters after his defeat against Novak Djokovic in the quarterfinals of the men's draw. "I don't know, I feel sometimes I don't deserve it or something like that. I don't know what you need to do to have this support. I'm really grateful for this."