Novak Djokovic has urged Wimbledon organizers to start matches earlier on Centre Court to avoid play being stopped by the tournament's curfew.
Unlike other grand slams, play at The All England Lawn Tennis Club (AELTC) is capped to finish at a certain time.
The outside courts stop play when light becomes an issue but on the tournament's show courts, such as Centre Court – which is fitted with a retractable roof and LED lights – action could theoretically continue all night.
However, since 2009, play is stopped on Wimbledon's show courts at 11 p.m. local time (6 p.m. ET) with matches resuming the following day.
The 23-time grand slam champion Djokovic plays the majority of matches on Centre Court – with matches starting at 1.30 p.m local time – but says the curfew throws up issues for players.
Djokovic's fourth-round match against Hubert Hurkacz started late on Sunday and had to be finished on Monday, a change in the schedule which only adds to the stress, according to the 36-year-old Serbian.
"Obviously curfew is probably something that is much more difficult to change, I understand, because of the community and the residential area we are in," Djokovic told reporters on Monday.
"I think the matches could be pushed at least to start at 12:00. I think it would make a difference."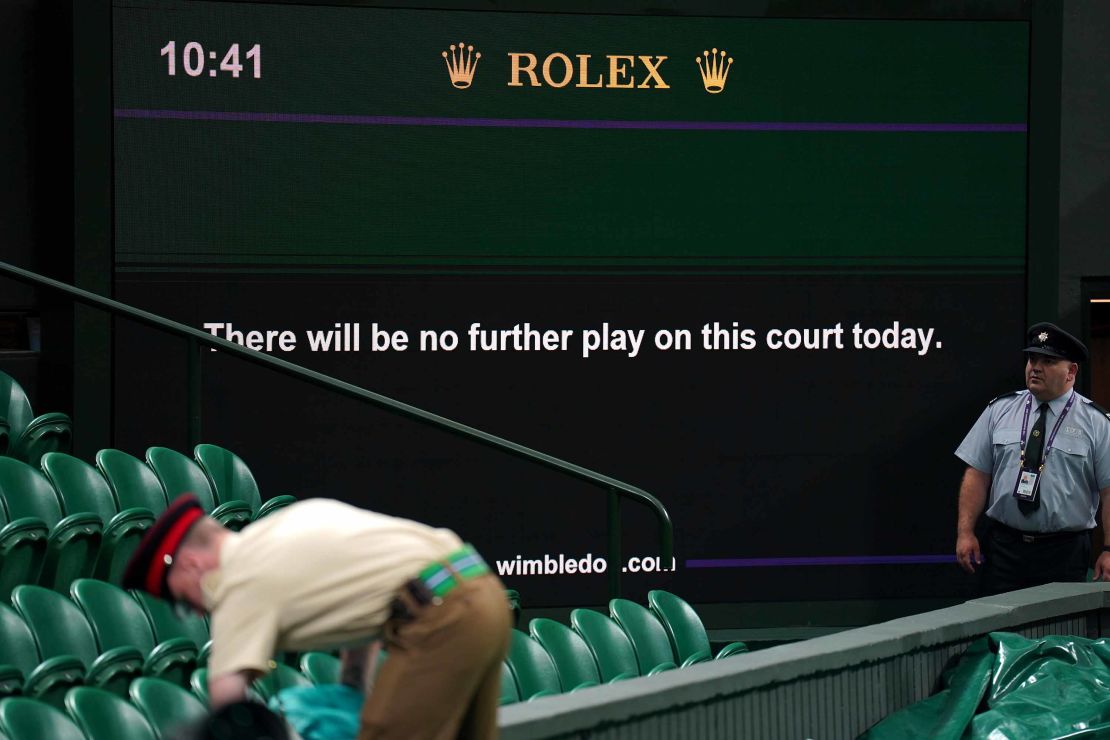 Djokovic also came close to having his third-round match against Stan Wawrinka halted by the curfew last week but, despite the game starting at close to 9 p.m, the reigning champion was able to win in three sets.
While the world No. 2 says he understands Wimbledon's desire to respect tradition, he says the curfew causes uncertainty for players.
Notably, against both Hurkacz and Wawrinka, Djokovic says he started warming up at 1 p.m but had to wait around for seven hours before stepping out on court.
"That's a lot. You never know what's going to happen," he said.
"It's tricky, especially if there are a lot of players and a lot of stuff, members of the respective players' teams, and they all occupy spaces for rest. It's not easy to find a corner where you can just be by yourself."
In a statement sent to CNN on Tuesday, the AELTC said: "We have traditionally begun play early in the afternoon on Centre and No.1 Courts with the aim of having those courts as full as possible for when the players walk on court. This is a key point of difference at Wimbledon compared to other tournaments.
"We know that a 'day out at Wimbledon' is the whole experience, an opportunity to walk around the Grounds and view some tennis on the outside courts, indulge in a picnic or some strawberries and cream, and then settle in to enjoy the scheduled matches on Centre and No.1 Courts.
"There are many operational considerations which need to be taken into account when preparing the Grounds and Courts for play and all of this will be considered as part of our post-Championships review, as it is every year."
Djokovic will not have to worry about the curfew for his quarterfinal match against Russia's Andrey Rublev on Tuesday as the Serbian is scheduled to play second on Centre Court after Elina Svitolina takes on Iga Świątek.
Djokovic is bidding for a record-equaling eighth Wimbledon men's title and his fifth in a row.