Editor's Note: A version of this article originally appeared in the weekly weather newsletter, the CNN Weather Brief, which is released every Monday. You can sign up here to receive them every week and during significant storms.
A dire and potentially catastrophic situation is unfolding across parts of New England and New York, where continuous rounds of heavy rain parked over the region are triggering flash flooding of epic proportions.
This system has already proven impressive and deadly. Nearly 8 inches of rain fell in just six hours in Orange County, New York, on Sunday at the US Military Academy at West Point. That was a 1-in-1,000-year rainfall event for the location – one that is so intense, it usually only occurs once every 1,000 years.
The surge of floodwaters there swept away and killed a woman Sunday night and forced dozens of high water rescues.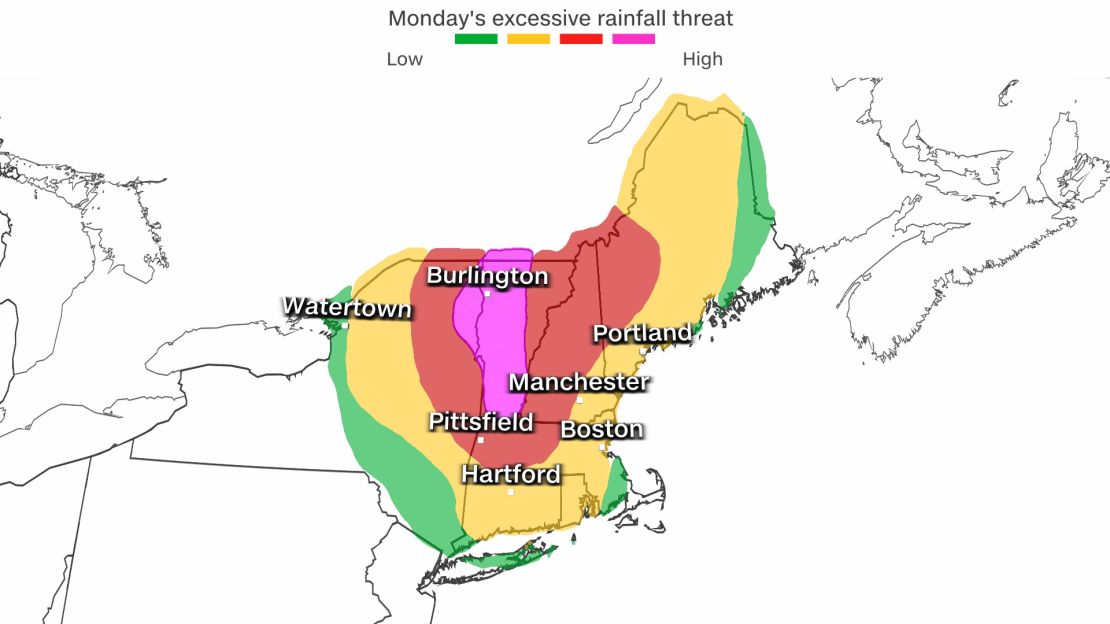 More devastating scenes were already unfolding Monday morning in Vermont, where the Weather Prediction Center issued a rare Level 4 out of 4 "high risk" of excessive rainfall. It's the first time a high risk has been issued for the area, according to the WPC.
It's hard to overstate how big of a deal these high risks are. They are issued on fewer than 4% of days per year on average, but are responsible for 83% of all flood-related damage and 39% of all flood-related deaths, research from the WPC shows.
So seeing one is a sign that destructive and deadly flooding is likely. That's exactly what the National Weather Service in Burlington, Vermont, warned of Monday, calling for "potentially catastrophic widespread flash flooding … with possible impacts not seen since (Hurricane) Irene."
That's a hefty comparison. Irene damaged or destroyed 800 homes and businesses, nearly 2,400 roads and 300 bridges with its catastrophic rainfall over the state in 2011, but that's exactly the kind of destruction high risk days warn of.
While Vermont is where the greatest risk of flooding exists, all of New England is at risk of excessive rainfall.
Rainfall rates as high as 2 inches per hour are forecast and could cause rainfall totals as high as 8 inches through Monday in locations where storms begin to train – meaning they roll over the same location for long periods of time.
A more widespread amount of up to 4 inches of rain will be common throughout New England.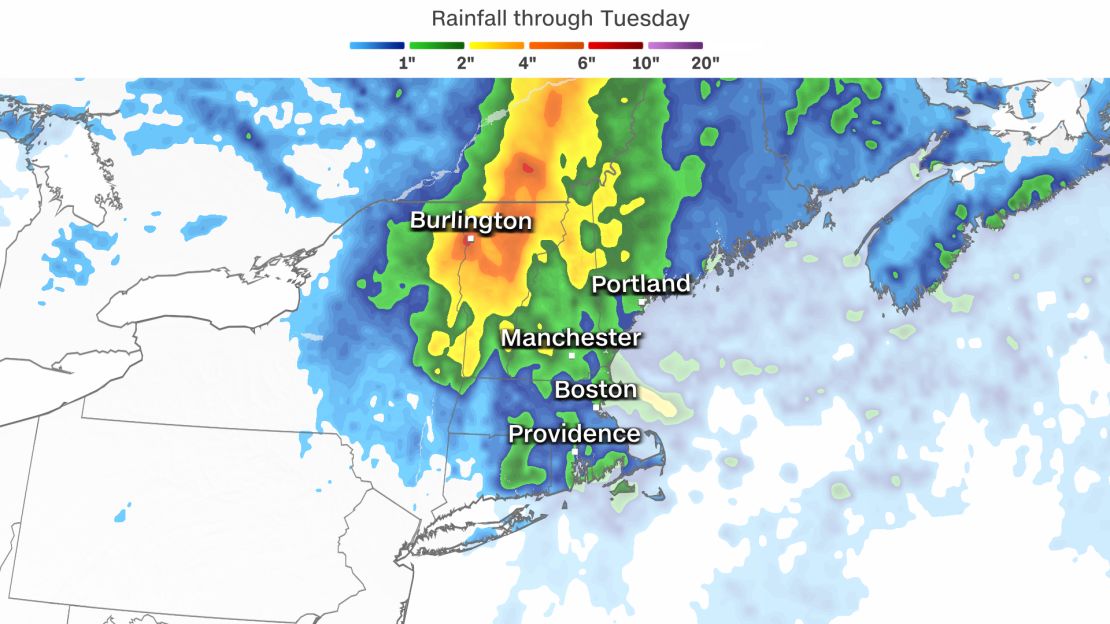 All of the rain must go somewhere, but the ground is already wet, and the hilly, mountainous terrain has less surface area for rain to soak into the soil. The steep inclines could send it rushing down into streams and rivers, which can rise quickly with little warning and then overwhelm any flood protection.
The worst of the rain should stop by Tuesday, but more is possible across some of these same parts of New England later in the week, so this flood situation is something this region will be dealing with for days to come.