A Brooklyn man has been arrested and charged with murder after allegedly shooting four people from a scooter in New York City Saturday, killing one and injuring three others.
Thomas Abreu, 25, was arrested and faces several charges including murder, two counts of attempted murder and six counts of criminal possession of a weapon, according to a statement sent to CNN from the New York Police Department Sunday afternoon.
One person died and three others were wounded Saturday in the rampage in Brooklyn and Queens, which police described as "random" in nature.
A gunman riding an illegal scooter without a license plate opened fire at five different locations in Jamaica, a neighborhood in the Queens borough, and in Brooklyn, according to the NYPD.
One of the victims from Saturday's shooting was identified as Hamoo Saeidi, 86, from Queens. Saeidi was standing in front of a nail salon in Queens when police say Abreu fired a single shot towards the elderly man, striking him in the back. Police previously reported that the victim shot in front of the nail salon in Queens was 87-years-old.
The NYPD also determined that Abreu was involved in a previously unreported sixth shooting incident in Queens where he allegedly approached a 40-year-old man standing at the intersection of Jamaica Avenue and 131 Street and shot towards him before fleeing the area. The victim did not sustain any injuries, according to police.
Abreu is currently facing charges related to three of the shootings incidents at this time, but the district attorney's office will determine if he faces any additional charges in the other three incidents, an NYPD spokesperson told CNN Sunday. The Queens District Attorney's Office told CNN that Abreu does not currently have an attorney and won't be appointed one until his arraignment Monday.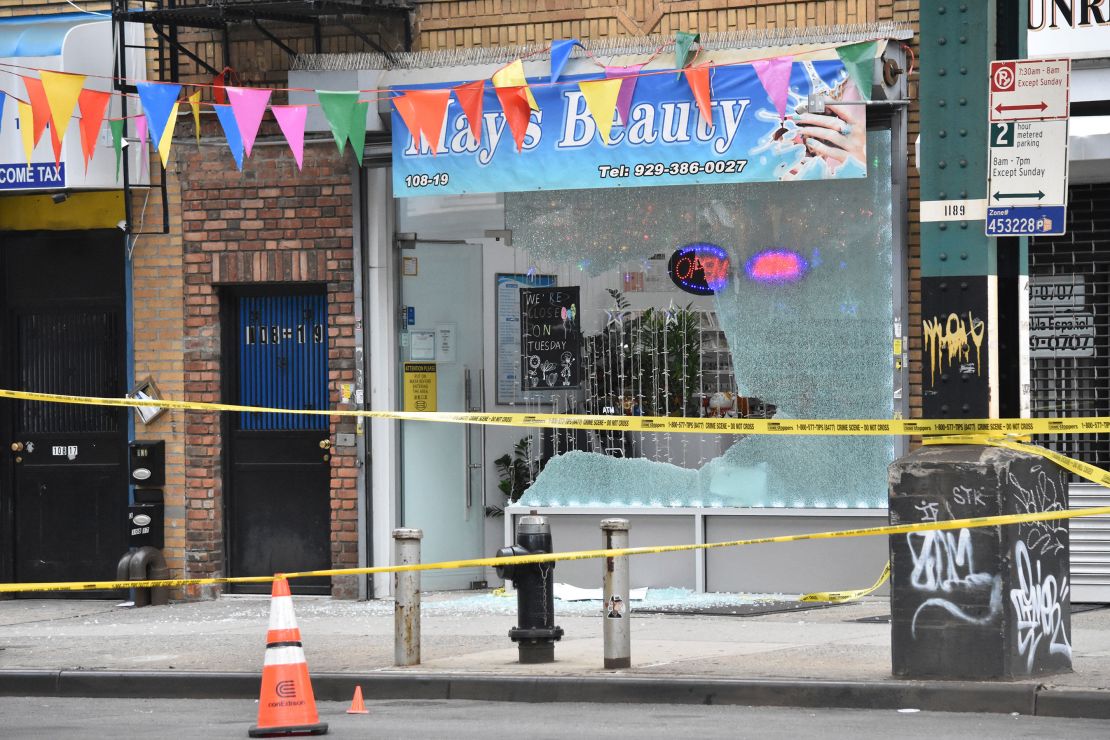 NYPD previously announced that a 25-year-old suspect had been taken into custody and found with a 9 mm pistol and an extended magazine Saturday afternoon.
"We don't know the motive. It seems that this is actually random," said Joseph Kenny, the assistant chief in the NYPD's Detective Bureau. "At this time, video shows that he's not targeting anybody, he's not following anybody. As he's driving on his scooter, he's randomly shooting people."
Police said all victims were men.
The five shootings unfolded over about a half an hour and began around 11:10 a.m. in Brooklyn, Kenny said at the Saturday news conference. A 21-year-old man was shot once in the left shoulder, he said.
He was transported to a hospital and is expected to survive. Authorities found a 9-millimeter shell casing at the scene, Kenny said.
After the first shooting, detectives accessed video that showed the suspect approaching the victim from behind on a scooter and firing one shot, police said.
Seventeen minutes later – at 11:27 a.m. – police say the same suspect fired a gun at 86-year-old Saeidi in Queens.
Saeidi, who was shot once in the back, died after being taken to a hospital, Kenny said.
When officers arrived at the scene, they learned of another shooting incident in which no one was struck by gunfire. But numerous witnesses reported seeing a man riding a scooter "randomly firing at a group of people," Kenny said.
The fourth shooting happened at 11:35 a.m. when a 44-year-old man was shot in the cheek, Kenny said. The man was hospitalized and is in critical condition.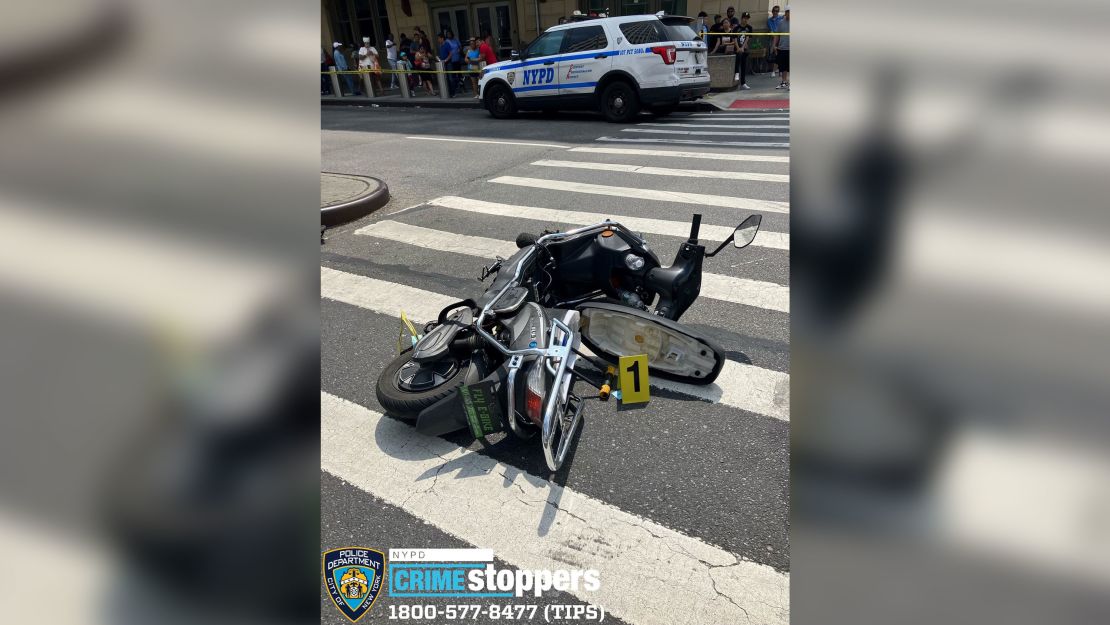 Less than a minute later, the suspect shot a 63-year-old man in his right shoulder, Kenny said. The victim was hospitalized and is in stable condition, police said.
Police said the gunman used the same weapon in all the shooting incidents. The suspect had one prior arrest in New York City, according to Kenny.
NYPD Acting Commissioner Edward Caban said officers were able to find and arrest the suspect by quickly distributing an image of him to all nearby NYPD officers, asking them to be on the lookout for the shooter.
Authorities say they have not found a serial number on the gun and are investigating whether the firearm was defaced or might be a ghost gun.
In addition to the weapon possibly being illegal, extended magazines are also against the law in New York.
New York City has grappled with crime spikes since the pandemic. NYPD statistics from last year showed a 42.7% rise in major crimes through April 2022 compared to the same period in 2021, CNN previously reported. Data shows murder rates were up by 9.2% over the two-year period.
CNN's Alaa Elassar, Zenebou Sylla, and Zoe Sottile contributed to this report.