Ukraine deserves to have NATO membership, Turkish President Recep Tayyip Erdogan said, following talks with Ukrainian President Volodymyr Zelensky that Russia said it was closely watching.
Zelensky spent this week visiting NATO countries, courting support ahead of a NATO summit in Lithuania next week where members are expected to reaffirm that Ukraine will eventually join.
"Without a doubt, Ukraine deserves to be in NATO," Erdogan said.
Zelensky said he was "happy to hear" that Turkey supports Ukraine's bid to join during a joint press conference.
While visiting the Czech Republic this week Zelensky said that he needs "a clear signal that Ukraine will be in the alliance. Not that the door is open for us, which is not enough, but that Ukraine will be in it," he said Thursday.
NATO has an open-door policy, meaning that any country can be invited to join if it expresses an interest, as long as it is able and willing to uphold the principles of the alliance's founding treaty. However, under the accession rules, any member state can veto a new country from joining.
Some allies, particularly those in Eastern Europe who are located closer to Ukraine and Russia, have advocated for a more concrete path for Kyiv to join the defensive alliance once the war ends.
Other officials have argued an expediting Ukraine's NATO membership could be too provocative and that it could amount to an extremely risky gamble for the alliance even if there is an end to the fighting, particularly if Russia still claims Ukrainian territory.
Turkey dropped its objections to Finland joining NATO earlier this year but continues to block Sweden's entry.
'Frozen conflicts'
Since Russia launched its invasion of Ukraine in February 2022, Erdogan has emerged as a key powerbroker, playing a balancing act between the two sides.
He helped broker the Black Sea grain deal that unlocked millions of tons of wheat caught up in Russia's invasion of Ukraine, averting a global hunger crisis.
The agreement is set to expire in ten days and Erdogan on Saturday signaled his support in it being extended, adding that Russian President Vladimir Putin would be visiting Turkey next month.
"Particularly on prisoner swaps, we've listened to Ukraine. We are also listening to Russia. I spoke to Mr. Putin," Erdogan said, "Next month we will be able to speak about it again when Mr. Putin has a Turkey visit. We will speak about it on the phone until then. The prisoner exchanges are high on our agenda as well. We hope there will be a solution on this issue as well."
Speaking alongside the Turkish president, Zelensky said the Black Sea should be an area of safety and not of "so-called frozen conflicts."
"It is very important that we start working with our partners to ensure that the existence of the grain corridor and, therefore, the lives of other people, as Mr. President [Erdogan] said, on other continents (including Africa and Asia), do not depend on the mood in which the President of the Russian Federation wakes up," Zelensky said Saturday.
It comes after the Kremlin said it would be closely watching the talks between Ukraine and Turkey.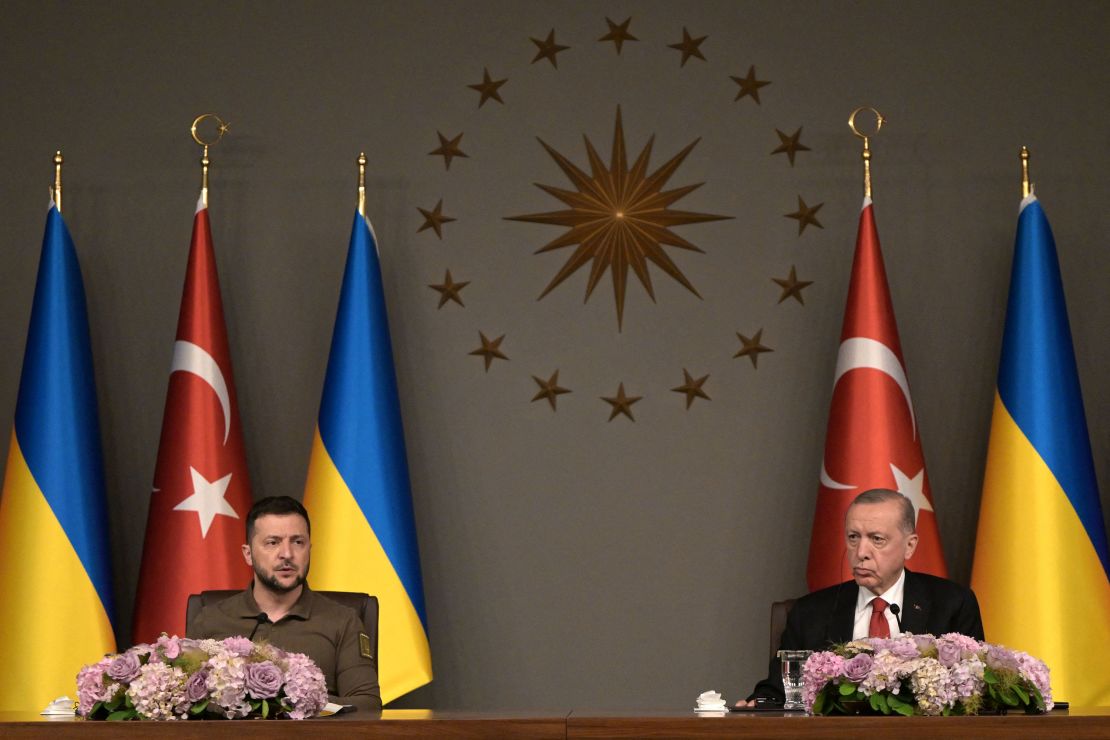 "Of course, we will follow the results of these negotiations very closely. We maintain our constructive, partnership relations with Ankara and value these relations, and we feel reciprocity from the Turkish side," Kremlin spokesman Dmitry Peskov said Friday. "It will be interesting for us to know what will be discussed between Mr. Erdogan and Mr. Zelensky. It is important."
Peskov went on to complement Erdogan for acting as an intermediary between Moscow and Kyiv, saying Putin and Erdogan communicate regularly.