Just Stop Oil activists disrupted two matches at Wimbledon on Wednesday after running onto Court 18 and sprinkling orange confetti and jigsaw puzzle pieces on the playing surface.
In the first incident, security was able to quickly usher one activist away while another, wearing a Just Stop Oil T-shirt, sat crossed legged on the court before finally being taken off.
Many in the crowd booed the activists as players Grigor Dimitrov and Sho Shimabukuro were forced to take their seats while ground staff cleared up the confetti.
"Following an incident on Court 18, two individuals have been arrested on suspicion of aggravated trespass and criminal damage and these individuals have now been removed from the Grounds," Wimbledon tweeted after the incident.
Shortly after the activists ran onto the court, a rain delay caused the match to be temporarily suspended for a short while but play shortly resumed.
However, during the next match between Katie Boulter and Daria Saville on the same court, another activist staged a similar protest, running onto the court and littering it with orange confetti and puzzle pieces.
Wimbledon again tweeted an update: "Following a further incident on Court 18, one individual has been arrested on suspicion of aggravated trespass and criminal damage."
The London Metropolitan police confirmed that two men and a woman are now in custody.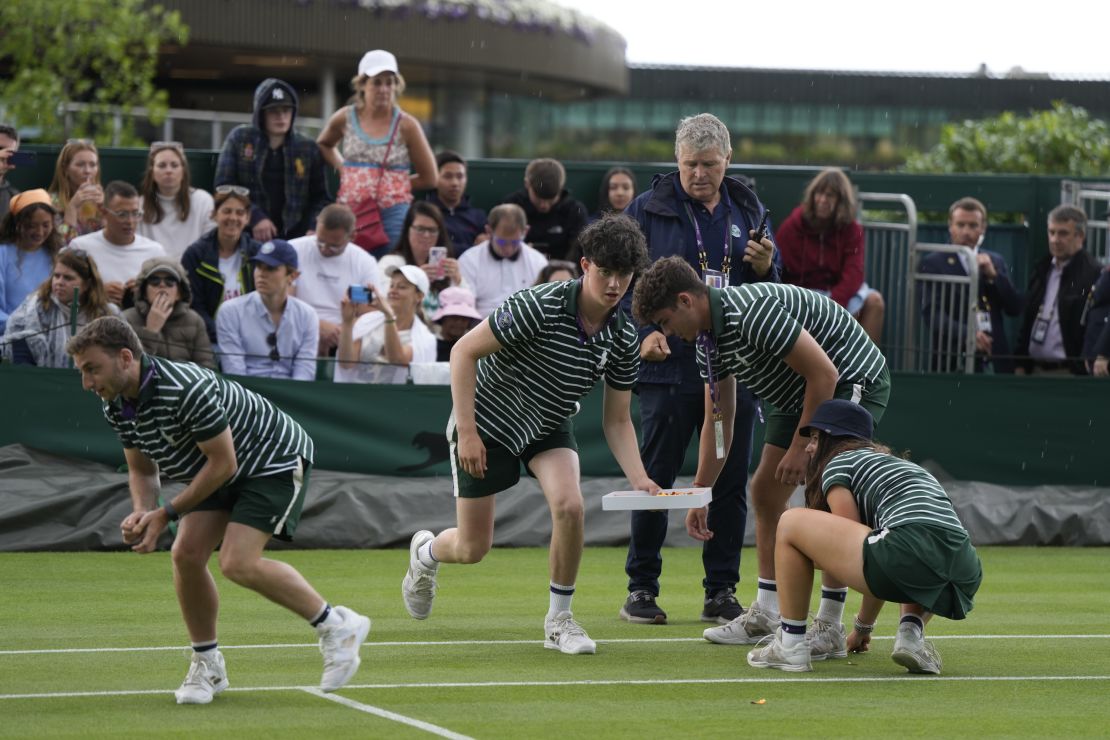 Wimbledon is the latest sporting event to be targeted by the group. Last week, activists disrupted the first day of the second Ashes Test after spilling orange powder onto the outfield at Lord's Cricket Ground.
Protesters also interrupted the World Snooker Championships by climbing onto the table and throwing a bag of orange powder paint over the playing surface.
In a statement after the first protest, Just Stop Oil said the two activists at Wimbledon were "demanding that the UK government halts all new licences and consents for oil, gas and coal."
In a statement published by Just Stop Oil, one of the protesters said: "Forget strawberries and cream, scientists are warning of impending food shortages, mass displacement and war.
"We are facing new pandemics, economic inflation and increasingly authoritarian governments who will attempt to crush civil unrest. This is a crisis and it needs a crisis response.
"I want a safe future, not just for my grandchildren but for all children around the world and the generations to come."