Australia is set to become the first country in the world to legalize clinical prescribing of MDMA, better known as ecstasy, and psilocybin — the main psychoactive ingredient in magic mushrooms — for certain mental health disorders.
Starting July 1, authorized psychiatrists will be able to prescribe MDMA for the treatment of post-traumatic stress disorder and psilocybin for treatment-resistant depression, according to a February news release. Both drugs are otherwise illegal in Australia.
"Psilocybin and MDMA are relatively safe when used in a medically controlled setting under the supervision of appropriately trained healthcare professionals and in the dosages that have been studied in clinical trials," said Australia's Therapeutic Goods Administration, or TGA, when announcing the move.
However, some psychiatrists and researchers are concerned that the move may be premature, given that the drugs in question are still being tested in clinical trials and haven't been formally approved for the treatment of any mental health disorders by the US Food and Drug Administration for clinical use.
"It is early compared to the usual process of developing and rolling out new treatments," said clinical psychiatrist Dr. Colleen Loo, a professor of psychiatry at the University of New South Wales and the Black Dog Institute in Sydney.
"The main issue is that the public understand this, and don't think that the TGA making these drugs available means that the level of evidence of efficacy and safety is comparable to that usually required for new treatments, before they are approved for clinical use," said Loo, who was part of a steering committee of The Royal Australian and New Zealand College of Psychiatrists, RANZCP, that drafted guidance on how the treatment should be approached and monitored.
"Done responsibly, e.g. observing the guidance of the RANZCP, it could mean that some people access a useful treatment. Done without due caution, oversight and monitoring, including by the regulatory authorities, it could mean more harm than good," she said via email.
Australia may be the first country to regulate the therapeutic use of MDMA and psilocybin, but it isn't alone in ushering in a new era of psychedelic medicine.
The Oregon Health Authority announced in May that it had licensed the first psilocybin service provider in the state after it had become in 2020 the first US state to legalize psilocybin for personal use for those age 21 and above. In October 2022, Alberta became the first jurisdiction in Canada to regulate the use of psychedelic drugs.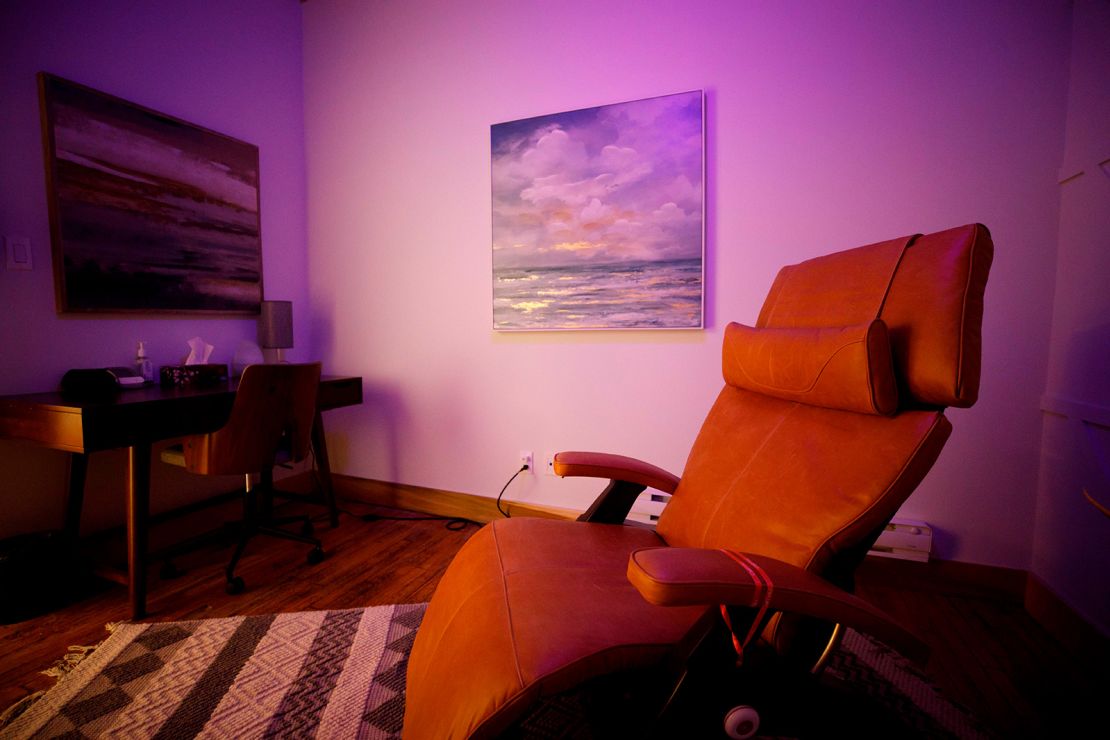 The promise of psychedelics
Advocates hope that psychedelic drugs such as MDMA, psilocybin and ketamine may be able to treat a wide range of mental health conditions including addictions, cancer-related anxiety and anorexia, as well as PTSD and treatment-resistant depression.
"Patients are desperate for something new. (These drugs) represent a new way of treating things or a kind of paradigm shift in psychiatry really," said Celia Morgan, a professor of psychopharmacology at the University of Exeter in the United Kingdom. Her research focuses on the potential of MDMA and the psychedelic drug ketamine to treat people with alcohol addiction. Ketamine is used as an anesthetic in hospital settings and, more recently, research has found it improves symptoms of treatment-resistant depression, as previously reported by CNN.
The exact neurobiological mechanism by which psychedelic drugs improve certain mental health conditions isn't fully understood, but it's thought to affect the plasticity of the brain and prime it for new learning, Morgan explained.
The research that has advanced the farthest is the clinical testing of MDMA's effectiveness as a therapeutic drug in human study participants with severe post-traumatic stress disorder.
The 2021 findings of a phase 3 trial showed that MDMA may be a "potential breakthrough treatment" for the disorder.
For psilocybin and treatment-resistant forms of depression, a 2022 study published in The New England Journal of Medicine that involved 233 participants found that a dose of 25 milligrams of a synthetic version of psilocybin reduced depression scores over a period of three weeks. However, the researchers found that the effects wore off after about three months.
James Rucker, a senior clinical lecturer in psychopharmacology at the Institute of Psychiatry, Psychology & Neuroscience at King's College London who was a coauthor of the the NEJM study, said that Australia was "jumping the gun."
"Why are you making an exception for these drugs, particularly when we know they have powerful psychoactive effects?" he asked. "You're not making the exception for any other drugs.
"There certainly have been cases where it's transformed people's lives. But it's unpredictable."
Morgan agreed, saying that some of the hype surrounding psychedelics was counterproductive and clinicians needed to be careful not to oversell the benefits of psychedelics.
"They don't work for everyone, and some people might find some benefit but then relapse," Morgan said.
"I think it sets up these really high expectations for people who are struggling with mental health conditions where hopelessness, new feelings of failure, then this can just be like another thing that they failed. So we really have to be careful how we talk about them as clinicians."
Rucker said he feared that the hype surrounding the success of early trials could feed through into later trial results in a "positive feedback cycle of hype."
How do psychedelics work?
Loo, the clinical psychiatrist at the University of New South Wales, stressed that the effectiveness of psychedelic drugs wasn't because of the neurobiological effects of the drugs alone but the context in which the drugs were delivered.
In trials, participants typically work closely with a psychiatrist before, during, and after taking MDMA or psilocybin, and it's thought that it's these "complex synergistic effects" from combining psychotherapy with psychedelics that are important for a beneficial outcome.
"The exact nature of this synergistic relationship is not known," she said. "The brain is such a complex organ, and factors like personality, social circumstances, genetic and biological predisposition all add to the complexity of why people get mental health problems."
Under the new government regulations in Australia, psychedelic treatment will still be kept on a leash. The drugs must be prescribed by a psychiatrist who has first obtained approval from a research ethics committee and then obtained formal approval as an "authorised prescriber" from the Therapeutic Goods Administration, Loo noted.
However, she said that the new regulations left "a lot to be decided about how people are assessed or screened for the treatment, how the treatment is given and monitored."
Rucker said he worried that for-profit clinics could try and cash in, potentially putting people with mental health problems at risk.
He said that psychedelic drugs resulted in "powerful altered states of consciousness that can be intensely therapeutic, but also intensely destabilizing.
"If you have a regulated, insured, safe context, and a good psychotherapeutic relationship, and yes, there's the potential for great benefit there."
However, Rucker stressed that psychedelic drugs were not "a chemical switch to make everything seem fine. It's tempting to think that this can be a quick fix for your problems, and it's exactly the opposite."