For Nancy Johnson, Windsor Park was like a dream when she first moved to a new home in the historically Black North Las Vegas neighborhood in 1976. But within a few years, the cracks began to show – and homes started to sink.
"The homes, the streets started cracking, the driveways," said Johnson, a 67-year-old mother and former blackjack dealer. "I'm legally blind and I could tell that when I hung up the curtains that they were leaning."
Johnson is one of dozens of residents who have lived in homes sinking under their feet for decades while seeking the city's help to improve the area or relocate.
"No one should have to feel like they live in the gutter," Johnson said.
Their fight may come to an end soon. Earlier this month, Nevada Gov. Joe Lombardo signed a law that would allocate $37 million to develop new homes near Windsor Park.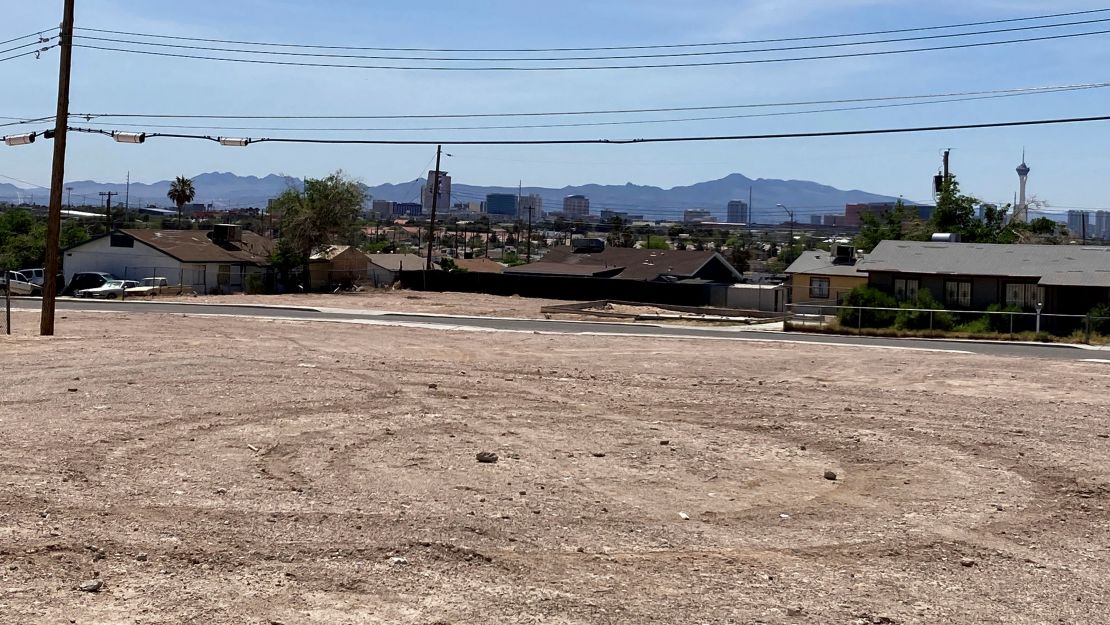 The law goes into effect on July 1 and will set in motion a process to relocate residents that could take about a year to complete, according to state Sen. Dina Neal, a Democrat who represents Windsor Park and who sponsored the legislation.
Nevada's housing division will hire a developer to build new homes on vacant land adjacent to Windsor Park that has been studied to ensure it won't subside, and residents would exchange their current home for a new one of at least the same amount of square footage, the law states.
Authorities will cover moving expenses and residents or their descendants will receive $50,000 or $10,000 in restitution, based on whether their families still live in the neighborhood, according to the law.
"Despite the Governor's continued concerns about the feasibility and implications of the legislation itself, he believes it's important to support the residents of Windsor Park and give the program a chance to succeed," said Elizabeth Ray, a spokesperson for the governor's office in a statement to CNN.
A neighborhood crumbling
Built in the 1960s, Windsor Park was originally comprised of 241 homes and considered a segregated neighborhood.
Neal said the neighborhood was built to be a place where Black people "could be proud and have homes to pass down to their families."
Johnson, who arrived in the 70s as a 21-year-old with a newborn baby, described how neighbors took care of each other, had picnics together, held Easter egg hunts for their children.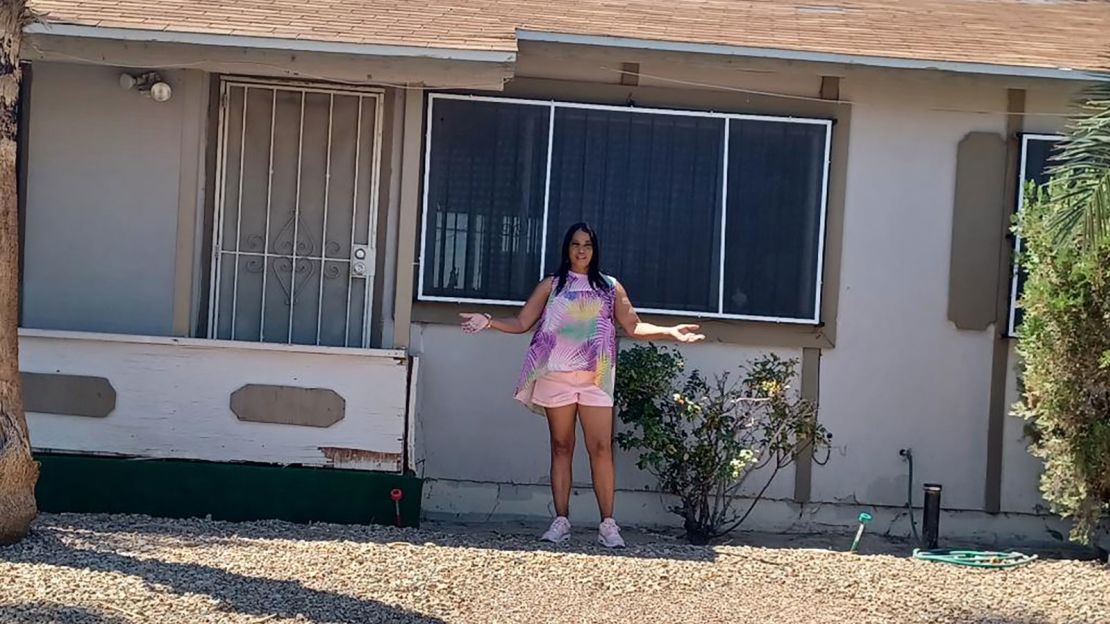 But in the late 80s, Windsor Park began to crumble.
Johnson and other residents told CNN that porches collapsed, sewage pipes shifted and walls inside their homes started to crack.
A study was conducted after residents told authorities in 1988 that their homes were sinking, Neal said. The study found the damage was caused by geological fault lines beneath Windsor Park and exacerbated when groundwater was pulled from an aquifer under the neighborhood.
In the years after the study was conducted, federal, state and local authorities allocated funds to help the neighborhood, allowing some residents to relocate. Four homes were rehabilitated, some residents received $50,000 or $100,000 grants to move elsewhere in the city, and others moved to 45 new homes in a nearby area, according to the new law.
But at least 90 residents, including Johnson, remained – either because they were not able to find homes or chose to stay.
"I didn't want to start over. I bought my home at the age of 21," said Johnson, who did not receive the grants or have her home rehabilitated. "I always told myself, 'When you turn 51 you'll be done with a mortgage.' I didn't want to go and start all over."
'We have been forgotten by the city'
Windsor Park's condition further deteriorated as time passed.
An ordinance that went into effect in 1998 suspended permits for new buildings or existing buildings in the neighborhood. It stopped residents from making repairs while many experienced flooding, damaged plumbing systems, and cracks wide enough to allow rodents to come inside, Neal said. And residents told CNN the city stopped maintaining the abandoned lots.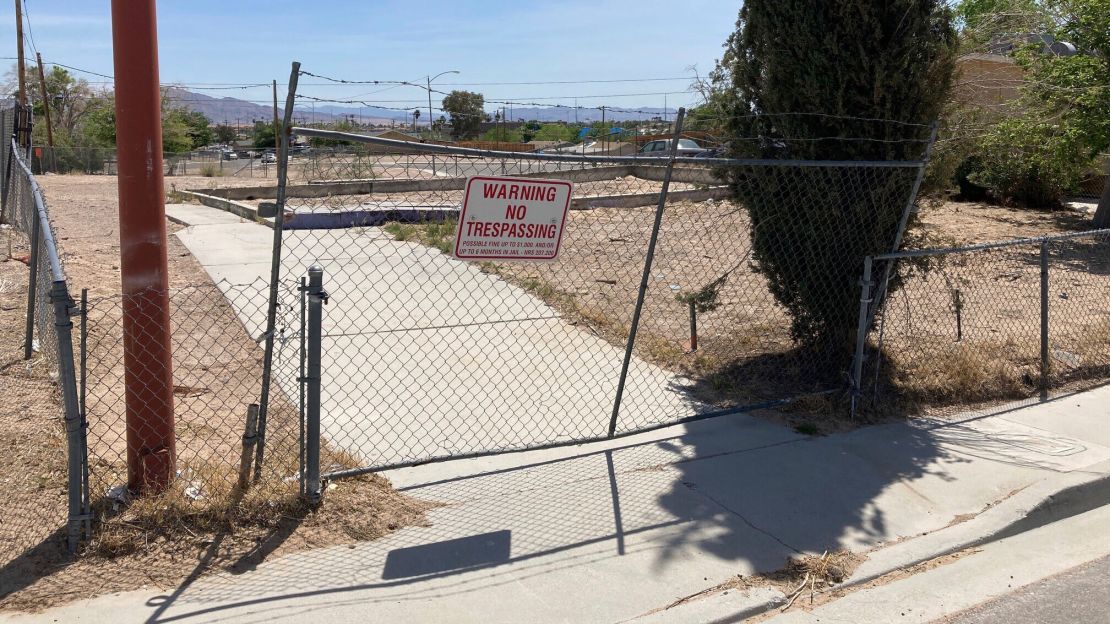 There are vast plots of land between homes littered with trash and fallen trees, some homes have cracked driveways and walls have been patched up with wood, a 2021 documentary produced by the University of Nevada, Las Vegas film school shows.
"There are homes around here that you can actually look at it, wondering when it's going to fall over," Johnson said.
"We have been forgotten by the city up here," said Myrtle Wilson, an 80-year-old who is one of the original homeowners.
Wilson, who raised three children in the neighborhood, said she's worried about new families who recently moved to Windsor Park and are unaware of the issues that homeowners face.
"They're not revealing to them the problem that we're having here," Wilson said. "These people think they've got a forever home, and that's not true."
One resident, Eli Valdez, who bought his home in 2019, said in a Nevada Senate committee hearing in April that he was shocked to learn of the issues and had recently noticed cracks around his home.
After decades of disrepair, residents like Johnson and Wilson said they are prepared to leave their homes and start fresh elsewhere. While they are hopeful, they will not consider their fight over until they are relocated.
"We'll know for sure that we have won – this is just the beginning of the process – once we actually move. Then we'll know we have won," Wilson said.