The international investigation into the fatal Titan submersible implosion broadened on Saturday, with the Royal Canadian Mounted Police saying it's looking into whether "criminal, federal, or provincial laws may possibly have been broken."
The announcement comes amid mounting questions about the Titan's design, including the account of a submersible expert who said he warned the vessel's CEO about safety concerns after a trip years ago.
When Karl Stanley was aboard the Titan for an underseas excursion off the coast of the Bahamas in April 2019, he felt there was something wrong with the vessel when loud noises were heard.
The day after his trip, Stanley sent an email to Stockton Rush, the CEO of the vessel's operator OceanGate Expeditions, sounding the alarm on suspected defects.
"What we heard, in my opinion … sounded like a flaw/defect in one area being acted on by the tremendous pressures and being crushed/damaged," Stanley wrote in the email, a copy of which has been obtained by CNN.
"From the intensity of the sounds, the fact that they never totally stopped at depth, and the fact that there were sounds at about 300 feet that indicated a relaxing of stored energy /would indicate that there is an area of the hull that is breaking down/ getting spongy," Stanley continued.
'There's no suspicion of criminal activity per se'
The Titan imploded Sunday while on its way to the iconic Titanic wreck, killing all five passengers on board, authorities said. Military experts found debris consistent with the loss of the small vessel's pressure chamber, US Coast Guard Rear Adm. John Mauger said.
Those killed were Rush; British businessman Hamish Harding; French diver Paul-Henri Nargeolet; and Pakistani-born businessman Shahzada Dawood and his son, Suleman, who were British citizens.
The implosion is currently under investigation by the Transportation Safety Board of Canada and US Coast Guard.
The Royal Canadian Mounted Police has initiated an "examination of the circumstances that led to the deaths" to answer the "question of whether or not a full investigation … is warranted," RCMP Superintendent Kent Osmond said at a Saturday press briefing.
"Such an investigation will proceed only if our examination of circumstances indicate criminal federal or provincial laws may possibly have been broken," Osmond said. "There's no suspicion of criminal activity per se, but the RCMP is taking initial steps to assess whether or not we will go down that road."
Osmond spoke to reporters after RCMP investigators met the Polar Prince, the ship that launched the ill-fated submersible, when it arrived in St. John's, Newfoundland, Saturday morning. They conducted some interviews with those on the vessel.
"Our mandate is to look at the deaths and determine if anything contributed to their deaths that may lead us down a criminal path," he said.
Osmond said the complex investigation "is a very unique circumstance" given "the jurisdictional issues," the "prolonged uncertainty" of the search and rescue effort, and "the specifics and the expertise that went into the vessel, the voyage."
"All that needs to be understood by us," he said.
The transportation board's mission is to "advance transportation safety," not to assign blame, Kathy Fox, chair of the Transportation Safety Board of Canada, said Saturday at an earlier press briefing.
"Our mandate is to find out what happened and why and to find out what needs to change to reduce the chance or the risk of such occurrences in the future," Fox said.
Fox said investigators on Saturday also boarded the Polar Prince. They examined the vessel, collected information from the voyage data recorder and other systems, and began interviews with those on board, including family members of those who perished in the submersible.
"I think anybody can imagine that it's difficult, the circumstances they have been under for the last few days," Fox said. "And we have to understand that, that's going to affect particularly the families who have lost loved ones."
OceanGate co-founder Guillermo Sohnlein urged people not to rush judgment over the implosion.
"There are teams on site that are still going to be collecting data for the next few days, weeks, maybe months, and it's going to be a long time before we know exactly what happened down there," Sohnlein told CNN on Friday. "So I would encourage us to hold off on speculation until we have more data to go on."
In his 2019 email, Stanley asked Rush whether he would consider taking people to see the Titanic without knowing the origins of the clatters. OceanGate offered rides on Titan to passengers wanting the opportunity to view the famous wreckage.
"A useful thought exercise here would be to imagine the removal of the variables of the investors, the eager mission scientists, your team hungry for success, the press releases already announcing this summer's dive schedule," Stanley wrote.
"Imagine this project was self-funded and on your own schedule. Would you consider taking dozens of other people to the Titanic before you truly knew the source of those sounds ??" Stanley asked Rush in the email.
When asked for comment about Stanley's email, a spokesman for OceanGate told CNN they were unable to provide any additional information at this time.
Stanley told CNN's Anderson Cooper on Friday that although Rush did not respond to him in writing, Rush likely rebuilt the vessel using the same material Boeing uses to build their planes.
"He canceled that year's dives and took that carbon fiber and cut it up, found the defects and made a new one at the cost, I believe, of well over $1 million," Stanley said.
Boeing said in a statement Wednesday it was not a partner in the construction of the Titan, despite a 2021 news release from OceanGate listing the aerospace company as a "partner" that provided "design and engineering support."
OceanGate told CNN it couldn't provide more information about its relationship with Boeing. CNN has reached out to OceanGate for further comment on the company's dives in 2019.
Asked whether he was confident in the submersible's capability to make the journey to the historic shipwreck, Stanley said he believed Rush took steps to correct the problem after the email.
"He never got into the nitty-gritty with me about exactly how many model tests he had done, exactly where they failed. But my impression was that he had done enough diligence that lives were not at risk," Stanley said.
'Baseless cries of, you are going to kill someone'
Stanley was not the only submersible expert to express his concerns.
A divemaster who has led multiple expeditions to the Titanic warned Rush in 2018 about the safety of the Titan submersible, telling the CEO he was putting himself and his clients in danger, according to emails obtained by CNN.
Rob McCallum, a divemaster and aircraft pilot who has led a range of expeditions with different clients, provided the emails to CNN.
McCallum is a member of the Marine Technology Society, a group of industry leaders in the submersible industry. McCallum also signed a 2018 letter from the group to Rush, expressing concern over what they said was the company's "experimental approach" of the Titan and its planned expedition to the site of the Titanic wreckage.
"As much as I appreciate entrepreneurship and innovation, you are potentially putting an entire industry at risk," McCallum wrote in March 2018. "I implore you to take every care in your testing and sea trials and to be very, very conservative."
Rush responded days later, saying his company's "engineering focused, innovative approach, flies in the face of the submersible orthodoxy, but that is the nature of innovation."
McCallum pressed Rush again, writing, "I have given everyone the same honest advice which is that until a sub is classed, tested and proven, it should not be used for commercial deep dive operations."
OceanGate told CNN Friday night they were unable to give any additional comments.
CNN previously reported that Rush canceled dives and cut up the Titan after finding defects and built a new submersible in 2019.
The emails between Stockton and McCallum become tense.
"I simply wanted to raise a flag as someone who is not a manufacturer nor a commercial competitor, that I think you are potentially placing yourself and your clients in a dangerous dynamic," McCallum wrote.
Again, Rush was dismissive, writing that he "heard the baseless cries of, you are going to kill someone, way too often."
In a later email, McCallum drew parallels between the Titan and the ill fated Titanic.
"Ironically, in your race to Titanic you are mirroring that famous catch cry, 'She is unsinkable.' Having dived the Titanic and having stood in a Coroners Court as a technical expert, it would be remiss of me not to bring this to your attention," he wrote.
It was clear Rush would not be swayed, McCallum told CNN's Kaitlin Collins Friday.
"As humans, we are remarkably intelligent creatures, we love to innovate, we love to advance technology but we're all subject to the laws of physics and many of these have been explored by engineers for centuries and we've learned valuable lessons along the way," McCallum said.
"And they must be adhered to because if they're not adhered to, there's a price to pay, and in this case, it was a very terrible price to pay."
Officials working to establish what happened
Now, investigators are left trying to figure out exactly how and when the implosion of the Titan occurred.
On Saturday morning, the Polar Prince, returned to St. John's, Canada, with its flags at half-mast.
The Atlantic Merlin, a vessel that was part of the search and rescue mission, also returned to St. John's on Saturday, as did the launch platform used to transport the submersible out to the North Atlantic.
Remotely operated vehicles will remain on the scene and continue to gather information from the sea floor, Mauger, the US Coast Guard Rear Adm, said Thursday.
The vehicles are working to map out the vessel's debris field, which is more than 2 miles deep in the North Atlantic, Mauger said.
A second mission of the Odysseus 6K ROV began late Friday morning to continue searching and mapping efforts, said Jeff Mahoney, spokesperson for Pelagic Research Services, a company that specializes in ocean expedition.
Any attempts to recover anything from the debris field will warrant a larger operation in tandem with Deep Energy, another company helping with the mission, because the debris will likely be too heavy for Pelagic's ROV to lift by itself, Mahoney told CNN. The recovery efforts would include using rigged cabling to pull up any debris.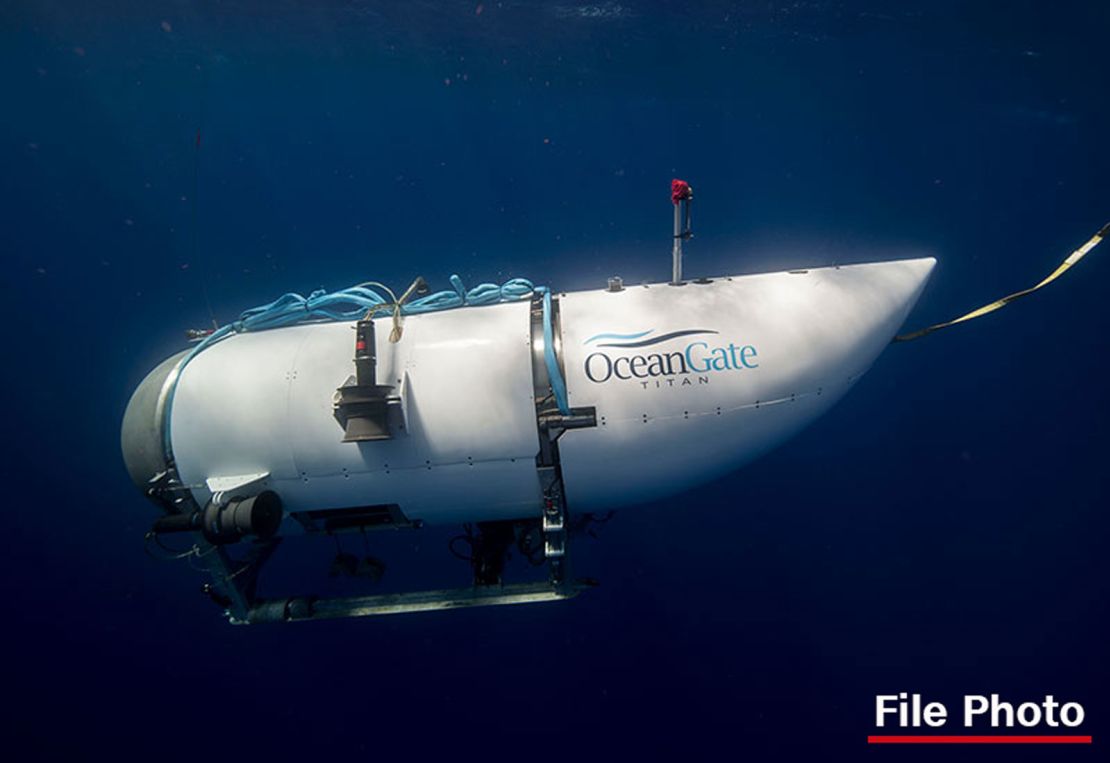 ROV missions are expected to continue for about another week, according to Mahoney.
Meanwhile, determining a specific timeline of events will take time because the case is "incredibly complex," Mauger explained. The Coast Guard will eventually have more information about what went wrong and its assessment of the emergency response, he noted.
"This is an incredibly difficult and dangerous environment to work in out there," Mauger said.
'That could've been us'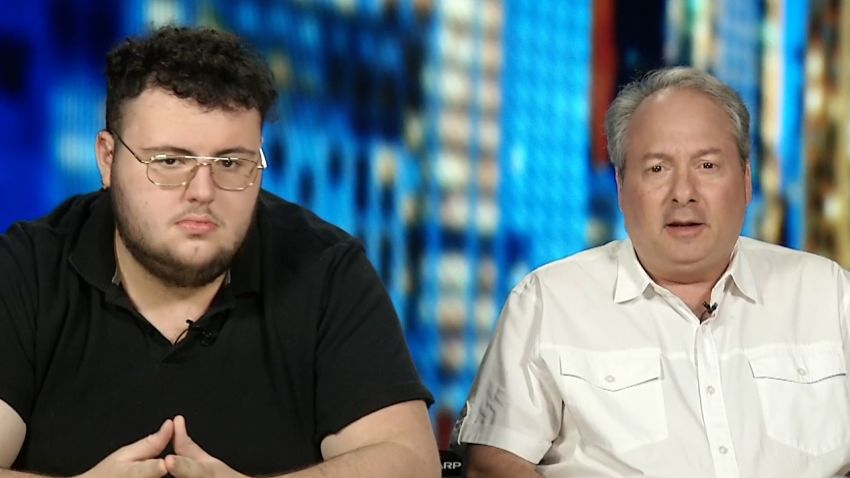 Father and son who turned down seats on doomed sub share red flags
After the tragic loss of the vessel, a father and his son who contemplated riding the Titan shared that they decided not to take the trip due to safety concerns.
Jay Bloom and his son Sean told CNN's Erin Burnett on Friday they were worried about the submersible's ability to travel that deeply into the ocean – the Titanic wreckage is around 12,500 feet below sea level.
"I saw a lot of red flags," Sean said after he was shown a video of Rush walking through the submersible and its features.
Jay shared a text message exchange between him and Rush, who offered them the spots on the vessel for a May expedition.
Rush flew out to Las Vegas in March to try and get Jay to buy the tickets, they said. Jay noted that Rush flew in on a two-seater experimental plane he built.
"He has a different risk appetite than I do," Jay said.
Both Jay and Sean said Rush brushed off questions and concerns they had about the submersible.
"He had so much passion for the project that he was blinded by it," Jay said. "He didn't look at the things that I saw and that others saw that were problematic because it didn't fit his narrative."
The Blooms said they will not consider an experience like this ever again after they watched the news of what happened.
"All I could see when I saw that father and son was myself and my son. That could've been us," Jay said.
CNN's Ray Sanchez, Samantha Beech, Gloria Pazmino, Cole Higgins, Celina Tebor, Rob Frehse, Sara Smart, Paul P. Murphy, Aaron Cooper, Oren Liebermann, Curt Devine, Isabelle Chapman, Kristina Sgueglia, Priscilla Alvarez, Mostafa Salem, Sofia Cox and Hira Humayun contributed to this report.