Six people remain in a critical condition and one person is missing after a gas explosion in central Paris on Wednesday, the Paris prosecutor's office told CNN on Thursday.
Some 50 people were injured in the incident, although the Paris prosecutor's office, which is investigating the blast, said the number may not be final.
Some 270 firefighters were deployed to the scene near Rue Saint Jacques in the city's fifth arrondissement, and have contained the fire, Paris police chief Laurent Nunez told reporters.
Francois Braun, France's health minister, told CNN affiliate BFMTV Thursday that some of those injured are suffering from "extremely significant burns," while others have suffered "significant traumatic injuries" due to the blast.
French Interior Minister Gerald Darmanin visited the site of the explosion on Wednesday. He said it was unclear how exactly the explosion occurred, adding there was no warning before the incident.
The Paris prosecutor, who is probing the incident, said that early signs indicate that the gas explosion came from within the building that houses the Paris American Academy, according to CNN affiliate, BFMTV.
A part of the building collapsed following the blast and fire, videos show. Smoke was seen billowing from the rubble earlier on Wednesday as rescue workers attempted to tackle the blaze.
Paris American Academy, a fashion and design school, describes itself on its website as the "first bilingual design school" in the French capital
Kent State University, in the US state of Ohio, said all its students at the Paris American Academy are safe and accounted following the blast.
Locals were also stopped from returning to their homes in surrounding streets by authorities in the aftermath of the explosion.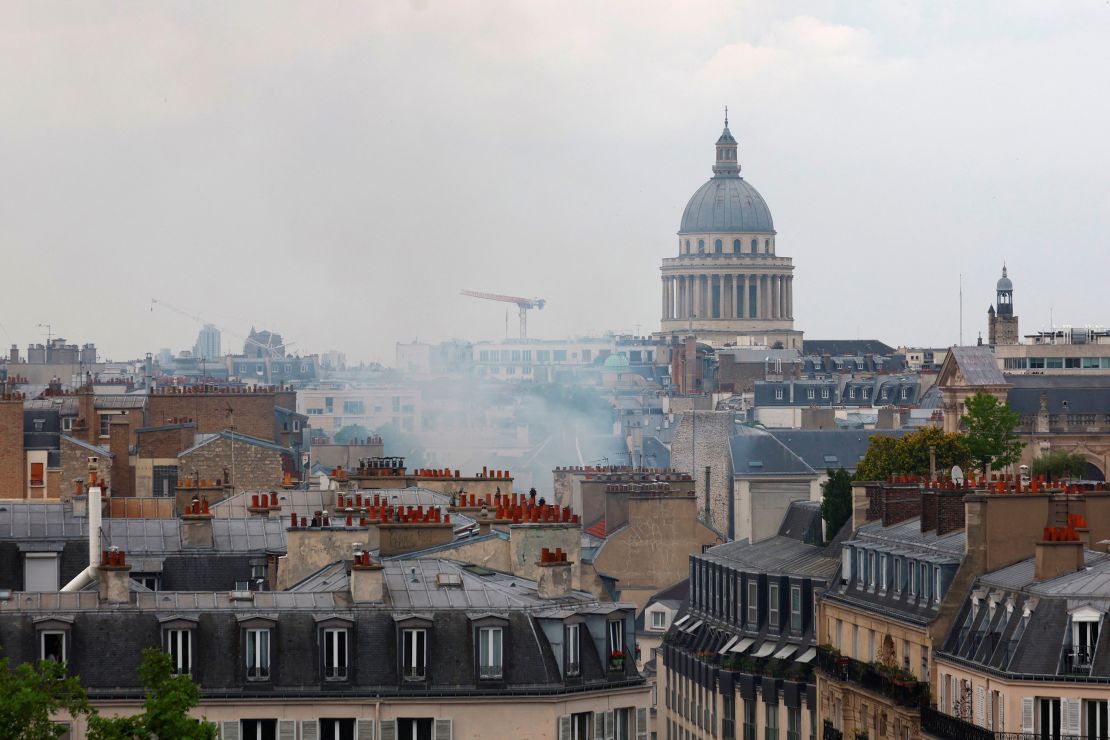 One woman, Anne, told a CNN producer at the scene that she was inside her flat, around 500 meters (1,640 feet) from the site, when the explosion happened.
"It felt like an earthquake, the windows banged against each other," she said.
Another woman who didn't want to give her name and lives in a neighboring avenue told CNN that her doors slammed shut from the explosion.
Paris mayor Anne Hidalgo visited the scene later on Wednesday, writing in a tweet, "My thoughts go first of all to the victims and their close ones."
French President Emmanuel Macron briefly addressed the disaster later on Wednesday, thanking the first responders for their work. "In celebrating music today, we are also thinking of [the victims] and all those who are going through a difficult time," Macron added before launching a performance Wednesday night at Élysée for the Music Day.