Andrew Tate, the self-proclaimed "misogynist" online influencer, was indicted Tuesday alongside his brother Tristan and two Romanian citizens on charges of human trafficking, rape and setting up a criminal gang, according to a statement from Romanian prosecutors.
The Tate brothers and two Romanian female suspects are under house arrest pending a criminal investigation for abuses committed against seven women, accusations they have denied.
Tate was first arrested in Bucharest, Romania's capital, in December 2022. He and his brother were detained in police custody until March, before being put under house arrest.
Andrew Tate has also been charged with raping one of the victims, while his brother Tristan has been charged with instigating others to violence.
Tate, a former professional kickboxer, first became infamous for his viral online rants preaching male dominance, female submission and the pursuit of wealth. He has openly advocated for violence against women, and was previously banned from every major social media platform until Elon Musk reinstated his Twitter account after taking over the company.
He shot to prominence last year, leading many to voice alarm about his malign influence on his predominantly young, male audience. School teachers from across the world have reported the growing prevalence of misogynistic views among teenage boys who are fans of Tate's content. Before it was taken down, his TikTok account racked up about 11.6 billion views.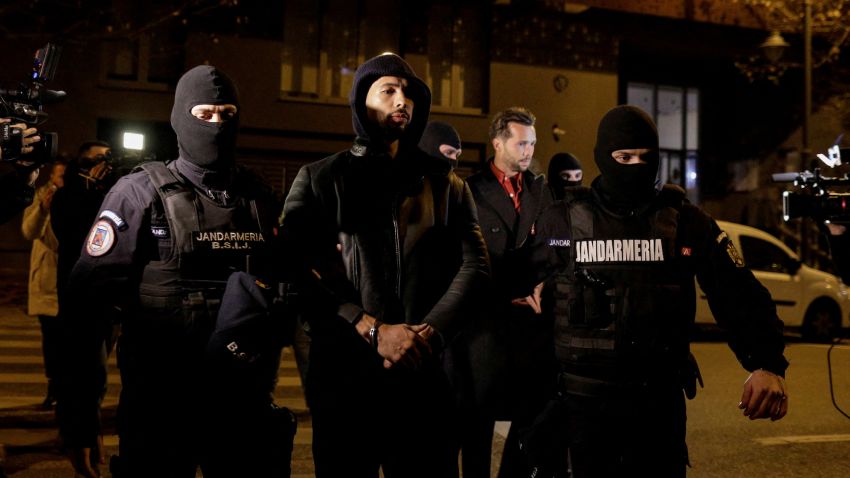 Video: See Romanian police raiding Andrew Tate's home
The Tate brothers will appear at a Bucharest Court Wednesday morning at 11 a.m. (4 a.m. ET), according to CNN affiliate Antena 3.  The court will then discuss their preventive measure or house arrest, and set a date for the trial.
Under Romanian law, the case will be sent to the court's preliminary chamber, where a judge has 60 days to inspect the case files to ensure legality.
Prosecutors have said the Tate brothers recruited their victims by seducing them and falsely claiming to want a relationship or marriage.
The Tate brothers' legal team said it "will embrace the opportunity to fight in court and present arguments and evidence" to prove their innocence, according to a statement obtained by CNN affiliate Antena3 in Romania.
The legal team specifies that now "the referral of the case to the Bucharest Court, the judge will set a hearing in which he will either communicate the indictment to the defenders chosen by Andrew and Tristan Tate or set a deadline for communicating the indictment by post. At the same hearing, the judge will discuss whether a preventive measure against the defendants is necessary."
"Our main objective will be to establish the truth and ensure a fair and impartial legal approach by presenting evidence and proof relevant to the case. The referral of the case for trial will allow us to present a comprehensive body of evidence, diligently gathered and prepared over time, which will undoubtedly be essential in exonerating the defendants."
This story has been updated with more detail about Andrew Tate.
CNN's Amy Croffey contributed to this report.