At least one person was killed and nearly two dozen injured in storms that swept through Mississippi on Sunday night, and more than 50 million across the Southeast face the threat of more severe weather, including tornadoes, on Monday.
A storm system spawned a reported tornado late Sunday in Mississippi, leaving injuries and structural damage around Bay Springs and Louin in Jasper County, preliminary reports from the National Weather Service indicate.
South Central Regional Medical Center in Laurel received 20 storm victims from the Louin area, including one who died, spokesperson Becky Collins told CNN Monday. The other patients are stable, she added, and most have been discharged from the hospital.
The Jasper County community center is serving as a shelter "for all those displaced from the recent destruction of tornado activity," the sheriff's department said in a Facebook post.
The Mississippi Emergency Management Agency is assessing damage from the overnight storms, the agency said, as thousands in the state remain without power. They are among the more than 300,000 homes and businesses from Texas and Oklahoma to Tennessee who remain in the dark amid record-breaking heat after several rounds of storms last week.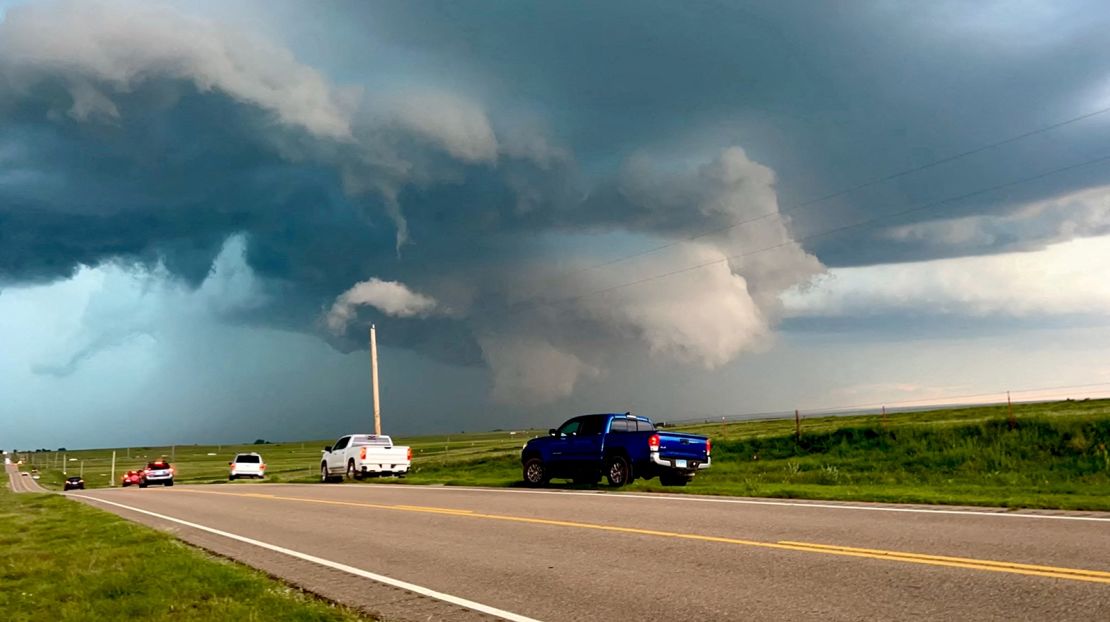 And the severe weather threat persists Monday, with a Level 2 of 5 slight risk of severe weather across parts of the Gulf Coast and the Southeast, including New Orleans and Baton Rouge in Louisiana, along with Jacksonville, Florida; Mobile, Alabama; and Savannah, Georgia. The main threats are damaging wind gusts, large hail and isolated tornadoes.
A Level 1 of 5 marginal risk stretches from central Texas to southern Florida and north to western North Carolina, leaving cities like Atlanta, Charlotte, North Carolina; Austin, Texas; and Tampa, Orlando and Miami in Florida under the threat of large hail and damaging wind gusts.
The threat Monday follows more than 70 storm reports across the Southeast on Sunday, according to the Storm Prediction Center, including up to eight tornado reports, mostly in central Mississippi. Hail two inches wide or larger was also reported Sunday in Kerr County, Texas, about 65 miles northwest of San Antonio.
That followed several days of severe weather across the region, including a tornado last Thursday that devastated the Texas Panhandle community of Perryton, where three people – including an 11-year-old boy – were killed and more than a hundred others injured.
Tornado confirmed in Florida, another possible twister hits Mississippi
On Monday morning, a tornado was confirmed near Florida's Santa Rosa Beach, according to the weather service. The service issued a tornado warning until noon for all of southwestern Walton County.
"Flying debris will be dangerous to those caught without shelter," wrote the service. "Mobile homes will be damaged or destroyed. Damage to roofs, windows, and vehicles will occur. Tree damage is likely."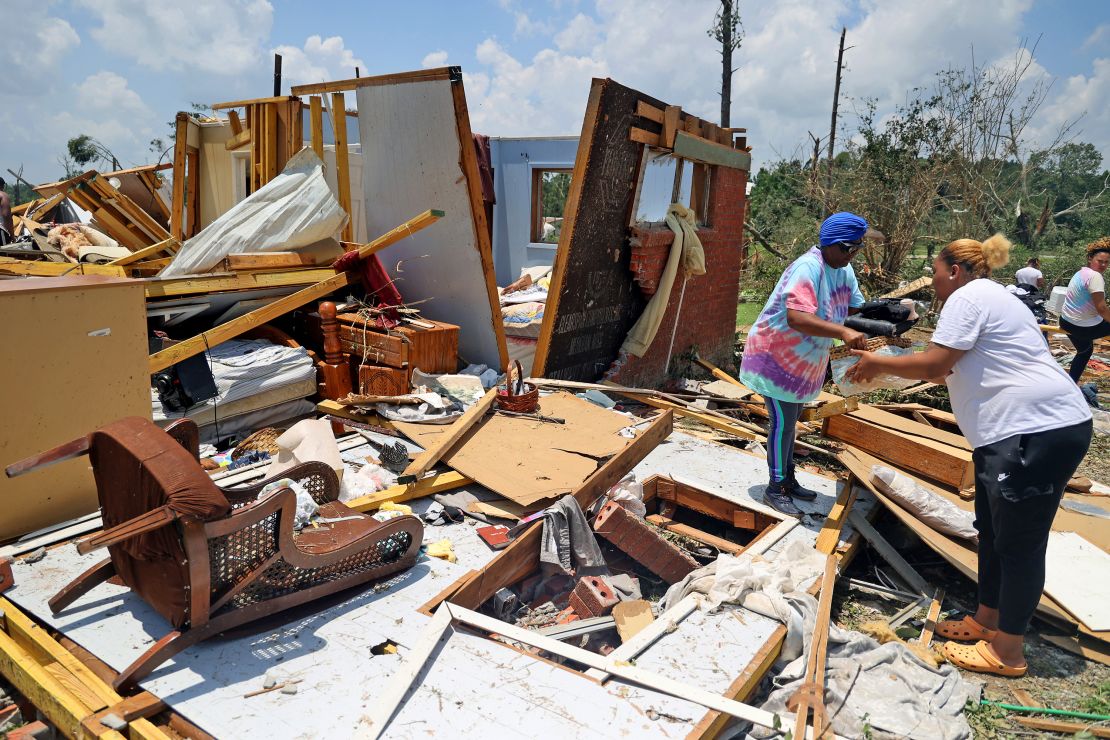 Another possible tornado tore through the city of Moss Point, Mississippi – 28 miles east of Biloxi – Monday afternoon, Jackson County Sheriff John Ledbetter told CNN.
Several homes and businesses were damaged and emergency crews are responding, the sheriff said.
Mayor Billy Knight, Sr. told CNN that eight to 10 people were rescued by fire crews after being trapped in the severely damaged Merchants & Marine Bank on Main Street.
The First Baptist Church along with several buildings at a local school were significantly damaged, including an administration building, gym, stadium and concession stand, according to Knight.
No injuries have been reported thus far and officials are continuing initial assessments, he said.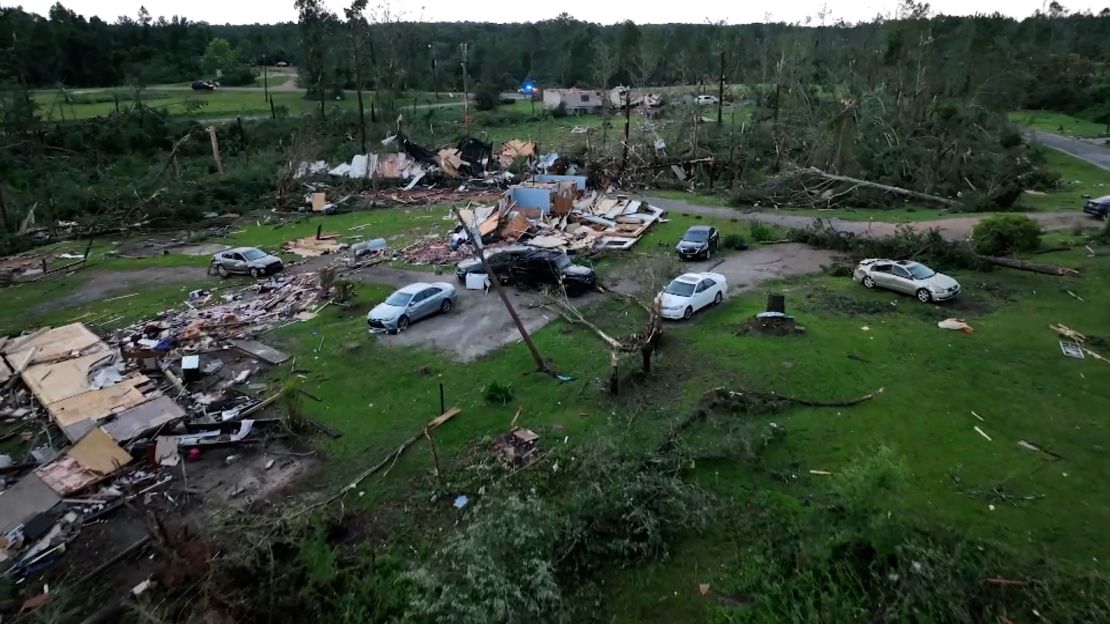 Rain impacts roads in Alabama
On Monday, the possibility of excessive rainfall moved eastward to the southeastern parts of the country, bringing the threat of thunderstorms and flooding over parts of the Southeast, southern mid-Atlantic and Southern Appalachians.
Several roads in Mobile County, Alabama, were closed Monday after 8 to 13 inches of rain fell in the area, according to the National Weather Service.
County officials said in a tweet that the roads were closed "due to flooding/water over road."
"Motorists are advised to stay off the roads, but if they must be out, stay clear of flooded roadways," the tweet said.
The worst of the rain is shifting offshore now, according to CNN Weather.
Hundreds of thousands without power in punishing heat
Meanwhile, around 35 million people are under heat alerts from a blistering heat wave that has settled across much of Texas, Louisiana and southern New Mexico and Mississippi, according to the National Weather Service.
Many are facing the heat without air conditioning with more than 350,000 customers without power in the South Monday evening after severe weather in recent days – including 183,000 in Oklahoma, about 75,000 in Texas and another 62,000 in Louisiana, according to PowerOutage.us.
The National Weather Service is advising residents to stay inside during the hottest part of the day, drink plenty of water and not leave children or pets in vehicles.
As the heat wave lingers, over 40 daily records could be tied or broken across Texas this week. The worst of the heat is expected from Monday through Wednesday.
The combination of temperature and humidity – or the heat index – could climb to 113 to 122 degrees in cities including Houston, San Antonio, Brownsville and Dallas.
Several daily heat records were already broken on Sunday. Del Rio, Texas, recorded a temperature of 111 degrees Sunday, breaking the previous daily record of 106 degrees set in 2011. Camp Mabry, in Austin, Texas, tied its record of 106 degrees set a dozen years ago and McAllen, Texas, reported a record-breaking 105 degrees.
Cities across the South – some still cleaning up from last week's storms – are preparing for hot weather by opening cooling centers.
Houston will have cooling centers open from 3 p.m. to 7 p.m. Monday as the city braces for high temperatures. Caddo Parish in Louisiana has opened additional cooling centers as it grapples with power outages and storm cleanup.
New Orleans' emergency preparedness campaign has set up hydration stations and cooling centers to provide water and sunscreen on Sunday and Monday from 10 a.m. to 6 p.m. local time.
CNN's Jamiel Lynch, Mitchell McCluskey, Devon Sayers, Taylor Ward, and Zoe Sottile contributed to this report.