Investigators are searching for suspects after a mass shooting Sunday at a Juneteenth celebration left one person dead and at least 22 others injured in suburban Chicago.
Gunfire broke out after midnight in a parking lot in Willowbrook, Illinois, as an "unknown number of suspects fired multiple rounds from multiple weapons into the crowd," the DuPage County Sheriff's Office said in a news release. No suspects were in custody Sunday afternoon, with information "very fluid" as investigators interviewed victims and reviewed cell phone and surveillance video, the agency said.
At least 12 ambulances rushed to the scene, hurrying people to hospitals with injuries ranging from graze wounds to serious gunshot wounds, Joe Ostrander, battalion chief of the Tri-State Fire Protection District, said early Sunday. Some were hurt trying to flee, authorities said.
The Juneteenth event is the latest celebration in the US to be interrupted by gunfire – after mass shootings in just the last month at a graduation ceremony in Virginia, an NBA championship celebration in Colorado and a birthday party in California.
Also this weekend, a juvenile was killed and nine others injured at a party in downtown St. Louis, while two people were killed and others wounded in a mass shooting near an electronic dance music festival at Washington's Gorge Amphitheatre.
More than 310 mass shootings with at least four people are shot, excluding the shooter, have been recorded in the US so far this year, the Gun Violence Archive reports. That's more mass shootings than days so far in 2023.
A shooting that injured two juveniles at a Juneteenth festival in Asheville, North Carolina, on Friday evening prompted organizers to cancel the festival's remaining events. "We are saddened that a day of celebration and community unity was darken by a cloud of violence," the event's organizers posted on their Facebook page.
The shooting happened shortly before the festival was scheduled to end for the day, the Asheville Police Department said. Responding officers found two juveniles who had been shot. One has since been released and one remains in "critical but stable condition," according to a Facebook post by the police department.
Officers arrested a 16-year-old suspect, the post said.
In the Willowbrook incident, authorities have not released suspect descriptions, and it's unclear how many people opened fire. The slain person hasn't been identified, and authorities have released no information on the others' ages and conditions.
Illinois' governor is closely monitoring the shooting, he said.
"Gathering for a holiday celebration should be a joyful occasion, not a time where gunfire erupts and families are forced to run for safety," J.B. Pritzker said Sunday in a statement. "As I've said time and time again, gun violence is a public health emergency in this country and I remain committed to banning these dangerous weapons and making our state safer for everyone."
The White House has been in contact with state and local leaders following the deadly shooting, Press Secretary Karine Jean-Pierre said. "The President and First Lady are thinking of those killed and injured in the shooting in Illinois last night," she tweeted Sunday. "We have reached out to offer assistance to state and local leaders in the wake of this tragedy at a community Juneteenth celebration."
The violence flared less than 40 miles from last summer's mass shooting at a Fourth of July parade in Highland Park that left seven dead and dozens injured – and led Pritzker, a Democrat, to sign a ban on assault-style rifles and high-capacity magazines in the state.
'We dropped down until they stopped'
The Juneteenth celebration began around 6 p.m. Saturday around Hinsdale Lake Terrace at Honeysuckle Lane, and police were already in the area, the sheriff's department said.
Around 12:25 a.m., police were called away "due to a 911 call alleging a fight had broken out nearby," the DuPage County Sheriff's Office said in a news release. "As deputies responded, they heard gunshots and immediately returned to the scene of the gathering."
It's not clear what led to the gunfire, where the shooters were when deputies responded or whether the suspects knew any of the victims.
"The motive behind this incident is unclear and this is still an active investigation," DuPage County Deputy Sheriff Eric Swanson told reporters Sunday.
As gunshots rang out, terror unfolded, witnesses recalled. Markeshia Avery dropped to the ground, she said.
"We dropped down until they stopped. They just kept going," Avery told reporters at the scene.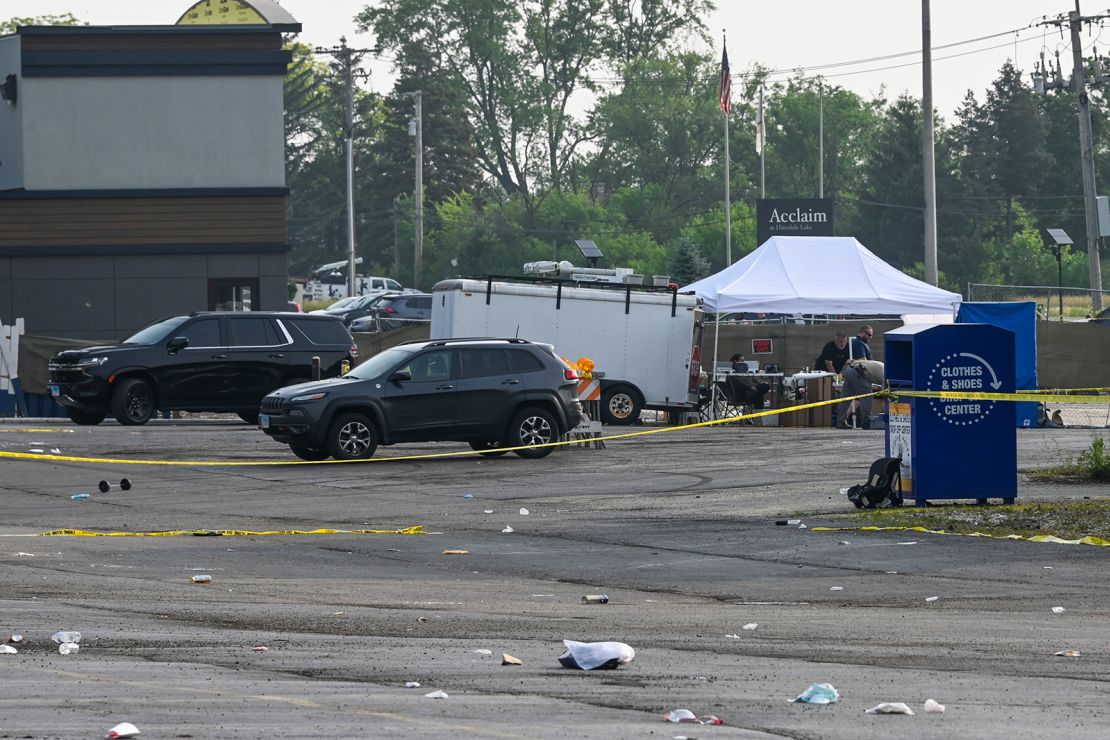 "Everybody started running," another woman, who didn't want to be identified, told CNN affiliate WLS. "There was a man. He fell on top of me. He had a gunshot wound to his leg.
"It was like something you won't imagine."
After the shooting stopped, "we literally scattered away," Avery continued, "and just started trying to check on everybody that we knew."
A nurse who was nearby ran to help victims, she told WLS.
"They were shot in their thighs, shoulder," said Dalayvia Whitaker. "I'm like, 'OK, hold this, press this, give me a sock, let me make a tourniquet from it.'"
Some of the injured were taken to hospitals by ambulance, while others walked in, Swanson told reporters Sunday.
CNN's Jamiel Lynch and Sam Fossum contributed to this report.