Republican presidential candidate Nikki Haley said Saturday that while it was difficult having her husband deploy to Africa with the South Carolina Army National Guard, the assignment represents a "moment of pride" for the state and the country.
The official deployment ceremony for the brigade that includes Michael Haley took place Saturday afternoon at The Citadel military college in Charleston. The brigade is deploying to Africa in support of the United States Africa Command.
A person familiar with the deployment details told CNN that Michael Haley will likely remain deployed through the spring of 2024, which overlaps with much of the Republican primary nominating calendar. This will be his second active-duty deployment overseas – he previously served in Afghanistan as part of the South Carolina Army National Guard in 2013 when his wife was serving as the state's governor.
"Father's Day is different this year," Nikki Haley told reporters after the ceremony, which she attended with other family members.
The former US ambassador to the United Nations said that she and her husband would "continue to stay in touch as best as we can" over the coming year and that she knew he would be supporting her presidential ambitions from afar.
"He's my rock. He always has been. But I've been his as well. We have both lived a life of service. And so when he goes off to deploy, my support is completely with him. If I happen to be running for president, his support is completely with me. Two things can be true at the same time," she said.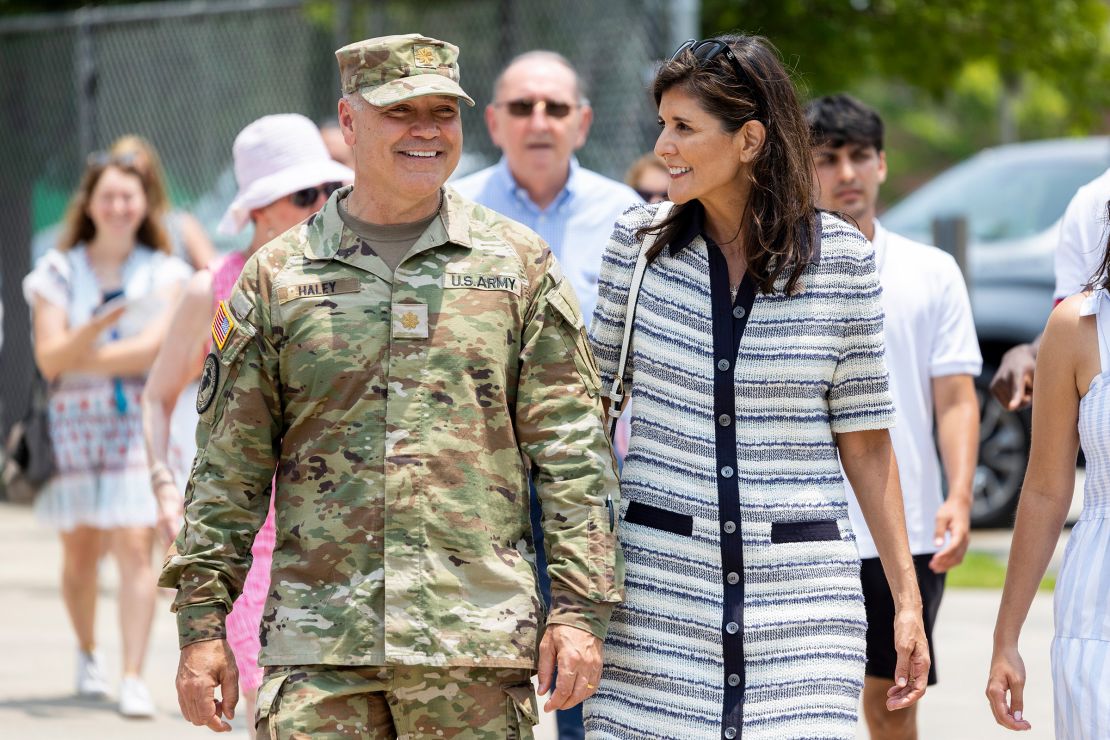 "I'm just one of many military spouses that are watching their loved ones leave today. And we feel an amazing sense of pride. We feel an amazing sense of service. And we may feel an amazing sense of sadness," the former governor added. "But at the same time, we could not be happier to see them going and doing what they, in their blood, are meant to do."
Nikki Haley earlier this week referenced her husband's upcoming deployment when she offered a rare rebuke of former President Donald Trump over his federal indictment for his alleged mishandling of classified documents. Trump was arraigned this week in a Miami federal court and pleaded not guilty to 37 charges, including 31 counts of willful retention of national defense information.
"My husband is about to deploy this weekend. This puts all of our military men and women in danger if you are going to talk about what our military is capable of or how we would go about invading or doing something with one of our enemies," Nikki Haley said on Fox News.
She said that if the charges against Trump were true, then "Trump was incredibly reckless with our national security." Her comments represented a sharp departure from the statement she had put out prior to the indictment being unsealed in which she characterized the move against Trump as "prosecutorial overreach" and "vendetta politics," echoing the argument made by the former president as he attacks the justice system and denies any wrongdoing.
But the former UN ambassador said this week she would be inclined to pardon Trump if she were elected president because, she argued, "the issue is less about guilt and more about what's good for the country." She criticized the Department of Justice, arguing it had "handled this whole thing terribly."
When a reporter on Saturday tried asking Nikki Haley about her comments on potentially pardoning Trump, she said, "I'm not going to talk about Trump today."
Michael Haley has not been traveling with his wife as she campaigns in early nominating states such as Iowa and New Hampshire, but he was present at her CNN town hall in Iowa earlier this month, a day after the couple attended Republican Sen. Joni Ernst's "Roast and Ride" fundraiser in Des Moines.
The latter event was one of the campaign season's first "cattle calls" – gatherings of large crowds of Republicans in states that vote early on the primary calendar – and was attended by almost all the 2024 GOP candidates, with Trump a notable absentee.
This story and headline have been updated with additional information.