When hundreds of Israeli settlers rampaged through Huwara and surrounding Palestinian towns in the occupied West Bank on February 26, leaving at least one Palestinian man dead and hundreds of others injured, it was billed as "revenge" after a Palestinian gunman killed two brothers who lived nearby.
What unfolded was violence so brutal that the Israeli military commander for the West Bank called it a "pogrom," and said that the Israel Defense Forces (IDF) had not been sufficiently prepared for revenge attacks. An inquiry by the IDF found that the military failed to deploy enough soldiers to prevent the riots. "This is a severe incident that took place under our responsibility and should not have happened," Israel's top military officer, Lt. Gen. Herzi Halevi, said in a statement in March.
A monthslong CNN investigation, based on analysis of videos from the scene, exclusive testimony from an Israeli soldier, as well as interviews with seven eyewitnesses and two Palestinian journalists, sheds new light on the actions of Israeli forces.
CNN found that, not only did the forces fail to stop the riots in Huwara, they did not protect residents as settlers set fire to Palestinian homes and businesses and blocked emergency services from responding. Instead, when residents threw rocks in reaction to the settlers' aggression, Israeli forces fired at the Palestinians with tear gas and stun grenades, according to analysis of the footage and eyewitness accounts.
The soldier, whose account was provided by Breaking the Silence, a non-governmental organization established by IDF veterans that offers a platform to speak out confidentially, said dozens of armed forces were on the scene, operating alongside Israel Border Police, and they were aware of the threat the settlers posed but did nothing to intervene. "We just let them continue to advance," the soldier said, adding that the army generally "doesn't know how to deal with settler terrorism."
In the aftermath of the violence, Israel's finance minister, Bezalel Smotrich, a settler who opposes Palestinian sovereignty, said that "Huwara needs to be erased."
Residents of the town, which straddles the main road running north to south through the West Bank, have long been harassed by settlers passing through. But, in the wake of the violence, they said they are more terrified for their security than ever before.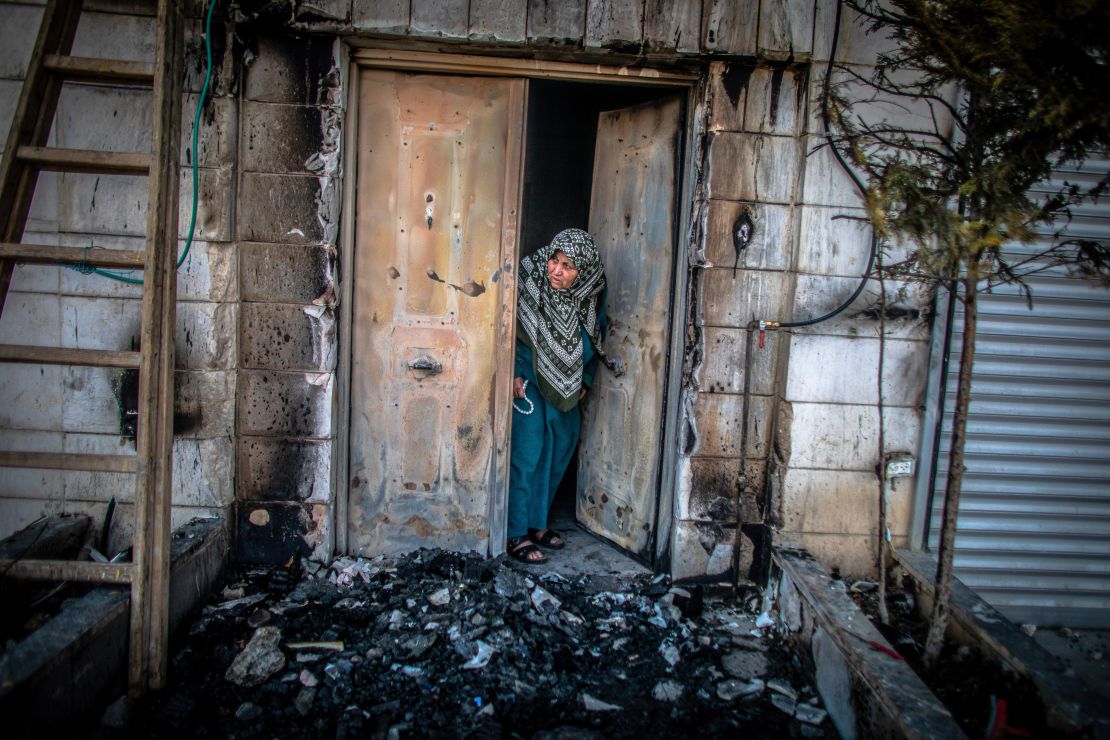 Now, as Israel's right-wing government ramps up incendiary remarks, pledging to increase its authority over the occupied territory, settler attacks have continued largely without recourse. The IDF said in a statement to CNN that dozens of Israelis had "desecrated Palestinian property" and "acted violently against Palestinian residents" on February 26, but only several were arrested. All were released without charges.
Seeking revenge
The two Israeli brothers, Hillel Menachem Yaniv, 22, and Yagel Ya'acov Yaniv, 20, whose killings triggered the rampage lived in Har Bracha, a Jewish settlement in the hills above Nablus, about 4 miles away from Huwara. Hillel had recently completed his mandatory army service, and Yagel was set to start the recruitment process.
They were on their way to their yeshiva, a Jewish religious school, when they were attacked by a Palestinian gunman, identified as a member of Hamas by both the militant group and the IDF. The shooting came days after a massive Israeli military incursion into Nablus in search of wanted militants left at least 11 Palestinians dead.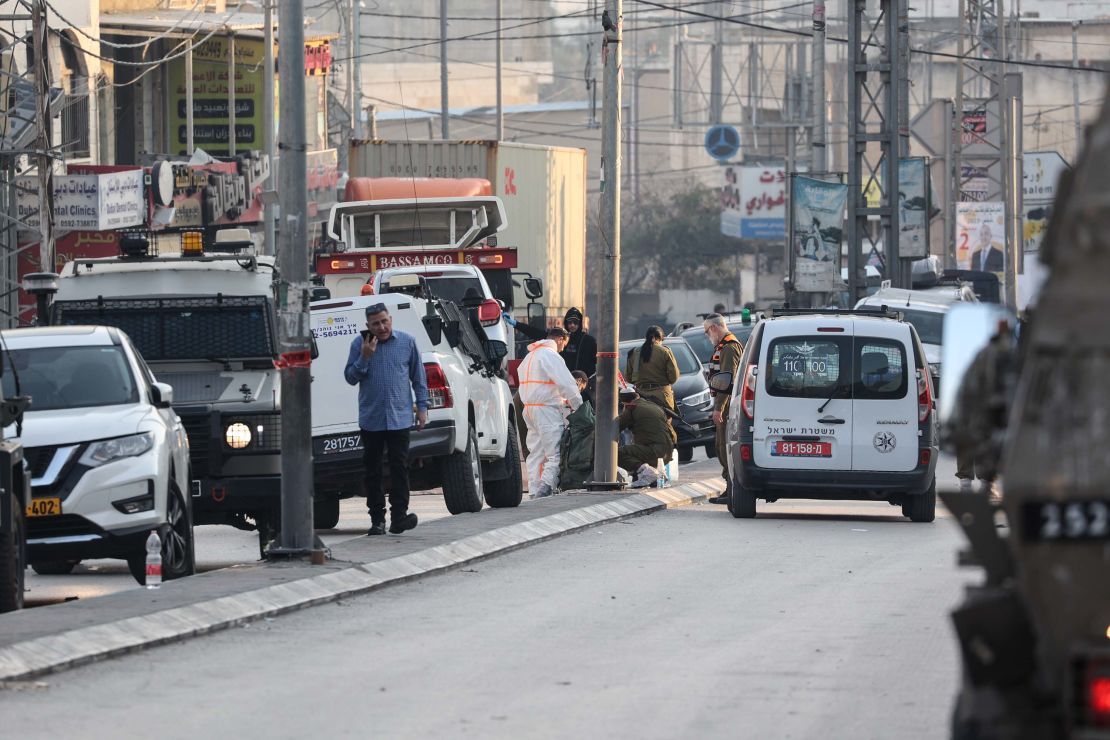 In response to the Yanivs' deaths, administrators for a WhatsApp group called Fighting for Life, which coordinates settler demonstrations, called on members to "fight back" and march from two settlements: Yitzhar to the north, and Kfar Tapuach to the south. The post was disseminated on several settler WhatsApp groups, as well as on social media, suggesting that the threat of violence would have been well known to authorities beforehand.
"We demand revenge! We must fight back! Following the fatal attack in broad daylight in Huwara today, we're leaving our houses and fighting for our lives!" the post read. "18.00 - March from the big Yitzhar junction and from Tapuach junction to the scene of the attack in Huwara!"
Huwara residents said much of the angry mob on February 26 descended on the town from Yitzhar, a nearby hillside settlement, which is built in part on privately owned Palestinian land.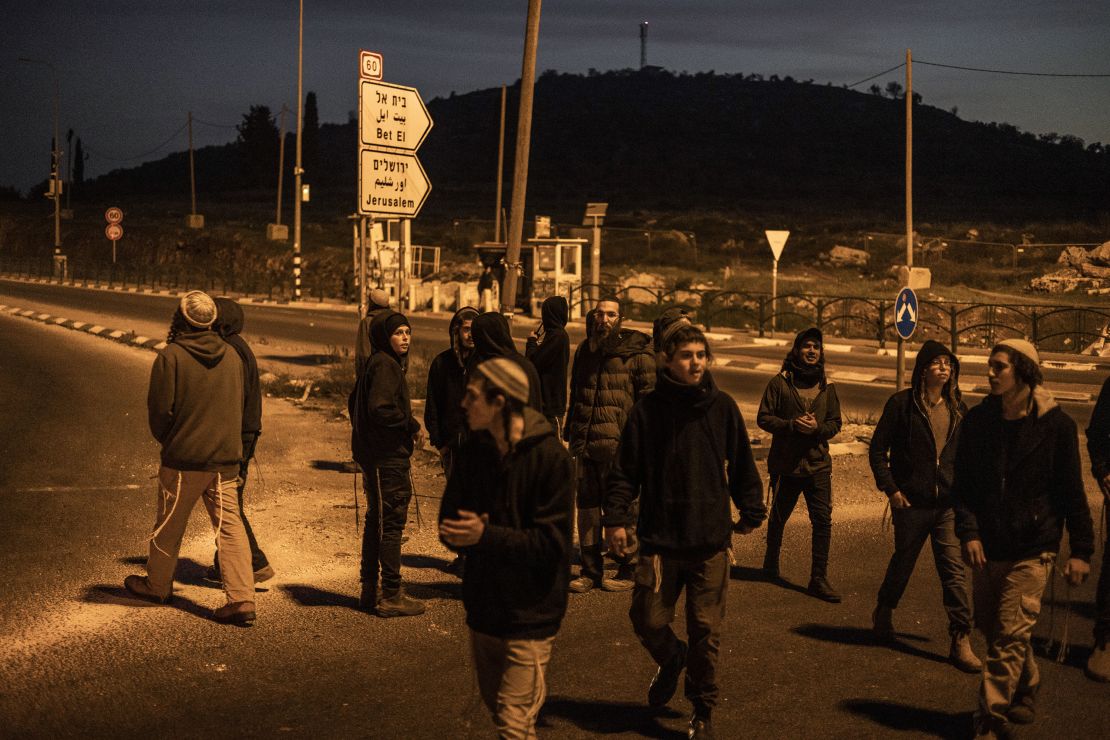 Analysis by CNN in collaboration with FakeReporter, an Israeli watchdog that monitors disinformation and far-right groups, showed that some members of Israel's Parliament, the Knesset — including lawmaker Limor Son Har-Melech — were part of the WhatsApp groups.
Son Har-Melech, from security minister Itamar Ben Gvir's Otzma Yehudit party, posted a tweet from Huwara where she said she went to support "residents of Samaria who have come out to protest and to demand security, after long months of abandonment." Israel officially refers to the West Bank by the biblical names Judea and Samaria.
Another Knesset member, Zvi Sukkot, from Smotrich's ultra-nationalist Religious Zionism party, who lives in Yitzhar, posted on Twitter saying: "Huwara's killers' nest needs to be taken care of." Later, he shared a photo of himself with settlers at Tapuach junction, where they had gathered to march to the town.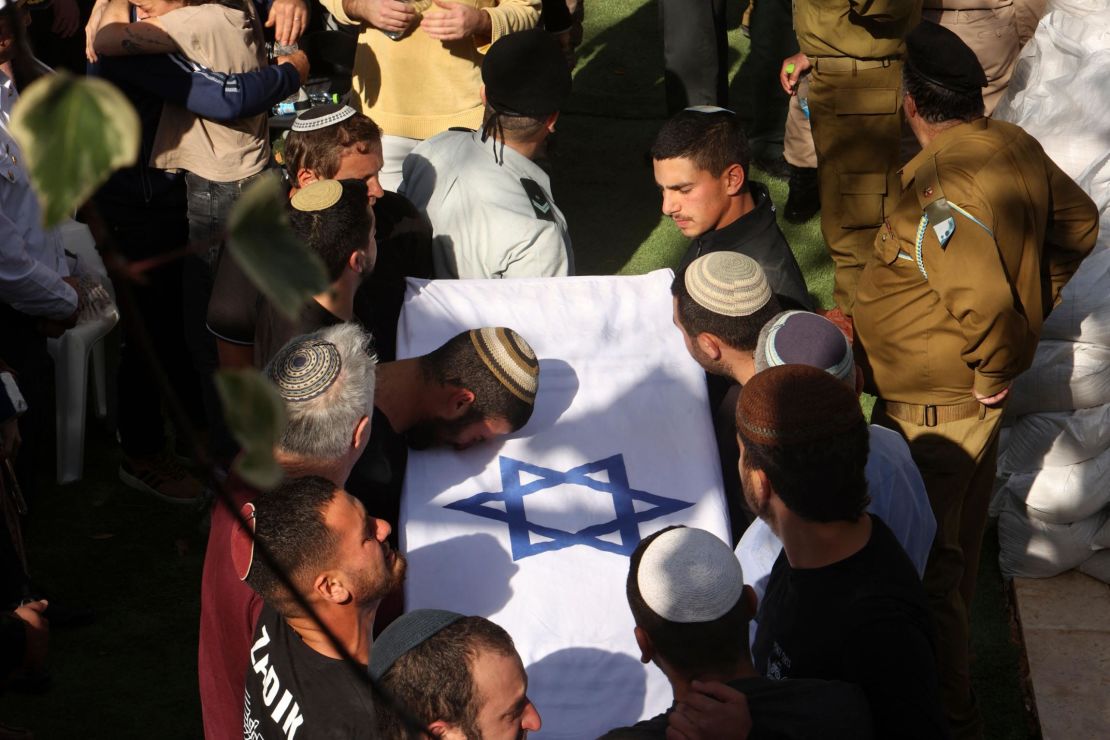 Since Israel occupied the West Bank in 1967, the territory, which residents hope will form part of a future Palestinian state, has been carved up and divided by Israeli settlements. Huwara, which is home to about 7,000 people, is surrounded on three sides by settlements that have a reputation for being extremist.
Most of the world considers these settlements illegal under international law, but, in spite of this, successive Israeli governments have pledged support for them. The International Criminal Court considers the transfer by an occupying power of its own civilian population into territory it occupies a war crime. Israel views the West Bank "disputed territory," and contends its settlement policy is legal.
Achiya Schatz, executive director of FakeReporter, told CNN that Israeli security forces should have been able to prevent the attack on Huwara, given how widely disseminated calls for violence were in advance, both by settler groups and far-right politicians on encrypted apps and social media. CNN saw at least one of these posts several hours before the violence in Huwara began.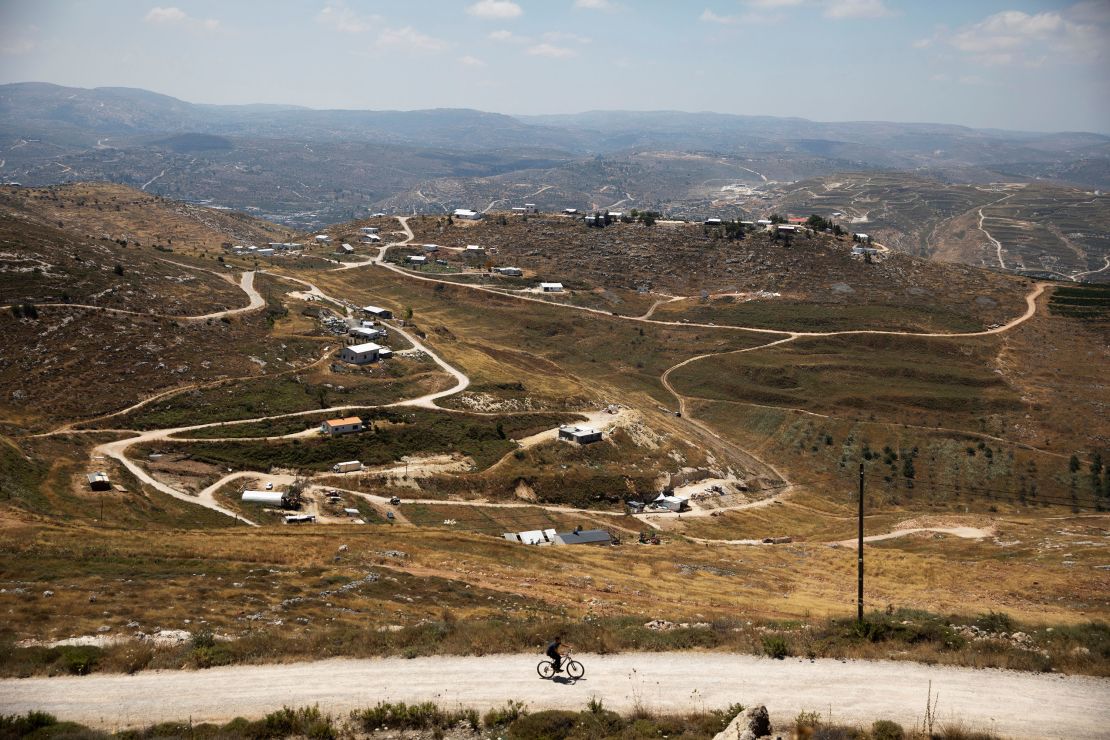 "Right-wing extremist groups on WhatsApp and Telegram have become ticking time bombs," Schatz said, adding that the groups are used routinely by settlers to organize violence. "They [Israeli security forces] ignored their duty to monitor violent groups and failed to stop the violence during the event. We are extremely worried and uncertain that they are prepared to prevent the next event."
While CNN cannot independently confirm how many settlers belonging to the WhatsApp groups analyzed by FakeReporter carried out violence against Palestinians and their properties on February 26, at least one "admin" of these groups, a settler living in Yitzhar, filmed himself in Huwara that evening with flames in the background. "Simple Jews are coming and doing the natural thing of revenge," he said.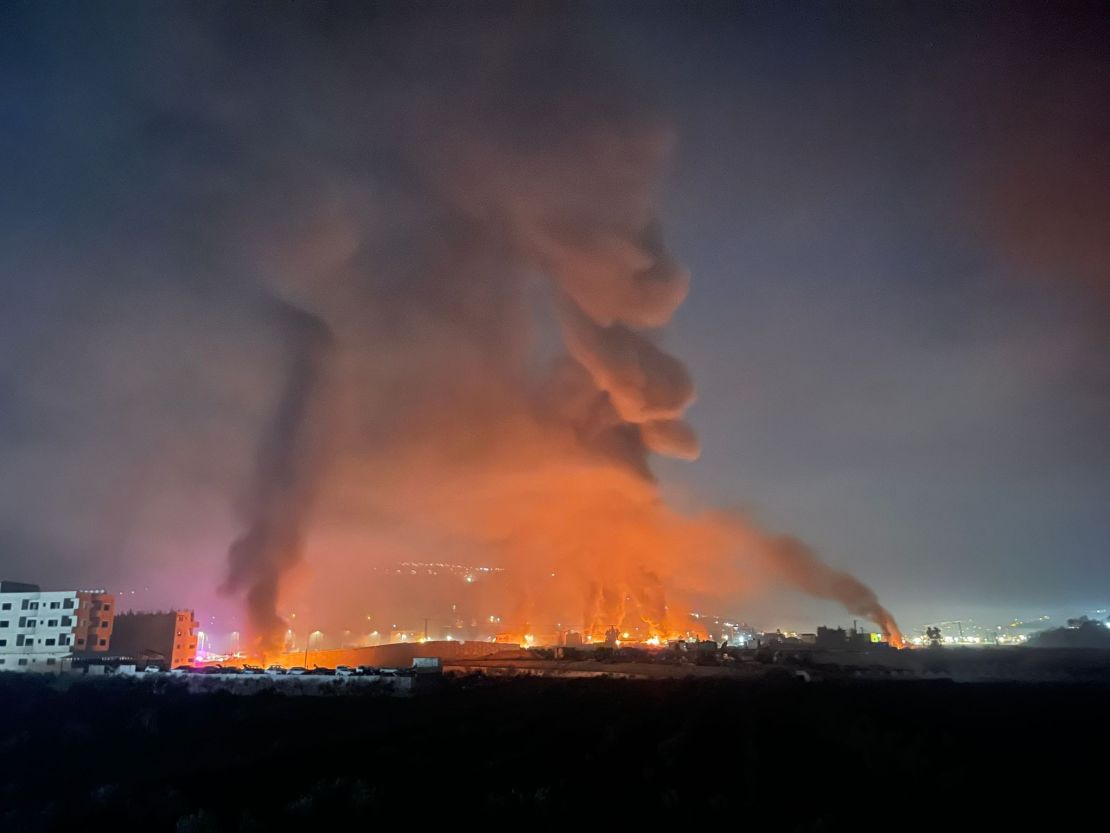 The attack
Ziad Dumaidi, 48, knew the Israeli settlers were coming through word-of-mouth and social media, so he prepared for the worst. He bought water, fixed the fire extinguisher, and parked his car at a friend's house. In the past, settlers had swarmed his home, lobbed stones at his windows and tried to break in, Dumaidi said. But they had never tried to set it alight.
Videos geolocated and verified by CNN showed hundreds of people flocking to Huwara's main street from a nearby roundabout between 6 p.m. and 6:30 p.m. local time, setting fire to car tires, cars, trash cans, and wooden pallets near the entrances of apartment blocks, shops, and businesses.
Dumaidi said his house was engulfed in flames. With smoke pouring in, he and his wife and their four children prayed and prepared to die. "At this point, my family and I pronounced the shahada [the Muslim declaration of faith]. We thought it was over for us… there was barely any oxygen," he told CNN. More than two hours after the fire started, Israeli officers helped to extinguish the blaze, Dumaidi said, but they did nothing when settlers continued throwing rocks at him.
Footage showed the mob throwing stones at residents gathered on their balconies, windows and rooftops. Then they set ablaze a parking lot full of cars, part of a dealership and repair shop at the entrance of the town — one of the small businesses that both Palestinians and Israelis would take their vehicles to be fixed in Huwara, an economic hub for the area.
"They went behind the house and started to burn the cars. They went from one car to the next. I went downstairs and there they were. They fired three bullets at me. They started to chant 'death to the Arabs, we want to wipe out Huwara,'" Hana Abu Saris, whose family owns the dealership, told CNN.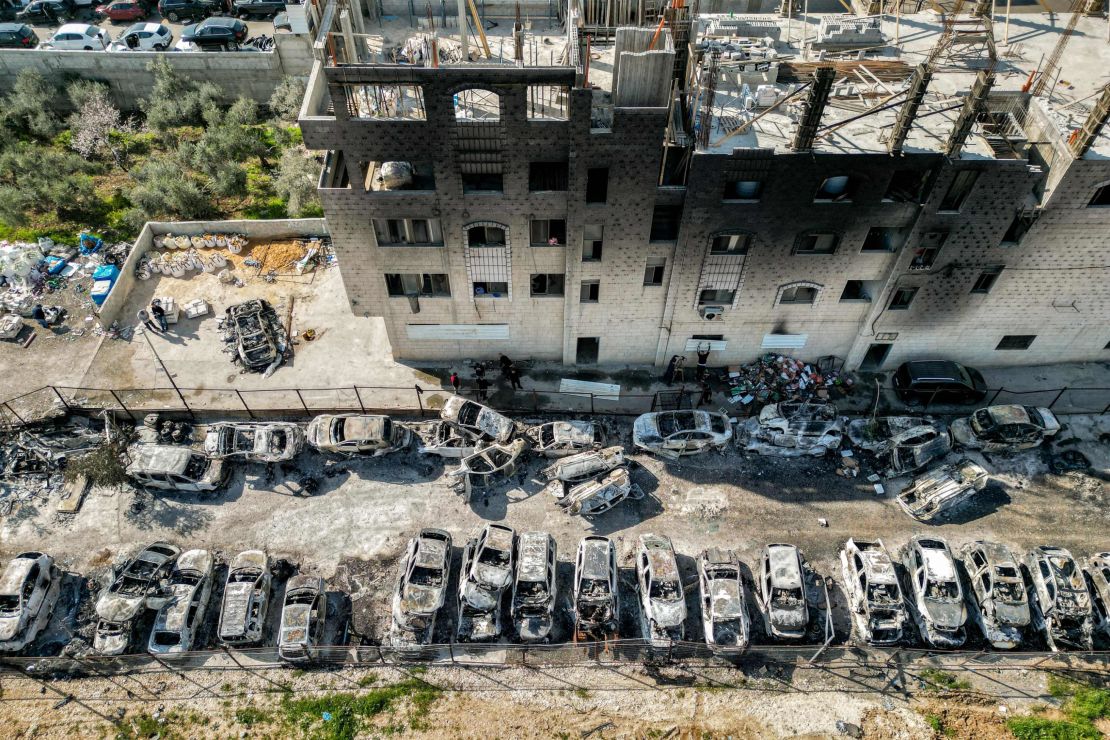 Down the street, towards the center of Huwara, 75-year-old Nawal Dumeidi (a distant relation of Ziad Dumaidi), told CNN that she and her daughters were trapped inside their home for three days after settlers piled flammable material in front of her door and set it on fire, preventing it from opening. Her son had to come back from Dubai to free them.
She recounted hearing rocks hitting the roof of her apartment and landing on the balcony, and seeing fire coming towards her. She went to try to put out the blaze with a bucket of water, but Israeli military fired tear gas and stun grenades at her, she said: "We were choking on the gas, it was asphyxiating. We could feel our faces burning." Dumeidi later showed CNN tear gas canisters and stun grenades strewn on her balcony, evidence of the Israeli military's actions, she said.
Security camera (CCTV) footage from Dumeidi's building showed settlers — identified by their religious tassels, called tzitzit, hanging from under their sweatshirts — ignighting wooden logs placed by the main door to her apartment block. CNN confirmed with Dumeidi's family that the incident happened at 6:27 p.m. Live footage filmed by Palestine TV corroborated that timeline, showing Israeli soldiers walking by without stopping the settlers from setting the fire or intervening to extinguish it.
The Palestine TV livestream showed at least three armored Israeli military vehicles on the main road in Huwara, and several soldiers patrolling the street. Israeli soldiers can be seen in the footage firing tear gas up at residential buildings, which settlers are also targeting with stones.
Some Israeli settlers posted on social media to say that the army and police used tear gas to break up the crowds, but none of the videos reviewed by CNN showed them firing on the settlers. The IDF said in a statement to CNN that its forces "acted to separate the two sides," using "tear gas and stun grenades and live fire in the air" to disperse the riot.
A Palestinian Civil Defense spokesperson told CNN that each access point into Huwara was blocked by settlers and the Israeli military warned the emergency services it wasn't safe to enter. A fire truck was attacked by settlers with dozens of stones, forcing it to go back as the Israeli military stood by, the spokesperson said.
Videos chronolocated at 8:25 p.m. show fire trucks and ambulances being stopped by Israeli soldiers at the roundabout leading to Huwara's main street. According to a Palestine Red Crescent Society spokesperson, the emergency vehicles were ambushed by settlers while the military watched. "When Israeli forces finally let them in, they told them that it's at their own risk, and if settlers attacked them, it's their own responsibility," the spokesperson said.
The Israeli soldier whose testimony was shared exclusively with CNN said the "biggest failure" of the IDF and Israel Border Police was their inability to protect and let in fire trucks. "The fire truck simply drove alone and was attacked… The village continued to burn," he said.
The fires and violence could have been prevented if the army had used force against the settlers to stop them from entering Huwara in the first place, the soldier added. "You have a group of dozens of people you see who are hot-headed and they start walking towards Huwara, they are masked and some of them may have knives. What do you think they are coming to do? … At this point, they [the army] should have started shooting tear gas, and stun grenades and start repelling them," he said.
In the Palestinian town of Za'tara, between Kfar Tapuach and Huwara, which was also attacked on February 26, Sameh Aqtash, a 37-year-old aid worker and father of five, was shot in the abdomen. His brother, Abdalmenem, said that night 30 settlers approached their village on their way to Huwara. They told them to leave. Soon after, they returned with a group of Israeli soldiers in tow, Abdalmenem said.
"The settlers started throwing rocks at us, so we threw rocks back. … Then they started shooting live bullets at us, not tear gas or rubber bullets, live fire from the get-go," he said. "Normally when the Israeli military comes, they protect the settlers. They don't stop the settlers from attacking areas or burning stuff, they just surround the settlers so no one can attack them. And this is what happened when Sameh was killed."
The IDF referred CNN's questions about Aqtash's killing to the Israel Border Police. A spokesperson for the Israel Border Police told CNN that they had opened an investigation after multiple media reports that Aqtash was killed in settler violence. No settler has been arrested or charged in connection with his death.
The aftermath
Since Israel's new government led by Prime Minister Benjamin Netanyahu was sworn in late last December, the most right-wing and religiously conservative in the nation's history, violence between settlers and Palestinians in the West Bank has flared.
As of mid-May this year, the United Nations has reported 421 settler-related incidents in the occupied territory, leading to the deaths of eight Palestinians — nearly triple last year — as well as injuring hundreds and causing property damage. In the same period, Israeli forces have killed more than 100 Palestinians in the West Bank. The IDF says most are terror suspects or people engaging violently with its troops during raids, but does not offer evidence.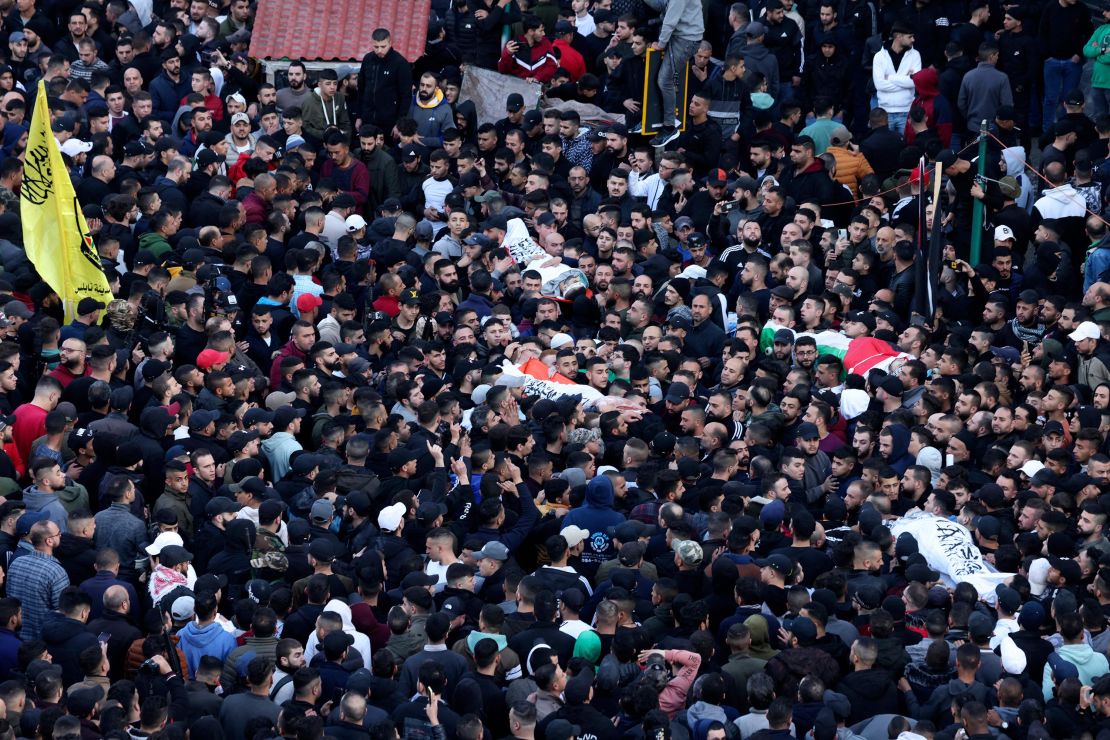 Attacks by Palestinians have left 14 Israeli settlers dead in the occupied West Bank this year, according to the United Nations.
The attacks in Huwara didn't stop on February 26. Two Jewish settlers attacked a Palestinian man and his family, with stones and an axe, while they were in their car on March 6, authorities said. The settlers were later charged with terrorism. The same evening, a video circulating on social media and geolocated by CNN showed Israeli soldiers and settlers dancing together in celebration of Purim, a Jewish holiday, in Huwara, when the soldiers were supposed to be there as peacekeepers.
On March 19, a Palestinian gunman opened fire on an Israeli couple in their car at a junction in Huwara, wounding one man who also had US citizenship, according to authorities. Later that month, on March 25, there was another shooting attack on two IDF soldiers. The next day, Sukkot — the far-right Knesset member — marched through the Palestinian town brandishing an Israeli flag. He called for the government to set up roadblocks and close all businesses in Huwara.
"We will continue to live here and there will be a lot more Jews who will come here to the village of Huwara and will also live here in the settlements. The attacks won't help, throwing stones won't help, throwing fire bottles and the incitements won't help. We're here to stay," he said in a video, which was shared on Twitter.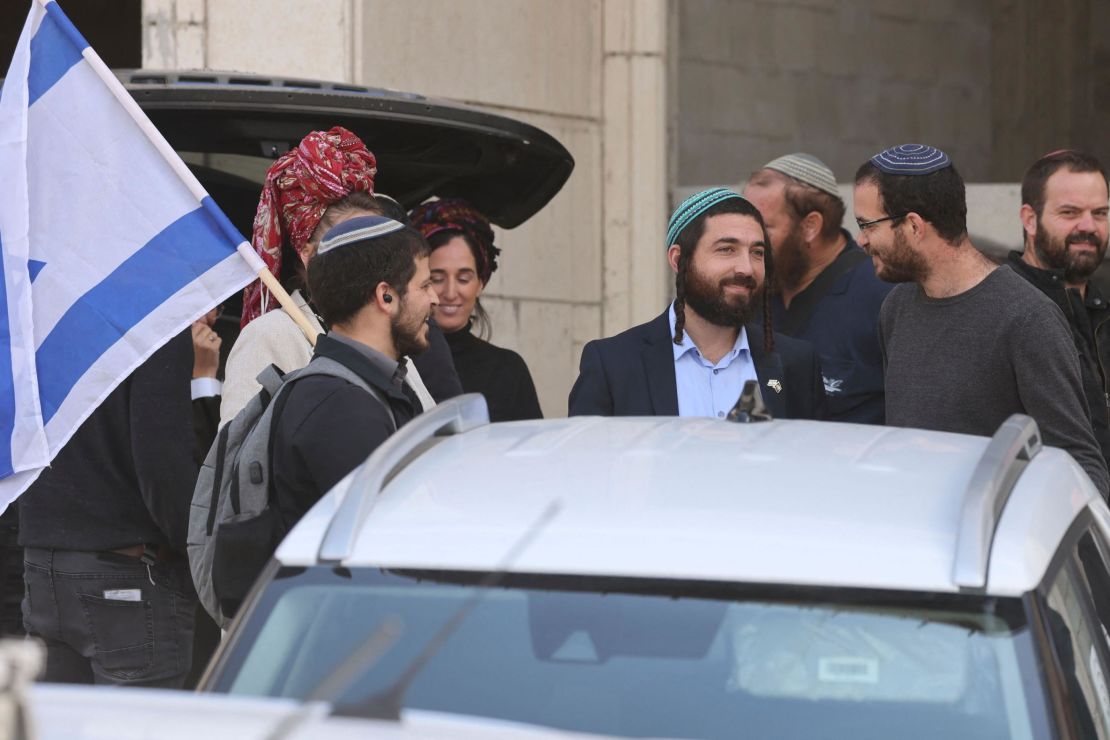 Sukkot has been arrested several times on suspicion of organizing attacks on Palestinians, including an arson attack on a mosque near Huwara in 2010; he denied the allegation and was released.
Eyewitnesses in Huwara told CNN that several attacks led by settlers took place across town after Sukkot's remarks. On the evening of March 27, shortly before Palestinian residents broke their Ramadan fast at home, videos showed Israeli military forces standing by their vehicles as settlers intimidated them and threw rocks at their cars on an otherwise quiet street. The footage, which were first geolocated by Gabòr Friesen and Chris Osieck, Dutch open-source researchers, and verified by CNN, also showed Israeli forces detaining residents, in some cases violently beating them.
Israeli soldiers are now on permanent patrol of the town, periodically closing roads and forcing shops to shutter, according to residents, who said it is impacting their livelihoods. The IDF has said it is enforcing security in Huwara, but residents feel as though they are being punished.