Republican presidential candidates Vivek Ramaswamy and Asa Hutchinson Sunday articulated vastly different plans for how they'd approach the federal indictment against former President Donald Trump should either capture the White House in 2024.
Contenders for the GOP nomination are grappling with how to strike the right tone on Trump, seen as the GOP front-runner to take on President Joe Biden next year, as they look to build their support among Republican primary voters.
Trump is facing his first federal indictment for retention of classified documents and conspiracy with a top aide to hide them from the government and his own attorneys – a total of 37 counts. He's expected to appear in court in Miami on Tuesday, after which he'll deliver remarks from his New Jersey golf club. He'll also hold a fundraiser there that night, sources familiar with the event told CNN.
Ramaswamy, who vowed to pardon Trump if elected president before details of the 37-count indictment were revealed, doubled down Sunday, telling CNN's Dana Bash on "State of the Union" that after "reading that indictment and looking at the selective omissions of both fact and law," he was "even more convinced that a pardon is the right answer here."
Ramaswamy acknowledged that he "would not have taken those documents with me," but the tech entrepreneur maintained there was a difference between "bad judgment and breaking the law."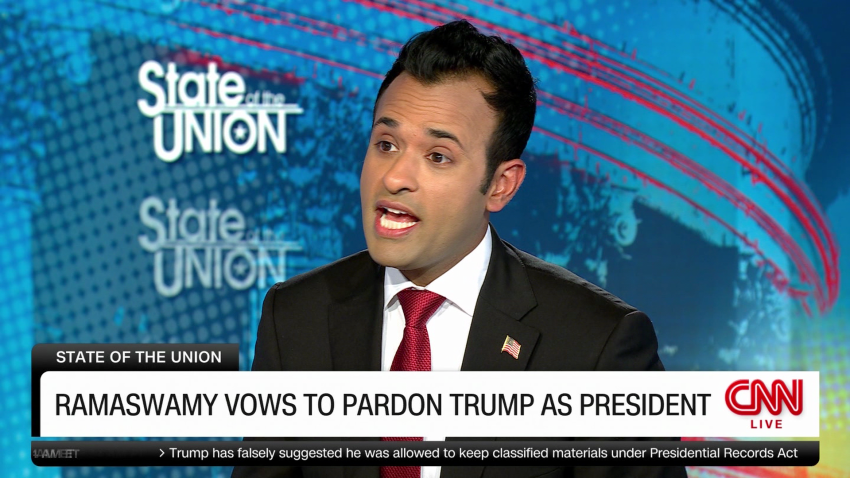 Bash presses Ramaswamy on pledge to pardon Trump
Those comments stood in contrast to Hutchinson, who called Ramaswamy's vow to pardon Trump "simply wrong" in a separate interview on "State of the Union" later Sunday.
"It is simply wrong for a candidate to use the pardon power of the United States of the president in order to curry votes, and in order to get an applause line. It is just wrong," the former Arkansas governor told Bash.
"We do not need to have our commander in chief of this country not protecting our nation's secrets," Hutchinson said, adding later, "These are things that should not be disclosed as entertainment value to a political contact that you're speaking with."
Asked if he believes the indictment will help Trump in the 2024 race, Hutchinson said, "I suspect that he's going to raise money on the indictment as he did before. And obviously with a lot of Republican leaders saying that this is selective prosecution, that this is unfair – there is a sympathy factor that is built in."
But, Hutchinson said, "The Republican Party stands for the rule of law and our system of justice. Let's not undermine that by our rhetoric, by making up facts, and by accusing the Department of Justice of things that there is no evidence of."
Other 2024 hopefuls walk fine line
Ramaswamy isn't the only 2024 GOP contender to criticize the Justice Department in the days since Trump first disclosed the indictment.
Florida Gov. Ron DeSantis on Thursday accused the DOJ of "weaponization of federal law enforcement" while vowing, if elected president, to "bring accountability to the DOJ, excise political bias and end weaponization once and for all."
DeSantis declined to comment on the indictment Saturday at a campaign stop in Oklahoma, but he repeated his vow to end the "weaponization" of government and clean house from top to bottom" as president.
Former Vice President Mike Pence on Saturday called on Attorney General Merrick Garland to "stop hiding behind the special counsel and stand before the American people" to explain "this unprecedented action."
"We also need to hear the former president's defense so that each of us can make our own judgment," Pence told attendees at the North Carolina GOP convention in Greensboro, where Trump also spoke hours after addressing a similar gathering in Georgia.
Nikki Haley, the former South Carolina governor and Trump's United Nations ambassador, characterized the indictment as "prosecutorial overreach" in a statement Friday, adding that it was time to move "beyond the endless drama and distractions."
North Dakota Gov. Doug Burgum, who entered the GOP race last week, vowed Sunday in an interview on CBS News to "follow every rule related to handling classified documents" after potentially leaving office as president. He told Fox News on Saturday that Trump's mishandling of documents was not something that voters want to spend their time talking about.
Former New Jersey Gov. Chris Christie, a onetime ally and close adviser to Trump who has emerged as his chief critic in the 2024 race, however, described the details of the indictment as "damning."
"This is irresponsible conduct," he told CNN's Jake Tapper on Friday, adding that "the conduct that Donald Trump engaged in was completely self-inflicted."
Christie is scheduled to participate in a CNN town hall hosted by Anderson Cooper in New York on Monday.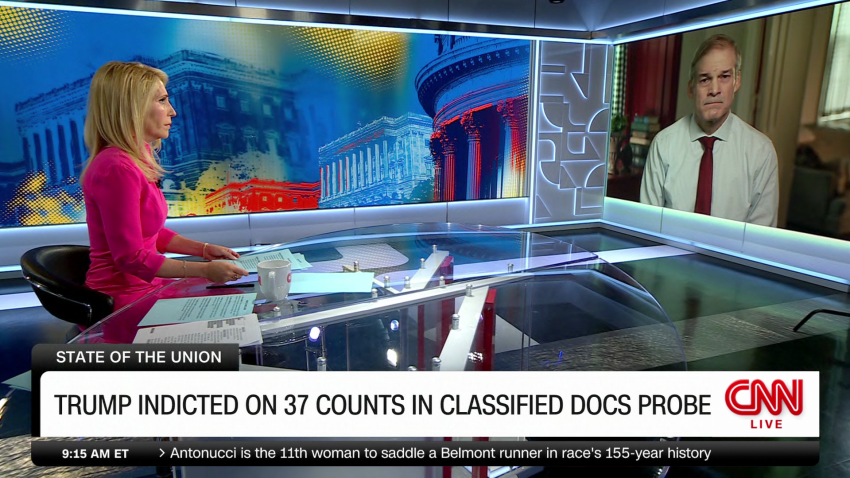 Full Interview: Dana Bash presses Rep. Jim Jordan on indictment
Congressional ally stands firm
Trump has maintained the reliable backing of har