American golfer Bryson DeChambeau told CNN he "feels bad" for PGA Tour players who did not take the "risk" he did by joining the breakaway LIV Golf series, in the wake of the shock reconciliation between the warring tours on Tuesday.
An announcement by the PGA Tour declared a partnership with the Saudi-backed LIV Golf, as well as the DP World Tour, unifying the trio under a new, yet-to-be-named, commercial entity.
It looks set to end years of bitter public and legal friction between the different tours, a conflict that DeChambeau quickly found himself at the center of after becoming one of the first golfers to join the breakaway series in June 2022.
An eight-time winner on the PGA Tour and the 2020 US Open champion, DeChambeau's move was a huge coup for LIV Golf. Bankrolled by Saudi Arabia's Public Investment Fund (PIF), the series pledged to award $250 million in total prize money, with $20 million guaranteed to be split between individual players across each of the first seven events.
Yet many of the game's biggest stars stayed put, with several becoming outspoken critics of LIV Golf. Chief among them were Rory McIlroy and Tiger Woods. The latter purportedly turned down a $700 - $800 million offer to join the breakaway series, according to LIV Golf CEO Greg Norman.
Speaking to CNN's Kaitlan Collins, DeChambeau said "decent information" offered to him and other players persuaded him to make the switch.
"The players that did go over, we did take a risk, and there was a reason for taking that risk relative to the capital that had to be paid out for that to occur," DeChambeau said on CNN's Primetime show Tuesday.
"I do feel bad for the PGA Tour players because they were told one thing and something else happened. On our side we were told one thing and it's come to fruition.
"In the end for me, I want the players, the fans, and the game of golf to win, and it does stink a little bit from my perspective that the PGA Tour players are not necessarily winning. I hope that they can find a way to make sure they are valued in the same way that we are over at LIV and I think that will happen, it's just going to take some time with the players pushing back a little bit and trying to figure out what gives them the best opportunity to be successful on their own end.
"Eventually we all come back together now and play as one group – I think that's the best thing, watching us play week in week out, the best players against each other."
'Nobody's perfect'
Negative reaction from PGA Tour golfers formed only one branch of criticism towards LIV Golf and its players following the new tour's launch.
The source of the series' funding, Saudi Arabia's PIF, was a particular point of contention, with DeChambeau and other players criticized for choosing to compete for money supplied by the Middle Eastern country given its human rights record.
Saudi Arabia has been criticized by human rights groups for years. In March last year, just a few months before LIV Golf's first event, the country executed 81 men in the biggest mass execution in decades. It has drawn particular condemnation for executing people who were minors at the time of the offenses for which they were convicted.
The PIF is a sovereign wealth fund chaired by Mohammed bin Salman, the Crown Prince of Saudi Arabia and the man who a US intelligence report named as responsible for approving the operation that led to the 2018 murder of journalist Jamal Khashoggi. Bin Salman has denied involvement in Khashoggi's murder.
Quizzed by Collins on such criticisms of Saudi Arabia, DeChambeau said that what had happened was "unfortunate."
"That's something I cannot necessarily speak on as I'm a golfer but what they're trying to do – what they're trying to work on – is to be better allies, because we are allies with them," DeChambeau continued.
"I'm not going to get into the politics of it, I'm not specialized in that, but what I can say is that they are trying to do good for the world and showcase themselves in a light that hasn't been seen in a while.
"Nobody's perfect, but we're all trying to improve in life."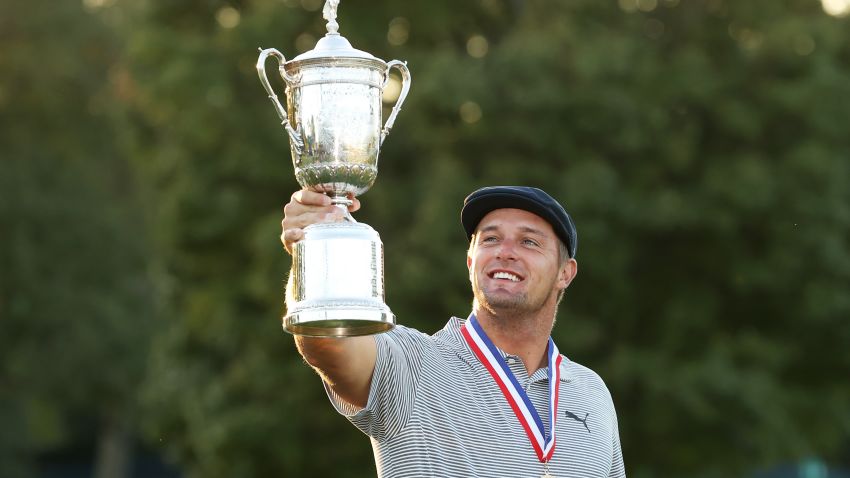 Bryson DeChambeau's unique approach to the game of golf
News of the partnership was met with outrage from groups representing families and survivors of the September 11, 2001, terrorist attacks.
The allegations of Saudi government complicity with the attacks have long been the subject of dispute in Washington. Fifteen of the 19 al Qaeda terrorists who hijacked four planes were Saudi nationals, but the Saudi government has denied any involvement.
The 9/11 Commission established by Congress said in 2004 that it had found "no evidence that the Saudi government as an institution or senior Saudi officials individually funded" al Qaeda.
A statement released by 9/11 Families United said the group were "shocked and deeply offended" by the new partnership, with Brett Eagleson, president of the 9/11 Justice group, saying it had left families "gut wrenched."
Reiterating his previous stance, DeChambeau said that the time has come to "start trying to work together … towards a pathway to peace and forgiveness."
"Well I think we'll never be able to repay the families back for what exactly happened just over 20 years ago and what happened is definitely horrible," DeChambeau said.
"I don't know exactly what they're feeling – I can't ever know what they feel – but I have a huge amount of respect for their position and what they believe, nor do I ever want anything like that to ever occur again.
"I think this is what they're trying to accomplish, LIV is trying to accomplish, the PIF is trying to accomplish: a better world for everybody and a way to provide better entertainment for everybody around the world."
CNN's Liam Reilly and Ben Morse contributed to reporting.