Coal plants that have powered America for generations are increasingly on the chopping block, as utilities around the country move to take advantage of new federal incentives and turn to often-cheaper alternatives like natural gas and renewables.
But in some of the most coal-dependent states, there's something standing in the way: state lawmakers.
Republican legislators and state officials are making it harder for power companies to retire coal plants even when it makes clear economic sense to do so – propping up the ailing industry at the cost of higher energy prices for their constituents.
While natural gas and renewable prices have fluctuated in recent years amid impacts from the war in Ukraine, supply chain issues and inflation, experts say coal is typically more expensive than the alternatives. New federal environmental regulations and incentives for renewable energy passed by the Biden administration are expected to accelerate the trend.
Considering the mounting costs to operate aging coal plants, the pivot away from coal is increasingly "a no-brainer for utilities and customers," argued Michael O'Boyle, a senior director at the consulting firm Energy Innovation Policy & Technology. A report his firm released earlier this year found that it would be cheaper to switch 99% of coal plants around the US to renewable energy sources than it would be to keep them running.
"Policymakers really need to recognize that coal is not competitive," O'Boyle said. "There's little to nothing they can do to permanently stop the trend that's moving away from coal."
That hasn't stopped them from trying.
A new law passed in West Virginia in recent months requires utilities that want to close coal plants to get approval from a state panel that includes former coal lobbyists – one of whom led the West Virginia Coal Association for nearly 30 years. The bill was signed by the state's governor, Jim Justice, whose huge family fortune comes from the coal industry.
In neighboring Kentucky, a fight over protecting coal has directly pitted Republican lawmakers against the state's biggest power companies. State legislators pushed through a similar bill this spring that would make closing coal-fired plants more challenging, over the objections of utilities. The state's largest power company is now testing the new law as it moves forward with a plan to retire several coal generating units, which it says will save ratepayers hundreds of millions of dollars.
Meanwhile, in Indiana, Montana, Utah, and Wyoming, state legislators have passed or are considering legislation that would slow closures of coal plants, allow utilities to charge ratepayers for the costs of certain federal mandates, or allocate money to pursue litigation over local and federal regulations that aim to diminish the coal industry.
Some of the legislators pushing the laws have received campaign donations from coal industry groups and leaders. They say that other forms of energy are less reliable, and they argue that protecting coal plants will save jobs in their states.
Kentucky State Senator Robby Mills, who sponsored the bill requiring new approvals for coal plant shutdowns, said that his legislation was focused on "making sure that federal subsidies and social agendas aren't driving the premature shutdown of fossil fuel plants."
"The coal sitting there in the ground ready to be burned – that's the best, most reliable, most resilient form of energy," Mills told CNN.
For some Republicans, coal isn't just a power source – it's a cultural signifier and a rallying flag in a larger national political fight. The lawmakers' clash with power companies comes as more prominent GOP leaders are moving away from the pro-market, small-government ideals that have formed the bedrock of the party since the Reagan era and are increasingly willing to use the levers of government power to prop up their preferred causes.
"Coal has, like a lot of issues, frankly, transitioned from just being an economic issue. It's an identity issue," said Sean O'Leary, a senior researcher at nonprofit and clean-energy think tank Ohio River Valley Institute. "It is being made a part of the culture war."
Coal's grip in West Virginia comes at a cost
In March, as West Virginia Gov. Jim Justice signed the latest legislation aimed at propping up the state's most iconic industry, he clutched an unusual prop: a lump of coal.
"I owe my life to this right here," Justice declared, gesturing with the black rock, as the head of the state's coal industry lobbying group hovered over his shoulder, and Justice's beloved English bulldog, Babydog, looked on from a nearby lawn chair.
Even as most states around the country have significantly reduced their use of coal power in recent decades, the coal industry has maintained its stranglehold on West Virginia. Close to 90% of the state's electricity comes from coal, thanks in part to efforts of state leaders like Justice, who's now running for a US Senate seat.
The bills Justice signed are technical, but the strategy is simple: Republicans are throwing the coal industry a lifeline made of red tape. The legislation creates hurdles for utilities to jump through as they close coal or fossil-fuel-fired power plants, including requiring approval of two state boards whose members are appointed by Justice.
One of those, the three-member Public Service Commission, includes the former president of the state coal association, as well as a former congressional candidate who once pledged to end what she described as President Barack Obama's "war on coal."
The newly empowered commission, with encouragement from lawmakers, is already working to preserve a coal-fired plant on the verge of closure, even though it will cost West Virginians millions of dollars in higher energy bills.
The corporate owner of the 44-year-old Pleasants Power Station, which burns over 3 million tons of coal annually, had planned to close the plant at the end of May, arguing it was no longer economical to run it. But the commission ordered two other power companies to consider buying the facility and allowed them to move forward with plans that could end up costing ratepayers at least $36 million over the next year to keep the plant idle and staffed – without producing energy – while the companies analyze the possible transaction.
The impetus for a sale of the plant came from the state commissioners, not from the power companies, Christopher Callas, a lawyer for the potential buyers, said during public testimony.
"The companies were not the ones to promote this – they have done what they have been asked," he said, adding the debate over keeping Pleasants open is "a political question" between preserving coal power plant jobs or protecting utility customers from rising costs.
Pleasants is the latest example of West Virginia officials "going to great lengths" to keep coal-fired power plants alive, said Shannon Fisk, an attorney at the environmental advocacy group Earthjustice. "It seems unprecedented to me," he said, that a coal plant would be "bailed out by captive customers, not to be operated, but to sit there and do nothing" – especially considering that keeping the plant open is "something the market didn't want."
More broadly, the debates over coal in West Virginia have led to a scrambling of traditional political ideals between Democrats and Republicans.
In a speech on the House floor in March, Delegate Evan Hansen, a Democrat, decried the legislature's moves to protect coal plants as overreach. "There's a reason why these plants are making decisions to close," he said. "Why insert government into private decisions by private companies?"
Republicans, on the other hand, have emphasized the importance of saving coal jobs – after years of shrinking employment in the industry. They also say they're providing a counterbalance to federal mandates incentivizing coal plant retirements.
"I want to get to a free market economy with as little regulation as safely possible," said Delegate Brandon Steele, a Republican whose district includes several coal mines – but "if it's going to put a hillbilly to work, I'm going to vote for it."
Strong opinions about coal on both sides of the aisle sometimes get in the way of coming to compromise on energy issues, Steele said in an interview. "On the left, there's this demonization of coal, and on the right, there's a deification of coal," he said. "Both sides get a little too emotional about a mineral."
The state's efforts to protect the coal industry come on the heels of more than a decade of rising electricity prices for West Virginia customers. The state's residential electricity rates have grown by a larger percentage than any other state in the nation since 2005, more than doubling over that time period, according to data from the U.S. Energy Information Administration.
More and more West Virginians are feeling squeezed. Near the lush Monongahela National Forest, Xavier Walter estimates the cost for his campground's electricity nearly doubled in the last five years. Walter, who also promotes clean energy programs in the state, estimates the power bill has become the campground's second-largest expense, after the mortgage.
"It hampers our budget and our ability to grow," Walter said. "I think the rates are going to continue to rise as long as we keep bailing out large corporations."
Electricity 'shouldn't be a luxury'
When the Mill Creek Generating Station first came online in 1972, it was on the cutting edge of coal power technology. The sprawling plant in Louisville, Kentucky, with smokestacks that towered over the Ohio River, had computerized controls and pioneered management techniques that are now industry standards.
Five decades later, the plant is showing its age, and costs to run it are mounting. LG&E and KU, the power company that owns Mill Creek, has moved forward with plans to replace two of the plant's four coal-fired generating units, alongside several other coal plants, with new natural gas units and solar power by 2028.
"It is no longer cost-effective to make the needed investments to meet increasingly stringent environmental regulations," utility president John Crockett declared as he announced the change, which the company said would save its customers hundreds of millions of dollars.
Now, whether LG&E and KU can follow through on those plans has become a test case for the new Kentucky law, passed this spring by the state's GOP-dominated legislature, aimed at preserving coal power.
Similar to the West Virginia legislation, Kentucky's law, known as Senate Bill 4, requires any utility planning to retire a fossil-fuel plant get approval from the state's Public Utilities Commission. Utilities must replace any retired plant with new generation power, prove their proposal "maintains or improves the reliability and resilience of the electric transmission grid" and show that the retirement was not the result of federal financial incentives.
Mills, the bill's sponsor, said that the legislation was aimed at preventing premature closures of coal plants, and designed to force utilities to be transparent about closures.
There was "definitely a tension there" between wanting to promote small government principles and putting forward new bureaucratic rules to protect coal plants, he said. But he argued that federal regulations "are putting the government's finger on the scale and causing undue pressure to the utilities when it comes to getting away from fossil fuels." To Mills, his bill is a way for the state to try to balance the scale again.
Mills and other proponents have also cited concerns about grid failures to argue coal is more reliable, pointing to outages during the massive winter storm in December 2022. But clean energy advocates have noted that coal plants also went offline during that storm.
The state coal association lobbied for the bill. In addition, of the bill's 13 sponsors in the state senate, three – including Mills – have received donations from Joe Craft, the CEO of one of the state's largest coal companies, his company's PAC, or his wife Kelly, who was a GOP candidate in this year's governor's race. A fourth sponsor was Kelly Craft's gubernatorial running mate.
Several of the state's largest utilities, including the Mill Creek owner, lobbied against the legislation. A Duke Energy executive told lawmakers at a hearing that the new law "will cause customers' rates to increase by requiring them to continue to support and pay for generation well past its useful life."
But despite the utilities' objections, the bill was approved in the GOP-controlled legislature. Now, LG&E and KU, which has filed an application with the commission to move forward with its retirement plans, is expecting a ruling by the end of the year.
In the filing, the company said that the transition from coal to natural gas and solar would be significantly more economical – saving ratepayers between $344 million and $1.28 billion over the coming decades, depending on how gas and coal prices shift over time.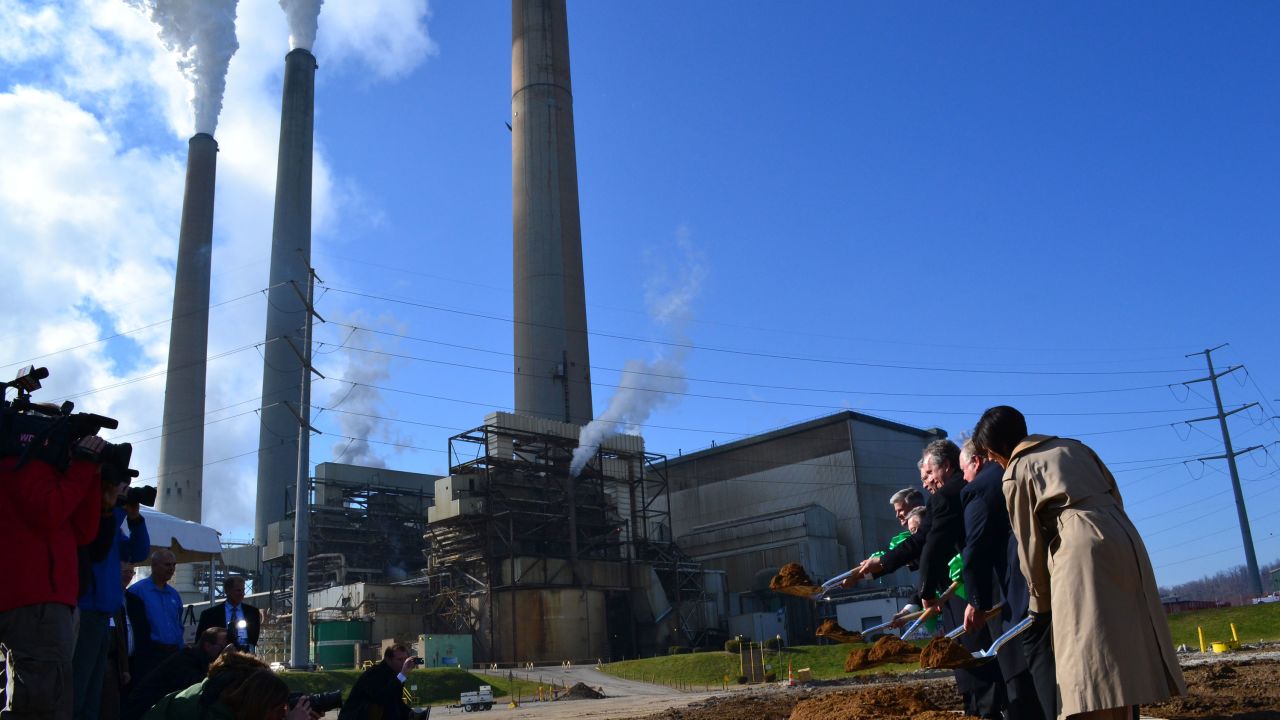 Some Kentucky ratepayers, like Madeline Caulk, worry the new law will end up blocking the transition and lead to higher electricity bills for them. Caulk, who works as a hospice nurse and lives in a two-bedroom apartment in Louisville with her daughter, pays roughly $175 for her electric bill each month. If her bill becomes more expensive, she said she would need to get a higher-paying job to cover the cost.
"I financially could not afford it," Caulk said. "Working people are having to pay so much of their monthly income just to have electricity. That shouldn't be a luxury."
For some, the cost of Mill Creek's coal-fired power goes beyond energy bills. Louisville's Jefferson County has the third most premature deaths in the country from coal power plant pollution, a Sierra Club study found. Those deaths were largely due to pollution from Mill Creek, which is one of the few large coal plants in the US located inside a major city, according to the study, which LG&E and KU disputed.
Experts say that while replacing Mill Creek's coal units with natural gas won't end the health impacts, gas plants generally produce less air pollution linked to asthma, cancer, and heart and lung illnesses than coal-burning plants.
Mill Creek has faced complaints from locals over the years, and the company agreed to a federal consent decree in 2021 that required it to reduce the plant's sulfuric acid emissions. Still, residents of the neighborhood – who are used to the daily nuisance of scraping coal dust off their cars and windows – say they haven't noticed an improvement in air quality.
Michael and Sherry Fitz, who can see Mill Creek's smokestacks from their front yard, have lived a few blocks from the plant for more than a decade. They'd like to move farther away from the facility, but said they feel stuck because a new house would likely be more expensive.
Michael said that he's not opposed to coal as a fuel source, but he worries about his two daughters growing up so close to the facility.
"Coal has been around, I'm used to it," he said. "I'm not opposed to it, but I don't really know what comes out of that plant."
Other states move to push coal power
Lawmakers in other states are also following similar playbooks to prop up coal power – including outside their own state borders.
In Wyoming, America's top coal-producing state, lawmakers haven't just fought against phasing out coal in the state, but also across the region. Fossil fuel production is Wyoming's economic lifeblood, and more than 40% of all coal mined in the United States comes from the state's mines.
In 2021, after years of decline in coal demand, the state legislature allocated more than $1 million so Wyoming could sue when other states, many of which are transitioning to greener sources of energy, impede Wyoming's ability to export coal.
Earlier this year, the state legislature passed another law to give the governor more power and flexibility in suing states and the federal government over coal plant closures. Wyoming also teamed up with Montana in 2020 to sue Washington state after it blocked the states' access to a port that would allow them to ship coal to foreign markets, though the Supreme Court ruled against allowing the suit to move forward.
And while other states around the country have passed laws requiring utilities to phase out coal in the coming decades, Wyoming is going the opposite direction. It passed a law in 2020 that will require the state's utilities to get at least 20% of their power from coal-fired plants with carbon capture technology by 2030, the only law of its kind in the US.
Suzanne Tegan, who works at the Center for the New Energy Economy at Colorado State University, said state leaders are working to protect Wyoming communities from the devastation of losing a major economic engine.
"State leaders want to protect what is fueling their economy, and change is really hard," Tegan said, adding that the states that buy energy from Wyoming are "going in a different direction."
In Montana, Republican officials have portrayed protecting coal power as another front of the national culture wars as they've waded into the fight over one of the largest coal-fired plants west of the Mississippi. The Colstrip power plant is co-owned by several utilities in Washington and Oregon, which have planned to close it, and other utilities serving Montana, which want to keep it running.
Montana lawmakers passed a bill in 2021 that would fine a stakeholder if it refused to fund its share of Colstrip's operating costs. In a tweet when he signed the law, Montana Gov. Greg Gianforte accused "woke, overzealous regulators in Washington state" of "punishing the people of Colstrip with their anti-coal agenda." But a federal judge later deemed the law unconstitutional and struck it down.
In Indiana, the state legislature passed a law earlier this spring that makes it more difficult for utilities to retire coal-fired units and allows the state's regulatory agency to investigate a utility's decision to shutter, sell or transfer a power plant.
And Utah Republicans have pushed to delay the retirement of numerous coal-fired units at Utah's largest power plant. The facility, Intermountain Power Plant, is pivoting to natural gas and renewables. The lawmakers passed a bill in March that will require a state agency to study how to keep the plant open beyond its 2025 retirement date, including under state control or a public-private partnership.