Ukrainian tennis player Elina Svitolina said that she was unsure why Belarusian opponent Aryna Sabalenka waited at the net for a handshake after their French Open match.
With the war in her home country ongoing, Svitolina has declined to shake hands with Russian and Belarusian players since returning to tennis following the birth of her first child last year.
But Sabalenka, who progressed to the semifinals at Roland Garros with a 6-4 6-4 victory on Tuesday, waited at the net to acknowledge Svitolina.
"I don't know, to be fair, what she was waiting [for], because my statements were clear enough about the handshake," the former world No. 3 told reporters.
She added: "My initial reaction, I don't know, was like, what are you doing? Because, yeah, all my press conference I say my clear position. So I don't know."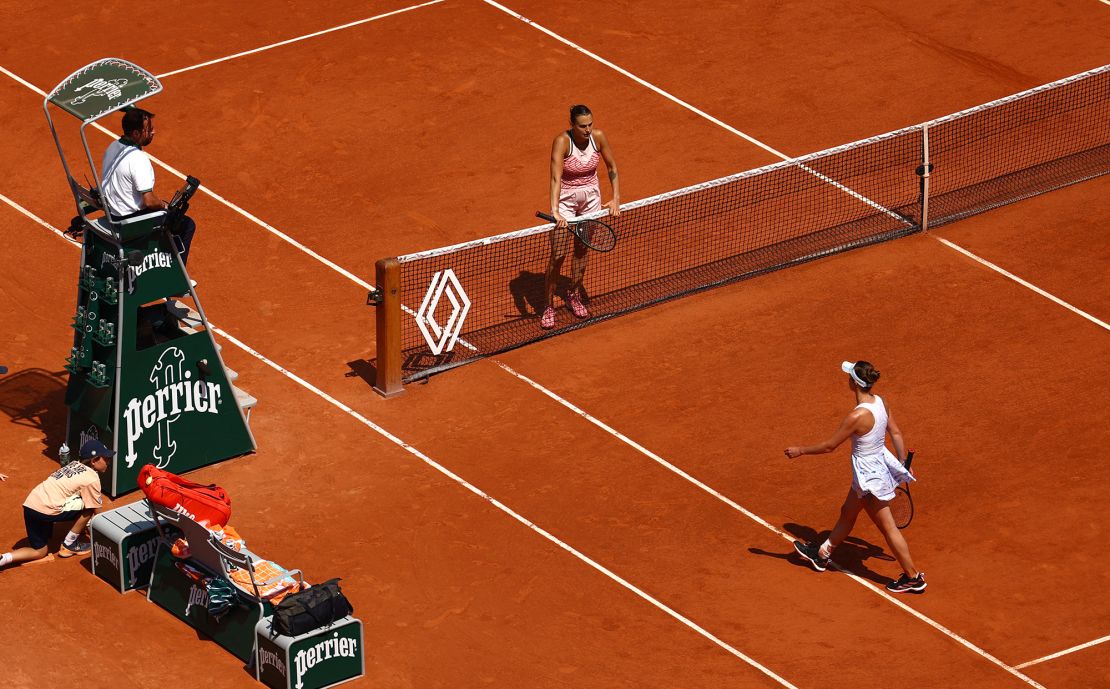 Sabalenka faced a similar scenario against Ukrainian Marta Kostyuk in the French Open first round, when her opponent also left the court without a handshake.
After her third and fourth-round matches, Sabalenka stopped participating in customary post-match press conferences, saying that she didn't feel safe safe when she attended one last Wednesday.
However, she attended a regular press conference after the quarterfinal and said that she waited at the net out of "instinct."
The world No. 2 also reiterated her stance against the war in Ukraine and said that she has always respected the press conference format.
"I'm always open in my answers," Sabalenka told reporters. "I really felt bad not coming here. I couldn't sleep. Like all those bad feelings was in my head, I couldn't fall asleep.
"I felt really bad not coming here. I really respect all of you guys. Thank you so much for coming here, for being interested in me."
Asked whether Sabalenka had inflamed the handshake situation by waiting at the net, Svitolina said: "Yeah, I think so, unfortunately."
Despite her time away from tennis, the 28-year-old Svitolina enjoyed a strong run at the French Open after winning her 17th WTA title in Strasbourg ahead of the tournament.
She managed to go toe-to-toe with Sabalenka on Court Philippe-Chatrier for much of the first set and broke at the start of the second set as she looked to mount a comeback.
But Sabalenka's power game from the baseline ultimately overwhelmed Svitolina as she secured two breaks of serve to win in straight sets.
The Australian Open champion finished the match with 30 winners to Svitolina's seven and will next face Czech Republic's Karolina Muchova on Thursday for a place in the French Open final.