Aaron Judge is no stranger to highlight plays. And on Saturday, he added to his already long list with a spectacular catch.
In the eighth inning of New York Yankees' 6-3 victory over the Los Angeles Dodgers on Saturday, Dodgers' J. D. Martinez unleashed a deep drive into the field.
The ball appeared to be falling to where no Yankees players was, but out of nowhere came Judge.
The 31-year-old sprinted, extended his left hand to snag the ball in a spectacular catch. His momentum took him crashing through a door into the bullpen, which caused Judge to stumble before he was able to throw the ball back into the infield.
"I think the fence got most of it," Judge said afterwards. "Thankfully, it was that part of the wall where it had some give. I think that saved me quite a bit. If it was a solid wall, it might be a different story."
According to Statcast per the MLB website, Judge covered 79 feet in 4.7 seconds to make the play, which had a catch probability of 50%.
"Just another awesome catch added to the list, in a big-time spot," Yankees manager Aaron Boone said.
"I knew it was going to be dead on the run with a tough catch there, and then your heart skips a beat when the fence goes flying open."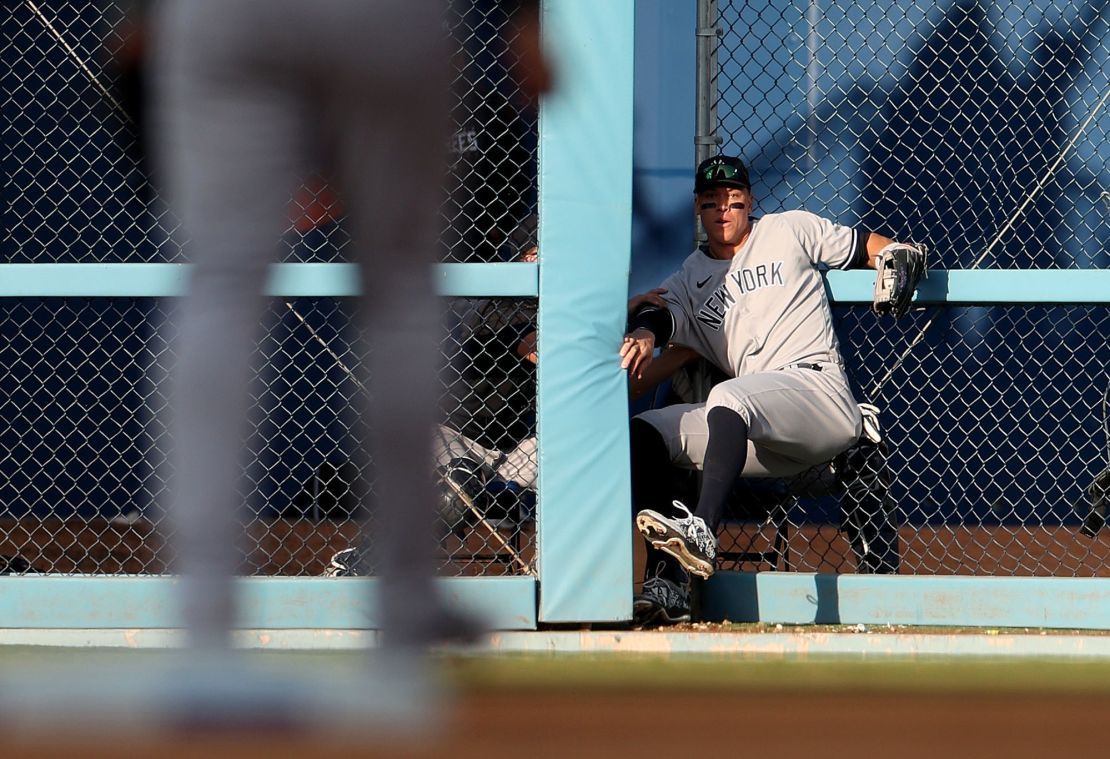 Judge did appear to be briefly affected by the contact with the door, and was checked upon by a whole host of teammates and coaching staff.
But after insisting he was okay, Judge was able to finish out the victory.
However, on Sunday, the Yankees announced that Judge was ruled out of the team's series finale against the Dodgers with an injury to his big toe on his right foot. The Yankees would win 4-1 without Judge.
New York said it expects him to undergo "X-rays and/or an MRI on Monday in New York."
However, Judge said on Sunday that he hoped to avoid the injured list.
"I've got no answer yet," he said, per MLB.com. "I'm hoping today and [Monday] having a little bit of rest, we'll be good to go hopefully on Tuesday. But we'll take it day to day right now."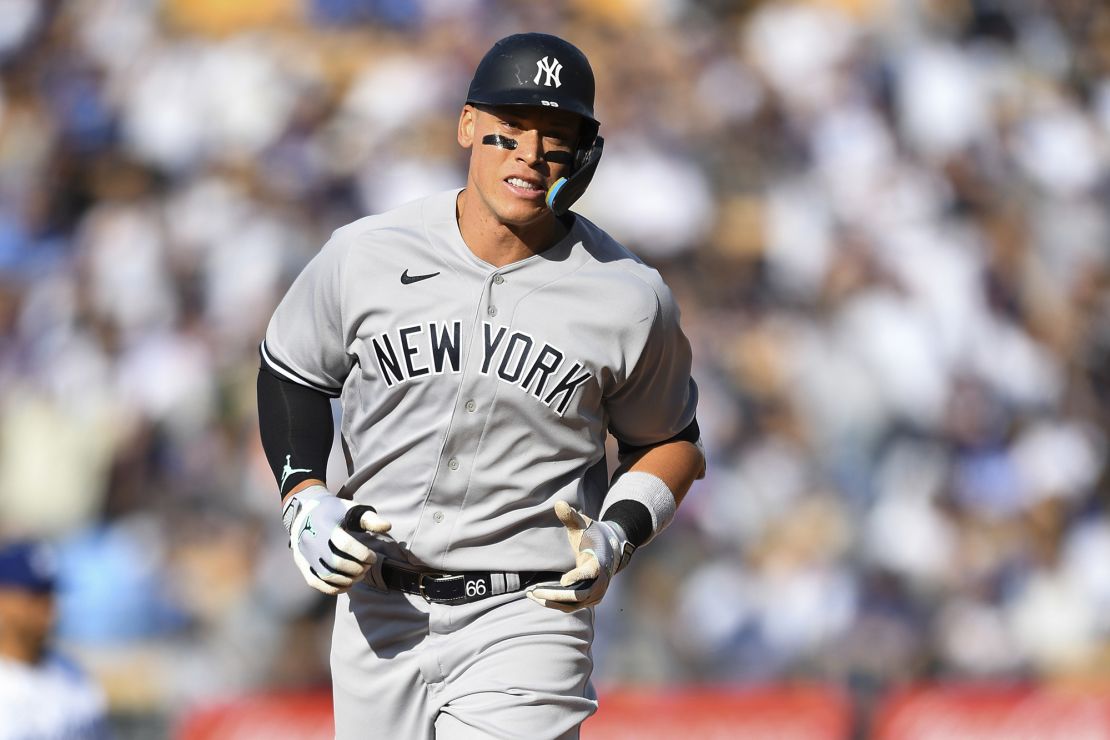 'I'm still trying to come down from it a little bit'
Elsewhere, Jake Burger hit a walk-off grand slam in the bottom of the ninth to give the Chicago White Sox a dramatic 6-2 win over the Detroit Tigers on Sunday.
With the game approaching its end, Andrew Benintendi, Yoan Moncada and Tim Anderson were sat on the bases with Burger in bat.
But the 27-year-old was able to hit a curveball over the left-center field, although when it left his bat he wasn't sure if it would make it over the fence.
"Honestly, off the bat, I didn't think it was getting out," Burger said. "I thought it was going to be off the wall; a single. It went out, and I'm still trying to come down from it a little bit."
The victory was made even more special because of the adversity the White Sox have had to come through.
Burger didn't play for almost two years between 2018 and 2020 while recovering from two Achilles tears.
And at the mound, Liam Hendriks picked up his first win after recovering from cancer.
Pitching in back-to-back games for the first time since his diagnosis, Hendriks pitched a perfect inning in the ninth before Burger's grand slam.
And what made the moment even more special for Hendriks was the fact the win fell upon National Cancer Survivors Day.
"That's one thing that's pretty special," Hendriks said afterwards. "As soon as you get diagnosed, you are considered a survivor. You've lived through this.
"Hopefully, I can continue moving forward and continue somewhat at least doing the right thing on the field and give some people some hope to continue fighting."