Hundreds of far-left protesters clashed with police in the eastern German city of Leipzig on Saturday night, during demonstrations over jail terms handed down to several people convicted of vigilante attacks against neo-Nazis.
Earlier this week, a court in Dresden convicted four left-wing activists, including a well-known student identified in German media as Lina E., of committing violent acts against neo-Nazis, sentencing them to jail for two to five years. Groups sympathetic to Lina E., who is from Leipzig, have been protesting the verdict.
An anti-fascist "Day-X" march planned for Saturday in Leipzig – where most of the attacks took place – was banned because authorities were concerned that it posed a threat to public safety. The ban was contested by the protest's organizers, according to German newspaper Der Spiegel.
Police tried at first to accommodate the demonstration, but when it turned violent and officers came under attack, authorities responded with force. Five people were arrested, all male German citizens aged 20 to 32 years old, Leipzig police said.
Late into the evening, a group of approximately 300 people "threw stones at a police station and set fire to barricades." Emergency forces, equipped with several water cannons were "deployed to stabilize the situation," police said.
Separate "violent" gatherings were also reported in different parts of the city, police said, adding that "emergency force officers were attacked. Hundreds of police units are on standby and are preparing for a violent course in this phase of the operation."
Leipzig police called for calm "to prevent the situation from escalating any further."
On Friday, police had told CNN that they were preparing a large-scale operation to counter any potential unrest. "All the information available to the Leipzig police department suggests that protesters will still gather in Leipzig on Saturday despite the ban," a Leipzig police spokesperson told CNN on Friday.
The spokesperson added that police were expecting that protesters from across Europe to travel to Leipzig after call-outs on social media, and that it could be their largest operation in two years.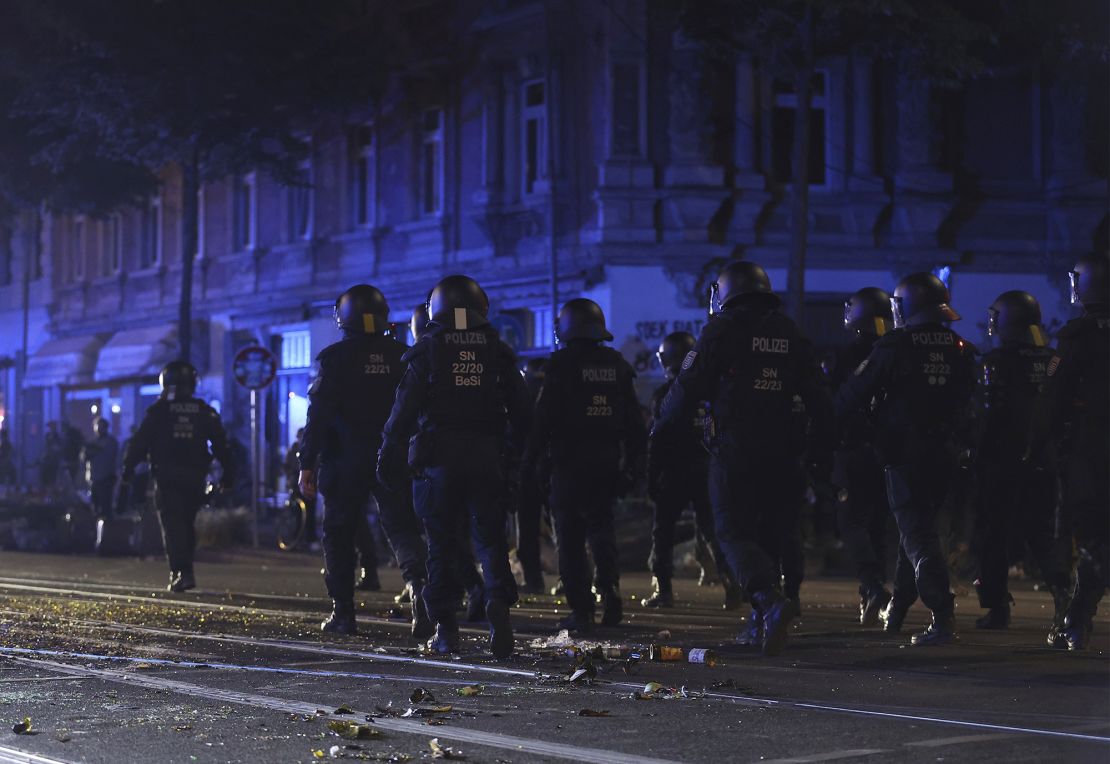 The calls for protests in posts online came in the aftermath of Lina E., 28, receiving a five year jail term earlier in the week for her role in a series of attacks in Leipzig and other German cities.
She had been in police custody since her arrest on November 5, 2020 and has become something of an icon among anarchist circles in Germany, with the "Free Lina" graffiti featuring on buildings in Leipzig, Hamburg and Berlin.
Lina E.'s three male accomplices, aged between 28 and 37, received prison sentences ranging from two years and five months to three years and three months.
Prosecutors said that Lina E. and her three co-defendants, known as Lennart A., Jannis R. and Jonathan M., are proponents of "militant extreme-left ideology" who carried out attacks on right-wing extremists in Leipzig and nearby towns.
The court found that the four activists spied on and attacked neo-Nazis and alleged supporters of the right-wing scene in Leipzig, Wurzen and Eisenach in the German state of Thuringia between August 2018 and the summer of 2020. Thirteen people were injured during the attacks, with two sustaining life-threatening injuries.
The Dresden court confirmed to CNN that among the attacks Lina E. helped to orchestrate was a 2020 incident which saw a group of 15 to 20 assailants beat six people returning from a ceremony to mark the 75th anniversary of the bombing of Dresden in World War II – an event which regularly attracts neo-Nazis and other far-right sympathizers. Prosecutors said several victims sustained serious injuries after being kicked and hit with batons.
The trial against the group THE FOUR? started in September 2021 and was marked by the highest level of security. The accusations leveled against the group were the most serious faced by Germany's radical left in recent years.
The judge acknowledged that right-wing extremism poses a greater threat to German society than left-wing extremism, but said that even proponents of such views have inherent rights.