Editor's Note: Frida Ghitis, a former CNN producer and correspondent, is a world affairs columnist. She is a weekly opinion contributor to CNN, a contributing columnist to The Washington Post and a columnist for World Politics Review. The views expressed in this commentary are her own. View more opinion on CNN.
The world awoke Wednesday morning to the latest threat from Russia's former president and prime minister Dmitry Medvedev.
Writing on Twitter, Medvedev, who is currently the deputy chair of Russia's Security Council, attacked the United Kingdom as Russia's "eternal enemy" and accused it of leading an "undeclared war" against Russia. He announced menacingly that "any of its public officials…can be considered as a legitimate military target" by Moscow.
Medvedev, who has a lengthy record of outlandish pronouncements, was responding to a comment by UK Foreign Secretary James Cleverly, who said Ukraine has "the right to project force beyond its borders" as part of its self-defense. Cleverly said he was referring to military targets in a broader sense, but his remarks came just after drone attacks were launched inside Russia. Ukraine has denied any direct involvement.
In case there was any doubt that Medvedev's words amounted to a threat, the Russian state-controlled outlet RT, which tries to pass itself as a legitimate news organization, reported that Medvedev had "issued a warning" to London.
For years, the behavior of the Russian authorities has looked more like the work of a mafia organization than that of a normal state. And Medvedev has emerged as the man who makes over-the-top threats for the regime.
He does so by trafficking in fear. He's like the fictional figure who appears out of nowhere, stares ahead with a blank face and slowly runs his finger across his throat: a none-too-subtle message from the boss. For those on the receiving end of Medvedev's invective – in Ukraine and the West – the question is how seriously to take his threats. Is he seeking to gain Putin's favor with his rants? Or is he speaking for the Russian president?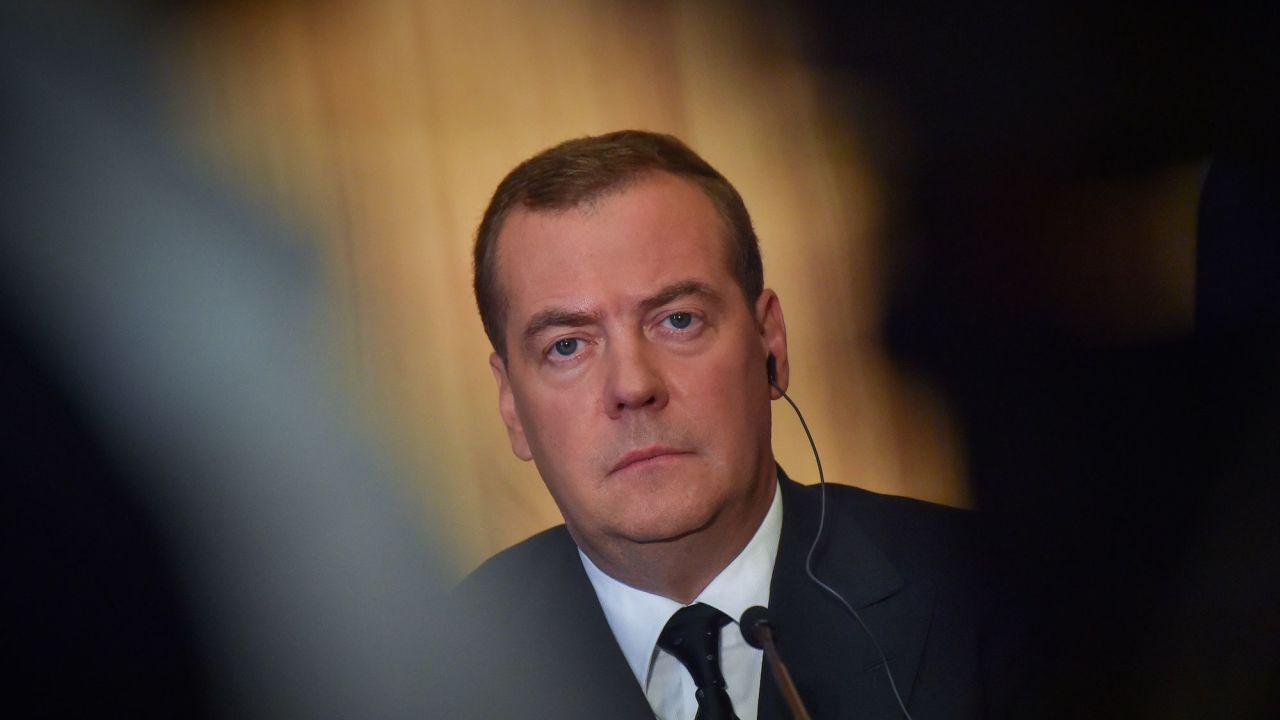 The scare tactics against London are by no means Medvedev's most outrageous. He has repeatedly warned, for instance, that Russia could use nuclear weapons. When Putin warned last year that Moscow might take such a step, the statement garnered a stern warning from Chinese leader Xi Jinping, the one friend he cannot afford to lose. So, it seems the Russian leader may have delegated much, though not all, of the threat-making to Medvedev, who rages on social media – a ventriloquy act – while Putin tries to maintain a relatively statesmanlike countenance.
In January, for example, Medvedev wrote on Telegram, "The defeat of a nuclear power in a conventional war may trigger a nuclear war." The next month, he warned on Twitter, "The Ukrainian gang of drug addicts must understand that [attacking Crimea] will be met with inevitable retaliation using weapons of any kind." And in May, Medvedev noted on Twitter that the more destructive the weapons the West gives to Ukraine, the "closer the possibility of nuclear apocalypse." Medvedev has also declared that "Poland should not exist" (earning a brief restriction from Twitter) and that Ukraine might soon vanish from the map.
On Telegram, Medvedev threatened Sen. Lindsey Graham of South Carolina when he visited Kyiv and lauded US support as money well spent. Local media misrepresented Graham's words, claiming he had said the killing of Russians, rather than US aid to Ukraine, was a good investment. Medvedev shot back, noting darkly that people regularly get killed in the US, and rattling off a list of US politicians who have been assassinated.
Evidence abounds that the Kremlin is indeed dangerous. For years, those who have dared criticize the regime have been assassinated both on Russian soil and abroad. And the pace of mysterious deaths appears to have quickened since Putin launched his unprovoked invasion of Ukraine, although the Kremlin has long denied playing a role.
Just last weekend, Deputy Science Minister Pyotr Kucherenko, 46, became ill mid-flight while returning from a trip to Cuba. Shortly before he died, he had called Russia's war against Ukraine "a fascist invasion." The cause of death remains unexplained.
Countless others have fallen out of windows after criticizing Putin or his war. And those who survive assassination attempts allegedly by the regime – like opposition leader Alexey Navalny and human rights activist Vladimir Kara-Murza – land in prison camps with decades-long sentences. As it has in other cases when Kremlin critics are targeted, Moscow has denied playing a role in poisoning Navalny and Kara-Murza.
And yet, this is not just a case of Putin the puppeteer speaking through his former prime minister. Medvedev's social media posts almost seem like declarations of loyalty. He may be trying to regain his favored status at a time when tensions are running high in Moscow, where his stock is not nearly as high as it once was.
There was a time when Medvedev had Putin's absolute confidence and was viewed, in the West at least, as his potentially more moderate successor. When Putin ran into presidential term limits in 2008, he nominated Medvedev for president, while he became prime minister.
Putin did not have to worry about his loyal follower deciding he wanted to elbow him out and stay in power. In 2012, the two switched seats and Putin became president again. Later, Putin had the constitution changed so he could remain president for many years to come.
But, eventually, Medvedev's star dimmed. In 2020, he resigned the post of prime minister, in what some observers saw as his inevitable fall from grace. The Kremlin insider had become something of a laughing stock. He had been spotted dozing off during Putin speeches and embarrassingly had become a social media meme. Navalny and his followers mocked him incessantly, posting videos of Medvedev asleep on the front row of Putin's droning speeches. That couldn't have pleased the boss.
Then came a devastating documentary by Navalny's Anti-Corruption Foundation, already viewed 46 million times on YouTube. Navalny and his team document what they allege is evidence that Medvedev embezzled $1.2 billion, becoming the owner of mansions, yachts, even a vineyard in Italy. Some observers say that was the final blow for what they called the Batman and Robin act by Putin and his once-trusted sidekick, who had to step down, even as he has steadfastly denied the accusations.
With the war in Ukraine – a pivotal moment in Russia's history – Putin remains at the center of the mafia-like government he has built. And Medvedev knows he needs to stay in his good graces.
He may try to sound tough – threatening British officials and US senators, and raising the prospect of nuclear Armageddon – to impress the boss. But Medvedev knows that above all else he needs Putin to think of him as unequivocally loyal and useful. Anything less could prove disastrous.