Every sport in Europe – from soccer to fencing to UFC – has had to grapple with the fallout of Russia's invasion of Ukraine and tennis is no exception.
Since the start of the war, Russian and Belarusian players have continued to play at tournaments and grand slams but must do so as neutrals without their flag or country displayed.
The only exception has been Wimbledon, which banned players from those two countries last year – though the ATP and WTA Tours responded by stripping the tournament of ranking points.
The governing bodies of the men's and women's tours both said that they oppose "discrimination" against players based on nationality.
Wimbledon, which denied that its ban was discriminatory, has since said it will accept entries from Russians and Belarusians this year, so long as the players compete as neutrals and do not express support for the war.
Players who receive funding from the Russian or Belarusian states will also not be allowed to compete, including those receiving sponsorship from companies operated or controlled by those states.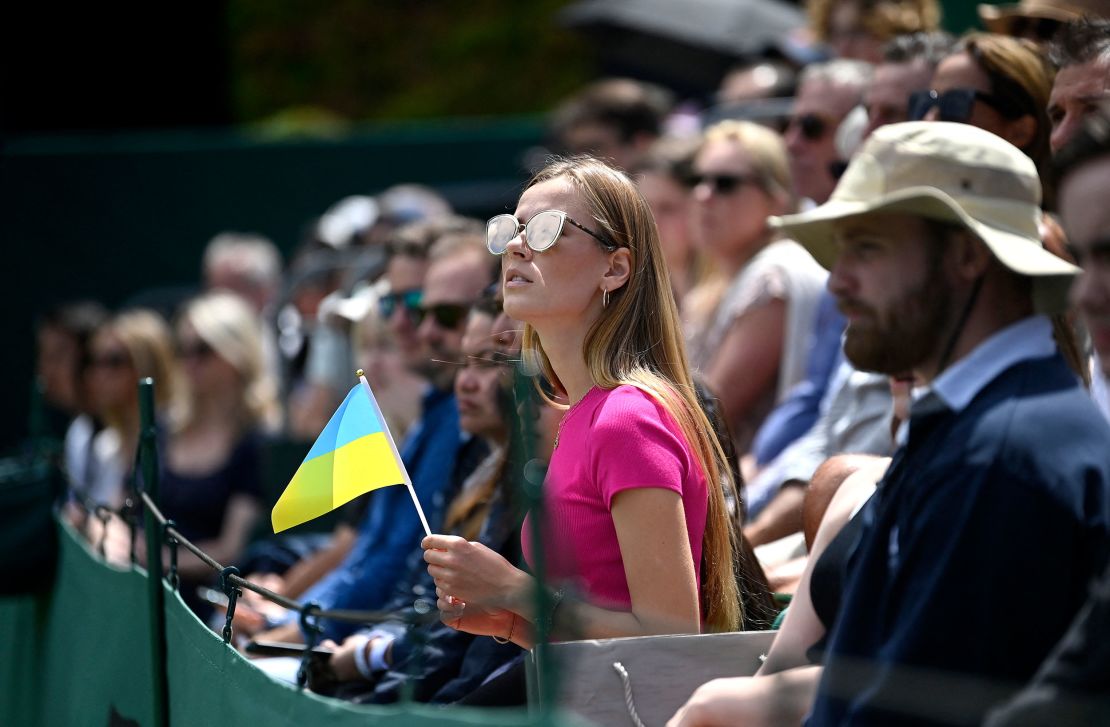 In April, Wimbledon organizers said that they would cover the cost of two rooms for all main draw and qualifying players from Ukraine for the entirety of the grass court season – a move that was praised by Russian player Daria Kasatkina.
"[Ukrainian players] cannot go back home, they have to be always on the road and they have to pay all the time for accommodation, so I think it makes a lot of sense," said Kasatkina, according to the BBC.
Player tension
For some Ukrainian players, having to face opponents from Russia and Belarus has been a point of frustration.
World No. 39 Marta Kostyuk, who is from Kyiv, said at the start of the year that she would not shake hands with Russian or Belarusian players while the war rages in her country.
She was booed at the French Open when she refused to meet Belarus' Aryna Sabalenka at the net, while Sabalenka condemned the booing and said she understands why Ukrainian players won't shake her hand.
"About the war situation, I said it many, many times, nobody in this world – Russian athletes, Belarusian athletes – supports the war, nobody," Sabalenka said after her first-round victory against Kostyuk. "How can we support the war? Normal people will never support it."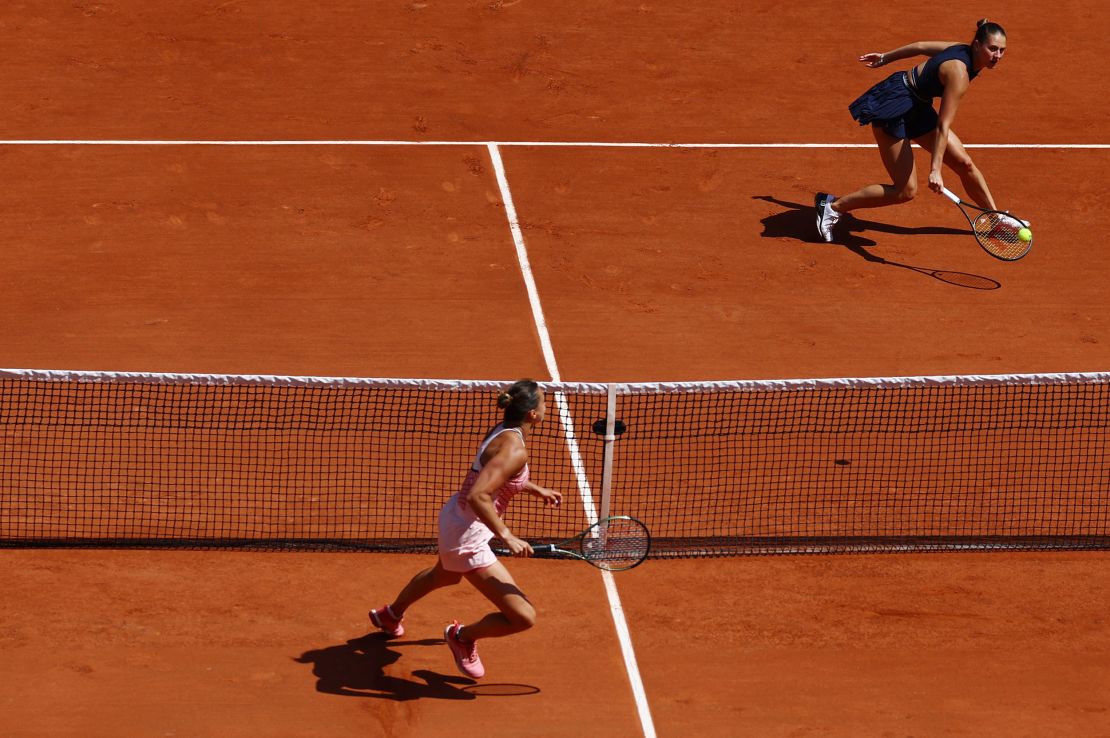 Ukrainian player Lesia Tsurenko has also refused to shake hands with Russian and Belarusian opponents after matches.
She withdrew from her third-round contest against Sabalenka at Indian Wells in March for "personal reasons" – prompting calls for more support for Ukrainian players on the WTA Tour.
"Honestly, I respect the Ukrainian girls so much because, if a bomb landed in my country or if my home was destroyed, I don't know if I could handle that," said world No. 1 Iga Świątek shortly after Tsurenko's withdrawal from the tournament was announced, while Russia's world No. 2 Daniil Medvedev said that he "feel[s] sorry for all the Ukrainian players and what they go through."
At the time, the WTA Tour said it "has consistently reflected our full support for Ukraine and strongly condemn the actions that have been brought forth by the Russian Government."
After her first-round victory at the French Open, Tsurenko, who was born in Vladimirec and moved to Kyiv as a teenager, spoke of her sadness since the start of the war.
"Yesterday, part of a rocket landed 100 meters away from my home," she told reporters. "This can make me unhappy, you know, and probably, my face is not super happy just because of that. Not because I go into the locker room and I'm spreading hate towards someone."
Tsurenko appeared to allude to comments Sabalenka made at the Miami Open in March, in which the world No. 2 said she struggled to understand the "hate" she encountered in the locker room amid strained relations with some players following Russia's invasion.
'Empty words'
Several players – including Poland's Świątek, Slovakia's Anna-Karolína Schmiedlová and Ukraine's Elina Svitolina – have worn the blue and yellow colors of Ukraine at tournaments.
Svitolina, a former world No. 3 and Ukraine's most decorated player, donated her winnings from the Internationaux de Strasbourg in May to humanitarian aid for children in her home country, and she is also part of the Rebuild Ukraine program, which raises funds to restore residential buildings damaged in the war.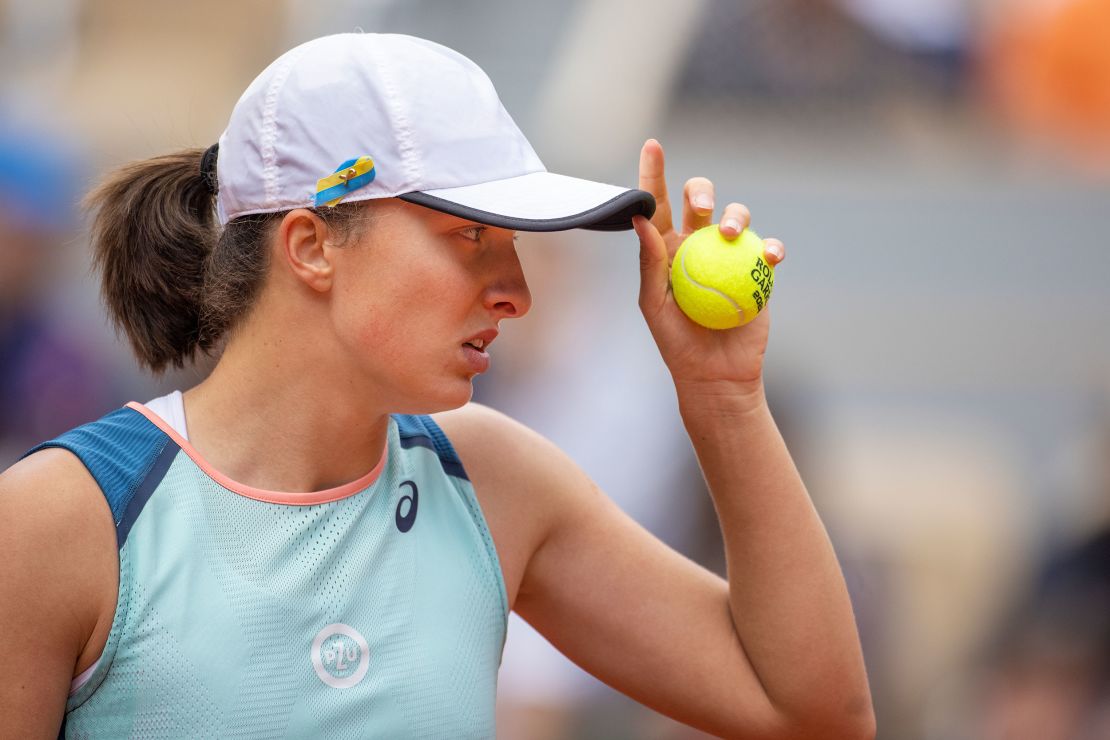 The 28-year-old stopped playing shortly after the Russian invasion and returned to competitive tennis earlier this year after the birth of her first child.
When asked about the post-match incident between Kostyuk and Sabalenka, Svitolina told reporters that there is "a lot of rubbish" happening which distracts from the "main point of what is going on."
She added: "A lot of Ukrainian people need help and support and we are focusing on so many things, like empty words, empty things that are not helping the situation."
'Z' symbol
The presence of Russian flags and symbols at tennis tournaments has been a source of tension.
The WTA "formally warned" Russian player Anastasia Potapova for wearing a Spartak Moscow football jersey ahead of a match at Indian Wells this year, calling it "not acceptable nor an appropriate action."
At the Australian Open two months prior to that, organizers banned Russian and Belarusian flags from Melbourne Park after some fans had displayed the Russian flag at matches.
Srdjan Djokovic, the father of Australian Open champion Novak Djokovic, came under scrutiny at the tournament when he posed for photos with a man wearing the "Z" symbol on his shirt and carrying a Russian flag with the face of President Vladimir Putin.
The "Z" symbol is viewed as a sign of support for Russia, including its invasion of Ukraine. It has been seen on Russian equipment and clothing in Ukraine.
The 20-year-old Kostyuk is perhaps the most outspoken player regarding Russia's invasion of her country. Last year, she told CNN Sport that Russian and Belarusian players have a responsibility to take a stance against the war.
"Everyone has a choice to make," Kostyuk said. "There are a bunch of tennis players who have resources to move their family out of the country [Russia]. And yet they're not doing it. Why? I don't know."
CNN's Amy Woodyatt, Matias Grez and Jill Martin contributed to reporting.