Officials in Davenport, Iowa, say they're carefully assessing whether rescuers can further search a partially collapsed apartment building – which they say can topple at any moment – for missing residents before they order the structure demolished.
Five people are unaccounted for after the back portion of the six-story structure collapsed Sunday afternoon, and officials believe two of those missing may still be in the building, Mayor Mike Matson said Tuesday.
Shive-Hattery, an engineering firm hired by the city, used a forensic drone Wednesday to further assess the partially collapsed building and its structural stability, the city of Davenport said in an update Wednesday night.
The property owner's insurance representatives and structural engineers also visited the site Wednesday to complete an independent structural damage assessment, the city said.
The owner of the building, Andrew Wold, has been cited for failing to maintain the structure in a safe and structurally sound condition, according to a court document filed Tuesday. He faces a $300 fine and court costs if he is found guilty or doesn't contest the citation, the document says.
Wold's court date is set for June 9. CNN has asked the city for more information about the violation.
According to CNN affiliate KWQC, Wold and the property management team released a statement that didn't address the violation but said their "thoughts and prayers are with our tenants and families during this difficult time."
They thanked the first responders who came to the site and said they were working with the Red Cross and other agencies to help their tenants.
On Tuesday afternoon, emergency crews reentered the building and rescued several animals as they searched portions that engineers believed were safe enough to explore – but they did not detect signs of human survivors, the city said.
Officials are determining whether further searches are possible as the "extremely volatile" wreckage threatens to crumple even further and poses a significant safety risk for crews who may enter, Davenport Fire Marshal Jim Morris said at a news conference Tuesday.
The debris from Sunday's collapse is currently helping to hold the building up, according to Larry Sandhaas, a structural engineer hired by the city.
"You can't run up to a pile of bricks and rocks and just start throwing things off – as much as we want to," Morris said at Tuesday's news conference, becoming emotional several times as he spoke. "It's not that we don't want to do this. It's the fact that we have to do it in a safe manner. … We're going to reevaluate how safe we can be in order to get in there and not currently make the situation any worse."
News that the city was weighing the building's demolition drew protesters this week to the property – demonstrators who were concerned some residents could still be trapped, CNN affiliate Quad-City Times reported. Some held signs reading, "Who is in the rubble?" and "Find them first!!"
The city had initially indicated in an online post Monday that demolition was expected to start Tuesday morning, with an official later adding a demolition was necessary "to maintain as much safety for the surrounding area as possible."
A ninth survivor was rescued from the site that day, the mayor said. By Tuesday morning, the city government posted that the timing of the demolition "is still being evaluated," though initial phases of the process, such as permitting and staging of equipment, would begin Tuesday.
Besides the nine rescued, more than a dozen others were escorted from the site following the collapse, officials said. The cause of the collapse has not been determined.
Rescue and recovery crews have performed multiple searches of the structure using dogs, drones, thermal imaging, infrared and trained rescuers, but found no additional signs of life, Davenport Fire Chief Mike Carlsten said.
All of the building's residents have been displaced, with city officials saying they will not be allowed back into the building to collect their belongings.
'I just want them to do the right thing'
With officials yet to announce when the building will be demolished, the family of resident Branden Colvin says he is still missing and is demanding the city carry out further searches before razing the site.
Colvin was supposed to meet his family on the evening of the collapse, but never made it to the gathering, Colvin's cousin Preston McDowell told CNN. Several calls to Colvin's phone have gone unanswered, he said.
McDowell said he doesn't understand why the city would consider demolition if some residents are still missing.
"They're not giving us any answers. I just don't get it," McDowell said. "You know there are people still unaccounted for, but you want to tear down the building. What sense does that make?"
He added, "They're letting us know they don't care."
The way the building collapsed "reduces the chances that there will be spaces – what we call void spaces – large spaces where people can survive," Sandhaas, the structural engineer who assessed the building, said.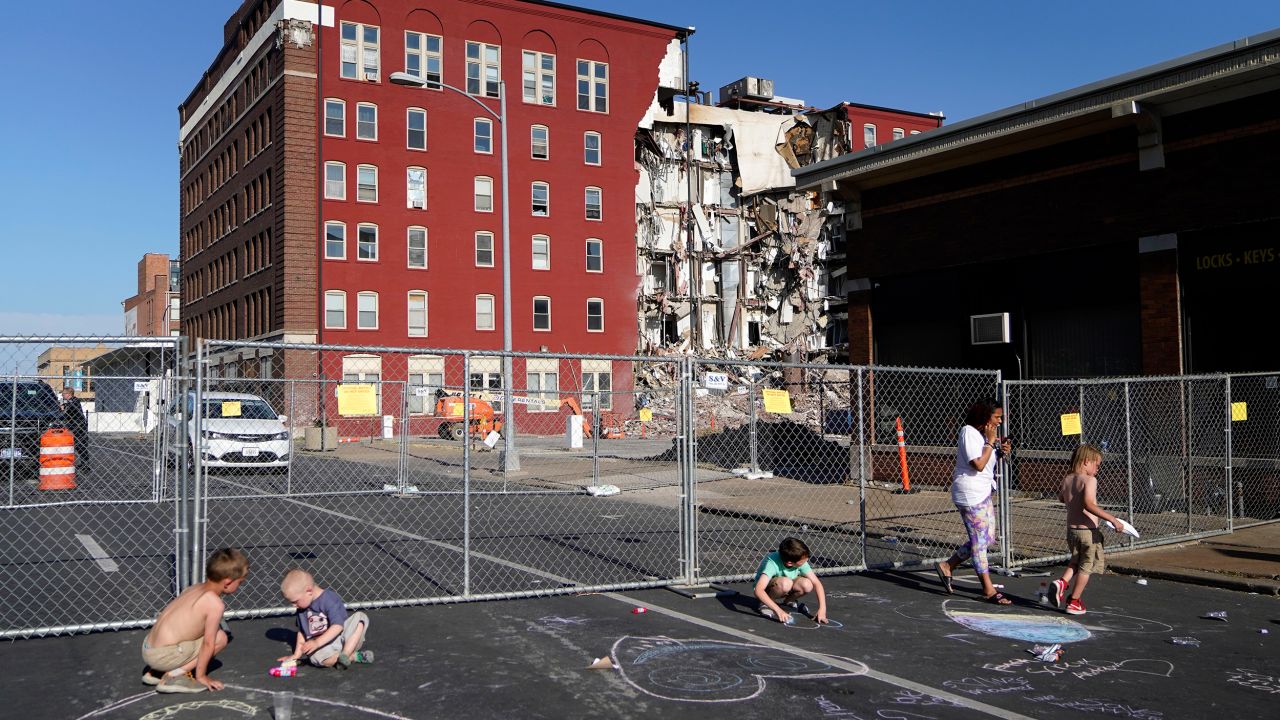 "We understand that this is an unthinkable situation, especially for the families that are involved and impacted by this event," Matson said Tuesday.
A family member of missing resident Ryan Hitchcock says his loved ones have come to terms with the likelihood that he did not survive and that the family supports the city's plan to take down the rest of the building to prevent further harm.
"I don't discount that he could be trapped under there miraculously," Hitchcock's relative Amy Anderson said at the city's Tuesday news conference. "But we don't want to see any more families lose their lives or anybody else be injured in trying to remove that rubble and have anything fall."
Morris, the fire marshal, said his department is partnering with other groups to determine how "to remove any possible human remains with dignity."
"I will not allow them to use explosives in a heavily populated downtown area," Morris said. "This would be a coordinated demolition."
Cause of collapse to be investigated
The cause of the collapse has still not been determined, officials have said, but the city plans to turn over documentation including videos, photos and logs to an investigative team, Matson said.
The agency that will lead the investigation has yet to be determined, the mayor said.
"At this time, we have not gotten to the point where we have determined whether a criminal offense has occurred in order to initiate a criminal investigation," Morris said. "Regardless of what happens, there will be an investigation into how this happened. There must be."
The building's owner had current permits for repairs to the exterior wall, according to officials.
Images of piled rubble and the building's exposed interior rooms evoked memories of the 2021 condo building collapse in Surfside, Florida, that killed 98 people, as well as a recent New York City parking garage collapse that killed one person and injured at least five.
CNN's Raja Razek, Chris Boyette, Holly Yan, Jamel Lynch, Brad Parks, Kara Devlin, Caroll Alvarado and Steve Almasy contributed to this report.