Russia hit Kyiv with an array of missile fire on Monday in a surprise daytime attack, hours after an overnight barrage of the Ukrainian capital and across the country.
Explosions were heard in central Kyiv late in the morning on Monday, sparking sirens and sending residents rushing for shelter just as the city recovered from a more typical overnight bombardment.
Kyiv's armed forced said it downed 11 Iskander missiles launched by Russia in the daytime raid. One man was hospitalized after missile fragments landed in the Podilskyi district, Kyiv's mayor Vitalii Klitschko said.
Serhii Popko, head of Kyiv city military administration, said this attack shows "the enemy changed its tactics – after prolonged, nighttime attacks only, it struck a peaceful city during the day, when most residents were at work and outside."
Ukrainian President Volodymyr Zelensky posted a video of a child running for shelter as an explosion is heard in the background.
"Ukrainian children. Every time an air raid alert sounds," he said. "This is what an ordinary weekday looks like."
His wife, Olena Zelenska, reposted the video, adding: "Morning after sleepless night under fire. Anxiety once again… Children running and screaming for shelter to the sounds of explosions. But it should not be like this."
Hours earlier, cities across Ukraine were hit by a wave of Russian strikes.
The Commander-in-Chief of Ukraine's Armed Forces, Valerii Zaluzhnyi, said 37 cruise missiles, dozens of Shahed drones and a reconnaissance UAV were shot down by Kyiv's forces – the vast majority of those fired.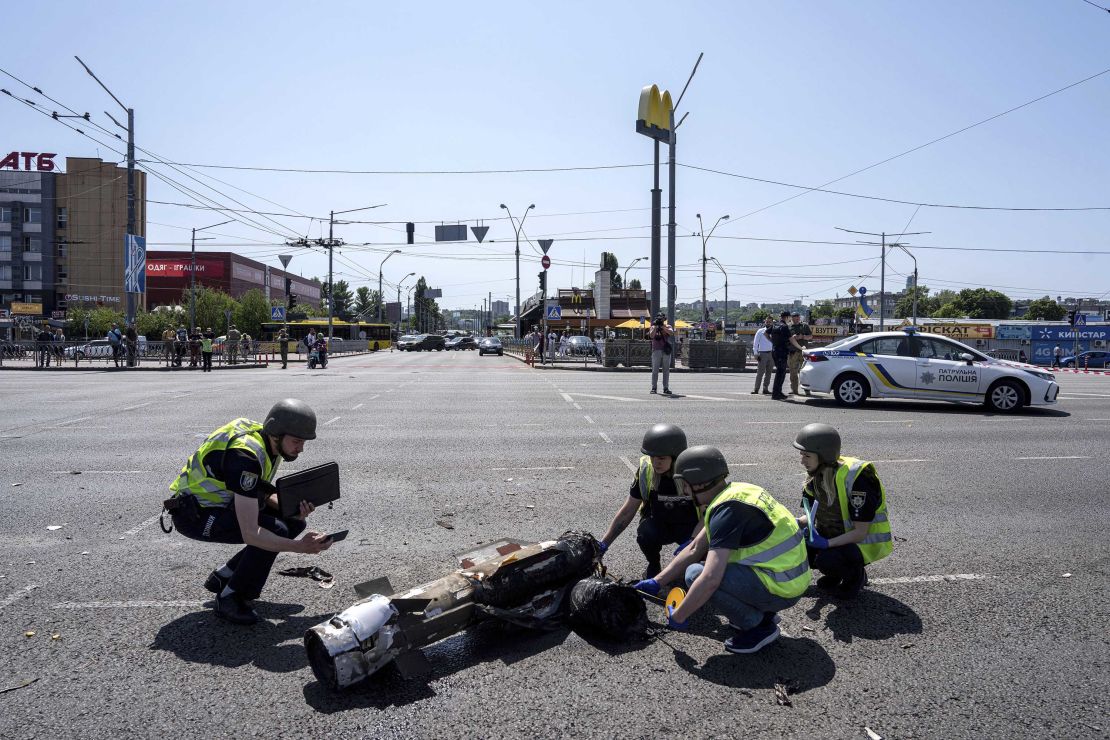 The Khmelnytskyi regional military administration said Russia had attacked a military facility in the western Ukrainian city, damaging five aircraft.
The Russian Defense Ministry said later that its forces hit Ukrainian airfields, destroying all targets. "As a result of the strike, command posts and radar posts, as well as aviation equipment, storage facilities with weapons and ammunition of the Armed Forces of Ukraine were hit," it said in its daily briefing.
On Sunday a huge wave of Russian drones targeted Kyiv, marking the largest such assault on the capital since the conflict began, according to Ukrainian authorities. Klitschko said a 41-year-old man died in the early hours of Sunday following the attacks.
The attack came on Kyiv Day, when the city celebrates its founding. But Russia is so far seeing limited returns from its repeated attacks.
The Iranian-made Shahed drones are a cheap way to inflict at least some pain on Kyiv, which for much of the last year has been spared the impact of the Russian invasion.
Russia has bought many hundreds of such drones, which cost roughly 20 times less than a missile.
Moscow is also hoping to land a psychological blow. Since the beginning of the invasion, the air raid siren has been on in Kyiv for a cumulative 887 hours.
But all the indications are that despite the dislocation and exhaustion, the attitude of the city's population is hardened rather than weakened by such attacks.
The greater purpose on the Russians' part in sending waves of Shaheds is likely to wear down Ukraine's air defenses, and force them to expend scarce munitions on the swarms of drones.
Multiple accounts over the past few months, including estimates in leaked US military assessments, have referred to critical shortcomings in Ukraine's layered air defenses, especially as its Soviet-era S-300 system - the workhorse of Ukrainian air defenses - is degraded and as it becomes increasingly difficult to find ammunition for such systems.
CNN's Uliana Pavlova, Olga Voitovych and Sarah Dean contributed reporting