Editor's Note: Sign up to get this weekly column as a newsletter. We're looking back at the strongest, smartest opinion takes of the week from CNN and other outlets.
"I'm the one that got rid of Roe v. Wade," former President Donald Trump boasted Tuesday on Newsmax. He cited his appointment of three Supreme Court justices who last June joined three other conservatives in overturning the 50-year decision guaranteeing abortion rights.
The problem: two-thirds of Americans disapprove of the court's rejection of a right to abortion, and many independent and even some Republican voters have shown repeatedly that they will side with Democrats on the issue.
In a general election, a strong anti-abortion stance can be a real negative. Trump — who has dodged questions about whether he would support a national ban on abortion — admitted as much by saying that his strongest GOP rival, Florida Gov. Ron DeSantis, who signed a bill banning most abortions after six weeks, is "losing women voters like crazy." 
Yet within the Republican base, strong opposition to abortion is a plus. DeSantis has challenged the former president, citing his state's ban: "I signed the bill. I was proud to do it. He won't answer whether he would sign it or not."
Trump's refusal to say if he would support a national ban has drawn criticism from conservatives. Alice Stewart wrote, "Trump's past performance on protecting the sanctity of life is strong, but his future commitments are about to be put to test in the 2024 GOP primary. Other Republican primary candidates have committed to signing a federal abortion ban, with exceptions for rape, incest and life of the mother. This policy distinction will not go unnoticed. … Trump may need to come up with a better answer to keep the pro-life community in his good graces."
While ambiguity on abortion could help Trump politically, he's also vulnerable to blowback against other unpopular decisions from the Supreme Court he helped mold. It has weakened states' ability to limit gun ownership, another unpopular stance in a nation plagued by mass shootings. And before the court's term ends in late June, it could block Biden's plan to forgive some college debt for millions of people.
Democrats in Congress have stepped up their criticism of the court. They not only object to its increasingly conservative bent but also argue that continuing to shield the nine justices from the same ethics code that applies to other federal judges makes no sense.
Congress has the power to rein in the court, wrote CNN legal analyst and law professor Steve Vladeck, whose new book "The Shadow Docket" focuses on the Supreme Court. "Congress, in the first century under the Constitution, repeatedly used an array of unquestioned constitutional powers to check the court. In 1802, Democratic-Republicans effectively eliminated the Supreme Court's entire annual sitting for that year by changing the court's regular meeting date — a not-so-subtle threat to the Federalist justices to behave…"
"Even the most pro-judiciary readings of the Constitution still leave to Congress broad control over the court's docket, its budget and just about everything else short of the justices' tenure and salaries," Vladeck argued. "The issue isn't that the Constitution prevents Congress from pulling these levers to exert influence over the court; it's that Congress has chosen to stop pulling them."
For more:
Mary Ziegler and Elizabeth Joh: How this animal welfare victory could threaten abortion rights
The Disney of it all
DeSantis, who is expected to announce his candidacy for the GOP 2024 nomination within days, has a boast of his own.
According to the New York Times, he told donors Thursday, "You have basically three people at this point that are credible in this whole thing." They are "Biden, Trump and me. And I think of those three, two have a chance to get elected president — Biden and me, based on all the data in the swing states, which is not great for the former president and probably insurmountable because people aren't going to change their view of him."
How will the Florida governor's war against Disney, his state's largest employer, play in those swing states? Last week, a fifth-grade teacher in Florida revealed that she's under investigation by the state's Department of Education for showing students the Disney animated film, "Strange World."
"She says she selected the film because it reinforced lessons on earth science and ecosystems," wrote Jodi Eichler-Levine, a religion professor. "But then she said a parent (who is a local school board member), upset by the film's depiction of a gay teenager flirting with his crush, reported her to the state."
"Why would DeSantis, as a Republican who claims to be pro-business," Eichler-Levine asked, "antagonize the largest single-site employer in his state, a company that attracts tens of millions of tourists a year? And why, as a social conservative, would he take aim at the nation's leading purveyor of wholesome family-friendly American films?"
"Because the Cinderella Castle holds an entire century's worth of cultural capital. Disney remains an enduring symbol of youth — and childhood is the symbolic crucible in which we forge our notions of the future and the values it will contain. Disney is a potent cultural force that now promotes a vision of diversity and inclusion that regressive groups are right to fear."
When Disney announced Thursday that it's scrapping plans for a $1 billion office campus in Florida, citing "changing business conditions," Trump's campaign said the real cause was "DeSantis' failed war on Disney." The governor's office blamed it on Disney's business challenges.
On the Democratic side, there's worry about a potential threat to Biden's re-election chances. The centrist group No Labels is weighing the possibility of running a third-party presidential ticket and Sen. Joe Manchin, the moderate Democrat from West Virginia, has been mentioned as a possible contender to lead it.
A Manchin run could strip vitally needed votes away from Biden and help elect Trump, if the former president gets the GOP nomination, wrote historian Julian Zelizer. "Since we live in an era of narrow elections, where landslides like 1936, 1972 or 1984 are extremely rare, all that Manchin would need to do is to take enough votes from a handful of voters within a handful of states to have a dramatic impact."
Meanwhile, Trump was claiming vindication over the release of special counsel John Durham's report on the FBI's Russia investigation. The report found that the FBI shouldn't have launched a full investigation into ties between Russia and the Trump campaign during the 2016 election.
According to the report, "There was significant reliance on investigative leads provided or funded (directly or indirectly) by Trump's political opponents. The Department did not adequately examine or question these materials and the motivations of those providing them, even when at about the same time the Director of the FBI and others learned of significant and potentially contrary intelligence."  
But the Washington Post Editorial Board noted, "Despite some commentators' efforts to portray the actual result of the four-year investigation as damning, the reality is that the Justice Department special counsel uncovered next to nothing."
An earlier investigation of the Russia probe by the Justice Department's inspector general Michael E. Horowitz  found "flaws in the FBI's handling of the matter … but they flowed from confirmation bias rather than politically motivated misconduct," the Post said.
For more:
Kellie Carter Jackson: I'm a historian. This is why I'm taking on Ron DeSantis
Dean Obeidallah: DeSantis' comments about Jordan Neely's death are part of a dangerous pattern
Fat Joe's message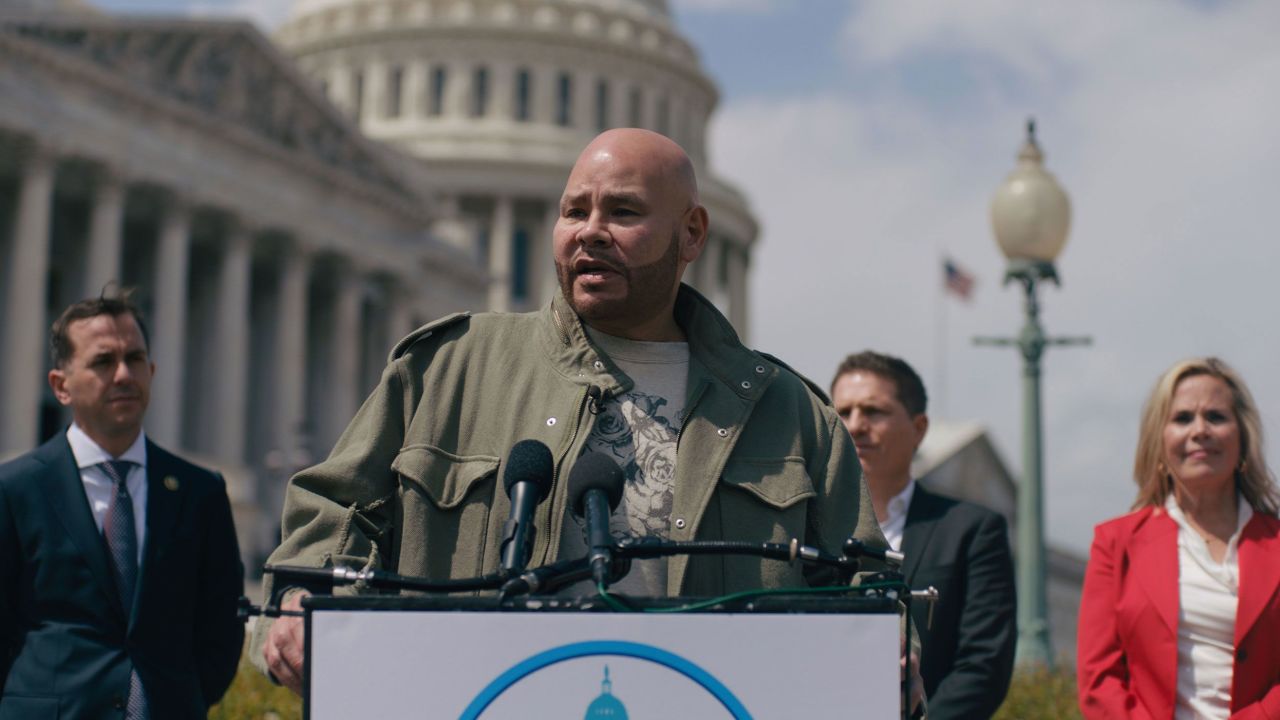 In 2019, then-President Trump issued an executive order requiring hospitals to post the prices of common medical services and procedures. It took effect just as Trump's term ended, but the goal of ending surprise bills and enabling patients to shop around has yet to be achieved. As CNN Opinion's Kirsi Goldynia wrote, "According to a February review by the nonprofit Patient Rights Advocate, hospitals have largely ignored the rule, and fines for noncompliance are extremely rare."
But now rapper Fat Joe "has a message for the authorities: Enforce the law," Goldynia wrote.
The New York native told CNN Opinion, "In the Bronx, you have women working two, three jobs, men working two, three jobs, and unfortunately the hospital bills are so high that people become scared to go to the hospital…"
"I wanna know how much a hospital is charging me for an MRI because I might wanna go to the hospital down the block who's charging me $2,000 less for the same exact MRI. Every other business – Burger King, McDonald's, Baskin-Robbins, Carvel – has competition. The only place that doesn't, and where they don't present you with the prices, is the hospital."
"At the end of the day, I come from a community of people who championed me and stood by my side and helped me get to where I am. And so I gotta always think of them and be conscious of the voiceless. It's about my community. It's about helping people."
The safety net debate
Mia Ives-Rublee was born with a condition called osteogenesis imperfecta, "which makes my bones brittle." When she fell and broke her femur in graduate school, she underwent the first of a series of surgeries.
"Medicaid covered hundreds of thousands of dollars in surgeries, hospitalizations, therapy and pain management. … Medicaid allowed me to pursue my education full time, leading to a career giving back as a social worker, advocate and researcher at a top think tank."
If the debt ceiling bill passed by House Republicans last month takes effect, Ives-Rublee warned, hundreds of thousands of people would lose Medicaid coverage because they couldn't meet the bill's work requirements.  "People who depend on the program for basic checkups, complicated medical procedures and community living could be harmed. As politicians quibble over rules, they ignore the real impact those funding cuts would entail."
Conservative writer Patrick T. Brown agreed that work requirements for Medicaid would be a "bad fit." But he argued that requiring work as a condition for other benefit programs makes sense. "Research indicates that work plays an essential role in stable communities and strong families. Especially in the case of non-disabled adults without dependents, the idea of asking for a tangible connection to the workforce in exchange for public aid has a commonsense appeal. … Pursuing those opportunities could lead to better safety net politics and, more importantly, avoid a catastrophic default."
Republicans should agree to lift the specter of a June debt default by focusing instead on the October 1 deadline for a federal spending plan, wrote Lanhee J. Chen. If there's no agreement by then, the government would shut down.
"A shutdown would hurt both the economy and politicians' political fortunes, but unlike a hypothetical debt ceiling default, we know what to expect. Government workers wouldn't be paid. The Washington Monument would be shuttered. But Social Security checks would still be mailed. Medicare providers would still be paid. And, most importantly, the nation's creditors would be kept whole."
Ukraine's landscape
Sasha Dovzhyk is part of a team of journalists, writers and scholars who bring aid to recently liberated villages in Ukraine. She witnesses not only the human cost of war, but also its devastating impact on the environment.
A onetime resort town, Sviatohirsk, "complete with a pine forest and an Orthodox monastery hanging over the river on chalk cliffs … was under Russian occupation for three months over summer last year."
"Today it still smells of pines, but also of burnt metal. Scorched military equipment rots in the locals' backyards from which the occupiers shelled Ukrainian positions."
"The Russians tried to shell the townspeople into submission too: A school gapes at us with two black holes from a Russian tank's direct hit. Apartment blocks are dissected by air bombs — the remnants of the residents' possessions are mixed with bricks and concrete on the road."
You have to step carefully to avoid Russia's internationally banned landmines, known as "petals."
"Scattered from aircraft or delivered by mortars, the 'petals' spin through the air, bite into the earth and explode upon contact with as little as 5 kilograms of weight," Dovzhyk noted. "The Russians have sown these seeds throughout the liberated and frontline territories of Ukraine."
For more:
David A. Andelman: How will Russia's war end? Zelensky's representative in the US has an unflinching view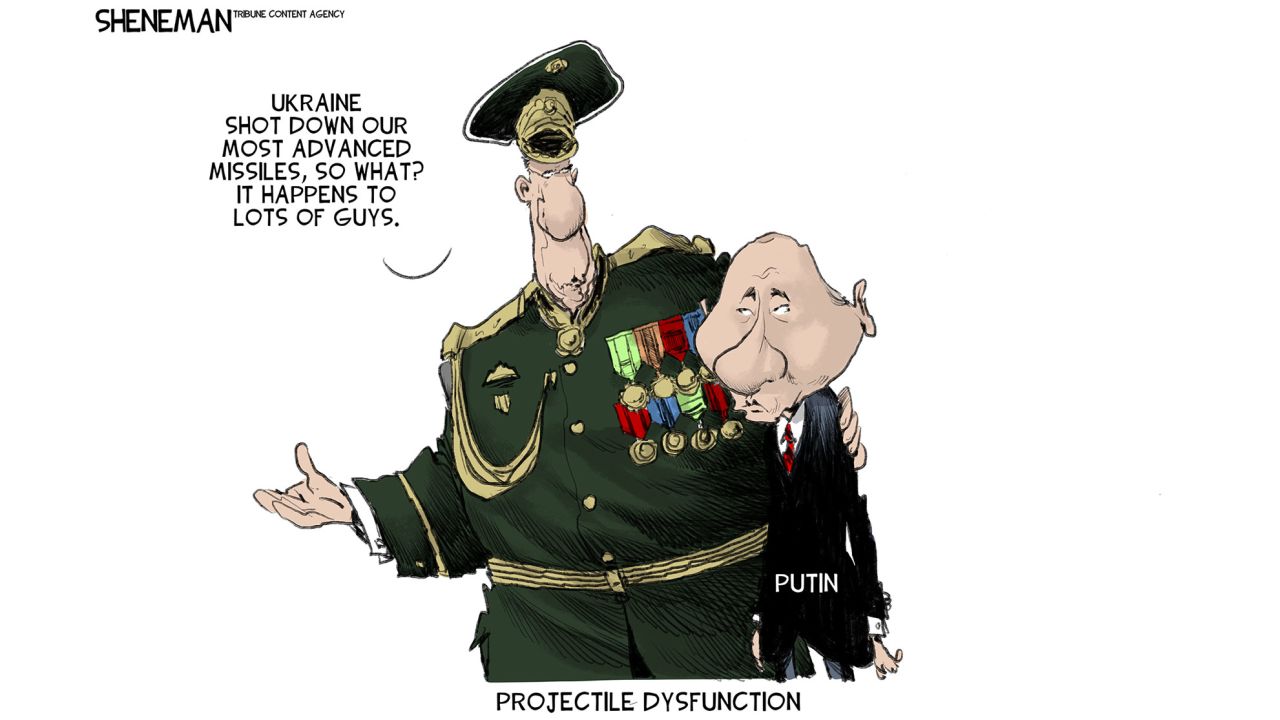 State of Twitter and AI
When Elon Musk bought Twitter, he proclaimed his commitment to free speech.
But as Frida Ghitis wrote, a week ago Twitter "surrendered to demands from the increasingly authoritarian government of Turkish President Recep Tayyip Erdogan, blocking some accounts and more than 400 tweets in the country," which was in the final days of a closely fought election.
Musk has allowed conspiracy theories to flourish on the platform. "As he spreads the messages from obscure conspiracy mongers, throwing logs onto what is already a growing fire, Musk is making a brittle, fragile social media environment even more explosive, making the world even more perilous," Ghitis observed.
"He has traded widespread admiration for an emerging cult hero status among some in the far right."
A congressional hearing on artificial intelligence Tuesday featured Sam Altman, chief executive of the company that created ChatGPT. Kara Alaimo took note of Altman's concern that AI could cause "significant harm to the world."
He said, "If this technology goes wrong, it can go quite wrong."
Alaimo wrote, "Just imagine the possibilities of AI-driven weapons. Some even worry it could overtake humanity…"
"A common refrain in Tuesday's hearing was that lawmakers have failed to regulate social media companies and shouldn't fall down on the job again when it comes to regulating AI. When it comes to AI, Congress can't afford to wait."
Martha Stewart, swimsuit model
At 81, Martha Stewart can add a new accomplishment to her long resume: cover model for Sports Illustrated's swimsuit issue.
"Stewart does indeed look amazing on the cover of Sports Illustrated," wrote Jill Filipovic. "She's the oldest cover model in the history of the Swimsuit edition, long an annual festival of the hottest of hotties: gorgeous, sun-kissed women who are (with a few exceptions) improbably thin and busty – and also young. In a culture that ties youth to beauty, the women the magazine deems among the most beautiful in the world are typically many decades Stewart's junior. This year, the magazine is shaking things up, and essentially saying, 'the elderly can be super-hot, too.'"
"Any expansion of a narrow and often punishing beauty ideal is probably good," Filipovic added.
"For women, the ideal is widening a bit, but it remains far more constricted – and being perceived as attractive and sexy remains far more important for women than it is for men. For women (but not for men), being overweight or perceived as unattractive has a financial cost: Women already earn less than men, and women who are heavier see an even bigger wage gap. Women also experience ageism in the workplace at younger ages than men do."
"So let's not confuse an unconventional swimsuit model being on the cover of a sexy swimsuit magazine for feminist liberation."
Don't miss
David Axelrod:
Paul Sracic: It's no accident world leaders are revisiting this site of nuclear devastation
Sens. Joni Ernst and Tim Kaine: Fentanyl is killing a shocking number of young Americans. What the US can do to respond
SE Cupp: The wild complexity of Elizabeth Holmes 
Peniel E. Joseph: It's time to confront how a single quotation may have changed history in error
Kellyann Niotis and Richard Isaacson: There are steps to help prevent dementia. Here are some things you can do
Aaron David Miller: The answers to 4 burning questions on the Israel-Gaza violence
Caroline Shanley: The right's move against no-fault divorce is an attack on women 
Karl Kusserow: What a 19th-century painting reveals about environmental justice
AND…
Queen Charlotte
Queen Charlotte was a real person. Born in 1744, she married Britain's King George III and was the mother of King George IV. But a popular Netflix series reimagines her, as Shaun Armstead noted: "A Black noblewoman finds love and happiness as the wife of England's king: That is the heart-warming if improbable plot of Shonda Rhimes' latest historical miniseries, 'Queen Charlotte: A Bridgerton Story.'"
The real-life Queen Charlotte was "a descendant of Portugal's royal family, and some even debate whether or not she had African ancestry," wrote Armstead.
"It ought to be clear that an interracial love story between royals in late-18th century Britain where people of all races interact on near-equal footing, is fantasy. And for those who don't know that, a disclaimer at the start of the first episode of 'Queen Charlotte' offers a reminder."
"But its departure from history has not detracted from its appeal: the series has charmed millions of viewers since its debut this month. For some, its celebration of a multiracial but purely fictional British aristocracy may even be a big part of its appeal."
As escapism, "Queen Charlotte" is a success. But Armstead pointed out that the series ignores the reality that "imperial domination and dispossession as well as slavery enriched the coffers of British and other European nations and monarchies."
"'Queen Charlotte' shows that we cannot fantasize away or ignore the injustices of the past – they haunt us still."