The video looks like a gun advertisement – on steroids. Shot in the style of a music video, with quick edits and a pulsating beat, three athletic looking men test fire a variety of machine guns, rocket launchers, assault rifles and handguns.
Surrounded by bearded soldiers in military gear, the three men are shown smiling and laughing, seemingly having a good time. Except, this is not your run-of-the-mill gun range outing.
Ultimate Fighting Championship (UFC) fighters Kamaru Usman, Justin Gaethje and Henry Cejudo are the trio in a video posted online by the notorious Chechen leader Ramzan Kadyrov in November last year, celebrating their visit to his compound in Russia to see "how real men and defenders of the Fatherland learn to fight."
Kadyrov is a former warlord known for his brutality and for his allegiance to Russian President Vladimir Putin.
He has routinely been criticized for alleged human rights violations including killings, torture and disappearances, his treatment of the LGBTQ community and has also expressed his support for Russia's invasion of Ukraine.
CNN reached out to Kadyrov for comment but has not heard back.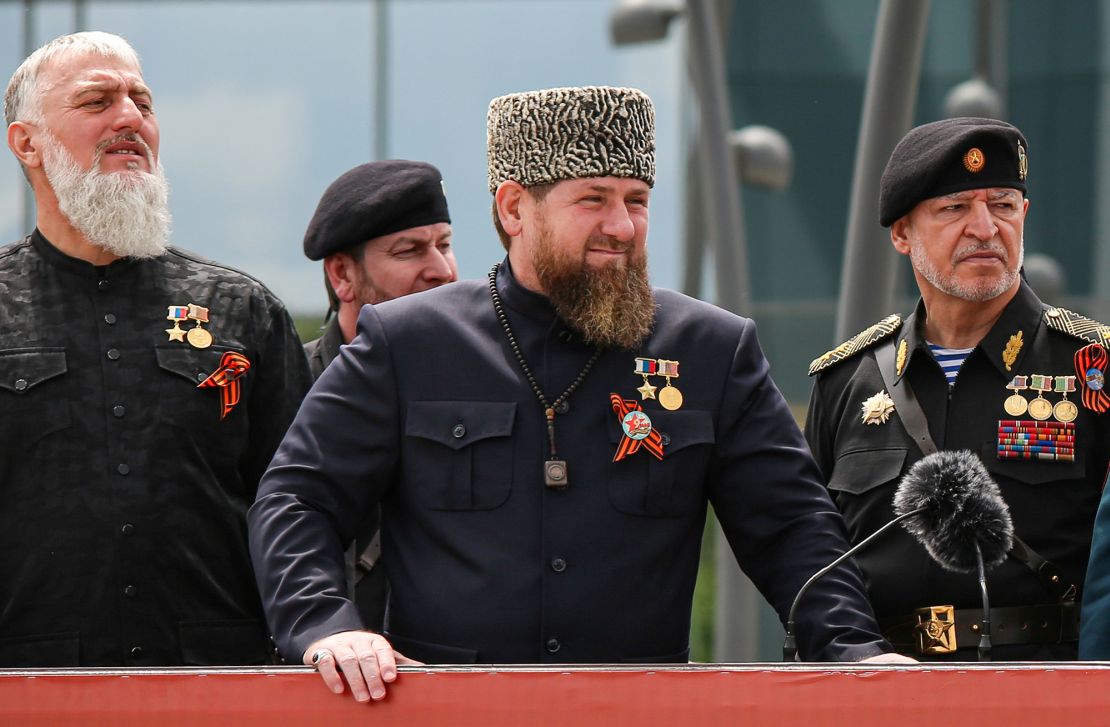 Ibragim Yangulbaev, leader of the anti-Kadyrov Chechen opposition movement 'Adat,' told CNN that Chechen people don't understand why an international sports company like the UFC would allow fighters linked to Kadyrov to be associated with its organization.
"All the fights that happen in the United Arab Emirates are often attended by Kadyrov himself with his criminal gang. We have been saying for some time that these sports organizations need to prohibit Kadyrov's fighters to perform," he said.
Kadyrov's last in-person attendance at a UFC event was for UFC 242 in 2019 in Abu Dhabi, United Arab Emirates.
The UFC denies that it has any commercial dealings with Kadyrov or his associates, or with any sanctioned entities.
Yet the appearance of the three stars – all former UFC title belt holders – alongside Kadyrov last year isn't the only question being raised about the UFC's oversight of the sport. There's also its decision to allow Russian fighters in general to compete in the world's premium mixed martial arts organization.
Some critics have suggested Russian fighters in general should be suspended, like has happened in some other sports, for the country's involvement in the invasion of Ukraine.
But against the backdrop of $21 billion merger between the UFC and the World Wrestling Entertainment, Inc. (WWE), Russian fighters appear to remain an integral part of the UFC's business model.
Despite the ongoing invasion of Ukraine by Russia and the restrictions put on Russian athletes and teams in some other sports, fighters from the country remain free to compete in UFC.
The sport, which has a global fan base of over 700 million, with events broadcast in 50 different languages to more than 170 countries, has relied on the popularity of its Russian fighters to provide appeal to certain areas of the world, according to MMA and boxing financial analyst for Bloody Elbow, John S. Nash.
Nash told CNN that he estimates Russian fighters in the UFC have helped bring in approximately $50 million in TV and sponsorship deals.
"The Southern Caucasus have such great wrestlers and it's a predominantly Muslim area," Nash said. "And so those Muslim fighters appeal to the Middle East, the Gulf states. And that's the UFC's primary focus … for the monetary reasons.
"Because a guy like [Khamzat] Chimaev, who lives in Sweden, but he's from Chechnya and he does videos with Ramzan Kadyrov, he's one of the best welterweights, very popular in the world. And because of him, he has a lot of support in the Gulf states. He gets a lot of sponsorship."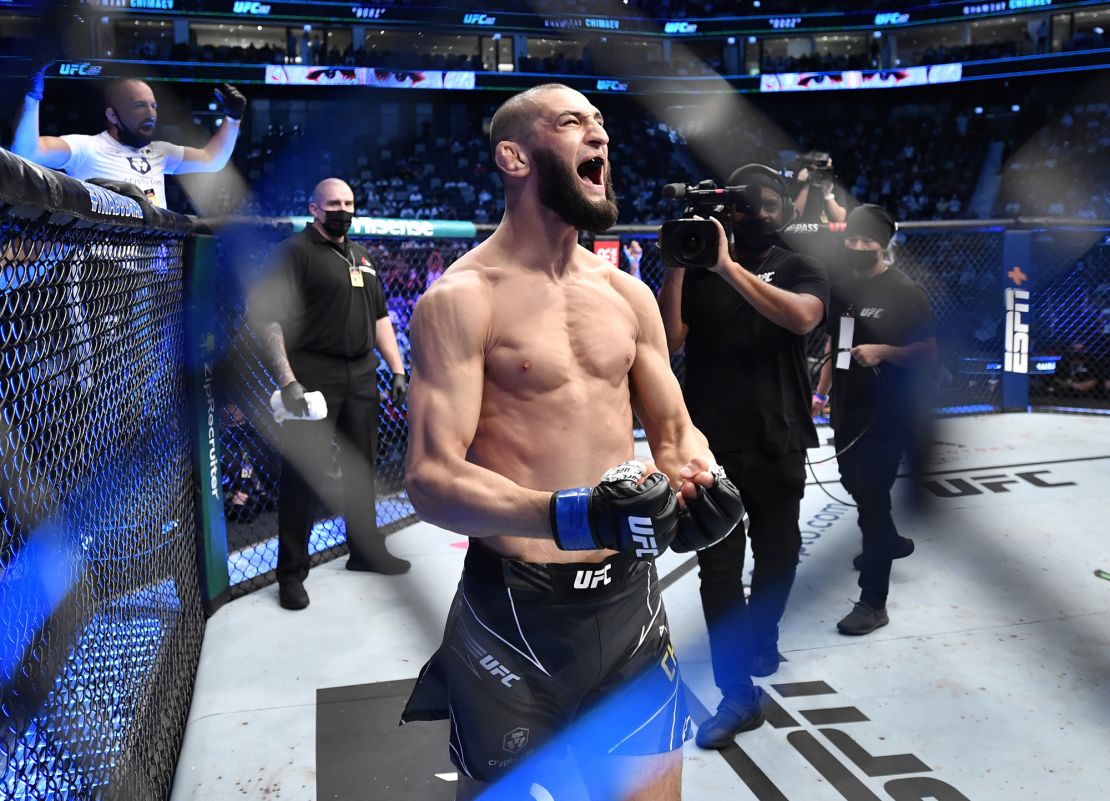 UFC's primary focus
There are 20 active Russian fighters currently competing in their organized events, according to the UFC website. The UFC has more than 600 athletes from over 70 countries on its roster, according to the organization.
CNN approached all 20 of those Russian fighters, only two responded initially and ultimately none of them agreed to an interview.
The UFC declined to comment to CNN about Russian fighters' ongoing involvement in the sport.
Khamzat Chimaev, who is No. 3 in UFC's world welterweight rankings, was born in Russia, before emigrating to Sweden at the age of 18 and he now has Swedish citizenship.
Chimaev has long had ties to Kadyrov. In an Instagram post from December last year, Chimaev is posing with Kadryov calling him a "big brother." He regularly posts photos alongside Kadyrov's sons.
CNN has reached out to Chimaev for comment but has not heard back.
Some of Russia's most important fighters include Islam Makhachev, who is ranked third in the top pound-for-pound fighters and is the lightweight world champion while Magomed Ankalaev recently competed for the light heavyweight title – the fight ended in a controversial split draw.
Before them and now retired, Khabib Nurmagomedov is considered one of the greatest fighters of all time; Nurmagomedov was a key figure in the UFC's recent marketing deals, according to Nash.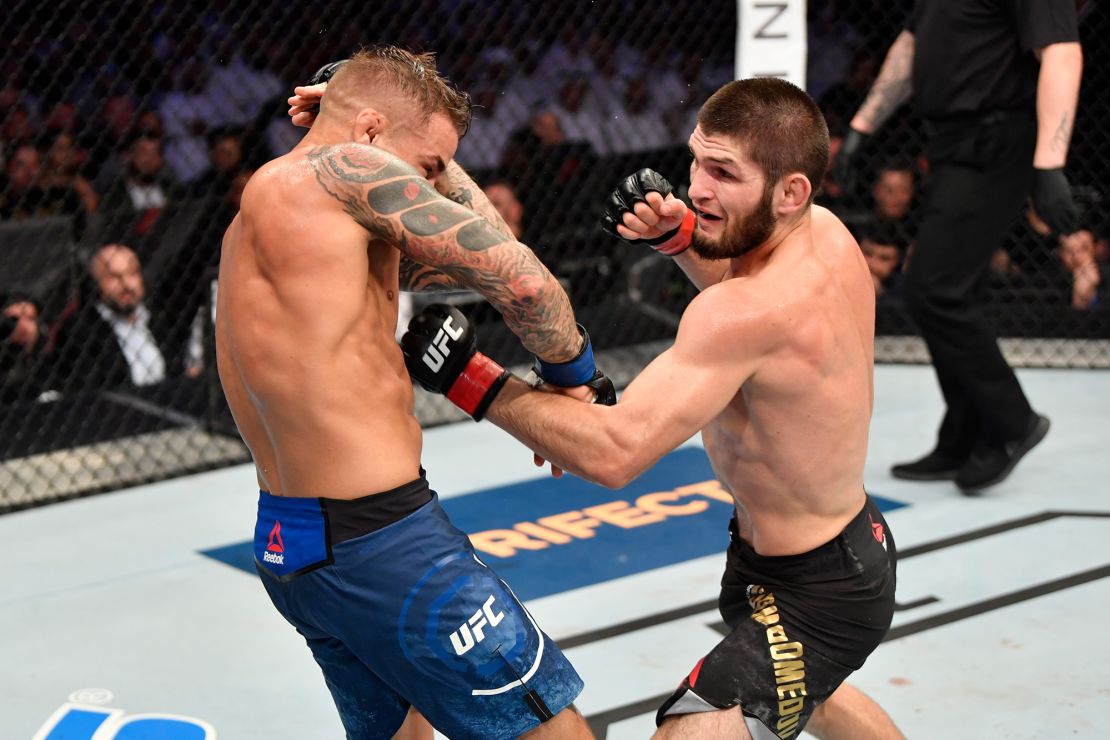 "Part of the reason they probably got [the UFC's five-year deal to host fights] in the United Arab Emirates was because of Khabib [Nurmagomedov] being the champion. He's extremely popular in that part of the region."
At UFC 242 in 2019, Kadyrov was seen embracing both Nurmagomedov and Makhachev after their respective victories. Ankalaev started his MMA career at Kadyrov's Fight Club Akhmat in Chechnya and Kadyrov voiced his displeasure after Ankalaev's draw at UFC 282.
The UFC has recently blocked fighters from wearing flags before or after fights to avoid "politically charged" incidents during events, says Nash.
But despite reiterating a non-political stance, that seemingly hasn't always been the case in the sport. In April's UFC 287 event, UFC fighter Jorge Masvidal praised former US President Donald Trump who was sat at the event sat next to UFC president Dana White.
"Greatest president in the history of the world, I love that guy," Masvidal said pointing at Trump.
Despite the "obvious" politicization of the UFC, Nash doesn't believe that should result in fighters being suspended if they have not voiced their own opinions themselves.
"I don't think they should ban individual fighters because individual fighters aren't responsible for the decisions of a basically non-democratic country with Putin," he said.
"But there is a difference being from Russia and playing in the National Hockey League, which they let Russian players play … and in being a Russian fighter and going overseas and fighting; there's different in that and then appearing side-by-side in the promotional material of a Chechnyan warlord that's on the State Department list of possible war crimes and human rights violations."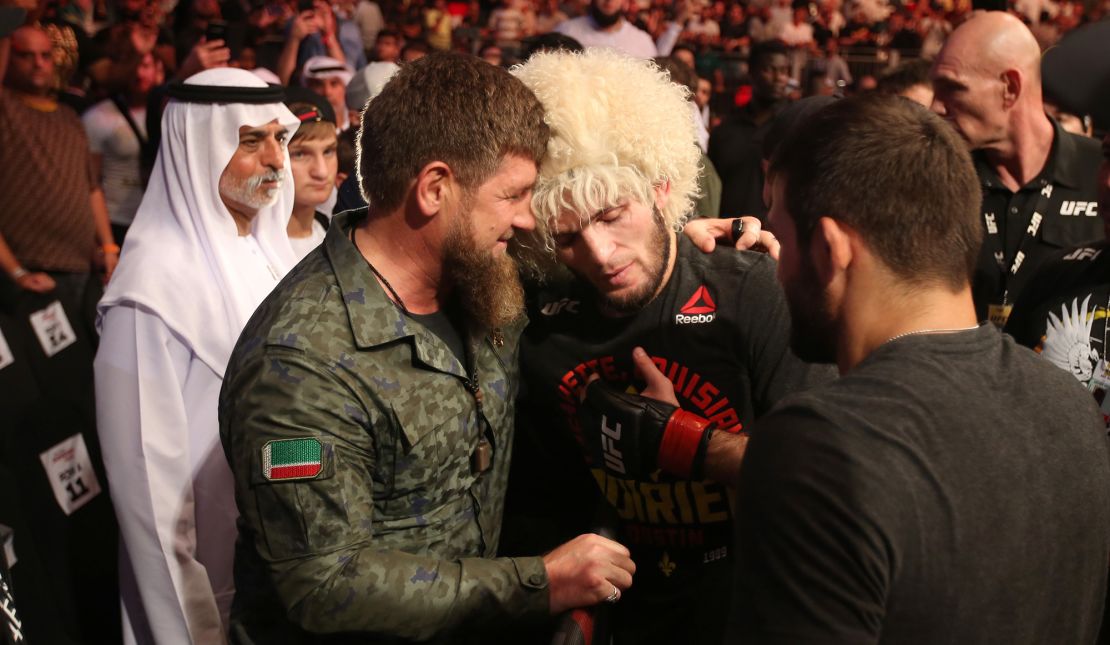 Criticism
Kadyrov is a prominent figure in MMA circles. It's widely known he has a passion for combat sports and owns his own gym, Fight Club Akhmat.
The club, based in the Chechen capital of Grozny, sees prospective fighters train in a room adorned with a giant mural of Kadyrov's face on the walls.
He has also been regularly photographed alongside UFC stars, including Chechen-born Chimaev. Kadyrov even attended Chimaev's wedding last year.
Yet Kadyrov has been criticized for alleged human rights violations resulting in various sanctions from the US government. He's also been outspoken in his support for Russian President Putin and the country's invasion of Ukraine.
Kadyrov said recently that Chechen fighters in Ukraine will help Moscow "fight to the victorious end" and has publicly described himself as Putin's "foot soldier."
His actions as leader in Chechnya has led to his sanctioning dating back to 2017. He rose to power in 2006 after his father had formed an unlikely partnership with Putin following over a century of conflict between Russia and Chechnya.
As part of the agreement, Dr. Christopher Swift, political scientist and national security lawyer, explained to CNN that Kadyrov gained sole power in Chechnya to rule as he chose while Putin is able to use Chechen soldiers as "enforcers."
Kadyrov leads sizeable paramilitary forces that – while formally a part of Russian security structures – have personal loyalty to him.
Those troops, known as Kadyrovtsy, or Kadyrov's men, have a fearsome reputation. During the Second Chechen War, which began in 1999 and coincided with the rise of Putin, Kadyrov's men helped Moscow wrest control of the Chechen Republic from separatist rebels.
They also earned a reputation for brutality, with investigative journalists and human rights researchers documenting a pattern of disappearances and extrajudicial killings by his forces.
In 2017, the US Treasury prohibited any American businesses working with Kadyrov after he was found to be "responsible for extrajudicial killing, torture, or other gross violations of internationally recognized human rights."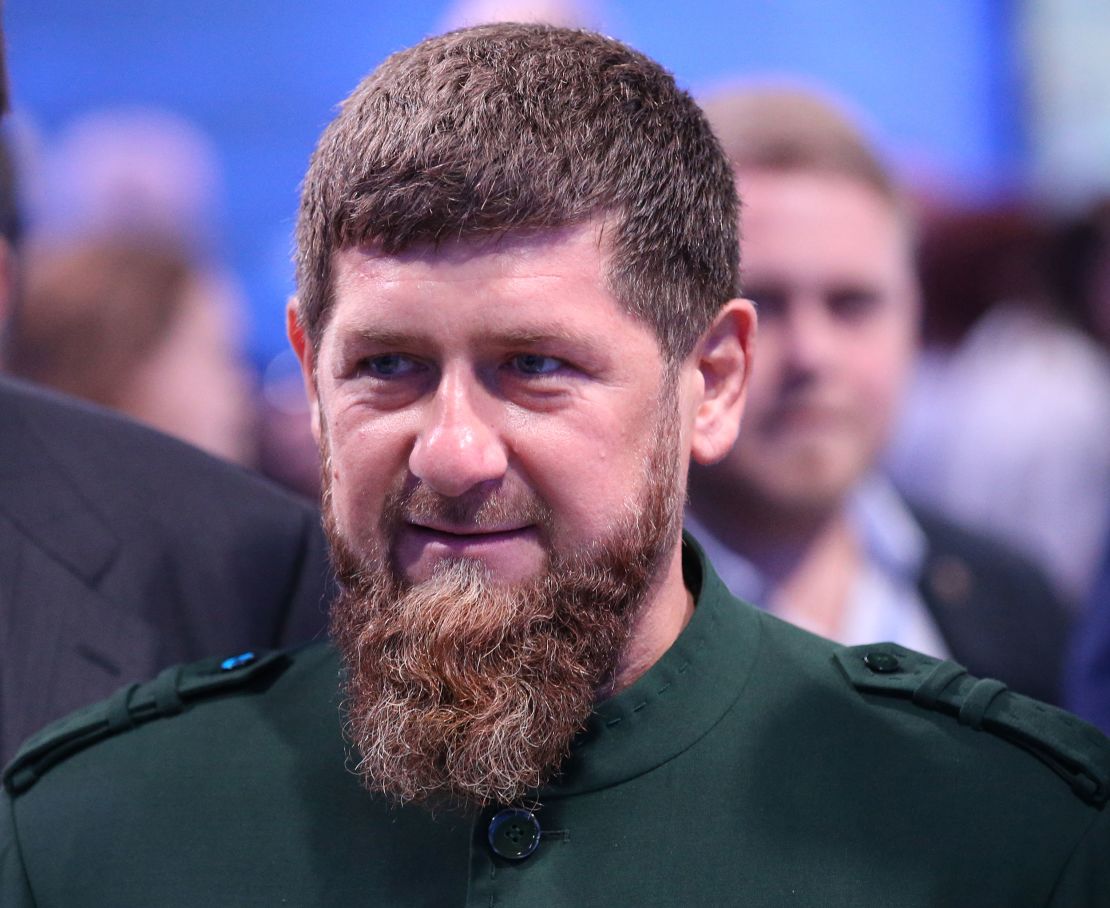 Three years later, the US State Department sanctioned Kadyrov for his involvement in numerous "gross violations of human rights dating back more than a decade, including torture and extrajudicial killings."
In 2021, the US State Department said it found "continued reports of abductions and torture in the North Caucasus, including of political activists, LGBTQI+ persons, and others critical of Chechnya head Kadyrov."
Last year, the US Department of the Treasury's Office of Foreign Assets Control (OFAC) announced the first official links between Kadyrov's martial arts clubs and the war against Ukraine.
"Kadyrov has recruited for Russia's war efforts through mixed martial arts clubs, which enables him and his units to continue their activity in Ukraine," OFAC said in a news release.
Kadyrov's appeal and influence on some of UFC's top athletes is clear, but the UFC as a company strongly denies it has any connection to the Chechen leader.
In a statement to CNN, the UFC said it has "no contractual relationship or any commercial dealings with Ramzan Kadyrov or any of his family, associates, or affiliated companies that have been designated by the U.S. Department of the Treasury's Office of Foreign Assets Control."
"UFC enters into fight contracts directly with athletes, not with any intermediaries, including gyms and fight teams," a UFC spokesperson said. "As independent contractors, UFC athletes have control over many aspects of their careers, including where to train.
"While a small number of UFC athletes have chosen to train independently at Akhmat MMA, UFC itself has no affiliation with Akhmat MMA. UFC conducts due diligence to remain in compliance with all appropriate laws and regulations of the countries in which it operates."
'Sportswashing'
Kadyrov isn't the first authoritarian leader to engage in what's known as "sportswashing," attempting to burnish one's reputation through sport.
Since founding the Fight Club Akhmat, Kadyrov has been pictured with some of the biggest names in combat sport; from Nurmagomedov to boxing legends Mike Tyson, Vitali Klitschko and Floyd Mayweather Jr.
He's also been pictured with greats from other sports, such as football stars Diego Maradona and Mohamed Salah.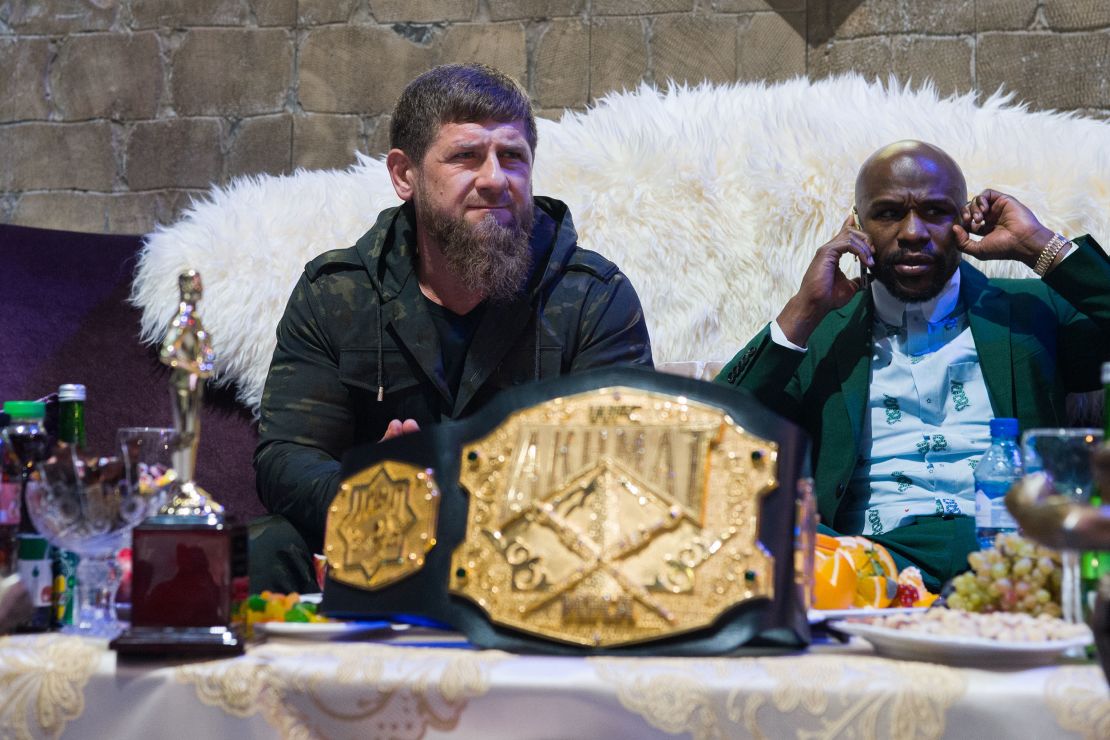 The arrival of Usman, Gaethje and Cejudo last year was yet another opportunity for Kadyrov to display his sway in the sport.
During their trip to Chechnya, Gaethje confirmed that he attended a birthday party for one of Kadyrov's sons. Neither Usman and Cejudo said if they attended.
Gaethje later denied meeting Kadyrov but acknowledged his trip to Chechnya. The three MMA fighters are all represented by Ali Abdelaziz and Dominance MMA. CNN has reached out to Abdelaziz for comment on behalf of Usman, Gaethje and Cejudo.
The US State Department did not respond to CNN's request for comment, but has previously told The New York Times it "is aware of Kadyrov's association with Chechen UFC fighters."
Swift told CNN that "sportswashing" is a commonly used tactic in the toolbox of strongman rulers such as Kadyrov; particularly as martial arts are the national sport of Chechnya.
"Kadyrov is … co-opting the images. This is Kadyrov's way of 'sportswashing' and managing his constituency inside Chechnya," he said.
"And it also resonates with his image as a tough guy and a fixer and an enforcer. And so it's not a surprise that he would be involved with UFC and would want to be seen as associated with the UFC.
"And the people who constitute his shock troops, his forces, and even the people who are just ordinary man on the street in Chechnya, that's the kind of sport they're interested in him."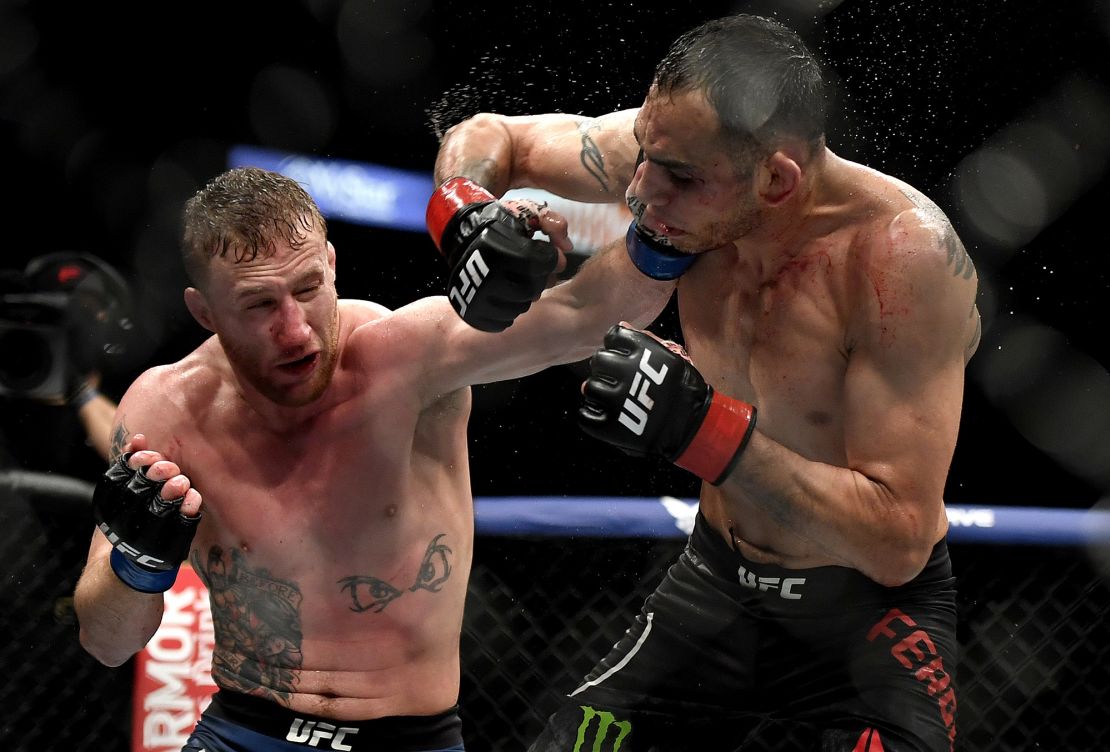 Despite the sanctions and criticism leveled at Kadyrov, the Chechen-born fighters he is connected with – including Chimaev and Zubaira Tukhugov – continue to compete in the UFC.
Chimaev fought in UFC 279 in September in Las Vegas. At UFC 280, Chimaev posted a photo of him and Kadyrov's son at the event together.
Chimaev has posted numerous pictures of himself with Kadyrov's three sons, including ones of the three of them sparring and training in a gym. Kadyrov referred to Chimaev as his "dear brother" in a post about his wedding.
Yangulbaev explained that in Chechen society, they call Chimaev a "nanny of Kadyrov's kids."
Yangulbaev says that Kadyrov has placed a specific focus on promoting athletes he has trained in order to "spread his politics throughout the world."
Despite criticism aimed at the UFC for not taking steps to dissociate itself from Kadyrov and his associates, it has taken no action to do so.
Former UFC fighter Tim Kennedy replied to a video of Chimaev sparring with Kadyrov, saying: "Let me get this right… It's totally fine that the UFC controls what a fighter wears on his shorts, whether or not they train with James Kraus, or what they do on their social media, but it's totally fine for them to train with a terrorist."
And while the UFC has not distanced itself from Russian fighters, including those with ties to Kadyrov, the organization has taken strong stances to dissuade or stop affiliations in the past.
Just days after a betting scandal came to light that rocked the sport, the UFC came out strongly and proactively to ward off fighters from training with the coach accused in the alleged scheme.
And yet, the UFC has chosen not to take any actions restricting fighters from coming into contact with Kadyrov or punishing those who fraternize with him.