A Florida teacher under a state investigation for showing a Disney movie featuring a gay character said she wasn't aware the state's controversial law banning instruction about certain LGBTQ topics had been recently expanded to apply to her grade level.
The legislation was first passed in March 2022 and initially applied to kindergarten through third grade. Last month, Florida's state education board voted to expand the law's scope to include all grades through high school. Teachers who violate the state policy can be suspended or have their teaching licenses revoked.
"I just found out today that they increased it to my level," the fifth-grade teacher, Jenna Barbee told CNN's Alisyn Camerota Monday night. "I had no idea whatsoever that this was such a big deal."
Barbee says she played the 2022 animated Disney movie "Strange World" to a classroom of fifth graders while their peers were finishing some standardized testing.
The Disney film tells the story of a family of explorers and features a gay character.
Though Barbee says the students' parents had previously signed permission slips allowing their children to watch PG-rated movies, one parent complained and reported the teacher to the state Department of Education after "Strange World" was shown.
The parent who reported her, who is also a member of the Hernando County School District Board, complained to the principal that the movie is not appropriate for students, according to Karen Jordan, spokesperson for Hernando County Schools.
The parent, school board member Shannon Rodriguez, has said that Barbee should have gotten the specific movie approved by school administration and said the teacher is "playing the victim."
"It is not a teacher's job to impose their beliefs upon a child: religious, sexual orientation, gender identity, any of the above. But allowing movies such as this assist teachers in opening a door, and please hear me, they assist teachers in opening a door for conversations that have no place in our classrooms," Rodriguez said at a May 9 school board meeting.
But Barbee told CNN her students are already discussing such topics on their own.
"These students are talking about things way beyond this (movie)," Barbee said. "This door that she's talking about, it's been open. These are common conversations that I have to tell my students, 'Woah there. We're getting a little too much here.'"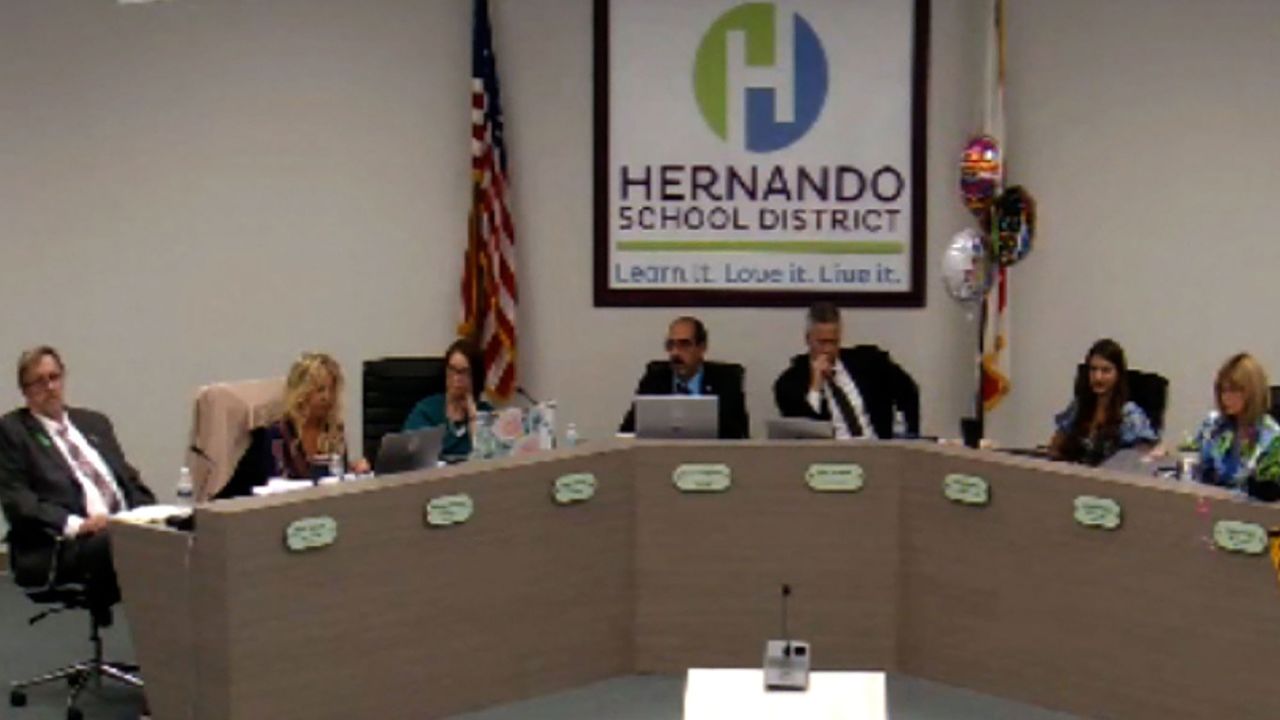 The teacher has also pushed back on Rodriguez's insistence that the individual movie needed to be approved, telling CNN in an earlier interview that there was no protocol in place for clearing specific movies. Rodriguez's daughter had a signed form approving the showing of PG movies, Barbee said.
Barbee said she had already submitted her resignation from the school the week before the incident occurred due to "politics and the fear of not being able to be who you are" in the public school system.
When DeSantis signed the ban into law last year, he and other Florida Republicans touted it as a protection of parents' rights, while opponents slammed it as yet another effort by GOP lawmakers in the state to erase and oppress LGBTQ people in schools, calling it the "Don't Say Gay" bill.
Disney was among those who spoke out against the legislation last year, unleashing backlash from DeSantis and Florida Republicans who moved to target the entertainment company's control over the land in and around its theme parks.
'I was never trying to indoctrinate my students'
Barbee said she played the movie as part of a unit on Earth sciences and ecosystems and explained that the investigation has only made her students more curious about why the film is being treated as controversial.
"All of my students are asking, 'Why is that so wrong? Why is it inappropriate? Why are you in so much trouble because of this little part of the movie?' And I have to just keep saying, 'No, go ask your parents about it.'"
"I was never trying to indoctrinate my students by showing them something that had differences and diversity," Barbee said. "I was showing them a movie that related to our curriculum and our Earth, that also taught many valuable life lessons that also correlate to our Florida best standards."
Barbee also addressed the school board during the public comment period of its May 9 meeting, telling them that the movie's content was not sexual and was relevant to her lesson on ecosystems and the environment. She also pointed out what she believed to be contradictions in Rodriguez's comments.
"A school board member, an elected official of power, who was supposed to be nonpartisan, is allowed to present to the public that she is Christian and that God appointed her to the board. And yet it is indoctrination that I showed a Disney movie," said Barbee.
Rodriguez responded, "as a leader in this community, I'm not going to stand by and allow this minority to infiltrate our schools … God did put me here."
Florida Department of Education press secretary Cassie Palelis said the complaint will be reviewed by an investigator, and an attorney will then provide a recommendation to the commissioner for next steps.
"I understand that the individual in question has discussed her case publicly. However, we will not allow politics and media pressure to dictate our process," Palelis said.
CNN has reached out to Rodriguez and the Hernando County School District for comment.
CNN's Melissa Alonso, Isabel Rosales and Jennifer Henderson contributed to this report.